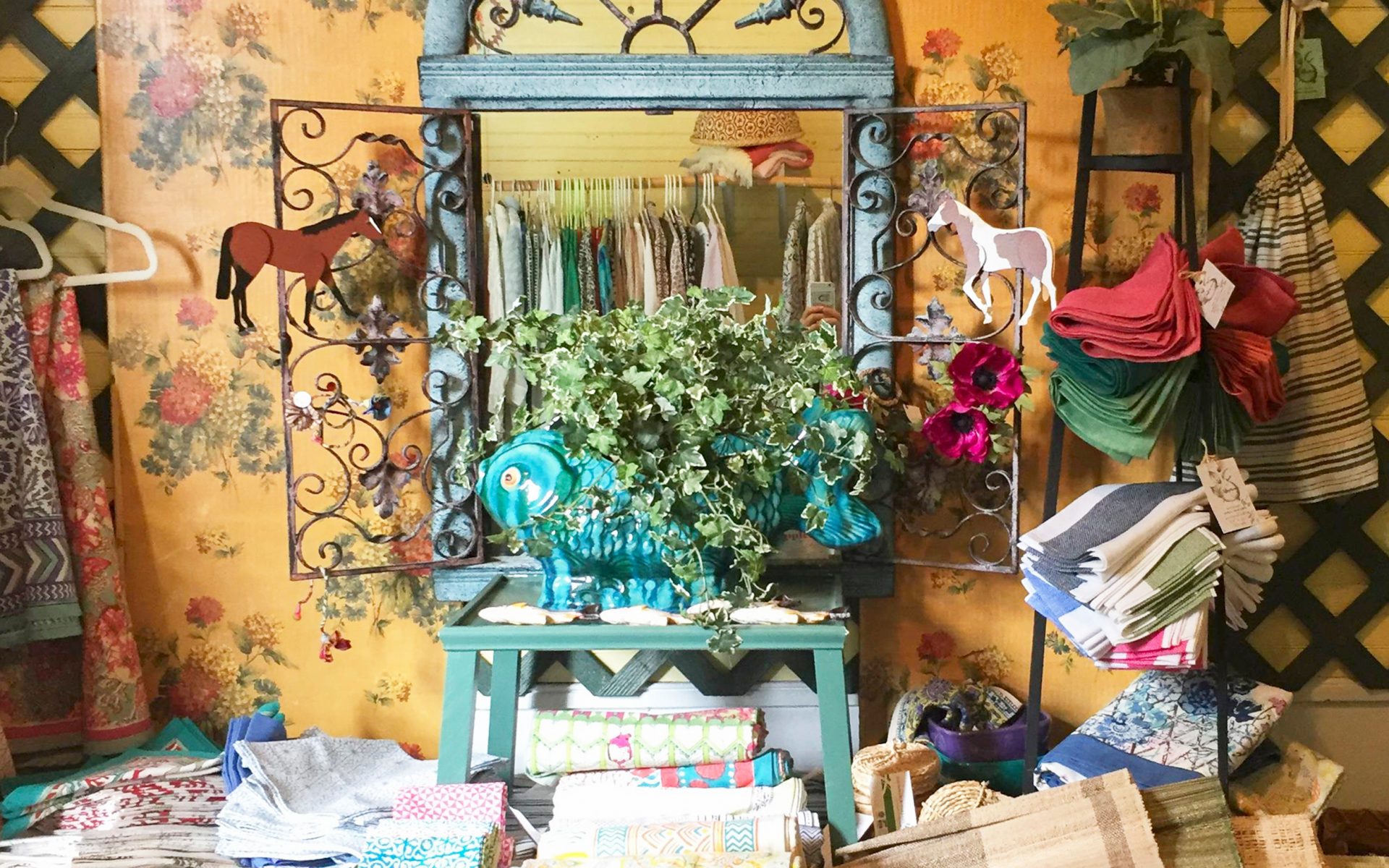 How the Daughter of Legendary Designer Sister Parish Keeps Her Mother's Style Alive
Galerie's editor at large, Jennifer Ash Rudick, visits the charming Maine shop owned by Apple Parish Bartlett
Apple Parish Bartlett loves Maine. Her namesake summer shop, Apple's, in Islesboro is a mecca for American country style devotees, brimming with painted wicker, handwoven baskets, brightly colored vintage quilts clashing with subdued hooked rugs, and her own fantastical collages. It's a look that was instituted by her late mother, Dorothy (more commonly known as Sister Parish), who reigned over three generations of American design with Albert Hadley and their famed firm, Parish-Hadley Associates.
"I buy what I like. I don't go for glitz," says Bartlett. Friends swing by as much to peruse the ever-changing inventory as to check in with Apple and her beloved dog, Billy. "I'll see you at tomorrow's exercise class," says a neighbor, turning to her friend to exclaim, "Apple can hold a plank for eight minutes!"
Bartlett took a break from the store's summer commotion to talk to Galerie.
When did the shop open?
I opened this in 1981 across the street in an old schoolhouse, and four years later I moved over here. This used to be a summer laundry place, and there are still three sinks in the back. It's perfect for my kind of shop. Chipping windows, slanted floors. My things look very good here. I don't like slick.
What did your mother teach you about design?  
She put important furniture with hooked rugs and quilts. That made everything comfortable. She just had an "eye," and the ways she mixed things was magical. We both like whimsy, nothing too serious. My mother had rag rugs handmade in Appleton, Maine, for Caroline Kennedy's bedroom in the White House. Local handcrafts are coming back now, but we've been carrying them all along.
What did your mother teach you about business?
She was a very hard worker. And she was very decisive and assured. As a result, I put what I like in my shop and don't worry so much about fads. I added clothing five years ago, which does very well. I have caftans, Kimono robes. Someone bought all of my Turkish robes recently, so I have to restock.
What are perennial bestsellers?
Baskets, tables, clothes, and napkins from lines like Natural Habitat, Hand Prints, and Pomegranate. My daughter, Susan Crater, runs Sister Parish designs now, and her Spongeware (a tabletop line) and pillows do very well.
What's the store's most unique item?
I suppose my collages and decoupage. I just love making them. I started after seeing an exhibition in Washington, D.C., of Gloria Vanderbilt's work. I thought, I can do that! My first piece was a watermelon. They've become more sophisticated. I keep boxes and boxes of stuff in my garage to use. I work on them in the off seasons. Summer is too busy here.
What should every summer house have?
Nothing should be too organized or fussy. Everything should be relaxed with very few rules. You should be able to return from the beach and hang a towel on the railing. You know the song, "Summertime and the living is easy"? That's how it should be.
What is the allure of Maine summers?
Everything! Although I can't even compare it to other places because I've always come here. I love the air, the smell of pines, and the ocean. I love the peace and quiet and the sense of security here. And of course, the people whom I've known all my life.
What is the first thing you do when you arrive and the last thing you do when leave the island?
When I first get here, I walk my dog and check everything out. I smell the fresh air and just feel happy to be back. In the late fall, the last thing I do is take Billy for a walk. The strong winds and cold weather make me feel ready to leave.
Next Post