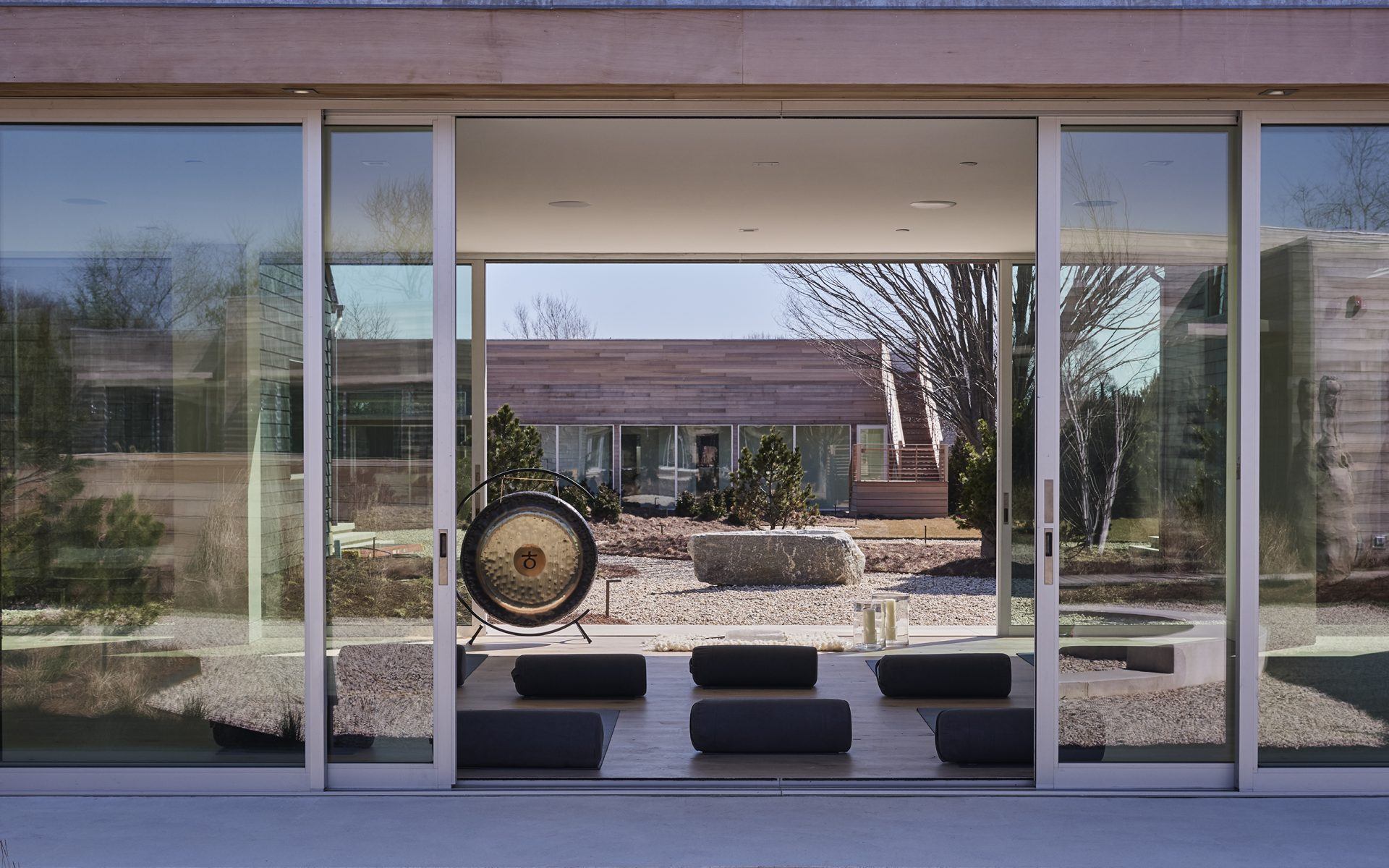 Inside a First-of-Its-Kind Retreat in the Hamptons
This destination wellness retreat and spa, designed by an all-woman team, is unique to the area
Hotels in the Hamptons often boast beach-chic aesthetic and a boisterous club atmosphere. Turning this trend on its head is the East End's latest retreat. The Shou Sugi Ban House, in Water Mill, offers a roster of wellness programming in a Zen-like space set on three nature-filled acres.
The vision of longtime Hamptonite Amy Cherry-Abitbol and Kathleen Kapnick, Shou Sugi Ban House was born out of Cherry-Abitbol's connection to Japan. The name is derived from the shou sugi ban technique, through which wood is weathered by charring, then scraped, and finally oiled.
Recommended: 7 Fashion Notables Share Their Summer Plans
"Shou sugi ban wood is used across the property as accent walls in the spa reception area and the dining room, as well as in the tea lounge in the Healing Arts Barn," says architect Debbie S. Kropf. Other shou sugi ban wood elements are scattered throughout the site, including the stools, which were crafted from the trunks of cedar trees, which had been on the original property.
"It was important for us to integrate a strong physical and visual connection to nature and keep that at the forefront of the design," says Kropf. "The overall, asymmetrical site layout combines elements of the older, original structures and landscape, with the new buildings. We also repurposed existing landscape elements and architectural features and incorporated the use of water in pools and fountains."
The founders intentionally used an all-women team to create the tranquil resort, and many of the artisans who crafted furnishings and accessories are locally based. Here, guests can stay in one of the 13 guest cottages, which include white-oak Kobe-style beds with organic mattresses and organic cotton bedding. A monochromatic color palette adds to the soothing environment of the suites, which are enhanced with lighting designed around circadian rhythms.
Recommended: This Hamptons Hot Spot Is Hosting a Pop-Up Series With Top Chefs
Two structures, the Healing Arts Barn and open-air Movement Pavilion, offer plethora of wellness options, such as hydrotherapy pools, infrared sauna, chromotherapy shower, and rooms for massage, facials, sound healing treatments, chakra balancing, aromatherapy, and cupping. "The architectural design thoughtfully incorporates ways to integrate light, air, water—and even fire—around the premises to complement the skin-care, bodywork, healing arts, culinary, and fitness components offered," says Kropf.
The cuisine at Shou Sugi Ban House is under the direction of chef Mads Refslund, best known as the cofounder of Noma in Copenhagen, which is a two-time Michelin-star winner. Ingredients are sourced from the on-site organic garden, while the resort's tea lounge provides a number of healing blends.
"A destination wellness retreat and spa is unique to the area," says the architect. "Shou Sugi Ban House is the first of its kind in the Hamptons."
Next Post