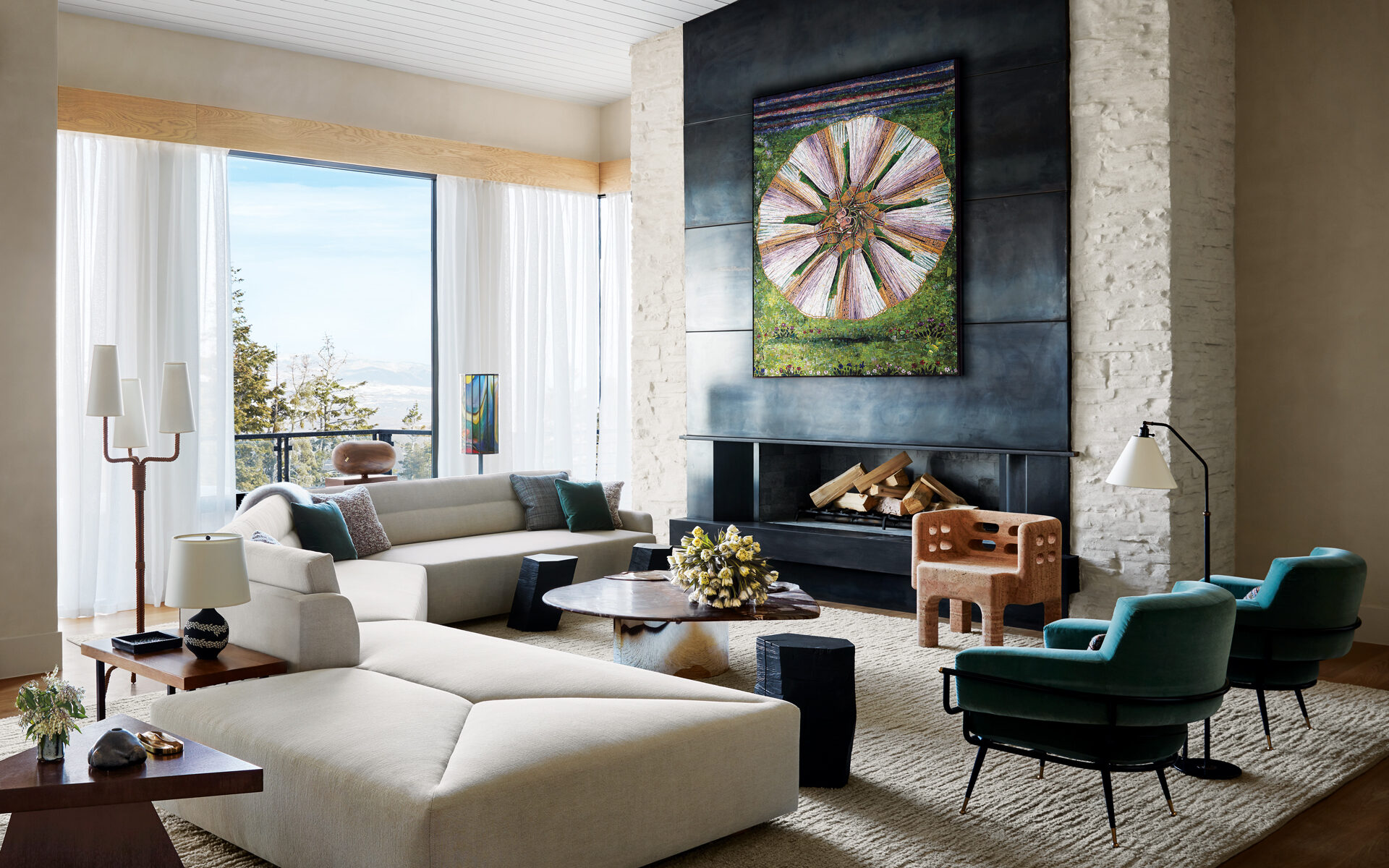 An Uber-Chic Ski Getaway in Utah by Designer Shawn Henderson Features Artwork Just as Astonishing as the Views
The New York decorator proves his mastery of subtle fabulousness
It's rare for an interiors project to be published before the owners ever see it in person. But these are unusual times. By all accounts, Shawn Henderson's renovation of a family's vacation home in Park City, Utah, was a resounding success. To better suit the needs of a Hong Kong–based art collecting couple and their two young sons, Henderson devised some modest updates, including turning a gym into a bunk room and reimagining a wine closet as a game room. He then arrayed the spaces with a cozy yet elevated mix of furnishings and sophisticated art, wrapping up the installation—minus a few pieces—in winter 2020.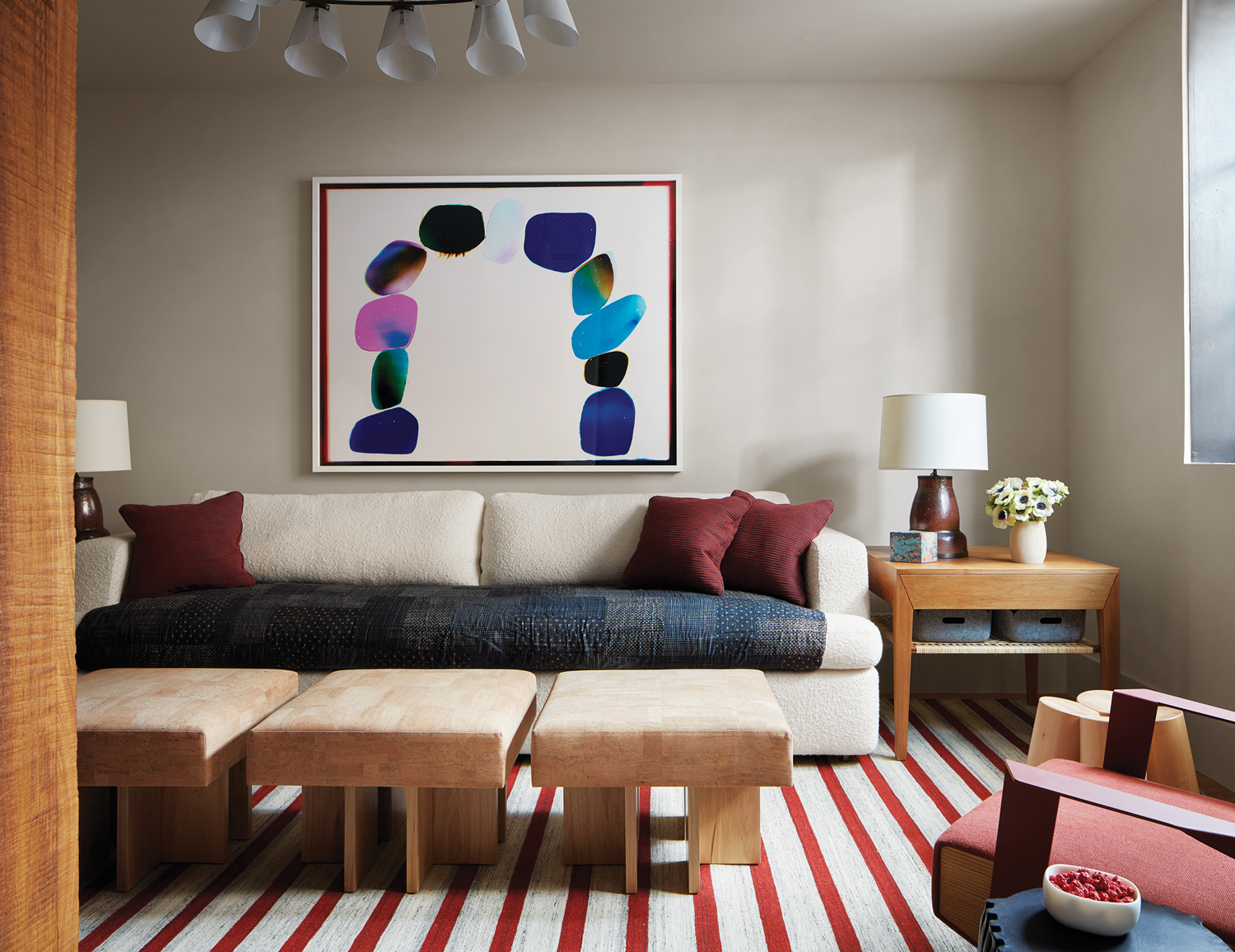 Nearly two years on, the homeowners are still waiting to enjoy their mountain getaway, thanks to COVID-19 quarantines and travel restrictions. "The first thing we'll do is just look around the house and spend time there," the wife says wistfully.
For now, they can peruse the home in Henderson's debut monograph, Shawn Henderson: Interiors in Context, just published by the Monacelli Press. The Utah retreat is one of 14 intriguing residences (including Henderson's own city and country homes) that highlight the New York designer's polished, quietly chic style. His warmly inviting rooms may share common threads such as judicious splashes of color, compelling textures, and a prevailing sense of restraint (also notable is his penchant for Papa Bear–style chairs), but each project manages to achieve a supremely singular look.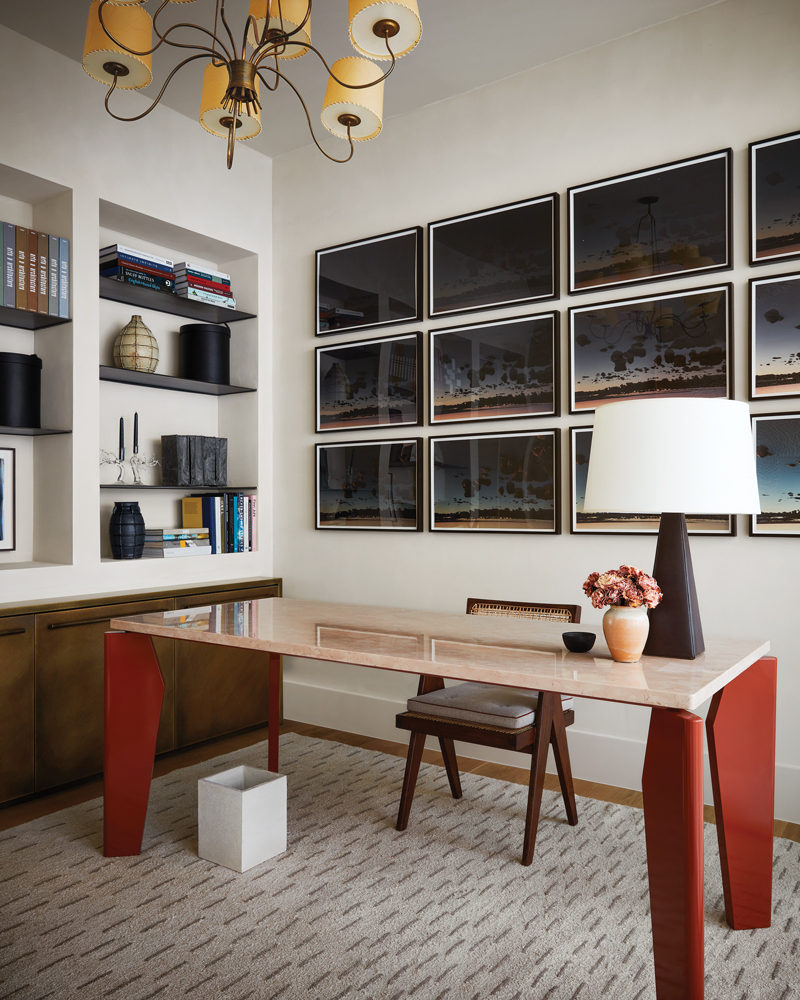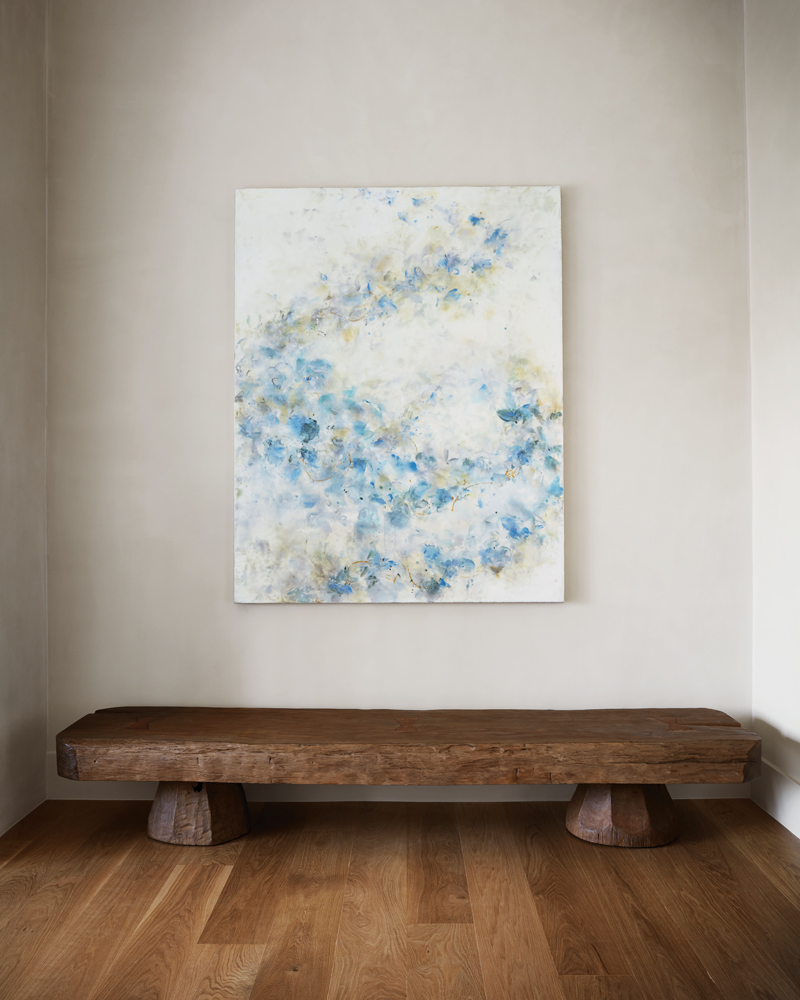 "One of my hang-ups earlier in my career was that I didn't have a 'look,' " confesses Henderson, who launched his namesake design studio in 2003 and currently is working on his first furniture collection, called Swaine, with fellow designer Mike Rupp. "For me it's about creating a unique space that doesn't feel cookie-cutter. I mix in how the client lives, what the home calls for, and what's happening architecturally."
In the case of the Utah house, the architecture provided few design cues. The 8,450-square-foot, six-bedroom structure was built on spec in 2018 in a conventional "modern mountain contemporary" style, as Henderson puts it. His primary inspiration came from the majestic peaks and towering firs visible through the floor-to-ceiling windows, which he saw during his only on-site meeting with the clients, in 2019. "I wanted to keep the furniture young and fresh with pieces that weren't easily identified," explains Henderson, who mostly stuck to an earthy, natural palette. "It was more about creating warmth with every single element."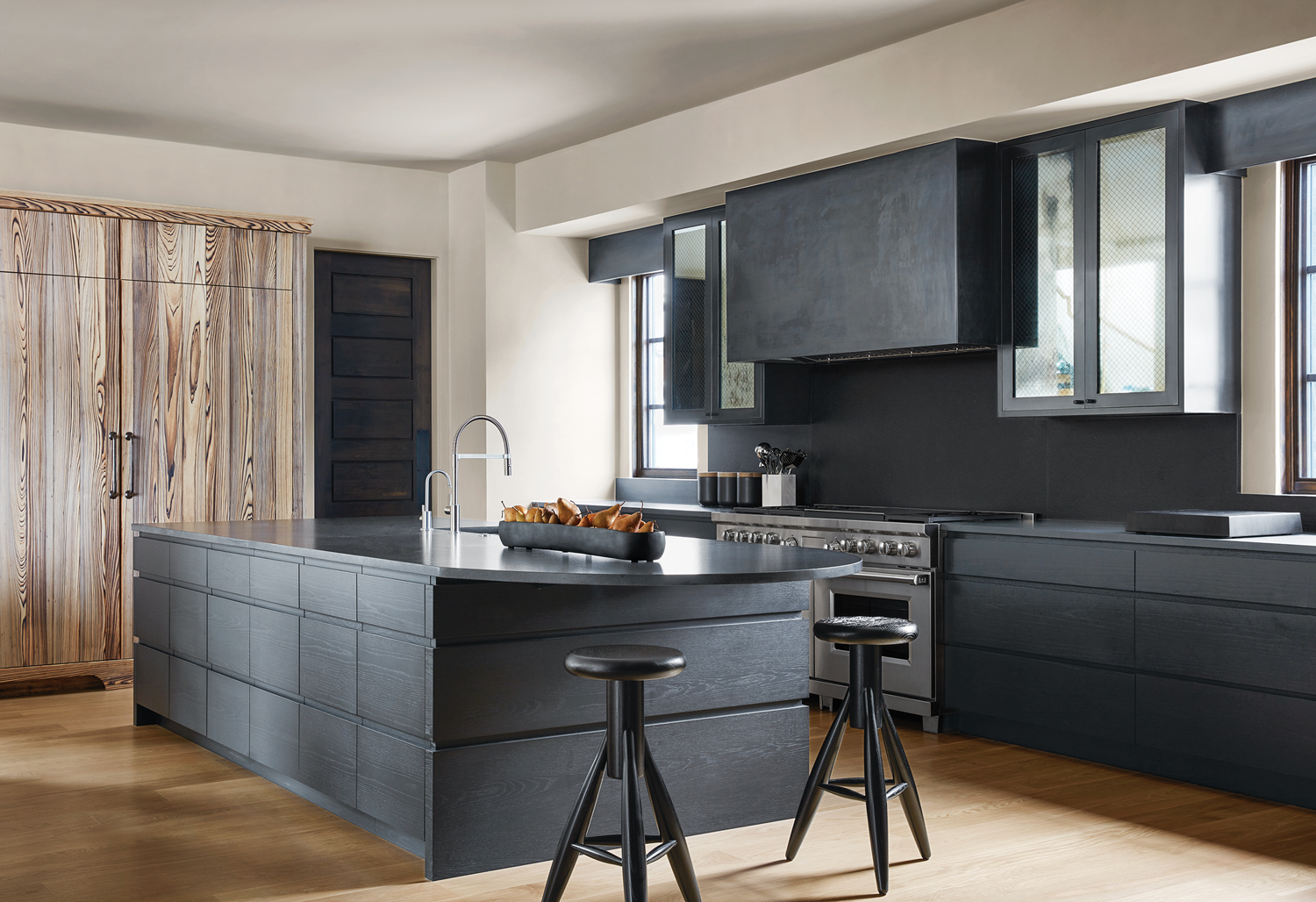 In the living room, he grouped a sumptuous bespoke sectional sofa, velvet-covered vintage armchairs, and a quirky Campana Brothers cork chair around a sculptural Vincenzo De Cotiis table in marble, silvered brass, and Murano glass. Fuzzy bouclé fabrics were deployed on armchairs in both the primary bedroom and the home office. Moody jewel tones animate the lower-level bar and game room, which will be a snug spot for après-ski card games once the family arrives.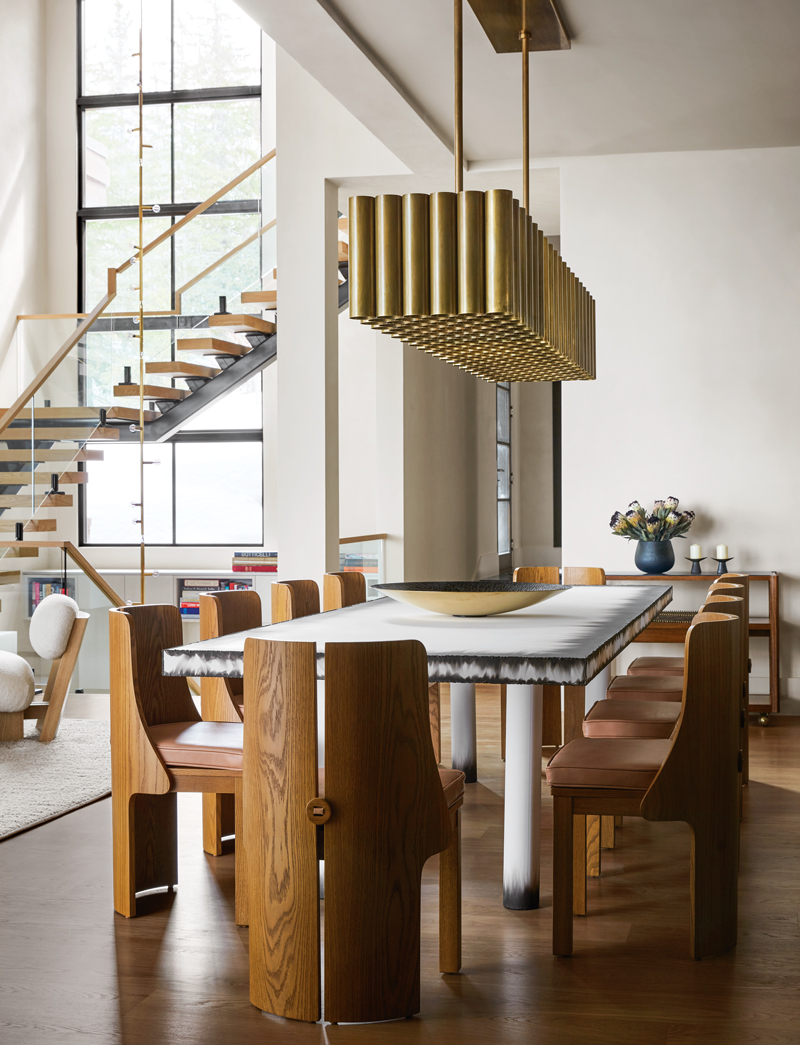 Throughout the house, eye-catching lighting lends a distinctive sculptural presence to the clean-lined rooms—not least the beefy brass fixture Henderson created for the dining room with a design resembling a block of honeycomb. A chandelier by the Campana Brothers, featuring a chunky wood frame and large, irregular-shaped glass beads, gives the primary bedroom a one-of-a-kind look. "Design is everywhere so fast, from the internet to social media, that it's hard to find something special you haven't seen a thousand times before," Henderson laments. "When I discovered that chandelier I knew we had a winner."
"I wanted to keep the furniture young and fresh with pieces that weren't easily identified"

Shawn Henderson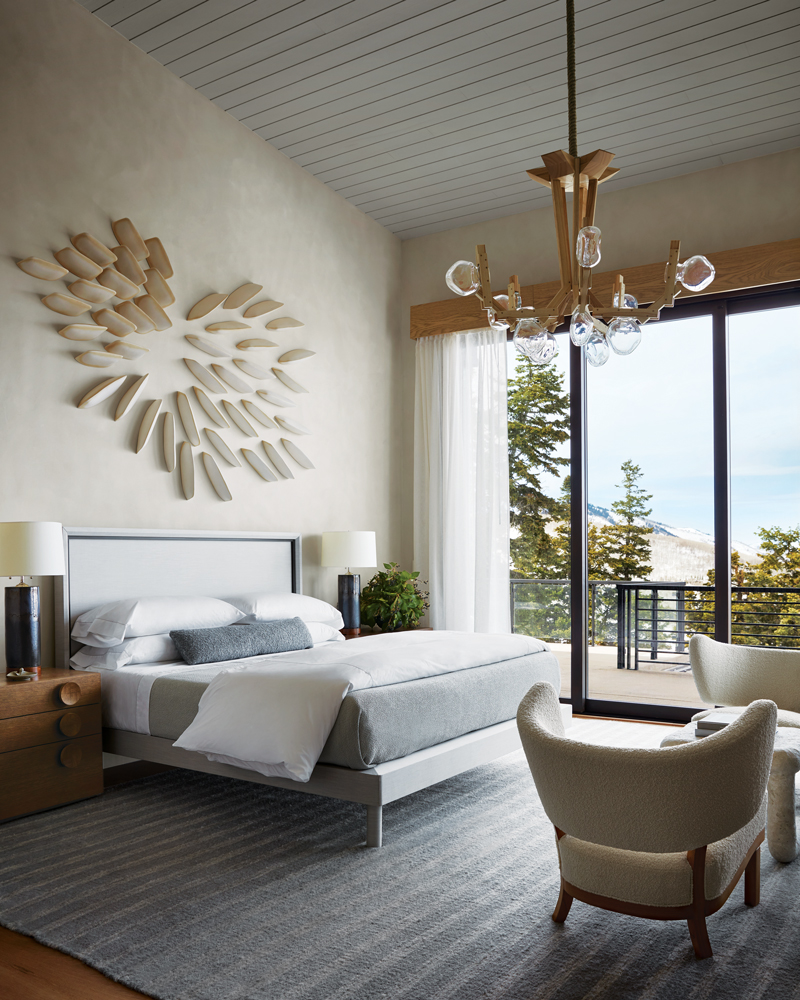 Avid collectors, the couple acquired many of their artworks visiting top international galleries and fairs such as Art Basel Hong Kong. For this project, they worked remotely with Henderson to find contemporary treasures online—a process that extended well into the pandemic, as they continued to add new works to the house. The centerpiece is the living room's striking glass mosaic work by Shahzia Sikander, which reflects the bright high-altitude sunshine. A series of evocative environmental photographs by the Brazilian artist Thiago Rocha Pitta spans a wall in the office. A wall sculpture by Maren Kloppmann, composed of a cluster of handcrafted porcelain elements, floats ethereally above the couple's bed.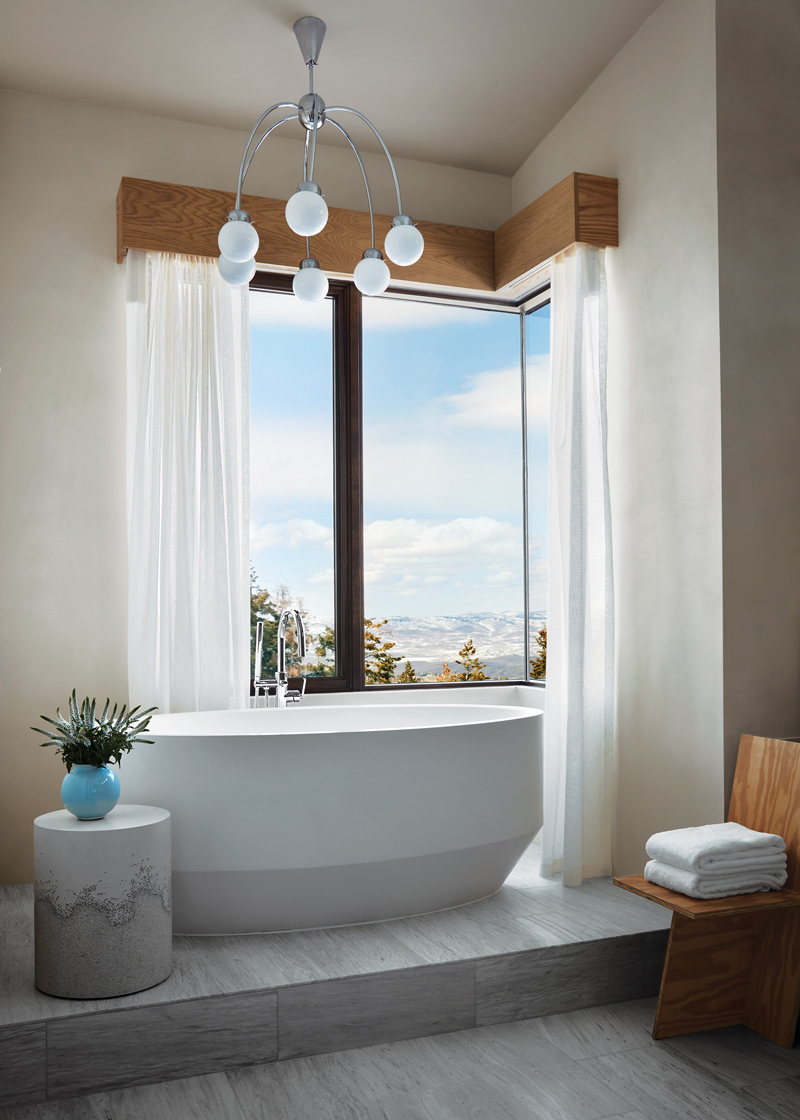 "For such a massive house, artworks were essential to add personality and reflect their personality," Henderson says. "On long conference calls, they shared details about some of the pieces they owned in Hong Kong. One drawback was that we couldn't physically see the works, but we could also slow down and really focus."
In the end, designing a home for the long-distance clients worked so harmoniously because, as Henderson notes, "we spoke the same aesthetic language. It made for a very easy process."
A version of this article first appeared in print in our 2021 Winter Issue under the headline "Rocky Mountain High." Subscribe to the magazine.
Next Post