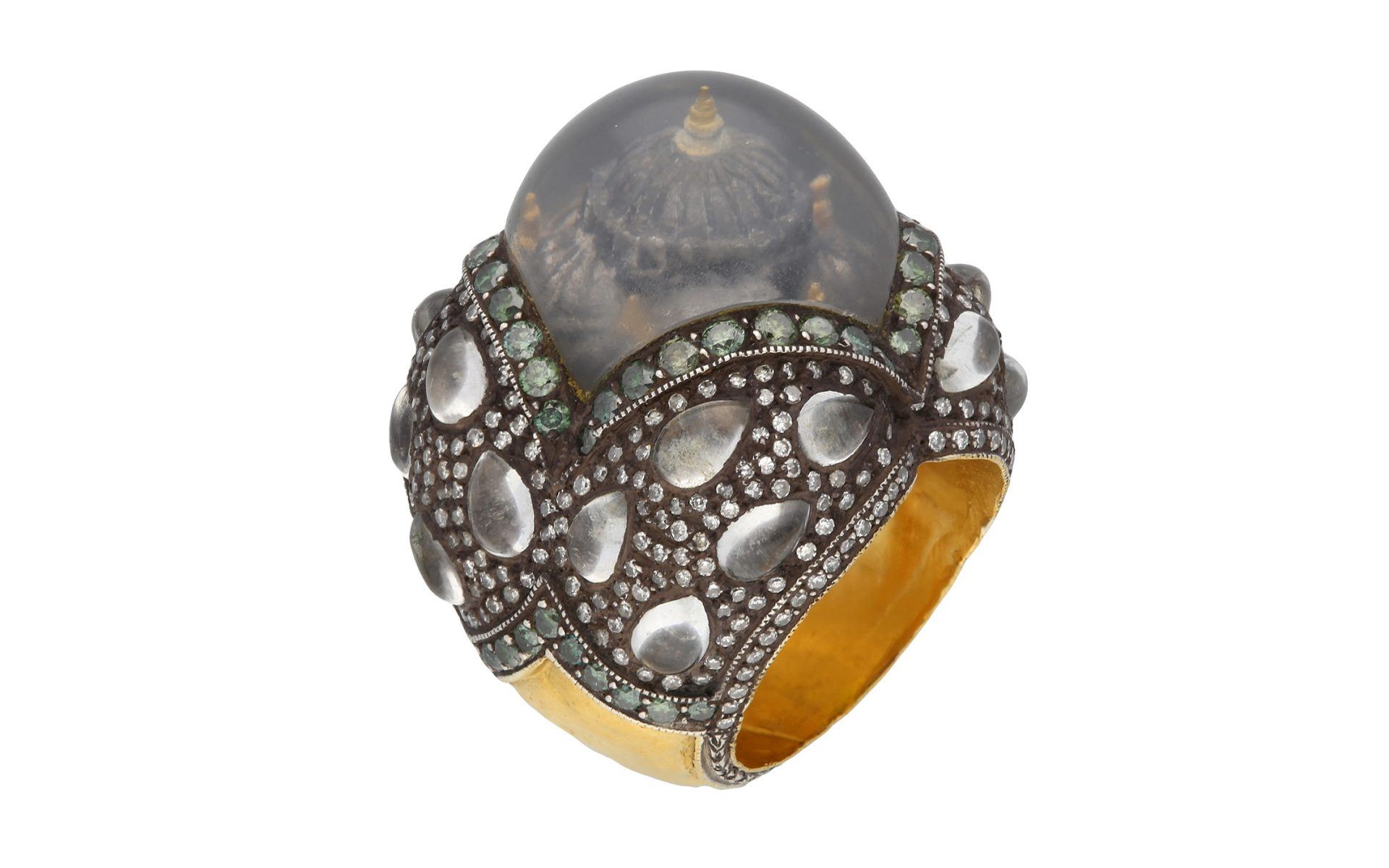 Sevan Biçakçi Creates Miniature Hagia Sophia Inside a Dazzling Ring
With net proceeds benefitting One Drop Foundation, the masterful piece of bijoux is a highlight of Phillips's Jewels auction
As Phillips auction house kicks off its Jewels auction today, one particular lot stands out from the 200 exquisite offerings: a custom rock quartz cabochon 24K-gold and sterling-silver ring, created by Turkish jewelry designer Sevan Biçakçi, that depicts Istanbul's famed Hagia Sophia through masterful engraving.
Making the sale of the ring truly special is that the money raised will directly benefit One Drop Foundation, a global charity launched in 2007 by Cirque du Soleil founder Guy Laliberté. The mission of the nonprofit is to ensure everyone on the planet has sustainable access to clean drinking water. "Tackling the necessity of safe water for all requires a cooperative and worldwide effort," Alexandre Meunier, vice president of the One Drop Foundation, tells Galerie. "We believe in impactful, mutually beneficial collaborations, and we are incredibly grateful for the continuous and generous support of Phillips auction house."
Recommended: Cirque du Soleil's Charity Auction Featured Lots from McLaren and Audemars Piguet
"This one-of-a-kind ring is a wonderful example from the artist's body of work, capturing Mr. Biçakçi's unique style and remarkable skill," says Susan Abeles, Phillips's head of jewelry, Americas. "The way that the ring directly connects with One Drop makes the piece all the more fascinating, with the rock quartz cabochon conveying a rainy Istanbul sky and with the tear-shaped rock crystal cabochons set to represent raindrops. The detail and craftsmanship of the ring are breathtaking."
The winning bidder will not just get the ring but will also have the opportunity to visit Biçakçi's workshop near Istanbul's Grand Bazaar and take a tour down the Bosphorus aboard the artist's private yacht. The final piece of the extraordinary lot is a unique drawing of the ring.
Recommended: De Beers's Latest High-Jewelry Collection Combines Rough and Polished Diamonds
"At Phillips, we view jewelry as wearable art and always encourage people to reexamine the way they approach this collecting category," says Abeles. "Commissioning an artist to design a piece of jewelry, specifically with One Drop in mind, seemed like a perfect way to bring attention to the organization. We were delighted when we found out that Sevan Biçakçi was on board."
In addition to the ring, highlights from the Jewels auction include a dazzling Harry Winston ruby, diamond, and platinum ring; a whimsical Cartier pelican pendant made with diamonds, jade, coral, and sapphires in platinum; and a bejeweled wristwatch by Audemars Piguet. Following the December 9 sale, Phillips will also auction two timepieces that will directly benefit One Drop during its Game Changers event on December 10.
"We cannot thank Phillips enough for taking on the global water crisis with us, one of the most pressing humanitarian challenges of the century," says Meunier. "There is still tremendous work to be done and a lot more for One Drop to achieve. Thanks to everyone involved at Phillips and to our long-term supporter Sevan Bıçakçı, through initiatives like this one, we are able to raise critical funds for the precious cause of water and to positively impact the lives of many people in dire need all around the world."
Next Post