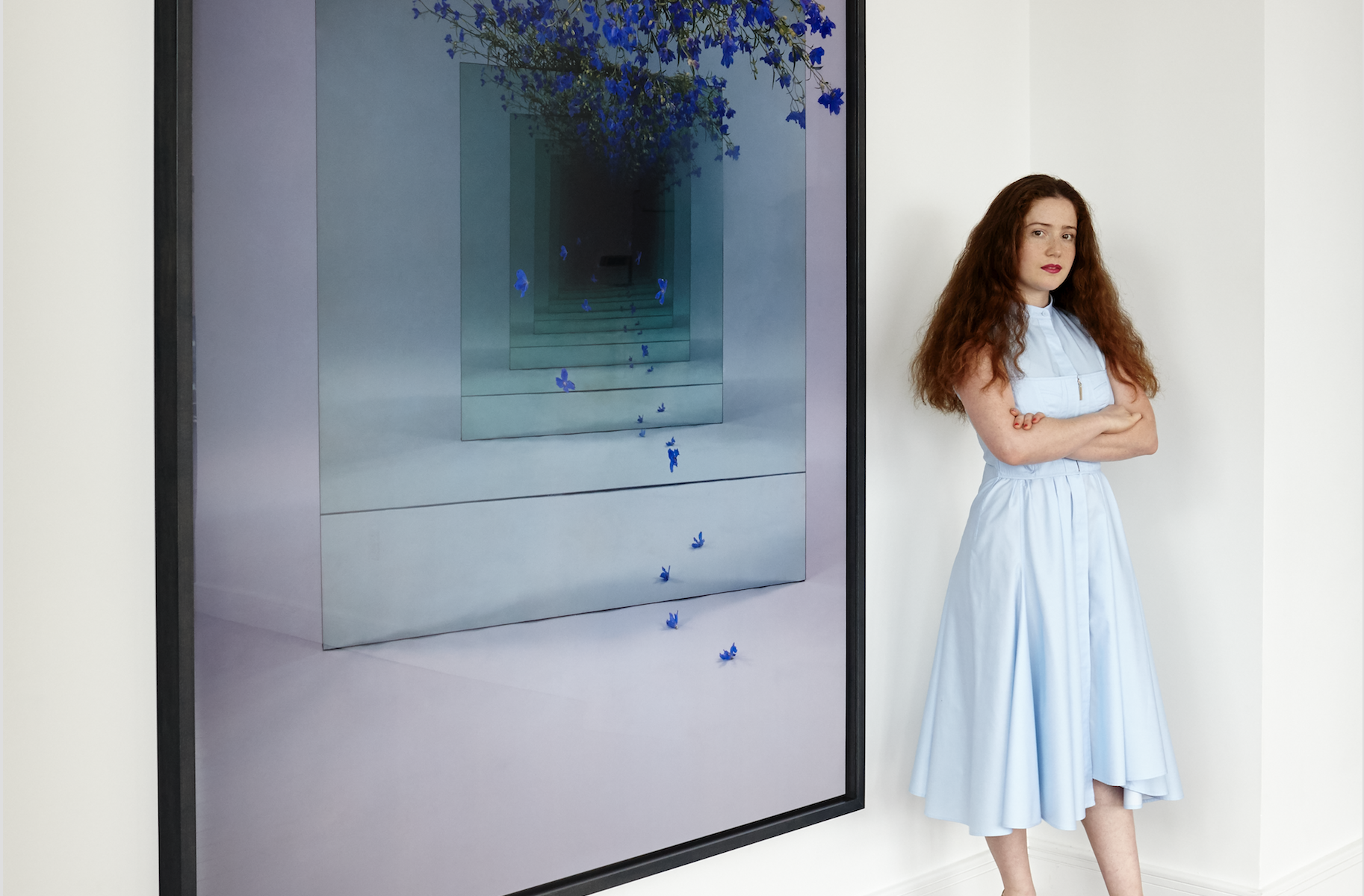 Sarah Meyohas Creates Virtual Reality Art with 100,000 Petals
The trending artist explores issues of replication and perfection in an ambitious new exhibition
Math, data, finance, "artificial neural networks," "generative adversarial networks"— none of this stuff scares Sarah Meyohas. "I've always been interested in value," says the conceptual artist, whose works cross the boundaries of performance, photography, film, and virtual reality. "When I was at Yale, a friend mine who was a philosophy grad student said that if he ever wrote a book about me, he had the perfect title," she recalls with amusement. "He'd call it Value and Capital After the Death of God."
It's not a description every artist would embrace, but Meyohas (B.S. Wharton, M.F.A. Yale) is just as comfortable around economics geeks as she is around art-world insiders. Just two years out of school, the 26-year-old has established herself as one to watch for her attention-grabbing projects focused on issues of technology and financial speculation. Maybe you heard about BitchCoin? That was a crypto-currency she developed modeled on Bitcoin, where each BitchCoin sold entitled the buyer to 25 square inches of one of the artist's current or future photographs. Last year, Meyohas made the headlines of Fortune and CNBC with a project called "Stock Performance," where she day-traded stocks from a desk at 303 Gallery and then turned the financial charts into drawings.
Now she's getting ready to unleash her latest exhibition. Opening in October at Red Bull Arts New York, her multimedia presentation "Cloud of Petals" explores big data and the value of beauty, as well as issues of replication, perfection, and artificial intelligence, all based on that timeless symbol of beauty—the rose.
Working out of the former Bell Labs complex in Holmdel, New Jersey, Meyohas filmed a team of 16 men as they carefully pulled apart 10,000 roses and photographed the individual petals they considered "most beautiful." Using an artificial neural network, she then used the digitized petals to generate new, unique digital petals. A machine-learning algorithm compares the artificial petals with the real ones and propagates increasingly realistic-looking petals ad infinitum. It all adds up to a multi-layered show encompassing a 30-minute film, mirrored vitrines, pressed-petal sculptures, and, perhaps most intriguingly, a gaze-activated virtual-reality "cloud of petals," which she's creating with the help of Brooklyn-based technology studio Superbright.
"Sarah is a paradox," says Max Wolf, Red Bull's chief curator. "She has a real sensitivity to formal aesthetics and at the same time this prodigious technological curiosity." Indeed, much as Meyohas seems juiced by all the epistemological issues opened up by V.R., she doesn't want it to overshadow the story. "I still want it to be beautiful," she says. sarahmeyohas.com 
Next Post