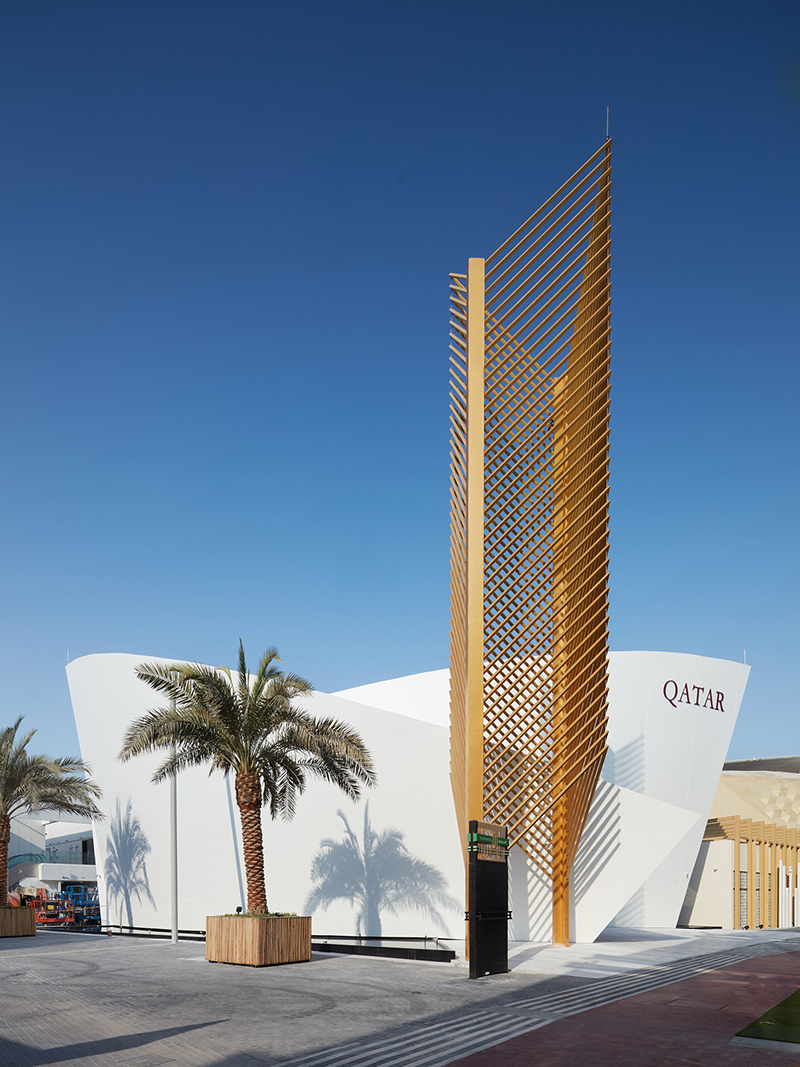 An estimated 25 million visitors are set to attend the Expo 2020 Dubai, which kicked off last week in the United Arab Emirates for a six-month run. As the first World's Fair in the Middle East, the year-delayed event features 192 participating countries—each with its own architect-designed pavilion on the 1,000-acre desert grounds.
Famed Spanish architect Santiago Calatrava is behind two of them: one for the host country and one for nearby Qatar. The UAE's 160,000-square-foot outpost was inspired by a falcon—the national bird—and is crowned with 28 carbon-fiber "wings" that cleverly open to reveal a grid of sun-harvesting photovoltaic panels. (When shut, the wings protect the panels from sandstorms.) The graceful structure also takes design cues from the region's traditional Bedouin tents, with a pitched central atrium that doubles as a 200-person auditorium. Additionally, there are exhibition spaces dedicated to the history and future of the country, plus an outdoor garden planted with native trees and other important flora.
"We are thrilled to unveil the UAE Pavilion to the public. The vision behind this structure took on many forms and challenged us to ensure that the result of the design represented the UAE," said Micael Calatrava, the architect's son and CEO of Calatrava International. "The project draws inspiration from the urban fabric from which it rises to serve as an extension of the country."
The swooping Qatari pavilion, meanwhile, references the tiny Arab nation's coat of arms, which features a pair of two crossed swords, a native dhow boat, and a desert island with bowing palm trees. "The structure's surroundings tell as much of a story as the building itself," the architect's office said in an interview. "The entrance is marked by a sculptural monument that represents two intertwined palm trees and is surrounded by water features that serve as an homage to the Arabian Gulf."
A pair of immersive galleries within tell the story of the country's history and culture. "The pavilion's design emulates a modern interpretation of Qatar's progressive outlook of the future and history," the studio added. "We hope visitors will walk away truly understanding the essence of Qatar."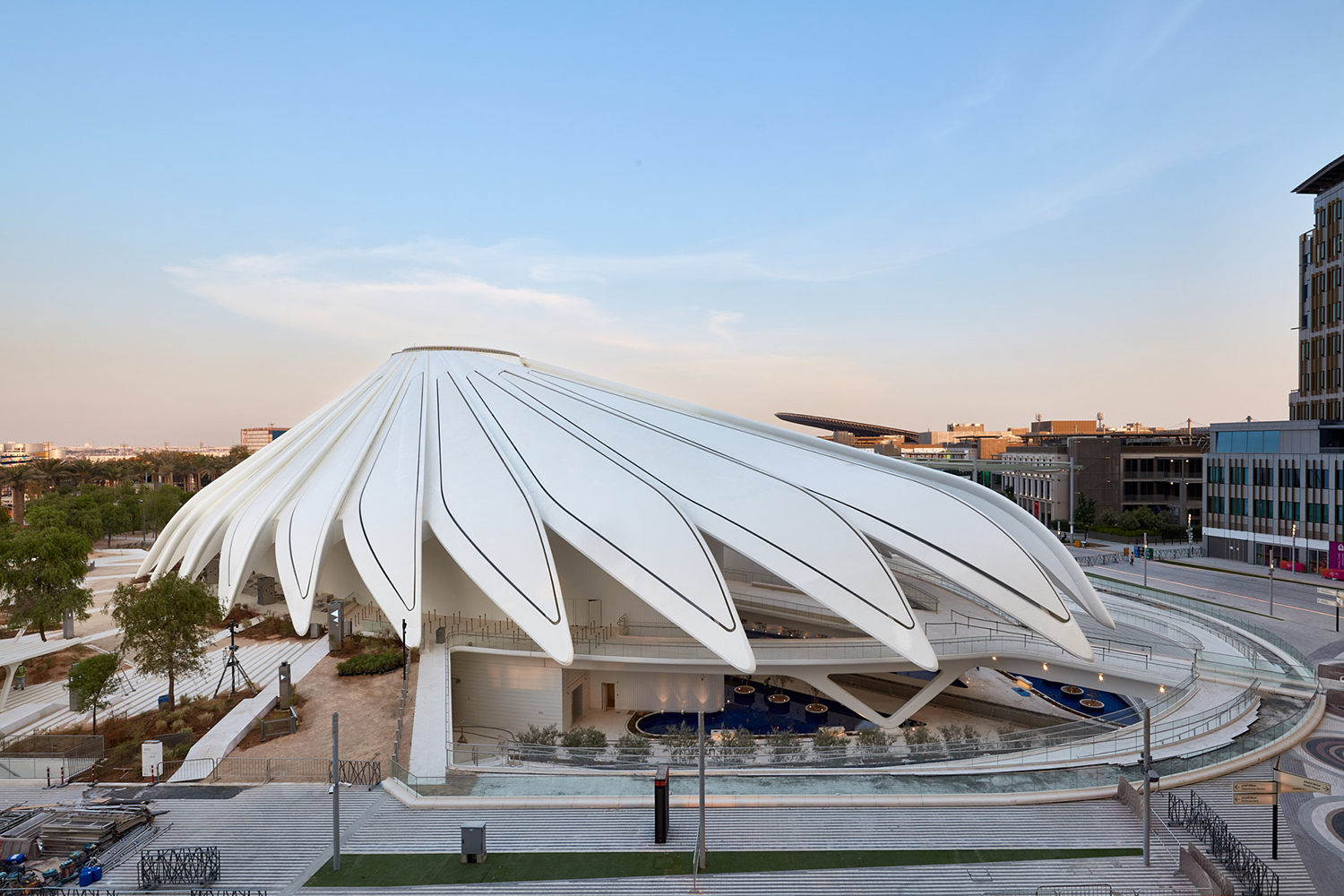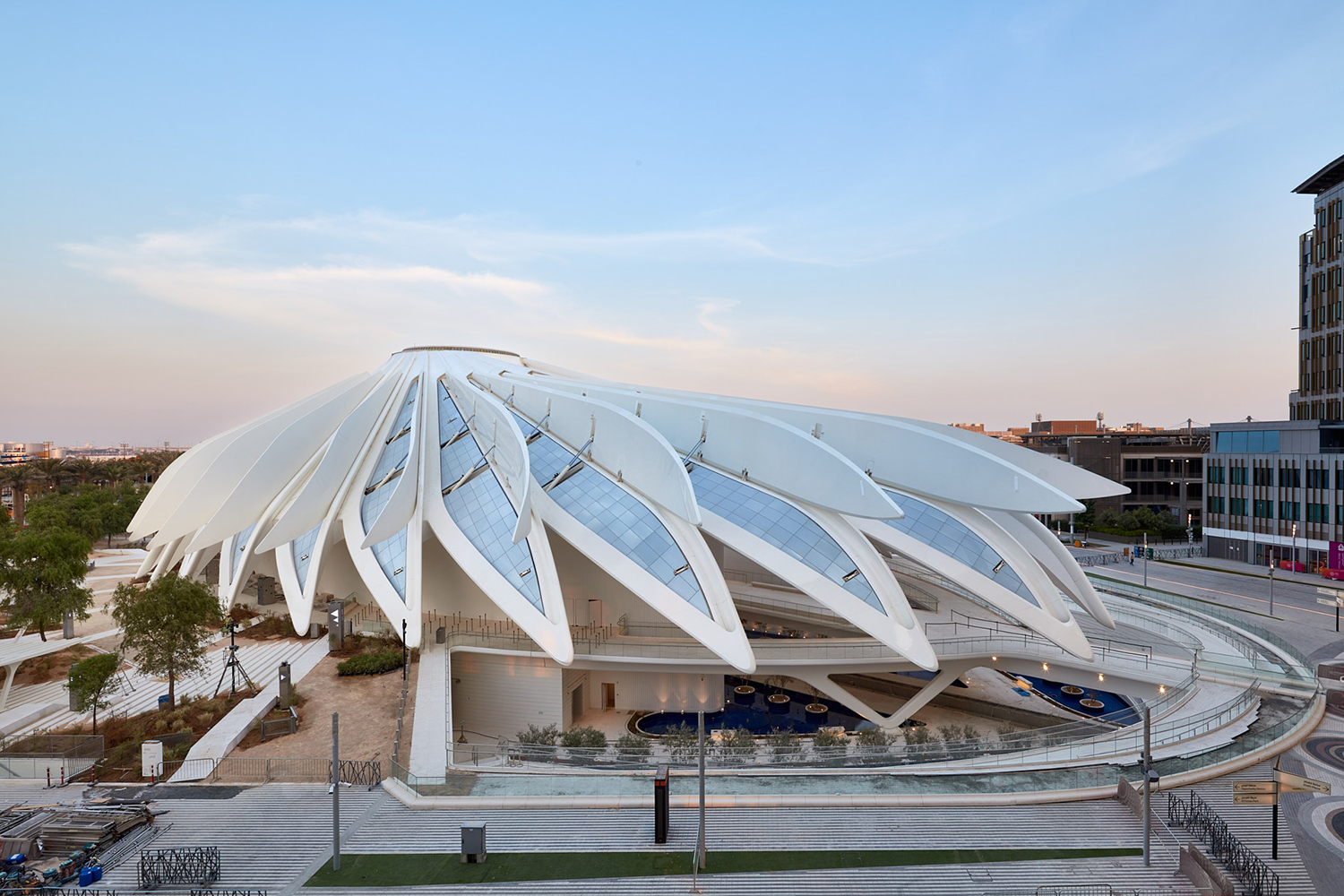 Set on a formerly vacant desert parcel in the south of Dubai, near the Abu Dhabi border, the transit-linked Expo 2020 site was master-planned by St. Louis architecture firm HOK along with Arup and Populous. Marking the entrances to the grounds are a trio of monumental latticed gates crafted by British architecture studio Asif Khan. The overarching theme of this Expo is "Connecting Minds, Creating the Future," which highlights how our global society is interconnected and seeks to generate sustainable solutions to pressing international issues. Officials hope the massive event, billed as the first global happening open to international tourists, will jumpstart the region's tourist-dependent economy during its six-month run.
Expo 2020 Dubai runs until March 31, 2022.
Next Post