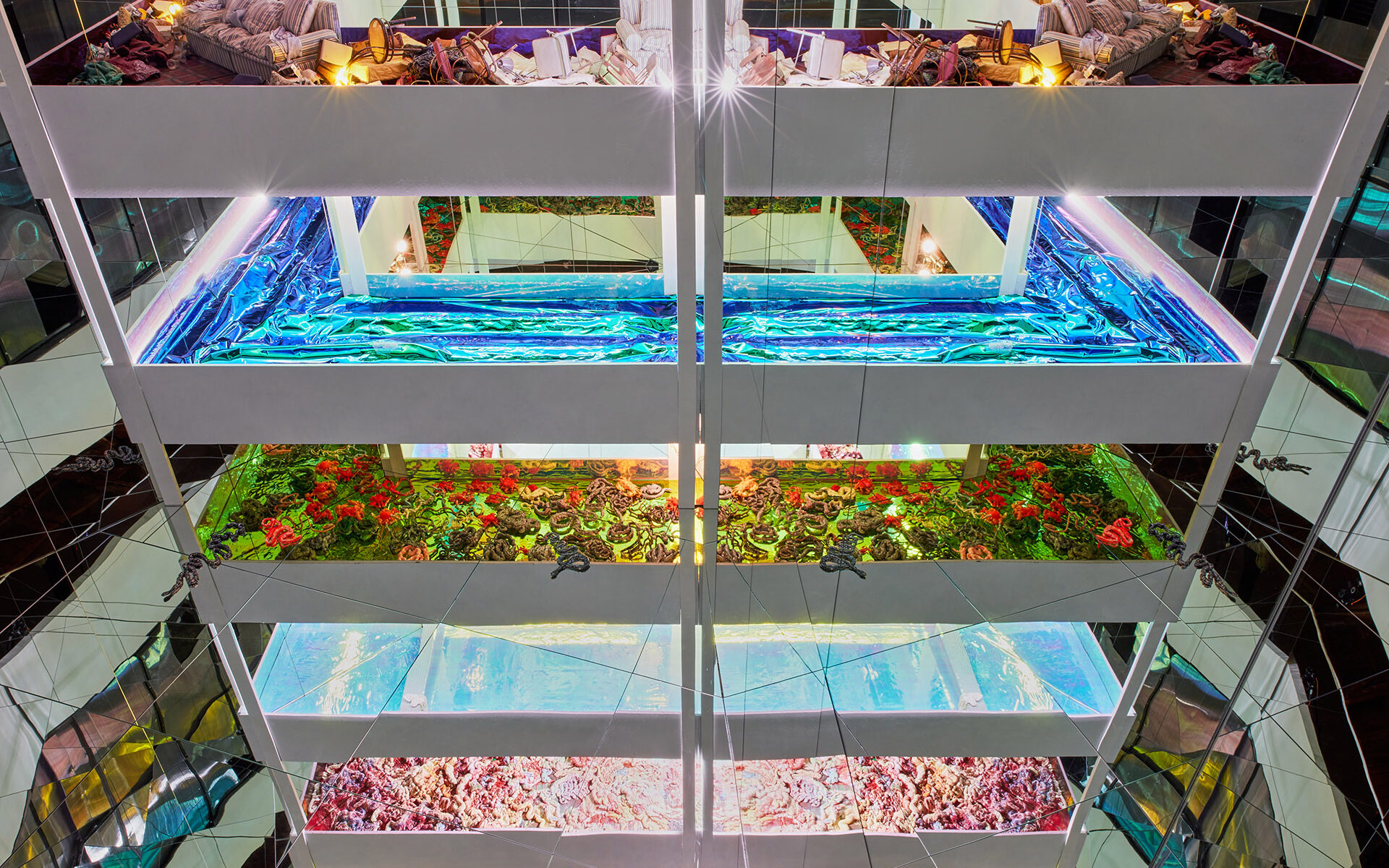 Samara Golden Delivers a Hard-Hitting Installation at Night Gallery's Sprawling New Space
The Los Angeles artist has created an wildly ambitious immersive installation based on inner turmoil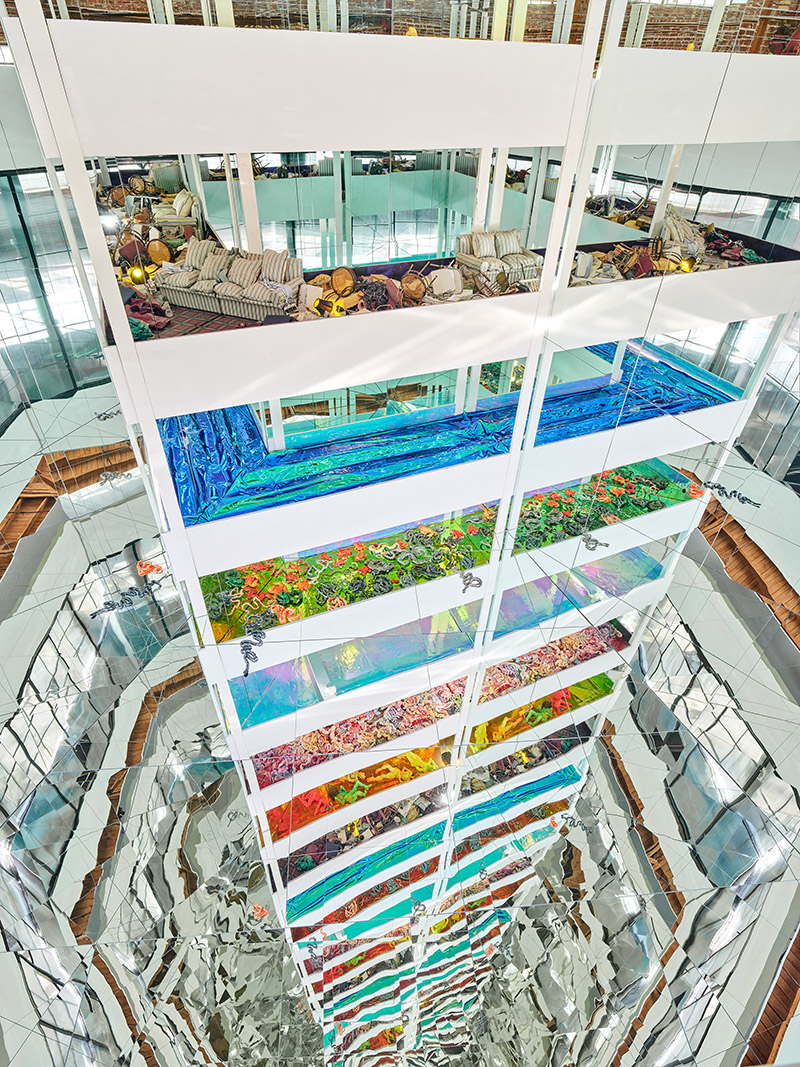 Conflict resolution is not often a high priority in art-making. If anything, it's best when an inner turmoil resides within an artwork, exposing the polarities of any given gesture. And the most devastating, beguiling gestures are those which don't reveal themselves immediately, especially not to the artists. This is the case for Samara Golden, who has recently caused a stir with the opening of "Guts," a wildly ambitious installation transforming Night Gallery's new 13,000 square foot North Gallery, across the street from its main space in downtown L.A. For this exhibition, which is on view through March 26, Golden attempted a new artistic gesture even more elusive than those employed in her previous efforts and the results are groundbreaking.
"In past projects, I looked for a structural logic to tie the elements together," says the artist during a recent studio visit. "I use maximalism as a way to present the concept of confusion—a messy room is a messy mind, for example. I've also been attached to all the excess stuff left behind by our society, the byproduct of our aspirational culture, the hair straightening iron that promises to deliver the look that will land the job that will bring the you the penthouse apartment, and so on," she explains.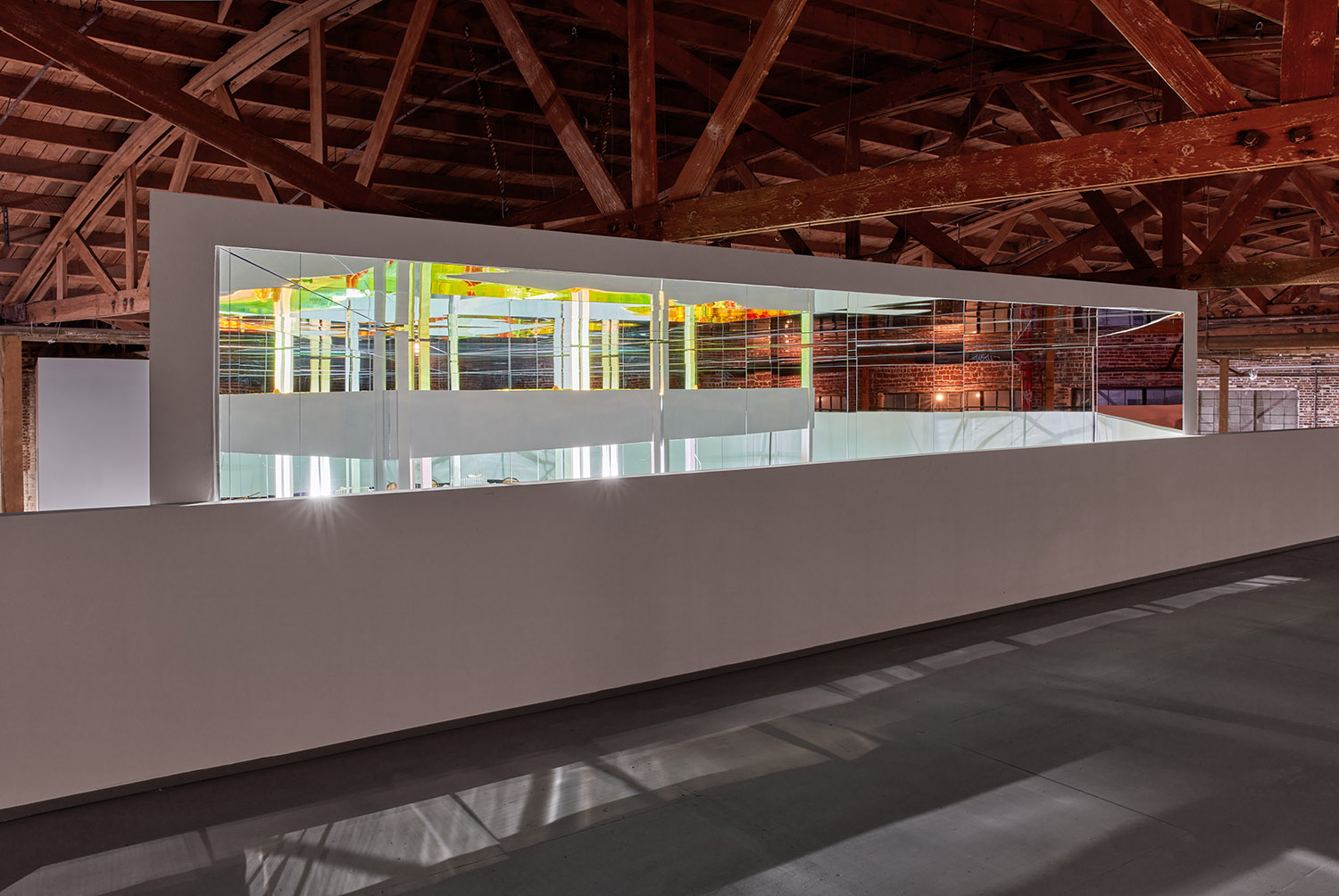 Over the past decade, the Michigan-born, Los Angeles-based artist has made a name for herself taking over—and quite frankly annihilating spaces—with her perception-altering sculptural installations. Featuring everything from mirrors, cardboard and insulation material to foam, candles, TVs, boomboxes, faux pizzas, and real cell phones, the works recreate domestic, institutional, and office spaces, exploring the uncanny sculptural terrain once pit-mined by Mike Kelley and Kaari Upson, exposing the most unsettling aspects of the American psyche uncanny in the era of Instagram.
For her 2014 debut "Mass Murder" at Night Gallery, Golden built a "Red Room" and a "Blue Room" whose carpeted, Warhol Silver Factory-meets-Less Than Zero aesthetics were organized "as one big brain, allowing viewers to walk from one thought to another," she says. Then in her mezzanine installation at the 2017 Whitney Biennial, titled "The Meat Grinder's Iron Clothes" Golden used the museum's floor-to-ceiling windows overlooking the Hudson River—juxtaposed with floor-to-ceiling mirrors—to achieve limitless vantages onto abandoned dining rooms, penthouse apartments, and cubicle farms of her making that exposed "the vertical stratification of class or organized hierarchy" in society, she says. "In all these projects there was an amount of emotion plugged into the logic of a more intentional intellectual structure."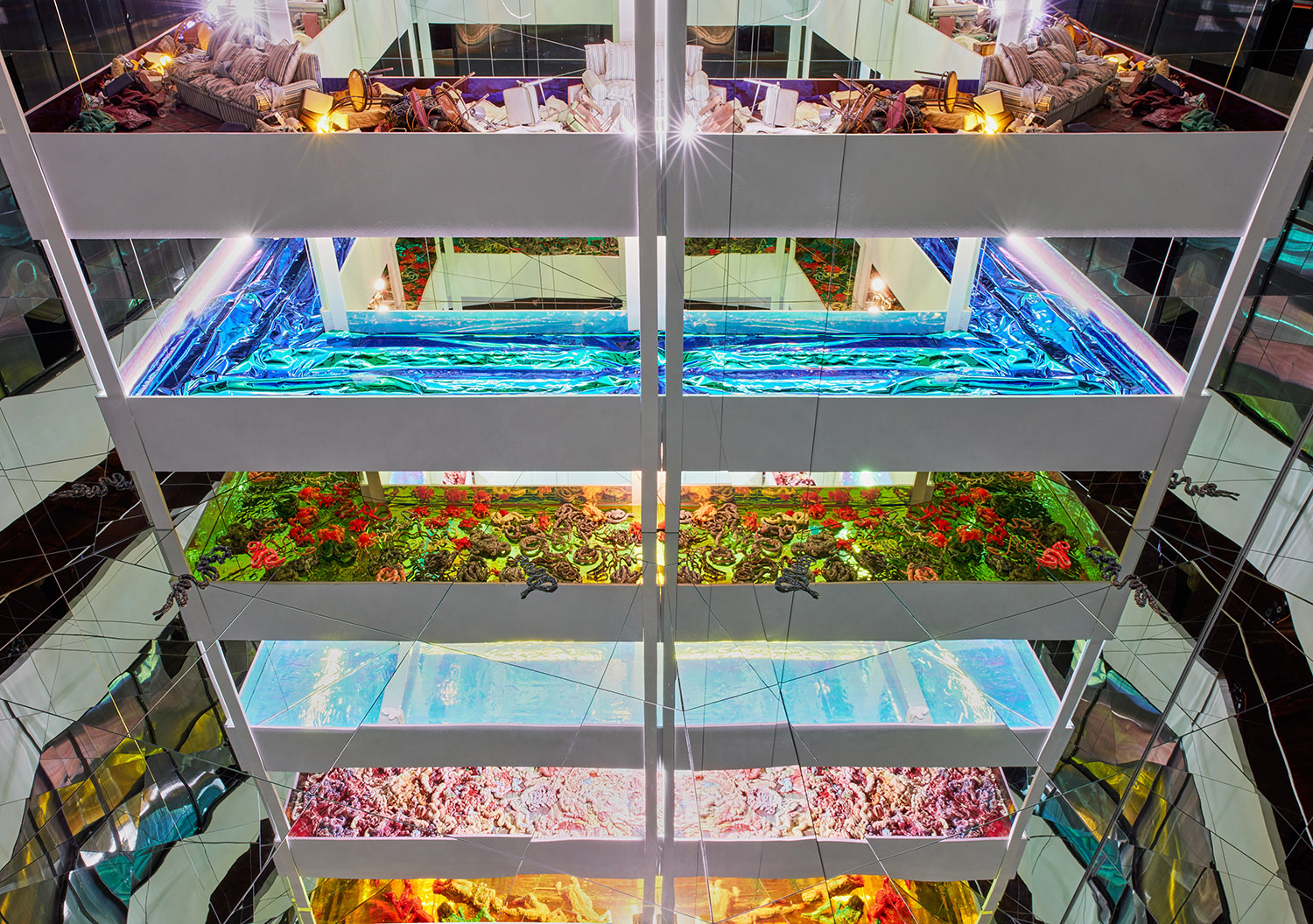 Her latest endeavor, "Guts," takes things to bold new heights as the artist embraces chance and the unknown, delving deeper into her inner psyche. "For this project, I was more interested in trying to capture something I don't understand, trying to somehow carve out the phantom of something that can't be rendered," she says. "It's like that 70's TV show Escape From Witch Mountain, something I can't remember but I know I've experienced, like a memory that you can't quite access, something forgotten. I was hoping to move into a new way of making things, less tethered to reception and more invested in the unknown."
Visitors enter the space to find her signature vertigo-inducing channel of mirrors—a tighter, jewel-box version of the Whitney installation—trapped two-story inside a triangular wedge. Viewed from a ground floor "window" and a second story skywalk, one is met with an infinite boxy skyscraper, crafted from wood, LEDs, latex paint, vinyl flooring, and wire, whose interiors literally spill their guts from floor and ceiling. Here, crabs and snakes hewn from expandable spray foam and nail polish and water features are fashioned out of dichroic vinyl. Golden also surprised herself by making a couple of paintings from the foam guts, which began as intestinal sculptures.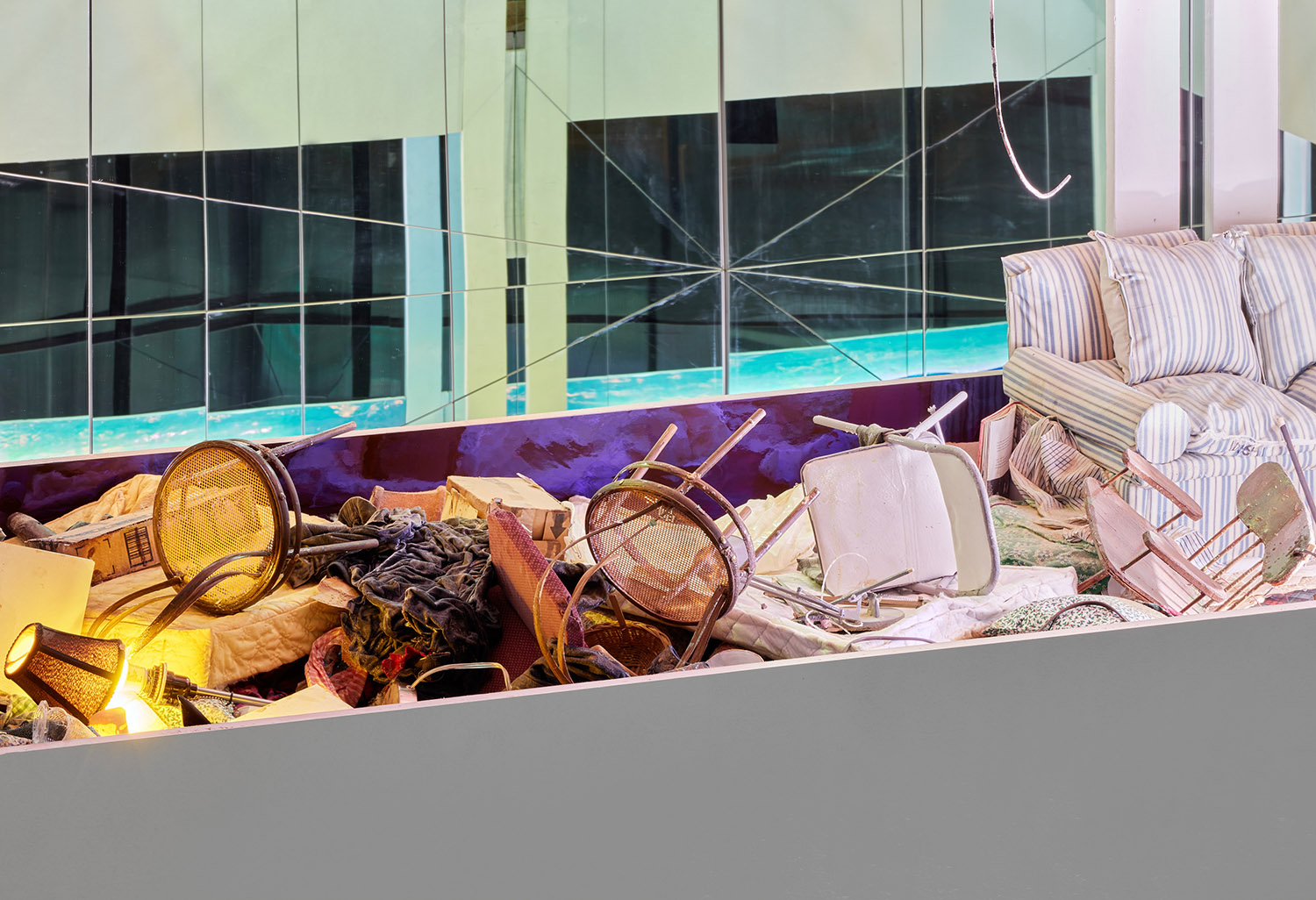 While many of her works, which often rely on codependent physical and mental structures, have been read as "psychological architecture" the limitless possibilities of Night's vast new gallery challenged her to be more economical or even minimal with her approach.
"I told Samara from the beginning, don't feel like you have to fill the space," says Davida Nemeroff, founder of Night Gallery and a longtime friend of Golden's. So the artist set about boiling down this unsettling period in human existence, one that is replete with plague, insurrection, war, and economic uncertainty, into one word: guts. It's a word most often associated with courage, intuition, and viscera, but for Golden, there was also an implicit sense of trust or the desire "to be willing to stand at the edge of a thin branch hoping it won't break," she says.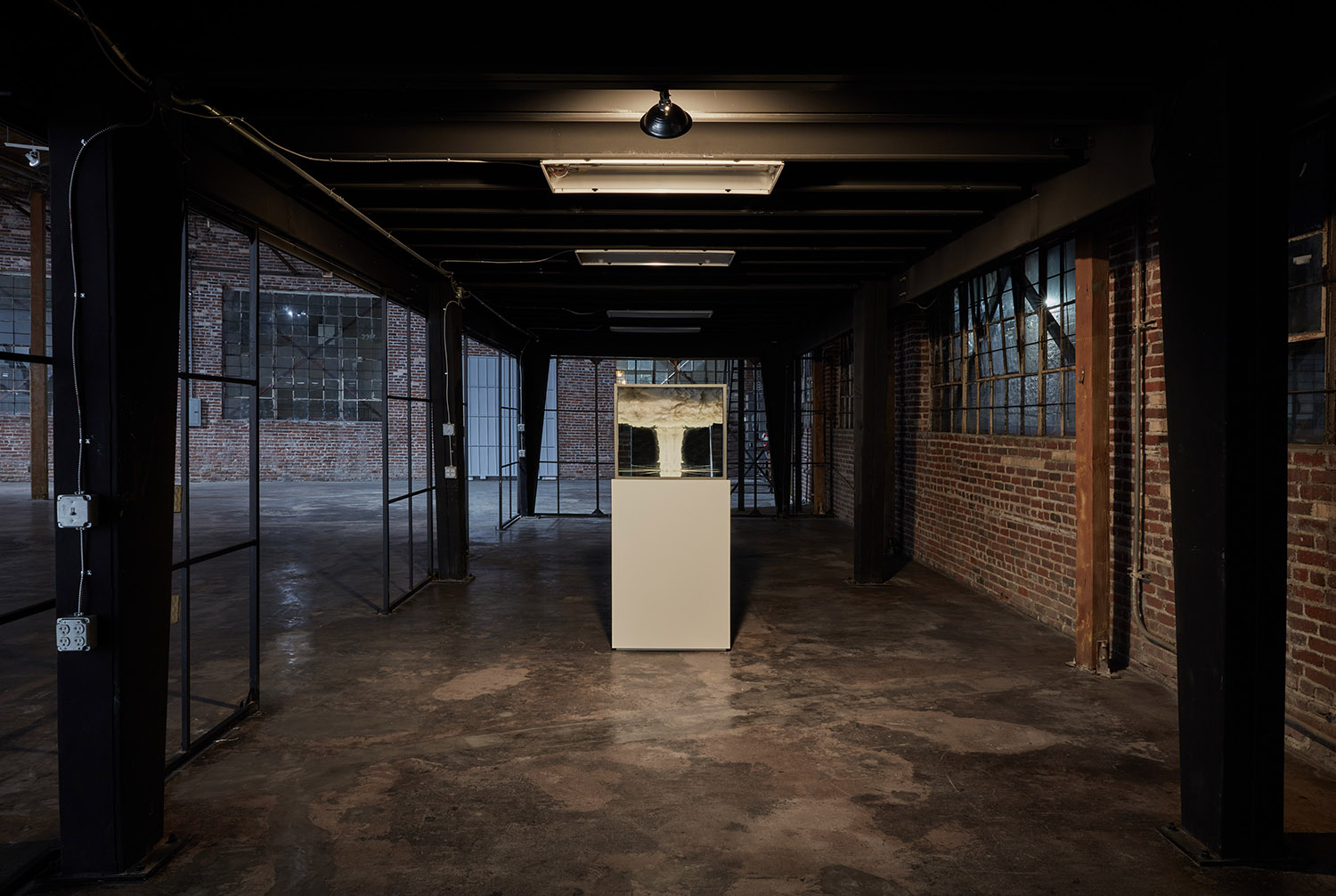 "I had a vision of a mixture of intestines, computer cords and brains," says Golden, who was just trying to figure out how the guts would be attached to a platform as part of an upside down floor of the skyscraper. "I was loving the process of painting them, mixing acid greens and translucent blood reds with purple veins crawling through pale blue sausages. I was getting obsessed and realized I could make the same exact thing and have it live on a wall outside the installation. For me it was really about getting back to the basics, loving and getting relief from the process of making things with my hands and eyes."
There is also a model of sorts, dubbed Nuclear Bomb, which replicates a mushroom cloud in the form of exploding epoxied polyester batting radiating into the infinite regression of a mirror box. "The nuclear bomb speaks for itself. It's the worst possible outcome of broken diplomacy, which seems to be the norm right now. I guess it's a foreboding feeling…the hat that the third world war wears," says Golden, who finished this work an an hour before the show opened. "At the time, I felt like the big installation needed to build its momentum by being more detailed, more handmade, more personal. And I also liked the idea of having the nuclear bomb be a big thought inside of a small space."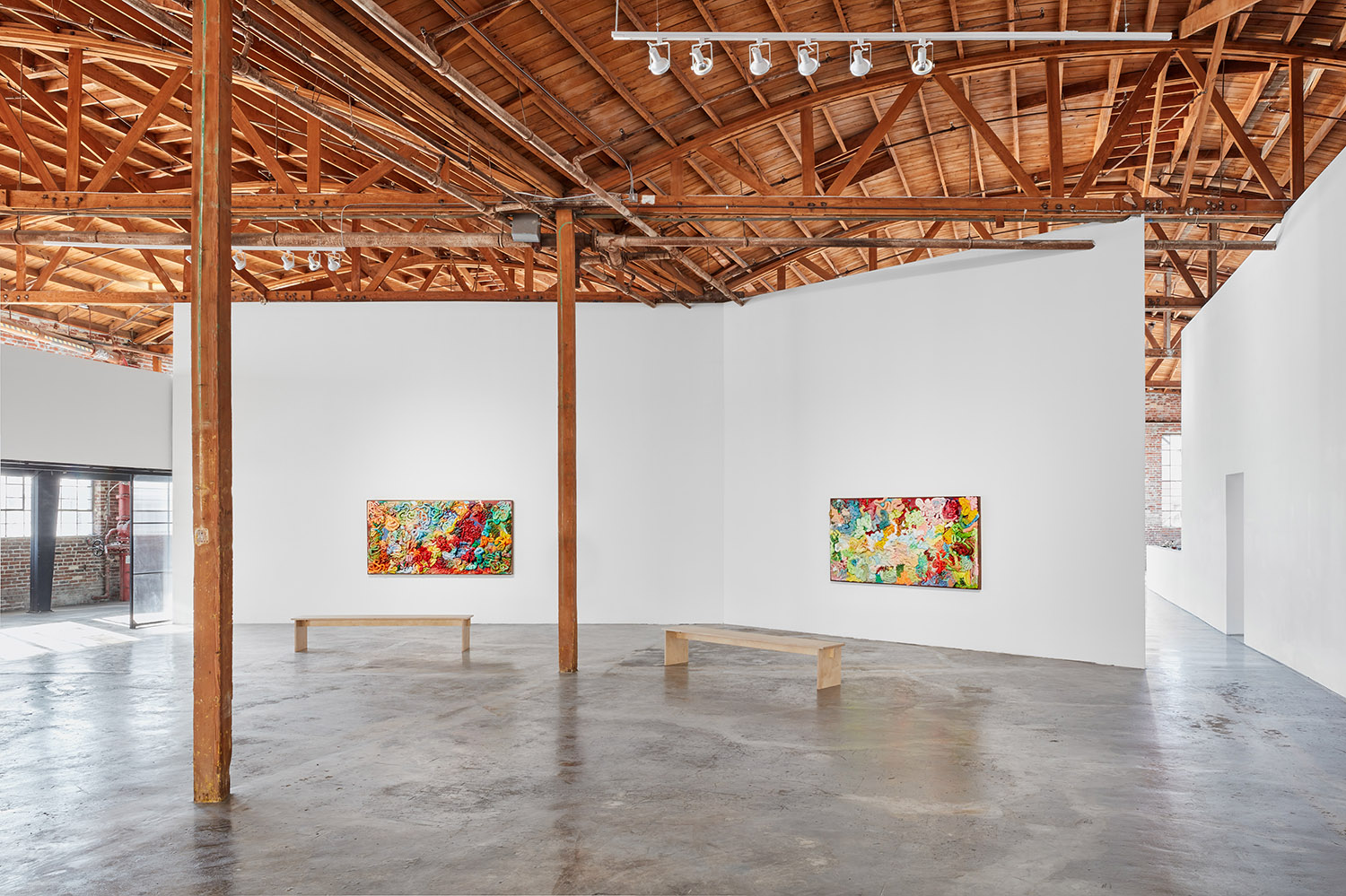 As with all of her work, there are countless details that are not visible in the final piece, which then create "a lot of tension between the idea of being locked out, meaning you can't actually go into the impossible space that the illusion creates," adds Golden.
As always, Golden is looking ahead to what is next on the horizon. In the process of conceiving "Guts," she made a number of the models mocking up various installation possibilities in her studio, all of which were under consideration for the larger installation until the skyscraper won out. "I think these bigger thoughts, or making one bigger move, may be my next direction."
"Guts" is on view at Night Gallery through March 26. 
Next Post