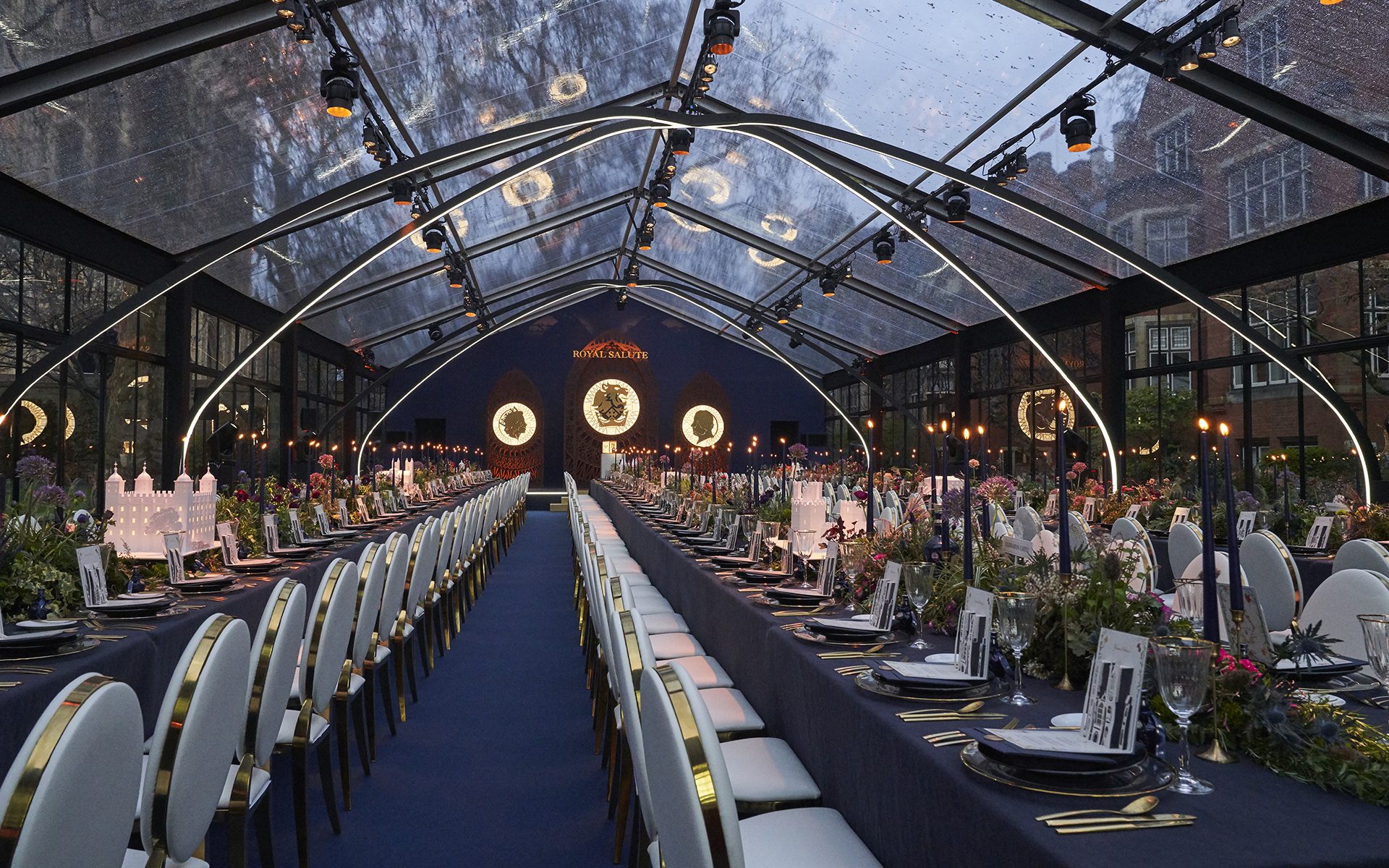 The Coronation of King Charles III Inspires a Limited-Edition Bottle of Royal Salute Whiskey
Only 500 of the hand-blown Dartington Crystal decanters are available worldwide, with just 56 allocated for U.S. distribution—at a majestic $25,000 each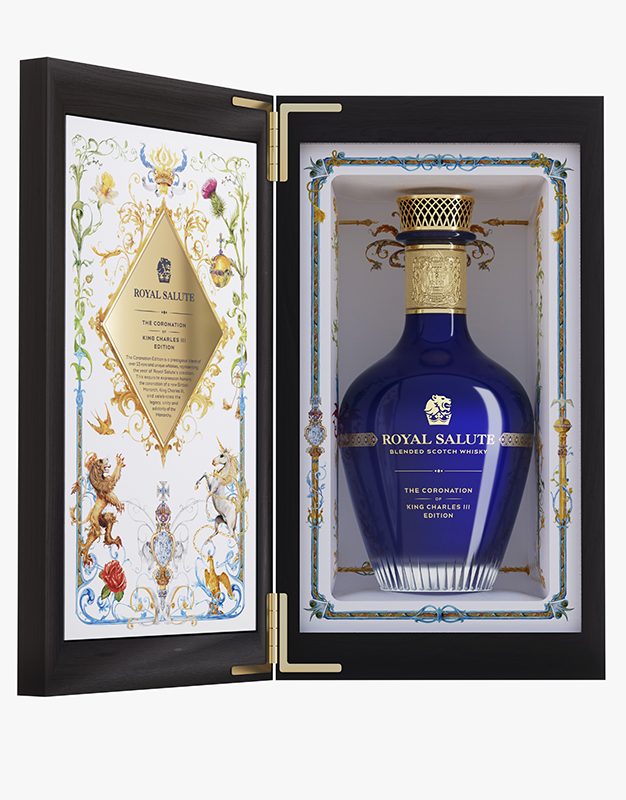 It's not every day one gets to sip whisky cocktails under the soaring 13th-century stone arches of Westminster Abbey, but just a few weeks ago, in anticipation of Saturday's coronation of King Charles III, the Scotch whisky maker Royal Salute invited a group of enthusiasts to do just that. On what can only be described as a truly unique evening, guests, including Torquhil Campbell, 13th Duke of Argyll, were escorted through the church and guided directly to the High Altar—where this weekend's official ceremony is set to take place—before making their way to the outdoor vaulted cloisters for cocktails and, later, into a clear-domed tent erected for dinner.
The evening was arranged to celebrate the house's newest and extremely limited release, the Royal Salute Coronation of King Charles III Edition. Crafted by Royal Salute master blender Sandy Hyslop, the latest expression represents a blend of over 53 rare malt and grain whiskies—a nod to 1953, the year in which Royal Salute was first introduced as a tribute to the newly ascended Queen Elizabeth II.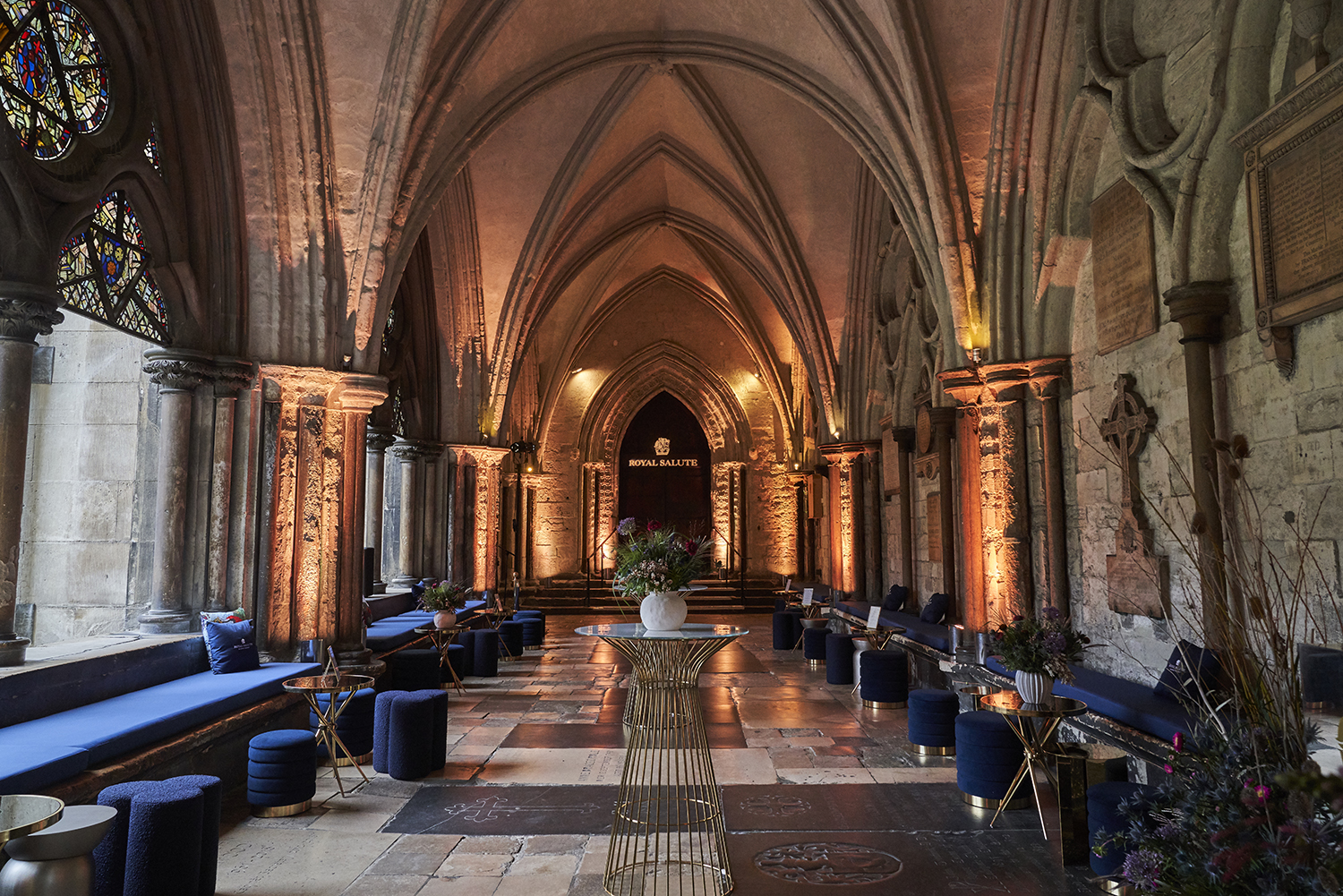 Using whisky from Strathisla, the oldest working distillery in the Scottish Highlands, it was given the name Royal Salute after the Royal Navy's famous 21-gun salute, which in 1808 became the mandatory standard for the royal family and heads of state. Conceived with the monarch in mind, Royal Salute began a tradition of marking significant royal occasions with individually curated blends. This latest release, in honor of the new king's coronation, is no exception, with notes of fresh red currants, dark chocolate praline, and freshly roasted chestnuts, and a palate of sweet figs and fresh ginger that lead up to a long finish with a "playful" spice.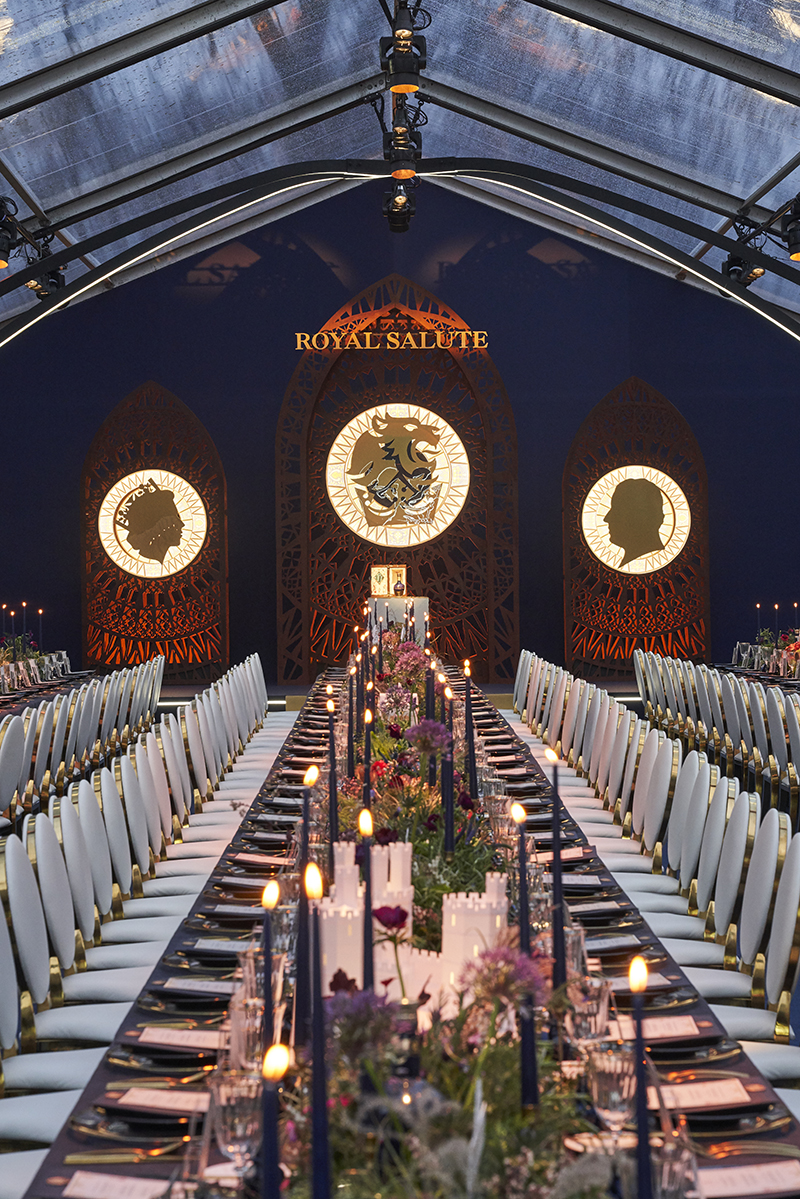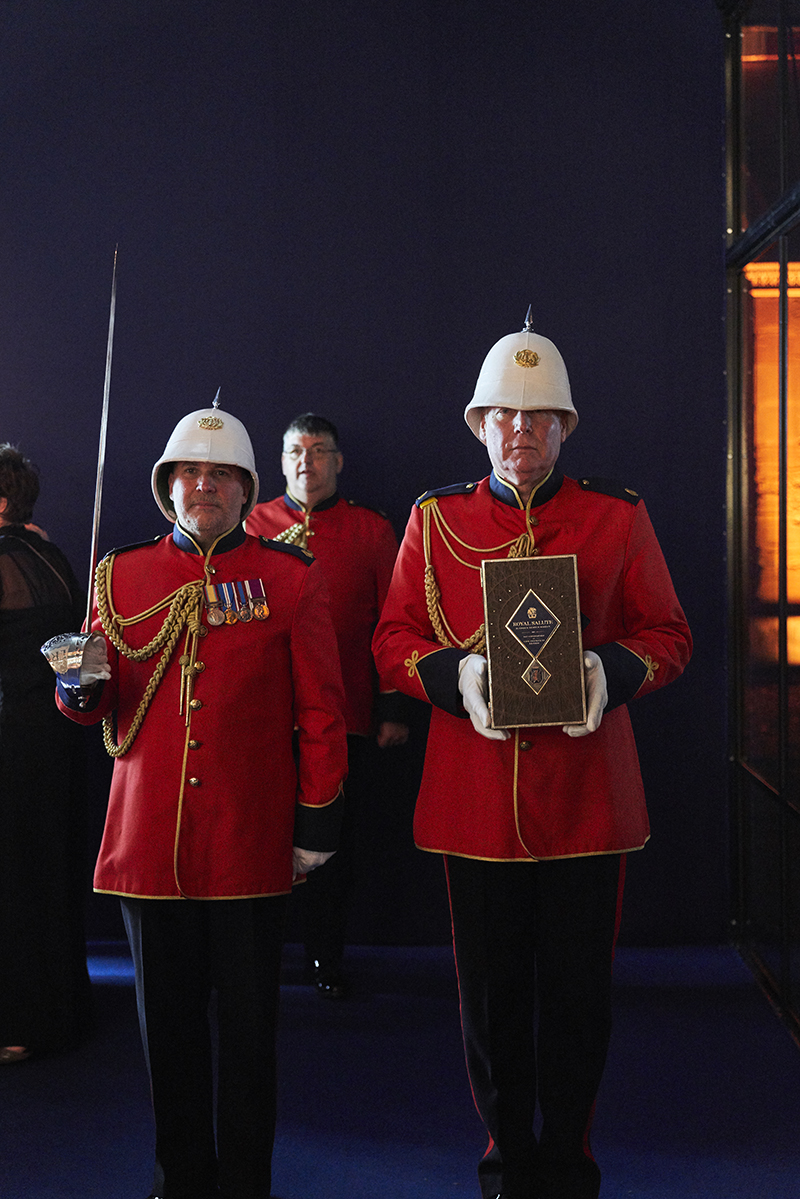 Released this week, only 500 bottles of the Royal Salute Coronation of King Charles III Edition are available for sale worldwide, with just 56 allocated for U.S. distribution—at a majestic $25,000 each. Collectors and aficionados can marvel not only at the taste but the design of the bottle itself. The hand-blown Dartington Crystal decanters commissioned for the edition have been tinted in a deep sapphire blue, meant to evoke the precious stones of the Imperial State Crown. In keeping with Royal Salute's signature style, the decanter is presented in an intricately designed wooden box inspired by Saturday's service.
"We wanted to entwine special references to the King's Coronation, so you'll see that the box has been intricately chiseled with details inspired by the architecture of Westminster Abbey," Mathieu Deslandes, Royal Salute's director of marketing, tells Galerie. "This special tribute continues on the opening of the wooden box, where jewels and crests of each country forming Great Britain are imprinted on each panel, symbolizing the unity and enduring solidarity between the nations under the Crown."
Deslandes draws attention to another bespoke element of the new edition: "If you cast your eyes back to the sapphire blue decanter you will notice that we also took great care in the design of the neck of the bottle, which is etched with fine lineage that casts over the ceilings of Westminster Abbey."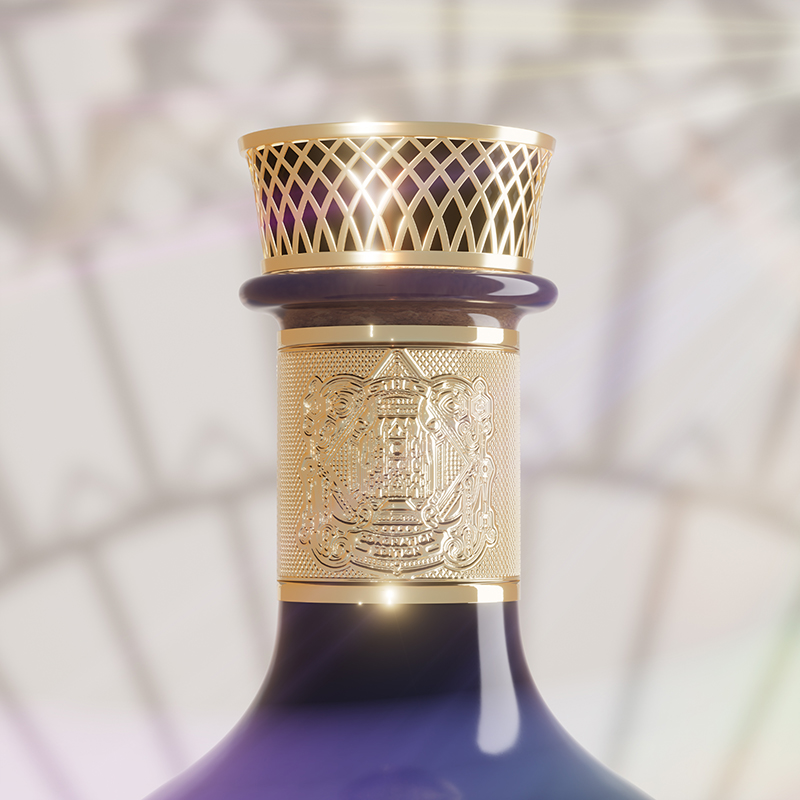 Come Saturday, King Charles III will be the 40th reigning monarch to be crowned in Westminster Abbey, and though Royal Salute has only been around long enough for two coronations, its royal connections are part of its heritage. "We have a deep-rooted historical link to the British monarchy," Deslandes explains, "and this legacy continues to be buoyed today through our extraordinary portfolio of luxurious Scotch whiskies, many of which have been created in honor of significant royal milestones. On top of releasing these tribute expressions, we've been a long-term partner of Sentebale, Prince Harry, the Duke of Sussex and Prince Seeiso of Lesotho's charity, which supports vulnerable young people living in extreme poverty and affected by HIV/AIDS in Southern Africa."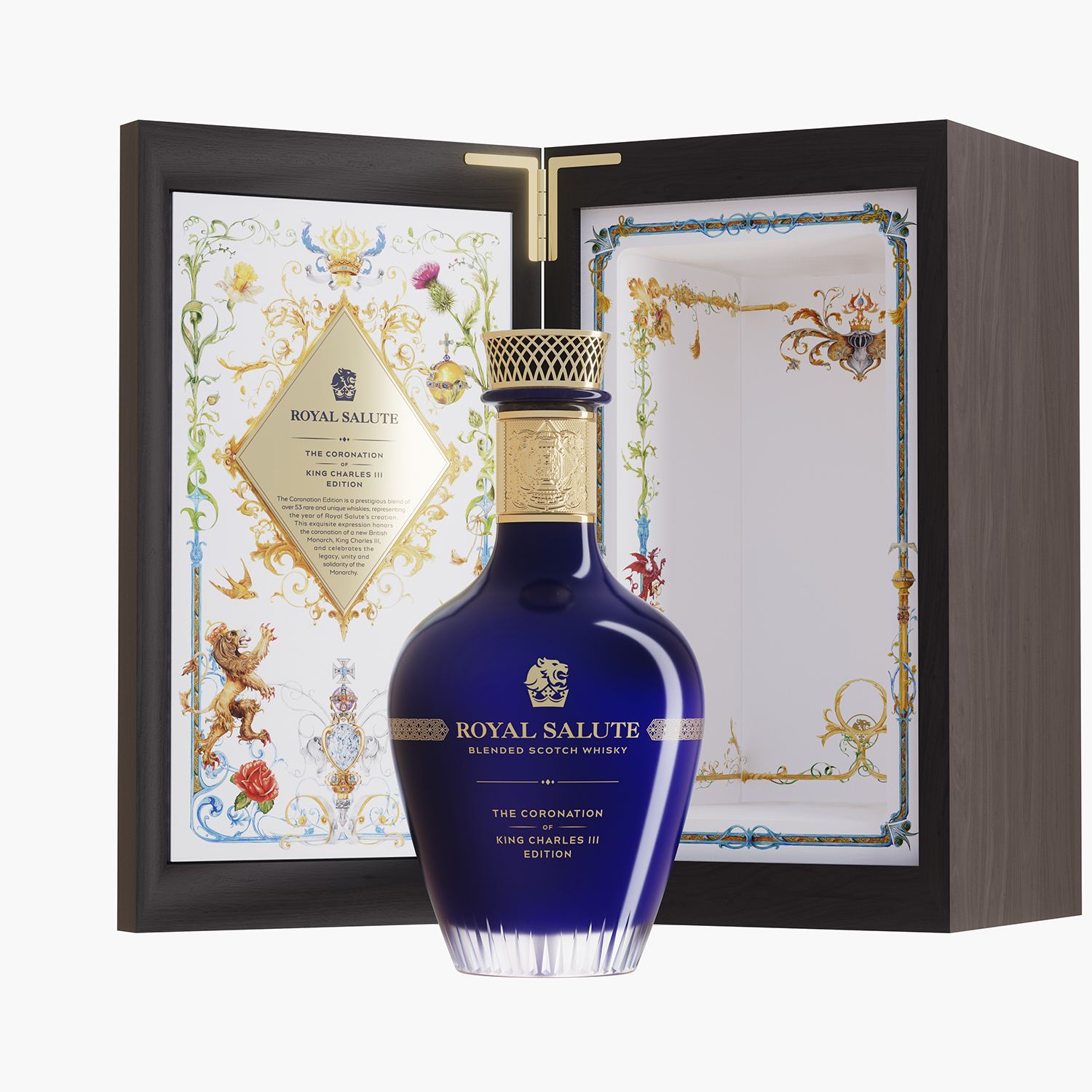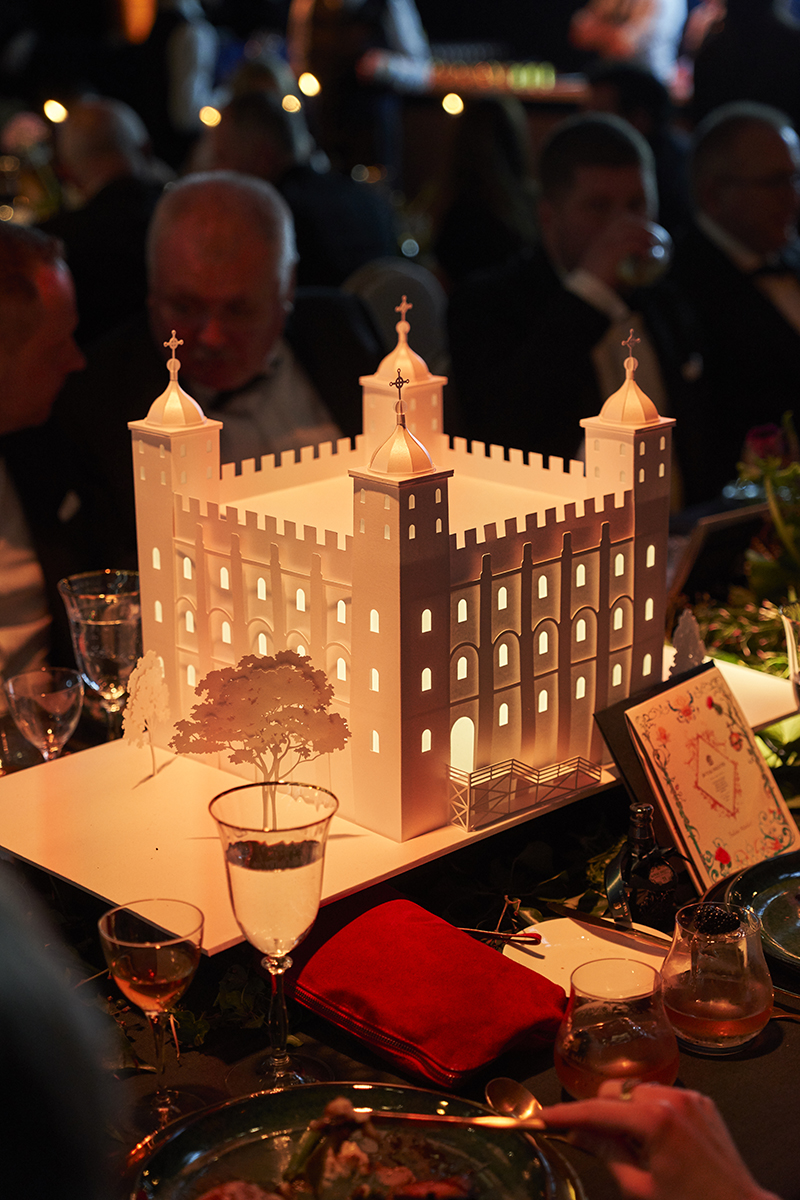 For those looking to call a bottle of the Royal Salute Coronation of King Charles III Edition their own, Deslandes notes that, while everyone has their own preference when it comes to enjoying a dram of the house's Scotch whisky, there are some suggested tips when it comes to glassware. "We always recommend nosing our blends first and letting the senses engage, so a tulip-shaped glass, like our 'Perfect Dram' nosing glass, would be ideal to really be able to appreciate the dynamic fragrances."
Adding a splash of water has been known to open up the rich blends, but whether or not the new king favors his whisky truly neat or not, Deslandes would just love to see the blue crystal bottle named in his honor be part of his historic day: "We know that King Charles III appreciates whisky and we hope he will choose to toast his coronation with a glass of Royal Salute!"
Next Post