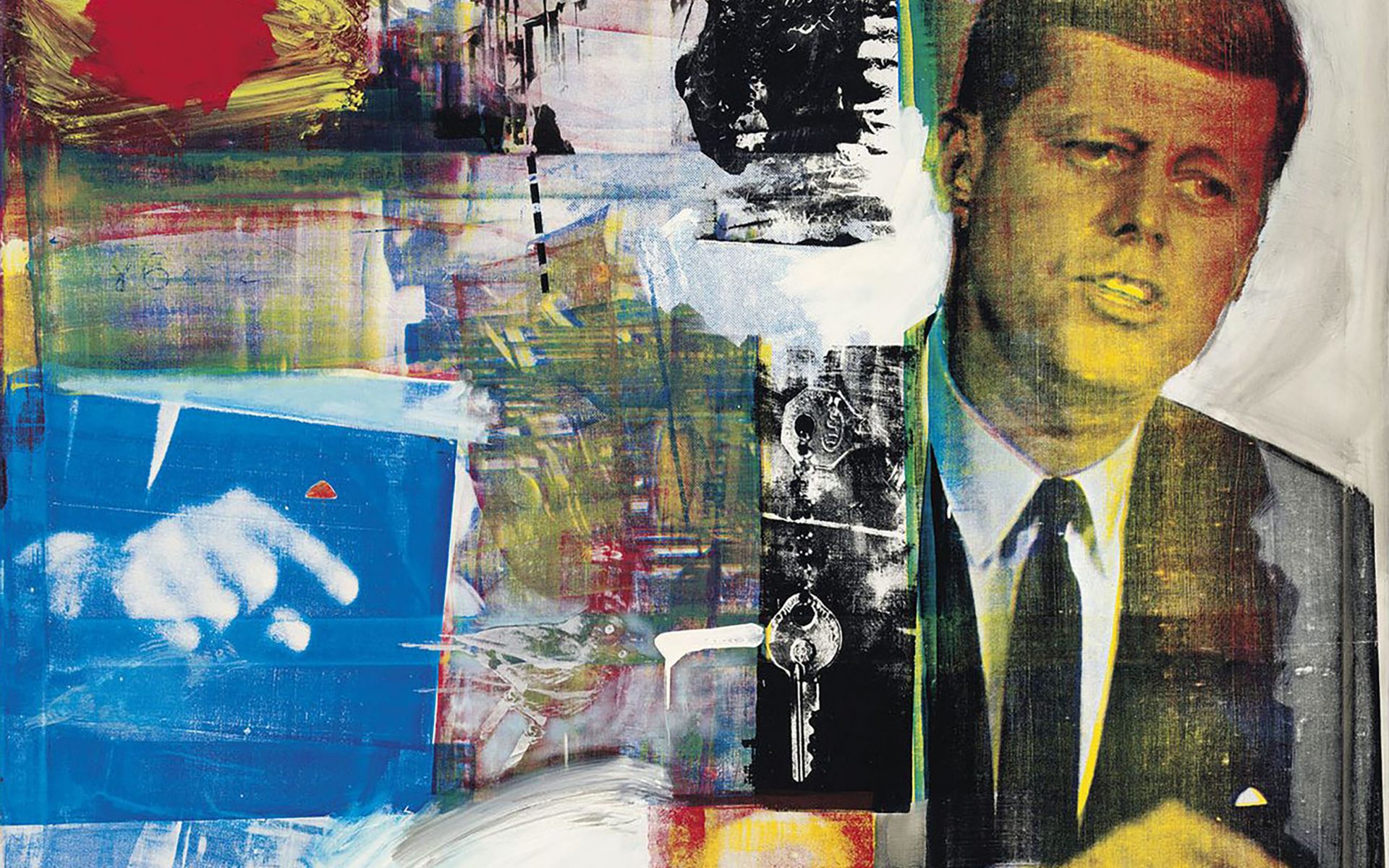 Robert Rauschenberg Silkscreen Could Sell for $50 Million at Christie's
At more than eight feet tall, the silkscreen depicts President John F. Kennedy and has been in a private collection since the 1960s
A 1964 work by artist Robert Rauschenberg is estimated to sell at Christie's for a whopping $50 million. If the sale reaches anywhere near that sum, it would shatter Rauschenberg's current auction record of $18.6 million.
The piece, a more than eight-foot-tall silkscreen entitled Buffalo II, is the centerpiece of the collection of the late Chicago philanthropists Robert and Beatrice Mayer, which also includes Chinese ceramics, Impressionist paintings, and Roy Lichtenstein's 1962 Kiss III, estimated at $30 million, among a group of Pop Art works. The auction house will reportedly offer $125 million worth of art from the Mayers' collection during its contemporary art evening sale this May.
Buffalo II was completed shortly after the 1964 assassination of President John F. Kennedy and prominently features him alongside other evocative images in a mixed-media collage.
"Everyone has been waiting for this painting,'' Sara Friedlander, Christie's international director and head of its postwar and contemporary art department in New York, told Bloomberg. "It's the very best of the silkscreen paintings that's left in private hands.''
Recommended: Caravaggio Painting Discovered in Attic Could Fetch $171 Million
Beatrice "Buddy" Mayer, an art patron and activist, was a founding member of the Museum of Contemporary Art in Chicago. When she was young, her family invested in a small grocery company that grew into the giant Consolidated Foods, which now owns Sara Lee, among other brands. After her husband's death in 1974, Mayer began loaning works from her 2,000-piece collection to numerous university-affiliated museums across the United States.
The Mayers bought the work from legendary art dealer Leo Castelli, who represented Rauschenberg at the time, for $16,900. The entire Mayer collection will be offered across several auctions, starting with Christie's 20th Century Week in May. The house will hold a dedicated sale of 11 lots on May 15, right before the postwar and contemporary evening sale begins. Other works will be included in the evening sale of Impressionist art on May 13.
Next Post