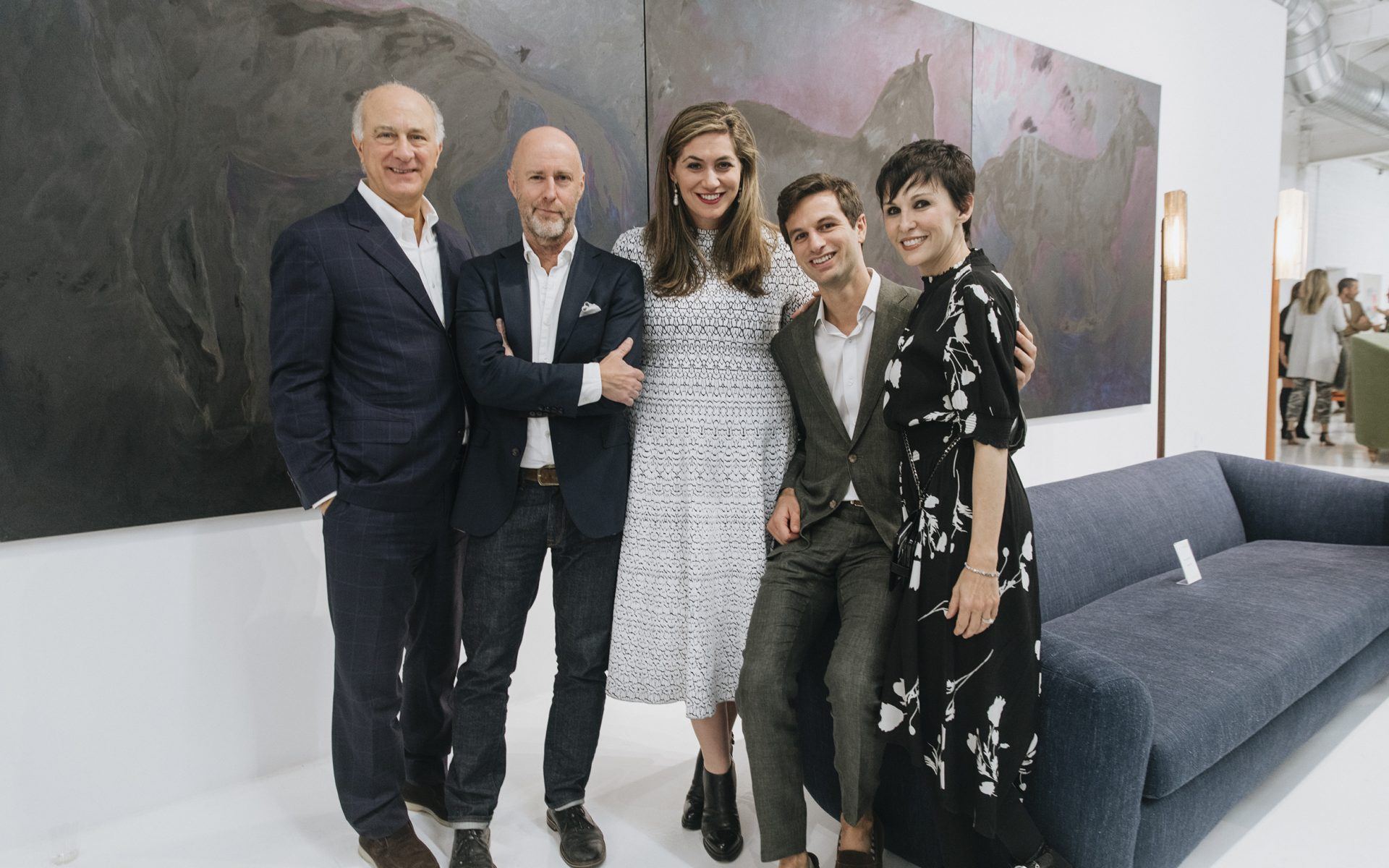 Ralph Pucci and Galerie Host an Artful Evening in Los Angeles
The event celebrated the photography of Marjorie Salvaterra and unveiled a new mural by artist Jeff Quinn
Ahead of the kickoff of Frieze LA, Galerie's editorial director, Lisa Fayne Cohen, and editor in chief, Jacqueline Terrebonne, joined Ralph Pucci in hosting an event at Pucci's namesake design gallery in Hollywood, known for featuring such legendary designers as Hervé Van Der Straeten, Pierre Paulin, Paul McCobb, and India Mahdavi. The evening celebrated the work of photographer Marjorie Salvaterra and painter Jeff Quinn, who unveiled a colorful new mural on the exterior of the showroom.
"Ralph Pucci's gallery perfectly embodies our mission to 'Live Artfully' by bringing together the best of the worlds of art and design," says Terrebonne. "And it was wonderful to give guests a first look at our new spring issue featuring Marjorie Salvaterra's inspiring work."
A fashionable mix of people from the art and design community mingled in the 12,500-square-foot showroom, taking in striking black-and-white images by Salvaterra, who was recently featured as one of Galerie's Creative Minds. Highlights included a dynamic piece haloed in a flurry of blue butterflies, You Are Not a Tree, and a selection of her female-centric snapshots, such as This Too Shall Pass and We Only Fight with the People We Want to Build With.
"I first started photography when I was in my 30s and living in Morocco," Salvaterra told Galerie in an earlier interview. "There, it's so much easier to shoot because everything is new and beautiful. When I returned to the U.S., I remember thinking, How do you shoot in your own backyard? I started with portraits and bodies and trying to do something new with that."
During the evening, a new mural by Quinn, entitled Arena (Neversink), was unveiled. "I know Jeff's style so well that I gave him carte blanche," says Pucci of the work that graces the building's façade with vibrant waves of color and will be on view for the next year. "He creates landscapes, dreamscapes, this fantasy world. To me it's a beautiful backdrop to our furniture."
Quinn was inspired by two towns, Arena and Neversink, near his weekend retreat in the Catskills, which were flooded in 1954 to create a reservoir for New York City's drinking water. "The images play with the idea of memory of a place, the remains of something that once was, and the idea of what is below the surfaces of things we see," says the artist, who also created 20 paintings for Pucci's showroom that he describes as "more subtle, complex, and poetic."
"They are invented 'landscapes' that also are based on memory, time, remnants," says Quinn of the paintings. "They deal with the power of nature, the temporary nature of human intervention versus what is eternal."
Previously, Quinn unveiled a mural on the exterior of Ralph Pucci's Miami showroom in conjunction with 2017's Art Basel in Miami Beach, as well as a massive 3,000-square-foot installation in May 2012, timed to New York's International Contemporary Furniture Fair (ICFF).
Below, see more from the fun-filled night:
Next Post