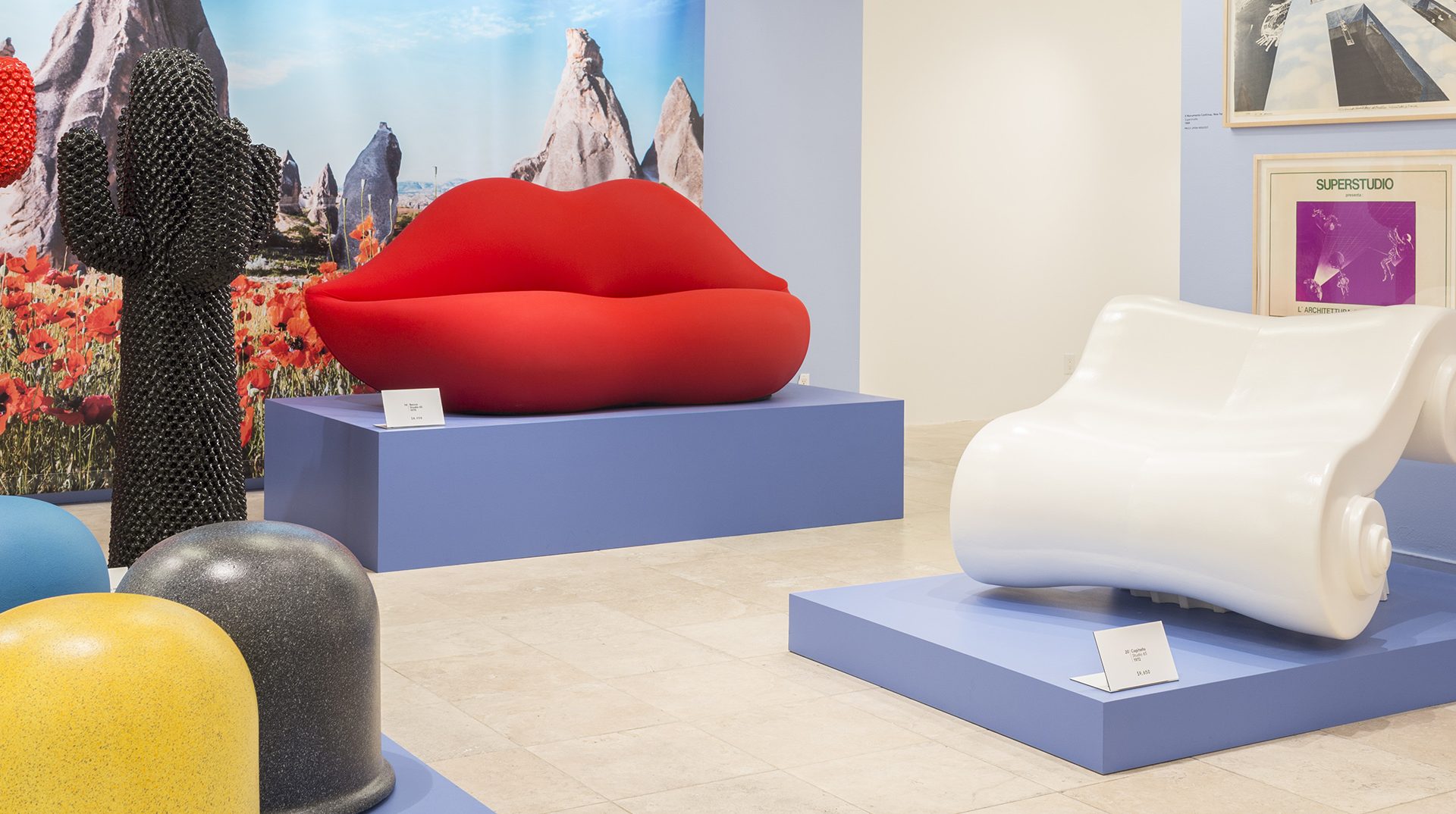 Radical Design Comes to Barneys New York
Gufram's famous Bocca sofa and Zanotta's Pratone lounge are among the playful pieces on display
A new pop-up at Barneys New York is revisiting the Radical Period, the Italian design movement of 1960s and '70s that gave us the bean bag chair and the Bocca sofa. Now the ninth floor of Barneys' Madison Avenue flagship store has been taken over by a number of remarkable pieces from the era, including items from Gufram, Zanotta, and Laboratorio Pesaro.
Gufram's cactus coatracks stand sentinel all around the room, while his Pratone lounge chair—the term chair here used very loosely—takes center stage. If you want a touch of Gufram's flair but don't have space for a Pratone, Barneys is also offering a special line of place mats printed with his signature designs.
Recommended: How Artist Peter Halley's New Show Will Dazzle a Whole New Generation
Zanotta's spindly Allunaggio stool has made it into the pop-up as well. If the three-legged perch feels extraterrestrial, it should. It was conceived by Achille and Pier Giacomo Castiglioni in 1965 to honor the exploration of the moon. In keeping with its space-age tincture is its aluminum-alloy makeup, which required adapting the same technology used to manufacture the Fiat. This was a bold step forward for furniture design, which had yet to shift toward the use of industrial materials.
According to Giuliano Mosconi, CEO of Zanotta, the quirks that gave radical design its name have remained embedded in everything the company produces. "Our catalog still contains all of the objects designed for us by the central figures of the Radical Period," he said in a statement. "Their whimsical and occasionally ironic presence still lies at the core of our company's DNA, providing the foundation for our new designs."
Radical Design is now on view at Barneys New York, 660 Madison Avenue.
Next Post