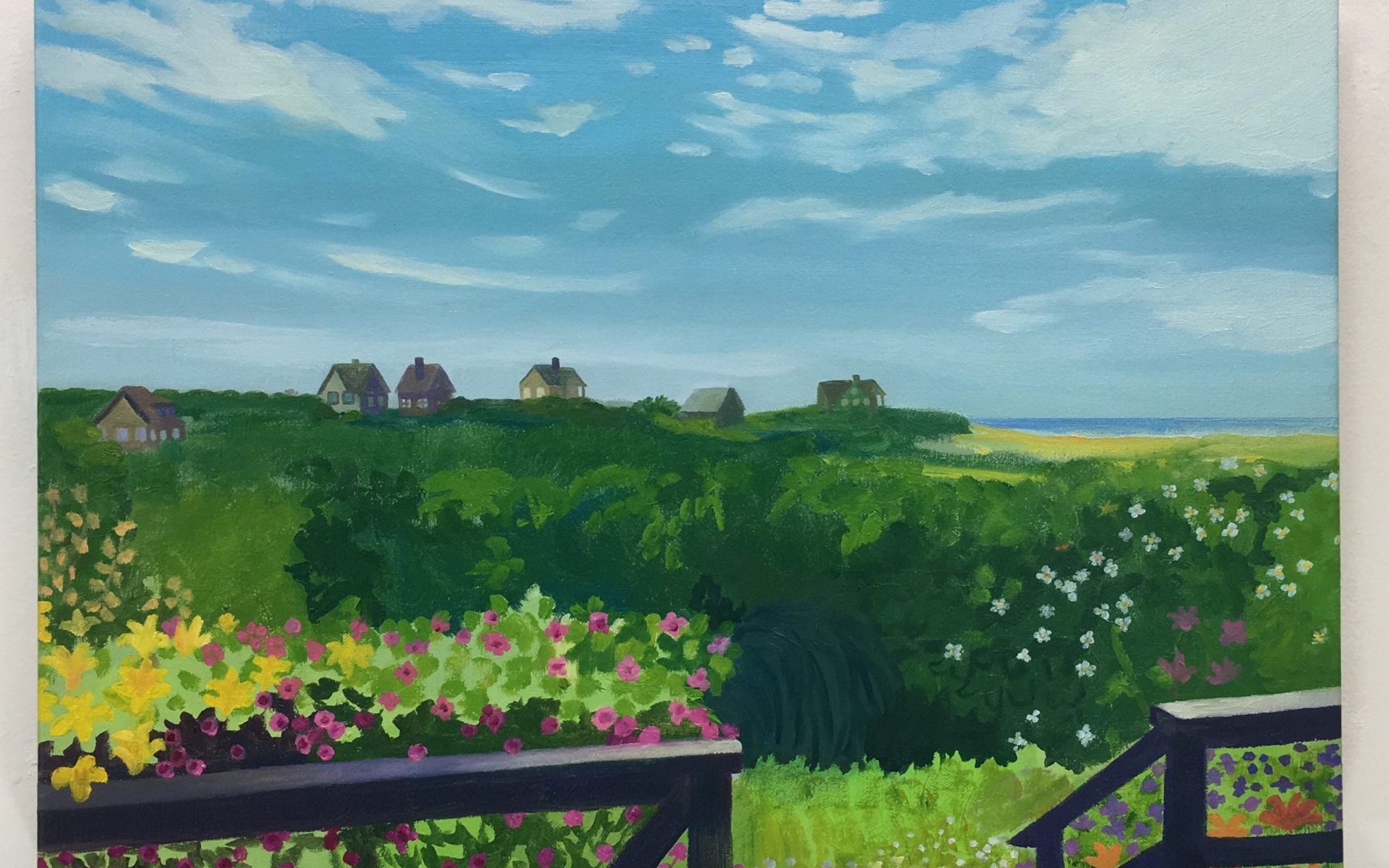 Preview the Boutique Upstairs Art Fair in the Hamptons
Now in its third year, the fair continues to deliver the intimate setting that 'art people' crave
During the summer, for those art-world denizens heading to the East End for some downtime, the Upstairs Art Fair offers a different approach from the usual white-tented affair. Founded by rare-book dealer Harper Levine and Half Gallery founder Bill Powers in 2017, the fair, which kicks off this Friday, July 19, at 6 p.m. (with a VIP preview starting at 4 p.m.), features 15 galleries, including CANADA, Ceysson & Bénétière, and 56 Henry, mostly from New York's Lower East Side, who will set up shop in an Amagansett barn. But rather than booths, the galleries have one wall on which to hang their works salon-style. The vibe is relaxed.
"It comes during a time when a lot of the city's art patrons and supporters are 'out East' and I get to see people I wouldn't see otherwise during the summer," says Rachel Uffner, whose namesake gallery will be doing the fair for the third time. "I also have family in Amagansett so have spent a lot of time there, and it's just beautiful and familiar."
Uffner's gallery has participated in several art fairs this year, including Frieze New York, Independent, the Dallas Art Fair, and Felix Los Angeles, and regularly does NADA Miami Beach and the Armory Show. For Upstairs, Uffner will be bringing works by Bianca Beck and Joanne Greenbaum.
Recommended: Robert Wilson's Summer Home Is Just How You Would Imagine It
"It seems like an easy alternative and a fun small fair," says Silke Lindner-Sutti, director of Jack Hanley Gallery, which is doing the fair for the first time this year after hearing from other galleries that "it was really fun." They're bringing works by Danielle Orchard, Emma Kohlmann, and Alain Biltereyst, whose show is currently on view at the gallery.
Powers attributes its popularity to the increasing interest in boutique fairs like Felix in L.A. or the Marfa Invitational in Texas. "I think art people are craving a more intimate setting," he says, noting that artists, including Rashid Johnson and David Salle, have come by the fair.
And the contemporary art scene in the Hamptons has grown steadily to match the appetite of the summer crowd. "Just on Newtown Lane alone," says Powers, "there are five quality galleries, and many more in the surrounding area."
The art-filled history of the Hamptons adds a little cache. It's long been a haven for artists from Winslow Homer to Helen Frankenthaler, Lee Krasner, and Jackson Pollock, who famously died in a car crash in East Hampton in 1956.
Recommended: 5-Minute Journal: Artist Rashid Johnson Opens His Diary for Galerie
"The history of the Hamptons and art is also just long and rich and fascinating," says Uffner. "So all those things give the fair an interesting context . . . and the hydrangeas."
Read on for a preview of what the galleries are bringing.
Sadie Laska at Ceysson & Bénétière
John Bradford at Anna Zorina Gallery
Paul Rouphail at Jack Barrett
Joanne Greenbaum at Rachel Uffner
Anthony Iacono at Marinaro
Adrianne Rubenstein at Harper's Books
Danielle Orchard at Jack Hanley
Recommended: Why Danielle Orchard's Female-Centric Works Are Causing a Stir
Franck Chalendard at Ceysson-Bénétière
Daniel Heidkamp at Half Gallery
Alexandria Tarver at Deli Gallery
The Upstairs Art Fair is open July 19 at 6 p.m.–8 p.m.; July 20 at 11 a.m.–5 p.m.; and July 21 at 11 a.m.–5 p.m. at 11 Indian Wells, Amagansett, New York. It is free and open to the public. Participating galleries include Anna Zorina Gallery, Bill Brady Gallery, CANADA, Ceysson & Bénétière, Deli Gallery, Eric Firestone Gallery, Halsey McKay Gallery, Harper's Books, Half Gallery, Jack Barrett, Jack Hanley Gallery, Marinaro Gallery, New Release, Rachel Uffner Gallery, 56 Henry.
Next Post