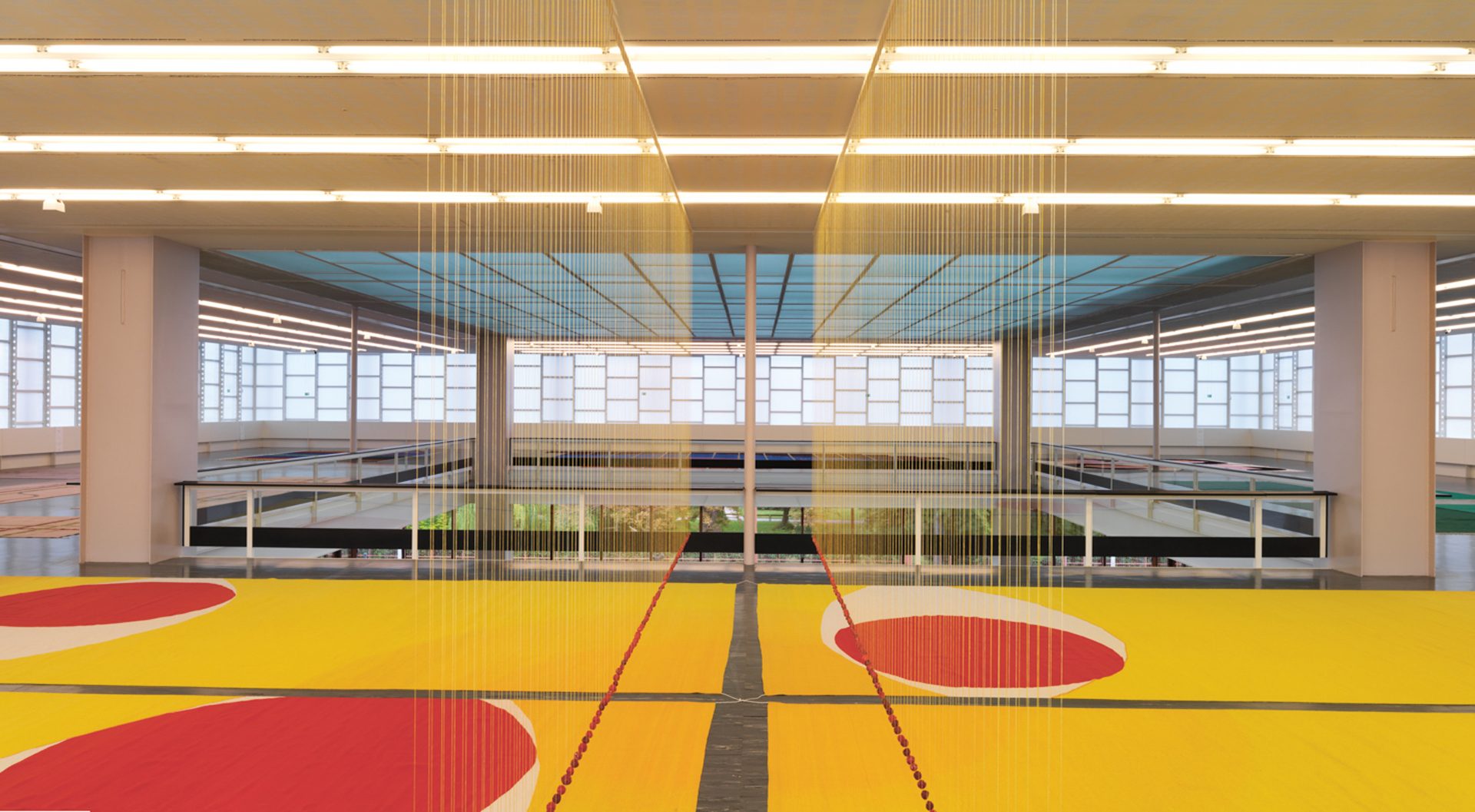 Two Shows Explore Polly Apfelbaum's Ceramics and Textiles
We catch up with the artist, who is best known for her colorful dyed-fabric floor pieces
Fascinated by a hybridized aesthetic that mixes the traditions of painting, craft, and installation, Polly Apfelbaum is best known for her colorful dyed-fabric floor pieces, which she has widely exhibited since the early 1990s. Trained as a painter, she's moved that medium into multiple realms through a practice of continuous experimentation with a variety of art, craft, and everyday materials.
Since 2012, when Apfelbaum was awarded the Rome Prize and a residency at the American Academy in Rome, she has mounted a striking series of installations featuring small-scale ceramics and jumbo rugs. Two current exhibitions in Europe showcase her new work.
At Belvedere 21 in Vienna, "Happiness Runs" presents six of Apfelbaum's colorful carpets (through February 10, 2019). "Waiting for the UFOs (a space between a landscape and a bunch of flowers)," a show at Ikon in Birmingham, UK, features her ceramics, rugs, and works on paper (through November 18, 2018). Apfelbaum recently sat down with Galerie to discuss these exhibitions and new developments in her endlessly evolving practice.
You have solo shows of recent works at two major museums in Europe right now. How did you decide what to exhibit at each venue?
I was somewhat panicked when I heard that I was having both shows simultaneously, but it's either feast or famine. Scale became the determining factor for the Vienna show, where I have six recent installations, mainly consisting of large-scale rugs exhibited in a big, open space. The Ikon show, contrastingly, features a fuller range of works, including new rugs and ceramics, as well as an earlier work on paper.
You've created ethereal floor works—what you call "fallen paintings"—since the 1980s. How did this process evolve into making handwoven rugs?
I made my first rug for the 1997 group show, where all of the artists were asked to make rugs, at A/D Gallery in New York. Fast-forward to 2012, just as I was about to depart for a residency at the American Academy in Rome I was commissioned to make a work for the "Miss Dior" exhibition, which opened in 2013 at the Grand Palais in Paris and later traveled to China. I could do whatever I wanted, so I decided to revisit the rug idea. The notion of bringing the viewer into a more immersive realm was where my installation work was already heading.
Is there a conceptual thread that holds together the six rugs you are exhibiting at Belvedere 21?
I would say time, space, and maybe the history of rugs and carpets, but each one was specific for a space when it was made. I like that it's the essence of each installation and still formally a fallen painting. A better answer, however, might be yes and no, as I'm still trying to figure that out.
What first attracted you to working on the floor?
It's a hybrid space. When you get out of school, it takes some time to find yourself. I was interested in working in sculpture, but installation was coming into its own. I loved painting, but it really was a time for me to experiment and look for an alternative. Sculpture, which I didn't study, was something on a pedestal, and that was foreign to me. I was interested in the space between art and life. I wanted to use everyday materials, which were light, not heavy, and I wanted to be able to just throw them on the floor and reinvent the wheel.
One group of rugs reinterprets an illustration of a woman by [American graphic designer] Rudolph de Harak from the 1963 book The Potential of Woman, while another group references a 1948 Jean Dubuffet drawing of footprints in the sand. Although it's not always obvious, what role does appropriation play in your work?
It's probably related to my love of history and my love of art. Someone recently told me they really liked that I was bringing other people into the work—that I'm bringing Dubuffet's feet in and that I'm bringing a graphic design image in—while reexamining these things. When I was at the American Academy in Rome, I spent a year primarily looking. What catches your eye can be most interesting. I saw a drawing of feet and saw a graphic image and wanted to appropriate them—we've been in an age of appropriation—in order to learn more about them as images.
Are there particular artists or styles that you tend to reference and revisit?
I have a love of and affinity for American abstract painting. I like the Washington Color School painters. Morris Louis, Kenneth Noland, and Gene Davis are referenced in the recent rugs. They were pretty radical. I'm looking at that radicalism without wanting to do what they did but to reinterpret it.
What's the process for making the rugs and why do you have them made in Oaxaca, Mexico?
Going back to 1997, the show at A/D was titled "Woven in Oaxaca." When I decided to revisit the rug idea I found the original factory in Oaxaca and the same person that had made my first one, which means they are made by the same hand. I don't know that much about the process, but for the Zapotec people it's a craft that's thousands of years old. Tapping into that kind of history is very humbling for me. In 1997, I sent a one-to-one drawing, but now we're in the digital age, so I send image files along with hard copies of the colors.
At Ikon, a selection of new rugs is joined by a series of new ceramics, a wall painting, and an installation of hanging beads. What's the visual glue that holds these works together?
I think it's abstraction. The work in Vienna is somewhat more narrative, but the work at Ikon is predominantly abstract. There are some new things that I've introduced, but there aren't any eyes or feet or body parts. There are, however, a bird and a snake, which are brand-new.
How did you come to working with the target form in the ceramics and rugs at Ikon, which also finds a link to your earlier Wallflower piece there?
I recently had a solo show at L.A.'s Otis College of Arts and Design, where I had an earlier piece mixed into an installation of new work. I'm an older artist with a history, and I like the idea of connecting works. The first target piece I did was this 1990 Wallflower piece, which has some 500 handmade paper flowers pinned to the wall. It's about a role reversal—the woman who's not asked to dance becomes the beautiful flower, which is a different way of looking at a target. The targets in the Ikon show reference a lot of different histories. You think of Kenneth Noland and Jasper Johns—the painterly tradition—but I also like that it was my history, too, which comes full circle.
The use of large areas of color in the rugs and on the walls for your installations reminds me of 1970s supergraphics. Is that an influence?
It is. I'm interested in the use of icons and graphic imagery—in the power of icons and simple, graphic forms. It goes back to the weaving, where's there are restrictions, and those restrictions are very interesting for me. When I start out I put everything into the work. I can go for strong color, but I know that editing out and making simple images is really what I want. It's a process of reduction.
What's the appeal of craft for you?
I went to an art school that taught weaving, ceramics, and jewelry making, but I was contextualized. I've always respected craft, but I was contextualized in painting and sculpture; otherwise, I would have been marginalized, especially as a woman. I find it interesting to come back and tap into ceramics and weaving, which are things that could be viewed as "women's work." I've been a maker my whole life and have a studio practice—whether it's drawing, ceramics, or dyeing fabric. It's the hybrid conceptually and the hybrid formally.
You're schooled, with a BFA from Tyler School of Art, but do you also consider yourself to be self-taught?
Yes, I do. I don't want to belittle my education because I'm really proud of Tyler, which is a public art school. However, I think my life as an artist started when I got to New York. Every artist is different—each shaped by his or her experiences, with those experiences becoming their education. My education is still continuing; I'm still learning. I feel like I'm having to reinvent the wheel with each new body of work.
Next Post