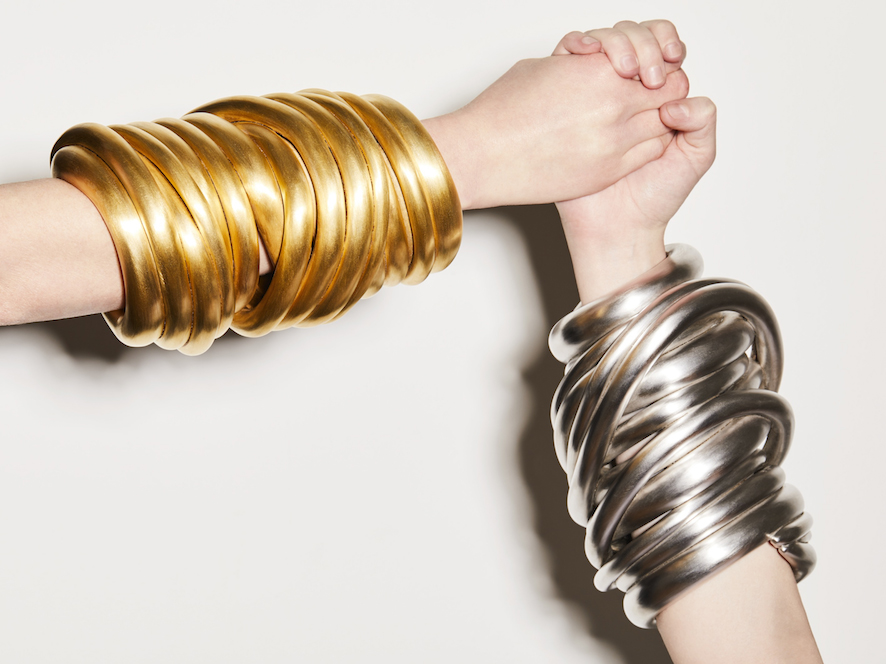 Pipilotti Rist, Louise Bourgeois, and Subodh Gupta Create Stunning Wearable Artworks
Innovative jewelry by 15 contemporary artists are on display at Hauser & Wirth
In 2008, Louise Bourgeois was invited by the Spanish art collector and former model Celia Forner to create a set of wearable objects for an art project she had in mind. What Bourgeois came up with, then in her 90s, was a pair of stunning cuffs in rose gold, yellow gold, and rhodium-plated silver that wrapped around the wearer's wrists in a dramatic, rope-like fashion.
It was the beginning of what would become known as the "Portable Art Project," a series of jewelry commissioned by 15 major international artists, which will be on display for the first time at Hauser & Wirth New York (69th Street) on April 20. Major artists like John Baldessari, Paul McCarthy, Matthew Day Jackson, Subdoh Gupta, and Pipilotti Rist have taken a leap from their usual practice to create these innovative forms that sit somewhere between sculpture and jewelry.
Of course, artists experimenting with jewelry is not new. By the turn of the 20th century, the boundaries between "fine art" and applied arts began to blur. Standouts from the Modernist period include Yves Tanguy's surrealist landscape earrings gifted to Peggy Guggenheim in 1942, Man Ray's avant-garde pieces with Italian jewelry firm Gem Montebello, and Pablo Picasso's brooches of bulls and mythological figures. It was Alexander Calder, however, who was credited as the first modern artist to make jewelry part of his ongoing artistic practice—his handmade one-of-a-kind pieces were often crafted from brass, steel, silver and bits of old glass, and were treated in the much the same way as his mobiles.
The exhibition at Hauser & Wirth this month, offering a chance to see an extension of these much-loved contemporary artists' practice, includes both unique pieces and editions, which are priced between $15,000 and $120,000.
Here, Galerie picks out the highlights.
Swiss painter Caro Niederer's charm bracelets consist of 7 small photographs of her home and studio delicately imprinted on glass.
John Baldessari's surrealist-looking elbow cuff and spike "Crowd Arm (Gold on Gold)" and sculptural nose piece are crafted from yellow plated gold and silver.
Indian artist Subodh Gupta has created a necklace with emeralds spilling from a golden jar pendant (a nod to his signature large-scale installations of kitchenware and everyday objects).
Bharti Kher's lion-headed arm piece is meant to act as a talisman and protector, and harks to traditional performance rituals thanks to its concealed handle.
American artist Michele Oka Doner draws on the natural world in a bracelet and necklace made of diamond-encrusted, patinated bronze inspired by the dark night sky dotted with stars. Their twisted form resembles something that might have been found deep under the sea.
Next Post