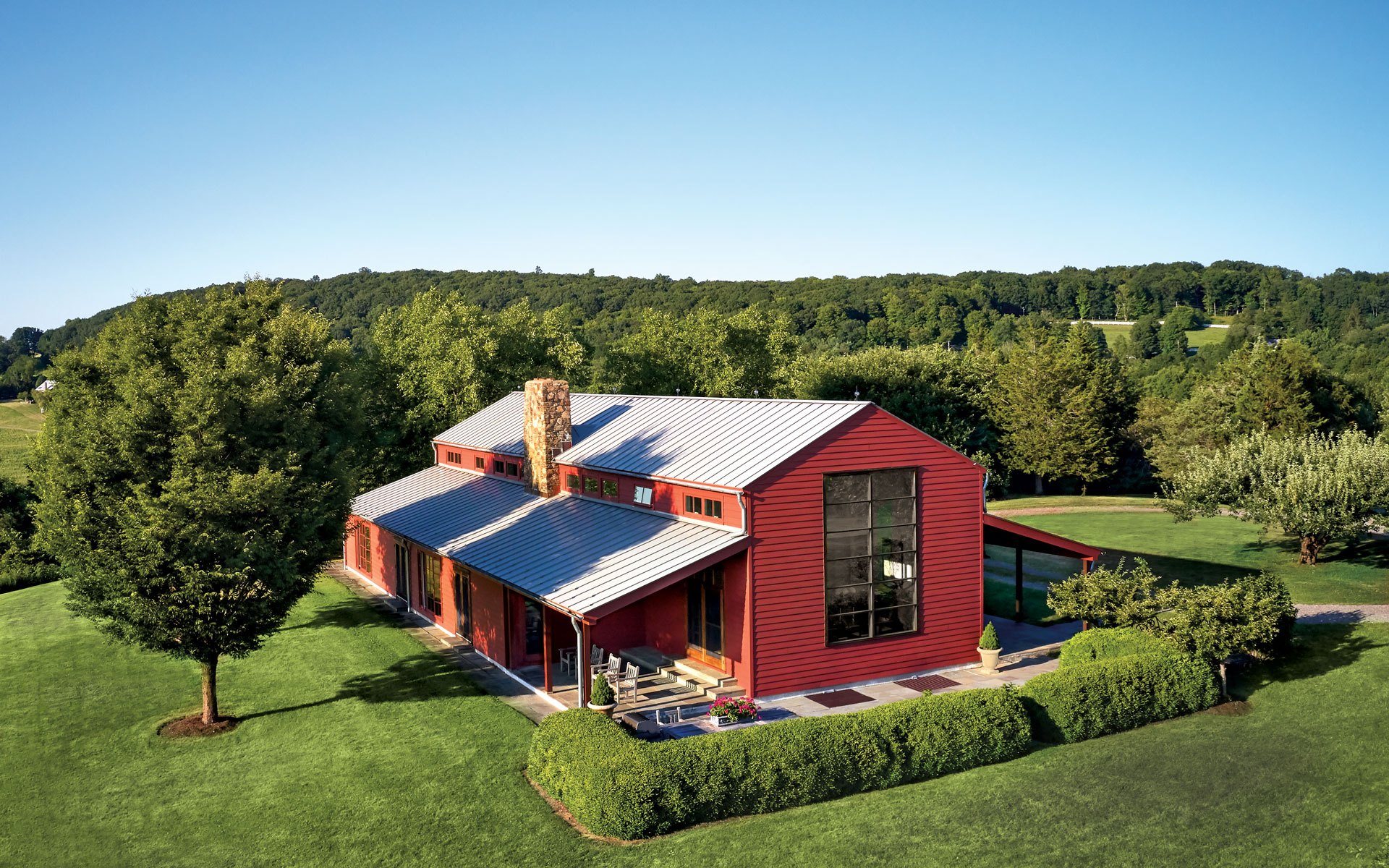 Pietro Cicognani Devises a Striking Barn-Style Home for a Prominent Collector
The spacious Hudson Valley retreat of Kathleen Vuillet Augustine was designed to showcase her impressive collection of contemporary art and artisan furnishings
During the course of his diverse, 30-year career, architect Pietro Cicognani has designed everything from formal country estates and glamorous Fifth Avenue duplexes to eclectic restaurant interiors and minimalist artist studios. Yet if there's one type of structure the Bologna-born, New York–based architect may be most identified with, it's the barn. An entire section of his sumptuous new book, Pietro Cicognani: Architecture and Design (Vendome), is devoted to barn-style homes he designed from scratch and barns he renovated, including the one he has spent years transforming on the Long Island compound of his friend actress Isabella Rossellini.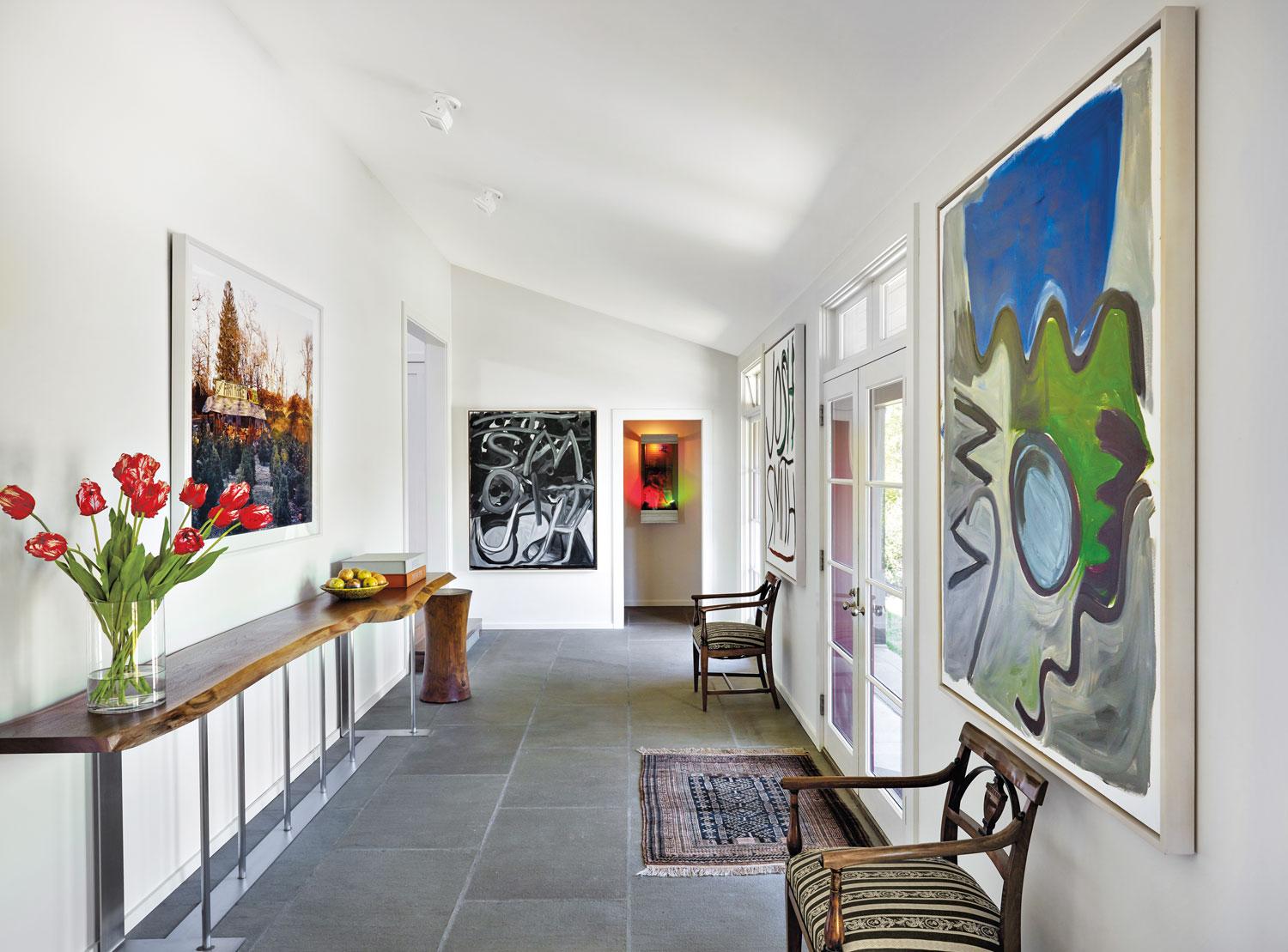 "I've always loved abandoned industrial or agricultural structures," Cicognani says. "I guess I have an inherent affinity for old American barns and want them to come back to life with a different purpose, the way ancient structures gain new life throughout history."
Another project featured in Cicognani's book is an upstate New York home inspired by American Dutch–style barns, some of the country's oldest and rarest barn structures (only about 500 are still intact), typically defined by a steep, gabled roof and a lofty interior. Set on 120 acres of rural land in Dutchess County, the red clapboard home was created in 2004 for Kathleen Vuillet Augustine and her then husband, noted gallerist Roland Augustine, co-owner of the New York gallery Luhring Augustine. Timeless in spirit and airy yet economical, the clean-lined residence is well suited to displaying an evolving and expansive collection of art.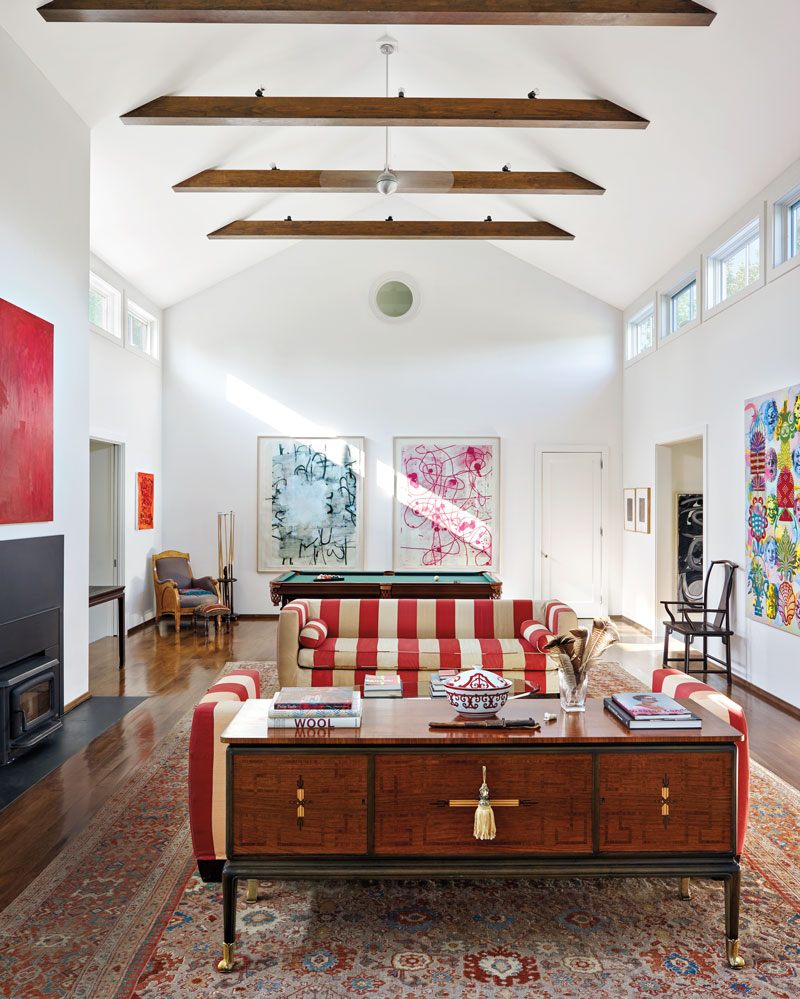 Working with Ann Kalla—his partner in their firm, Cicognani Kalla Architect, until her death in 2009—Cicognani devised a spacious double-height central living area, like the nave of a cathedral. Clerestory windows provide natural light without taking up valuable wall space so that the contemporary art can shine. The kitchen, featuring a soaring wall of windows, overlooks verdant fields. Single-story wings with sloped roofs run along the front and back of the house, one containing a stone-paved entrance gallery and the other a book-lined dining room, the main suite, and a guest room. A hidden circular staircase on one end of the living area leads to two bedrooms used by the former couple's adult sons. A set of steps on the other end reaches a home office above the kitchen. "The house works well horizontally and vertically," Cicognani says.
"I have an inherent affinity for old American barns and want them to come back to life with a different purpose, the way ancient structures gain new life throughout history"

Pietro Cicognani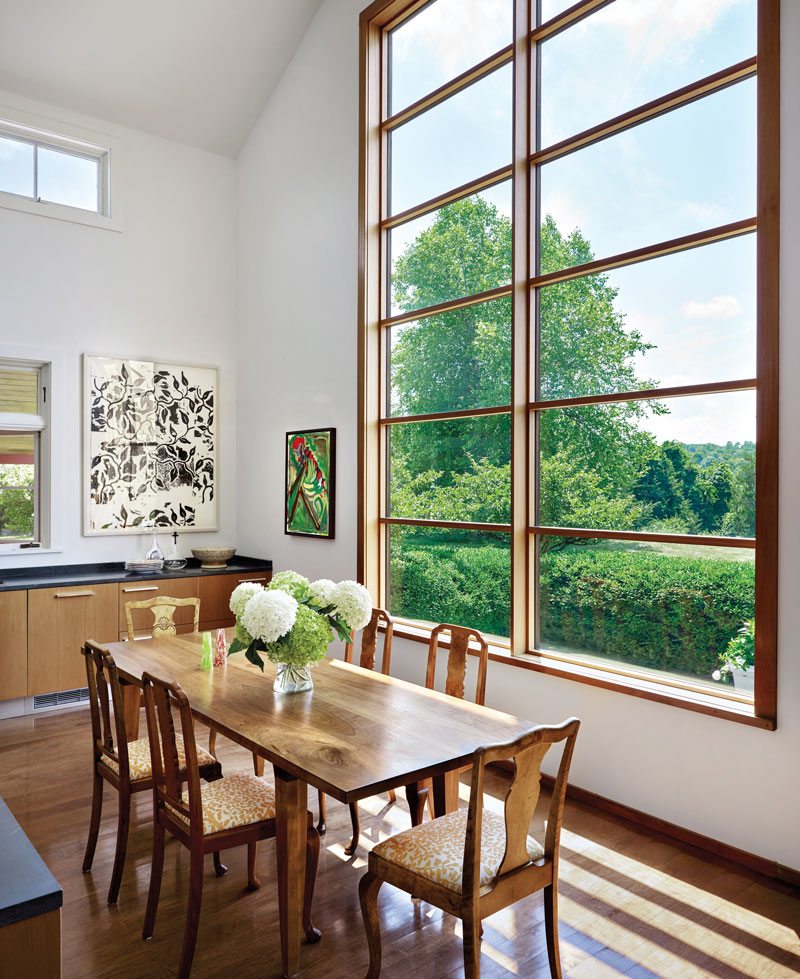 Over the years the interiors have evolved as Vuillet Augustine, a former editor at House & Garden, introduced a softer, more relaxed touch. Lean furniture, such as an elongated console in the entrance, the dining table, and the living room sofas—all designed by master wood craftsman Chris Lehrecke—remain. But those sofas, originally covered in a pale-yellow fabric, are now brightened with cheery red-striped slipcovers and perched atop a faded Sultanabad rug. A Steinway & Sons baby grand (Roland is a classically trained pianist) that once occupied a prominent spot in the living area has been swapped for a pool table—which their sons are more adept at using.
Meanwhile, Vuillet Augustine's collection of modern and antique Swedish and Danish furnishings, acquired from family friend dealer Laurence Fox, has joined the mix. "While the furniture has become more abundant and eclectic," she says, "I wanted things to be very light. Plus, it's nice to blend old pieces with new pieces. It works especially well with contemporary art."
The art collection is as personal as it is radiant. Far from being a compilation of greatest hits by brand names, it's a compelling, provocative display of works by artists represented by Luhring Augustine, which has helped introduce American audiences to international talents such as Pipilotti Rist and Ragnar Kjartansson. Bold brushstroke paintings by Josh Smith join antique Scandinavian armchairs in the front hall. A Philip Taaffe canvas bursting with aquamarine and magenta hues electrifies the kitchen. An unconventional work for Kjartansson, an ephemeral 2015 portrait of Vuillet Augustine—humorously titled Kathleen, or Your Mother Is Watching You, for Sam and James—graces the dining room.
"While the furniture has become more abundant and eclectic, I wanted things to feel very light"

Kathleen Vuillet Augustine
In the living room, a pair of large screen prints by Christopher Wool overlooks the billiards table, while a crimson monochrome painting by Smith hangs above the minimalist steel fireplace. "Instead of a traditional portrait over the fireplace, I liked the idea of a blank field of color there," Vuillet Augustine says. "You have to use your imagination."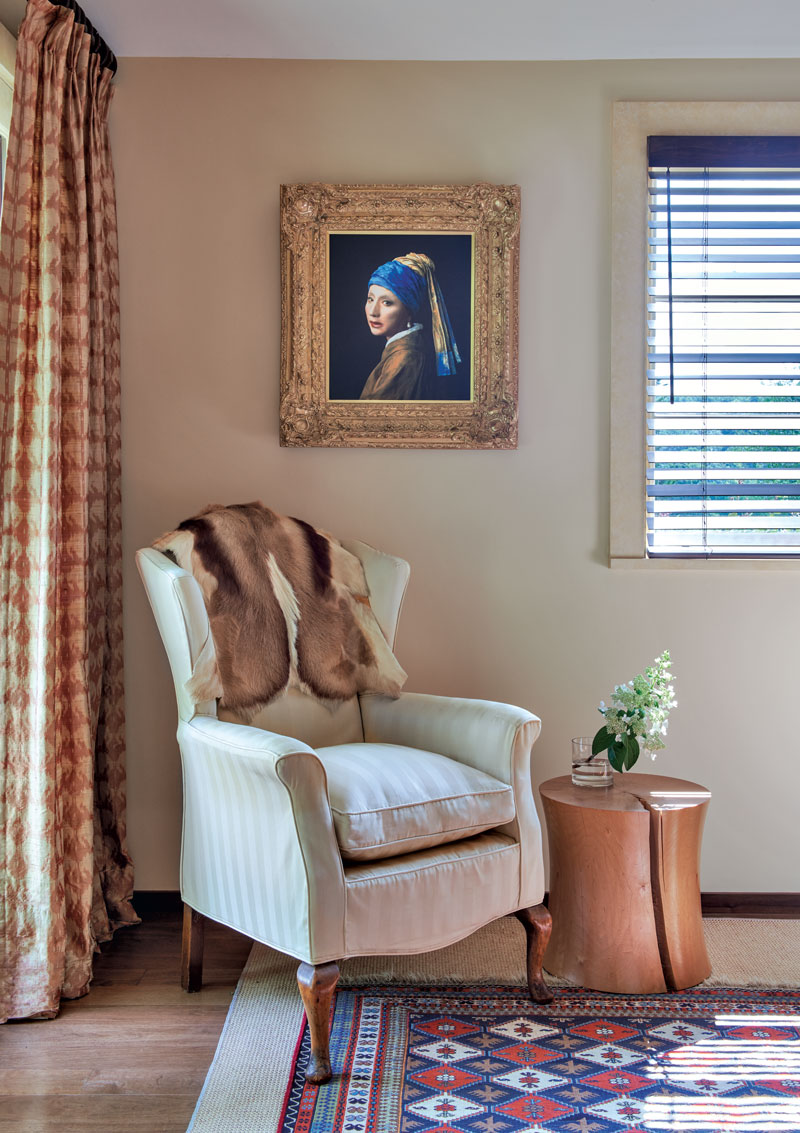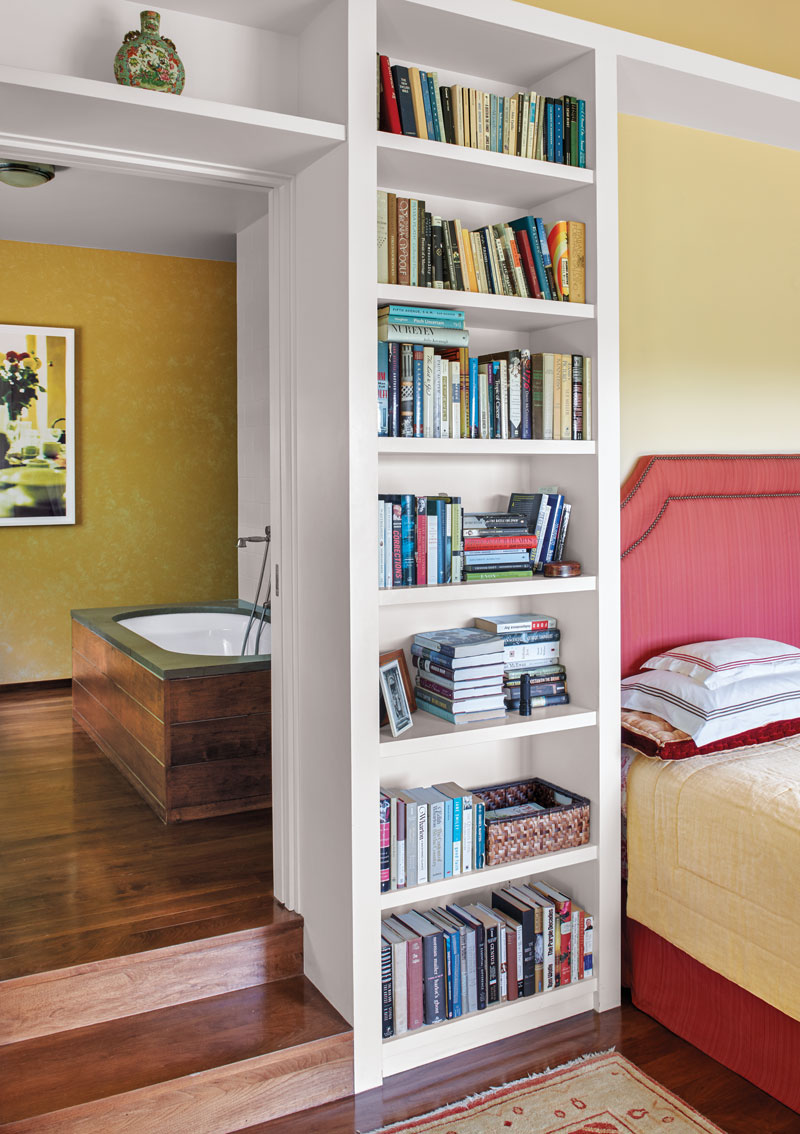 While Cicognani's architecture looks as fresh as ever, in some ways it's a different house, at least in spirit, thanks to Vuillet Augustine's updates. "Nothing major happened to the integrity of it, but the interiors no longer have a minimal quality," she explains. "It's neat, because I don't like 'stuff,' but I'm less rigid. Now it's a house that's really lived in and used." The home manages to be both "spartan and quite luxurious at the same time," adds Cicognani. "It achieves a perfect balance between the two."
A version of this article first appeared in print in our 2020 Fall issue under the headline "Arcadian Rhythms." Subscribe to the magazine.
Next Post