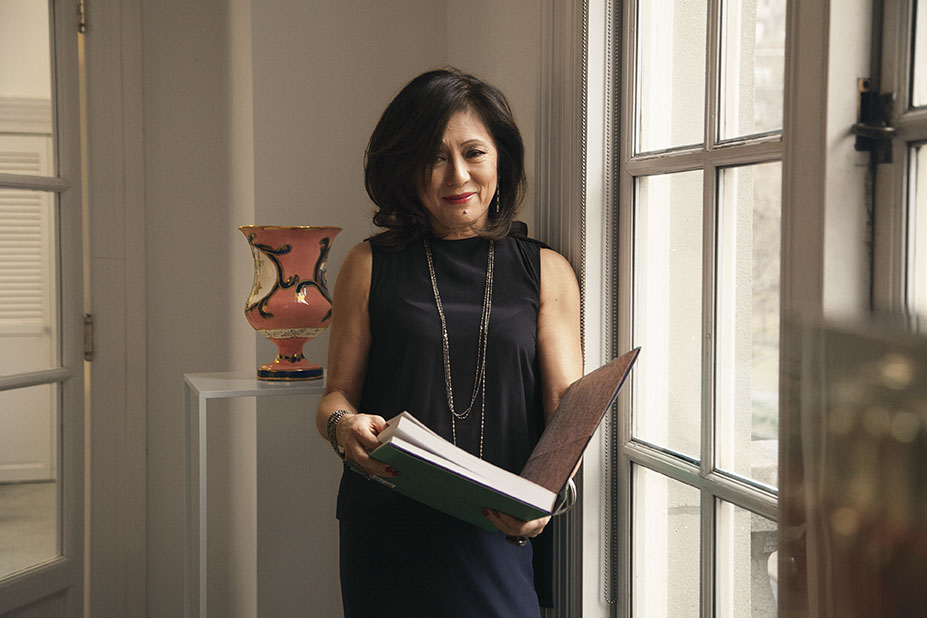 Meet a Philadelphia Art-World Power Player
Sueyun Locks has forged longtime creative partnerships with a starry roster of artists
In an art world rife with opportunism, it is refreshing to see a major artist stay with the same dealer over multiple decades. Jennifer Bartlett's latest exhibition with Locks Gallery in Philadelphia, on view through March 31, marks her 17th solo show there—a relationship that spans nearly a quarter-century. "Our aim is to research and publish every stage of her career, for future generations," says the gallery's owner, Sueyun Locks.
The current show, "Point, Line, Square, Getting Somewhere," is the first thorough presentation of Bartlett's seminal ventures into painting on steel plates in the 1970s. It was a critical period of experimentation that produced the artist's most famous work, Rhapsody, a monumental 987-plate piece—now in the collection of New York's Museum of Modern Art—that epitomized Bartlett's efforts to systematically explore various modes of painting. As Locks puts it, "She's counting, she's measuring, she's trying all different ways to make the lines and the shapes."
This show is the seventh that Locks has devoted to Bartlett in the last five years alone, and that level of commitment is a big reason why the artist has opted to work primarily with the gallery—despite it being in a city outside the contemporary art world vortex. Bartlett says that "Sueyun's program and approach to working with artists is personal and a perfect fit for me." 
Long the top contemporary art gallery in Philadelphia, Locks is preparing to celebrate its 50th anniversary next year. It was founded in 1968 by Marian Locks, Sueyun's mother-in-law, to showcase artists who were coming out of the city's outstanding art schools, including the Pennsylvania Academy of the Fine Arts and the Tyler School of Art. "There was no contemporary scene that supported Philadelphia artists at that time," says Locks, who grew up in South Korea and received her master's in sculpture from Boston University. Recruited by Marian to take over the business in the late '80s, Locks moved the gallery in 1990 to its grand three-story palazzo-style building on Washington Square. The location was conveniently one block from the home where she and her husband, Gene, were raising four daughters—including Mia Locks, a cocurator of this year's Whitney Biennial.
Next Post
While the gallery continues to represent respected local talents, its roster also features a coterie of internationally recognized artists. Locks has focused particularly on established women—Lynda Benglis, Pat Steir, and Betty Woodman, in addition to Bartlett—all celebrated for groundbreaking work, if still somewhat behind male peers in terms of market prices and museum support.
But Locks is doing her part to change that. She has the advantage of three floors of gallery space, and she offers her artists frequent exhibition opportunities and produces catalogues for nearly every show. Locks is also proactive with museums, advocating for exhibitions and acquisitions. "We analyze museum collections and see what they're lacking," says the dealer. "I'm serious about supporting the artists I believe in." ­