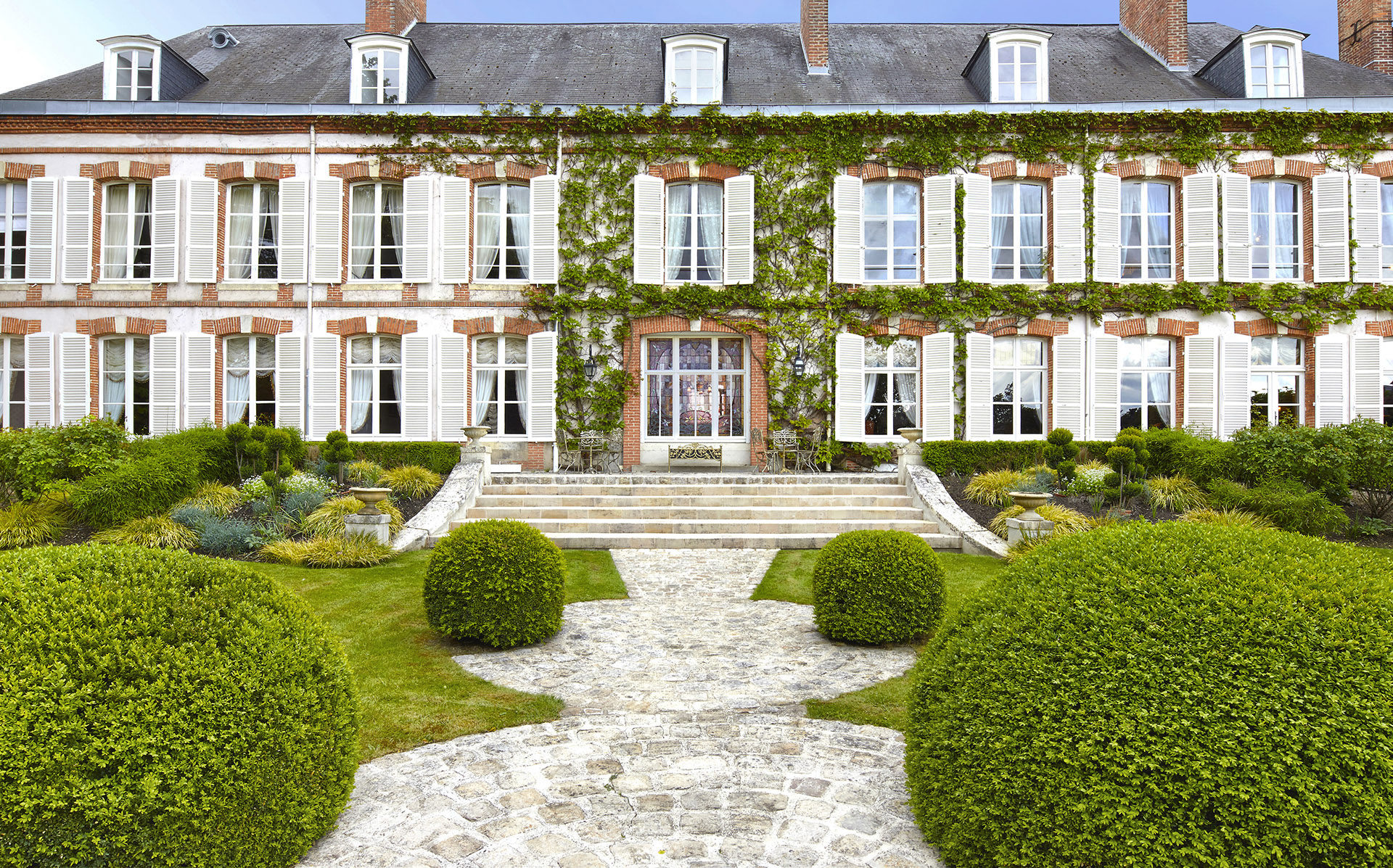 Perrier-Jouët's Maison Belle Epoque Dazzles in France
Life, not just art, abounds at the refreshed estate of Pierre-Nicolas Perrier and Adélaïde Jouët
Flowers are everywhere at the newly reopened Maison Belle Époque, the former home of late champagne magnates Pierre-Nicolas Perrier and Adélaïde Jouët in Épernay, France. On a Murano glass chandelier, light bulbs sprout from pink glass flowers, surrounded by green, leafy forms. A bright, blocky red aster twists up a stained glass window. Delicate Japanese anemones crawl up champagne flutes. Carpets, curtains, and fabric-covered walls and chairs bear petals and stems, weaving into soft, organic patterns. Out back, ivy lines the red brick facade, disturbed only by two rows of tall windows and their wide, white shutters. The lush gardens bloom with white roses.
The motif perfectly complements the home's nearly 200 Art Nouveau pieces, the largest private collection in Europe. The fin de siècle movement, which spread throughout the continent at the end of the 19th century, took inspiration from natural forms (particularly plants and flowers). Many of the era's defining personalities, including Hector Guimard and Emile Gallé, are represented in the home's objets. Gallé, a friend of the Perrier-Jouët family, created many of the lamps in the home. With slender bases and peaked, mushroom-like caps, they shed a warm glow. Guimard, best known for designing ornate stations for the Paris metro, constructed a wooden doorway to a sitting room that curves gracefully overhead like a carefully sculpted branch. The home now serves as an invite-only entertainment venue for the Perrier-Jouët brand, its collection not behind glass but spread throughout the home for both utility and show.
Axelle de Buffevent, Perrier-Jouët's creative director who led the two year redesign and renovation, scattered other masterpieces—from Art Nouveau and beyond—around the ground floor. A sculpture by Auguste Rodin, L'Eternel Printemps, depicts a couple in a passionate embrace, the woman's arched back supported only by her lover's arm. On a portrait of cabaret icon Yvette Guilbert by Henri Toulouse-Lautrec, the subject herself scrawled a lament that the artist had rendered her so ugly.
One of the pieces has a Hollywood connection: a sculpture of a woman that doubles as a lamp (light emanates from a flower she holds and a pile she's gathered in the folds of her dress) comes from the collection of Barbra Streisand. To complement these pieces, de Buffevent says she chose to work with the only fabric manufacturer in France that still has original Art Nouveau designs. "We wanted them to be redone exactly as they were done at that time," she says. "Choosing the threads, choosing the colors, you can't choose a color that is dyed in a way that they wouldn't do in that time."
The sumptuous retreat is located on what's sometimes referred to as the most expensive street in the world: Avenue de Champagne in Épernay. Maison Belle Epoque's neighbors include Moët et Chandon, Pol Roger, and other major champagne producers. The house's cellars, too, conceal Perrier-Jouët bottles in many stages of production, while their vineyards and press facilities (where they crush the grapes) are a short drive away.
In addition to bottles, the basement also features the installation Lost Time by Glithero, which first appeared at the Design Miami fair in 2012. Strings of metal beads hang from the arched, cavernous ceiling. An underlying pool of water reflects them, mirroring the installation and creating a sense of ghostly depth. Upstairs, another contemporary work by mischer'traxler—which debuted at the 2014 iteration of the fair—offers art in motion. The design duo, comprised of Katharina Mischer and Thomas Traxler, created a table with thin, metal plant shapes embedded on top. As visitors approach and retreat, the forms pop up to reveal their colorful undersides. With enough movement, the table becomes host to a full garden.
Though the house was built in 1811, the Perrier-Jouët family first expressed an interest in Art Nouveau when Pierre-Nicolas Perrier and Adélaïde Jouët's grand nephew, Octave, commissioned Gallé to design their champagne bottle, with the Japanese anemones swirling around the sides. Yet, this story was forgotten until the original bottle was found in the cellar in the 1960s. At that point, the family decided to grow their collection, working with French experts to buy from auctions and dealers. The younger family members tied the effort to their founders: Pierre-Nicolas and Adélaïde were both lovers of art and nature—he even grew pineapples—and Art Nouveau united their passions.
Less museum than welcoming treasure trove, Maison Belle Époque's doors open onto a resplendent collection. "It's about living here. It was a family house. We want to keep it that way," says de Buffevent. Guests are welcome to sit on the chairs, turn on the lamps and live, if briefly, with nostalgia-inducing relics of the Belle Époque. Yet, the place still manages to feel vibrant and fresh. Light streams through the large old windows, hitting leaves, petals, and stalks on glass, carpeting, and walls. Life, not just art, abounds.
Next Post