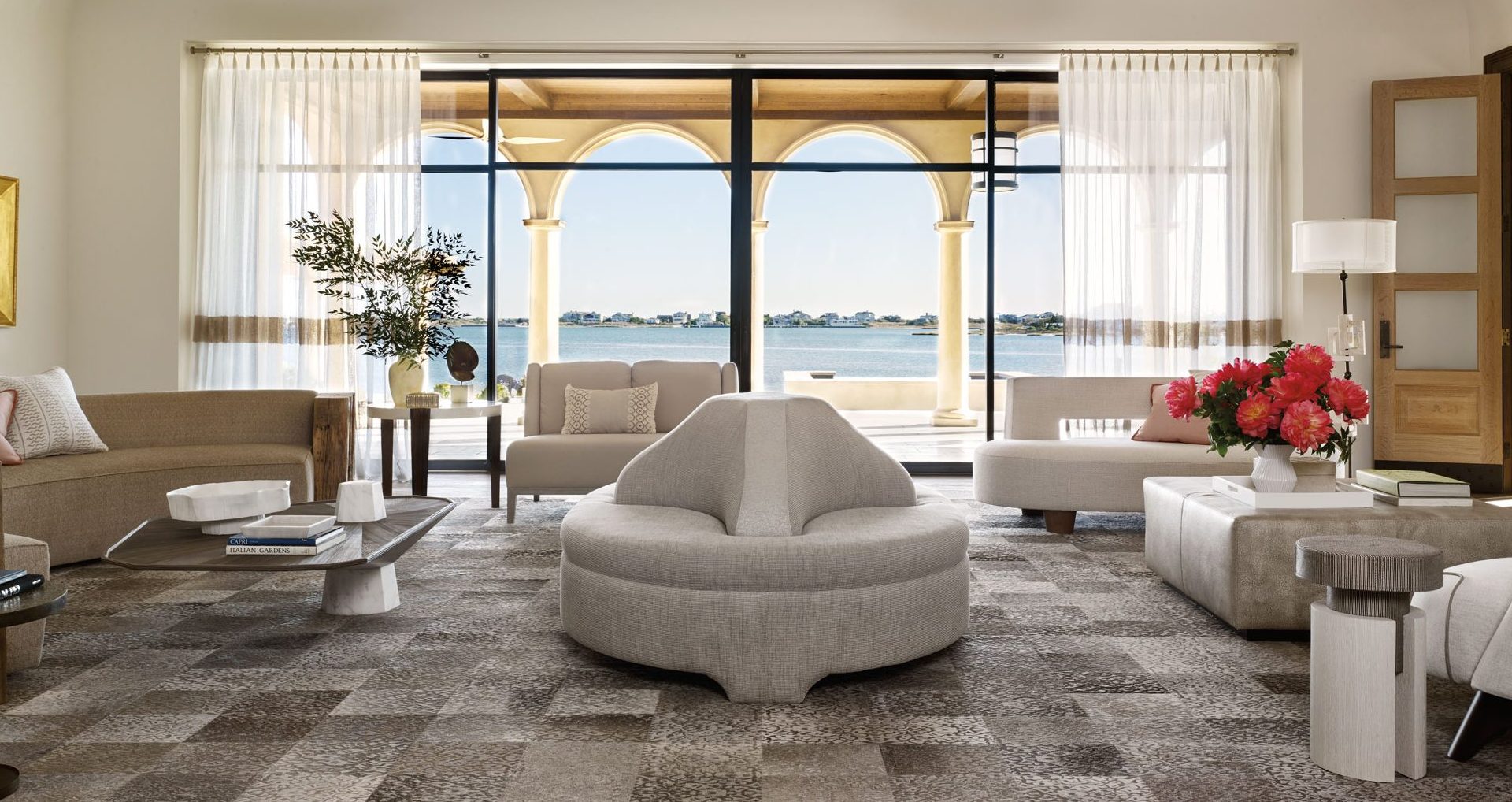 How Designer Penny Drue Baird Makes Tuscan and Modern 'Get Along'
The designer gives a refreshing update to a Long Island retreat with serene neutrals and punchy artwork
What happens when a couple of empty nesters set out to create their dream getaway, a sprawling seven-bedroom Tuscan-style waterfront home on Long Island, only to decide after the initial plans are finished that they aren't so enamored of old-world Italianate interiors? No problem, responded their designer, Penny Drue Baird, whose reputation for exquisite architectural detailing and continent-hopping pursuit of rare furnishings has won her a devoted international clientele. Baird masterminded a seamless transition from the home's exterior loggias and commanding clavos-studded front door to an interior that is unexpectedly, elegantly modern. And she made the pivot with aplomb.
Baird, whose firm, Dessins, has offices in New York and Paris, happens to hold a Ph.D. in psychology, which may or may not help explain how she remained unflappable in the face of her clients' change of heart. Mostly, it was about pragmatism. "I had to make Tuscan and modern get along," says Baird, whose new book, On Interior Design, will be released by Images Publishing in October. "Since Tuscany stretches all the way to the Mediterranean, I felt I could borrow a bit of that seaside design language—basically, the relaxed, serene, monochromatic parts."
Those were the things that appealed to her Manhattan-based clients, who work in mental health (the wife) and finance (the husband) and have three young adult children. At the same time, they wanted to avoid the ineffable chilliness that characterizes some modern interiors. The trick, according to Baird, was to impart as much lightness inside as there was gravitas on the outside, without resorting to Tuscan tropes like endlessly scrolling wrought iron, dark wooden beams, and muscular furnishings. To pull it off, she used materials—stone, oak, walnut—typical of classic Tuscan interiors, but she softened, refined, and reimagined them. "Even though a vernacular home is automatically special, it was essential to make an architectural statement inside. Plain, boxy rooms would have been jarring," says Baird.
She turned her attention first to the ceilings, plastering some, whitewashing others, and lining still others with planks of unfinished wood. Whether coved, coffered, or clad, all are imbued with a subtle strength. Interior doors also quietly command attention, with their bronze hardware and the studded kick plates that run along their bases. The drama and scale are there; the familiar Tuscan trappings are not.
Contemporary and comfortable was the clients' mandate, but they also cared about history and meaning. For Baird, who is allergic to the prosaic, finding furnishings perfectly suited to a space is thrilling. "I've lugged armloads of $5 baskets on a flight home from Asia because they were exceptional," she notes, adding, "and I wouldn't ever want a client to settle for a regular old Parsons table." That meant mixing pieces from "a teeny-tiny shop in Florence" or "a quirky vintage store in Paris" with furnishings by favorite French designers like Philippe Hurel and Bruno Moinard. "I filled the house with exquisite pieces, but there's not that feeling of being overwhelmed by too many special things," she says.
The owners opted for a similarly spare approach to the art in the house. "We focused on late-20th-century painters and looked for depth of color and vibrancy," says the husband. An abstracted beach scene by Bill Parker hangs alone on a crisp wall in the living room, its gilt frame gleaming in the abundant natural light, while a Jonathan Wigmore light-box sculpture stretches up another wall nearby. And in the adjacent dining room, a colorful Pierre Boncompain canvas injects the monochromatic space with a dash of color without disturbing the peace.
Another priority for the couple was maximizing views of the bay. "We built really nice bedrooms overlooking the water for each of the kids to guarantee that they would come stay," says the wife. The family had spent every summer in a Normandy-style ranch that stood on the same site. In building the new home, they opened up vistas they never realized were possible. "We removed a few trees and instantly got views as soon as you enter the house," says the husband. "Arriving is one of my favorite moments—the mystery and formality of the exterior, then walking through the huge front door and being struck with the gorgeous, expansive view. It reminds me of being on Lake Como."
It all works, and Baird delivered to her clients exactly what they had imagined: a modern Tuscan house that's sophisticated, unpredictable, and devoid of clichés. "Apart from the main stair banister," the designer says, "we got away without a lick of wrought iron."
Click here to view more photos of the home.
Next Post