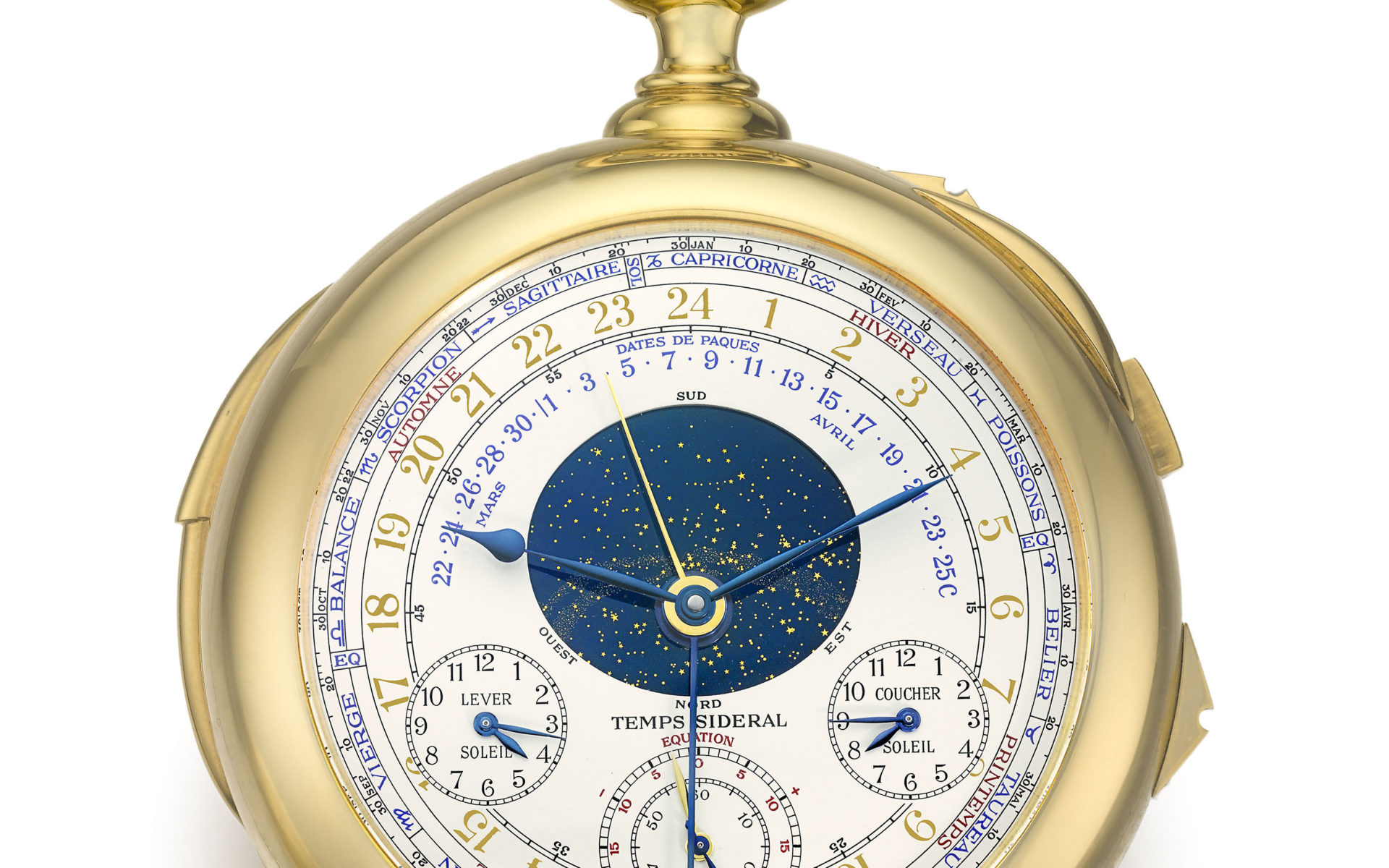 Is This Patek Philippe Watch Worth $10 Million?
A rare Patek Philippe Calibre 89, the world's most complicated timepiece, is coming up for sale
Watch collectors from around the globe are eagerly anticipating the sale of a rare Patek Philippe yellow gold Calibre 89 at Sotheby's May 14 auction in Geneva, Switzerland. Touted by the auction house as the most "complicated watch ever created," it was designed to commemorate Patek Philippe's 150th anniversary in 1989. The gold version of the Calibre 89 was one of four produced—the others were made in white gold, rose gold, and platinum—and it carries an estimate of $6.5 million to $10 million.
With 33 complications (think of them as functions), the pocket watch is crafted from 1,728 parts: 24 hands, two dials, eight discs, 61 bridges, 129 jewels, 184 wheels, 332 screws, 415 pins, and 429 mechanical components. It 3.5 inches wide, 1.5 inches thick, and weighs 1100 grams.
When the watch sold new in 1989 for $3.2 million, it was the most expensive timepiece ever for that era. That price sparked many headlines and commentary, even on Saturday Night Live's news round up. Since then, the watch has reached a new high—fetching $5 million at a 2009 Antiquorum auction in Geneva. Anticipating global interest, Sotheby's is showcasing the prize in Dubai (through March 18) and Hong Kong (March 31–April 4) during the Sotheby's spring auctions there.
Sotheby's set a world record in 2014 with Patek Philippe's 1933 Henry Graves Jr. supercomplication watch (named after the banker who commissioned it), selling it for $24 million, after a 15-minute battle between zealous bidders. That remains the highest price ever paid for either a pocket or wrist watch. Even though the Calibre 89 has more complications, it's unlikely the record for the Graves watch is in danger. Still, says Daryn Schnipper, chairman of Sotheby's international watch division, "It is wonderful to have the opportunity to offer yet another unique piece of such horological genius and importance."
Next Post