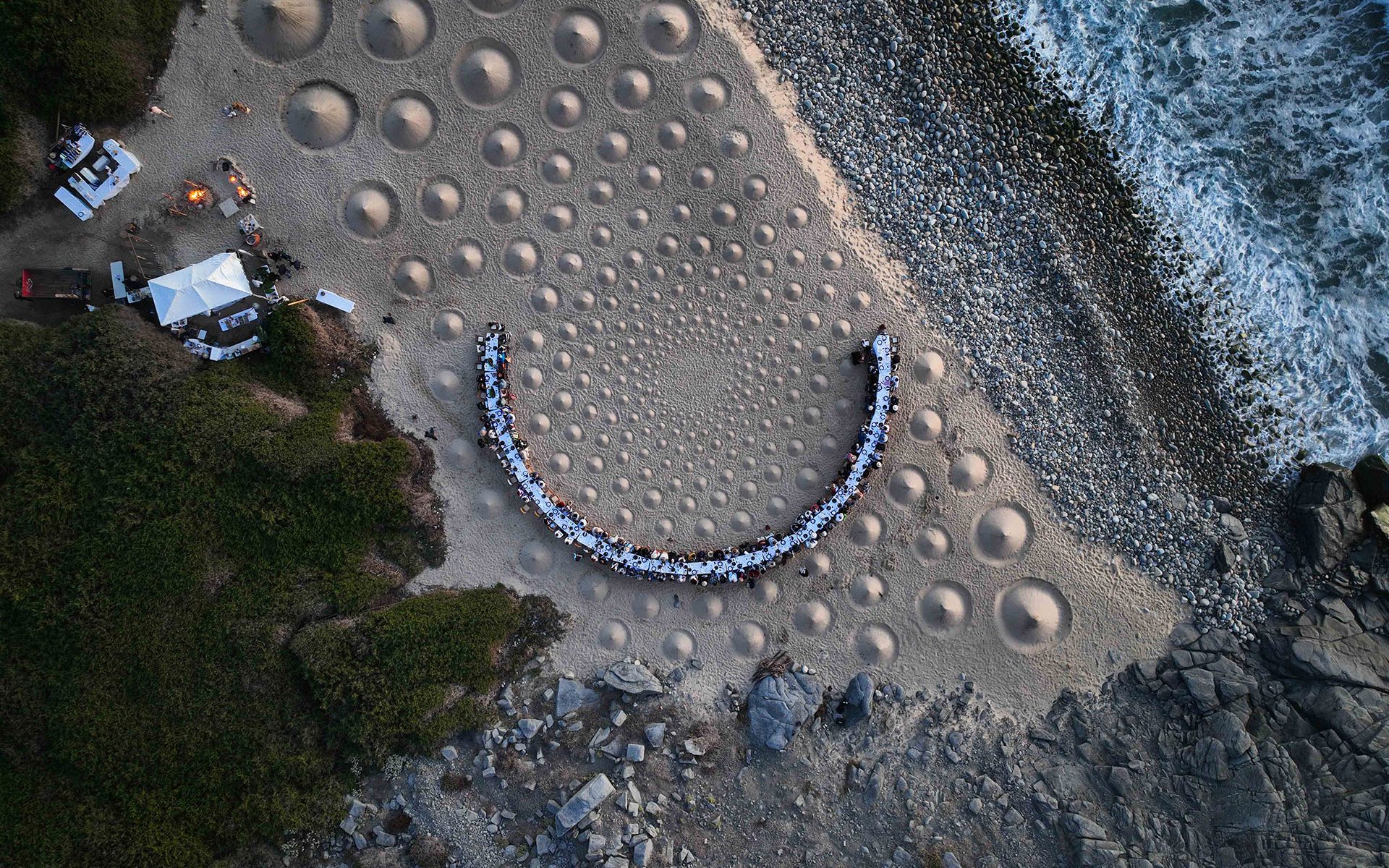 Meet the Maker Transforming Large-Scale Dinner Events with Massive Art Installations
Outstanding in the Field's Jim Denevan creates awe-inspiring artworks that perfectly complement the one-night-only event's celebration of local cuisine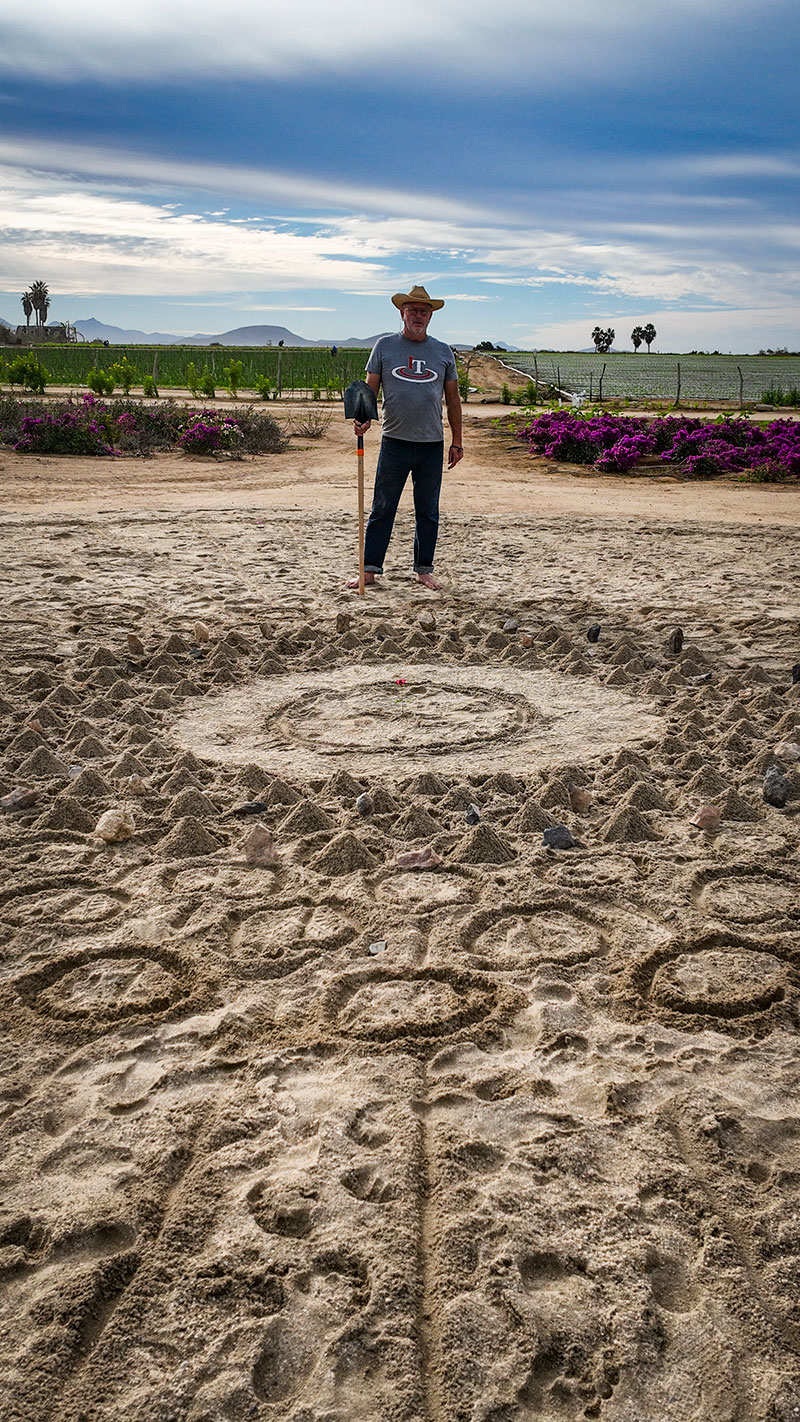 For two days, Jim Denevan drew a series of circles in the sand on the popular surfer beach Playa San Pedrito, on the southwestern coast of Mexico's Baja California Sur. Working with only a rake and his signature stick, a good foot and a half taller than the 6-foot-4-inch former pro surfer, Denevan formed pyramid-like mounds of sand mimicking desert dunes descending toward the sea. "I'm so tired, I can't remember when I started," he says, as we lean against the rocks forming a half-moon barrier blocking the wind whipping through the sand.
It all started in 1999, when Denevan founded the wildly successful roving supper club Outstanding in the Field (OITF), which has since popped up for one-night-only, farm-focused events in all 50 states and 16 different countries. The concept is simple: one long table with food and drinks that celebrate the surrounding community, whether that be vignerons in Burgundy or fishermen in Baja.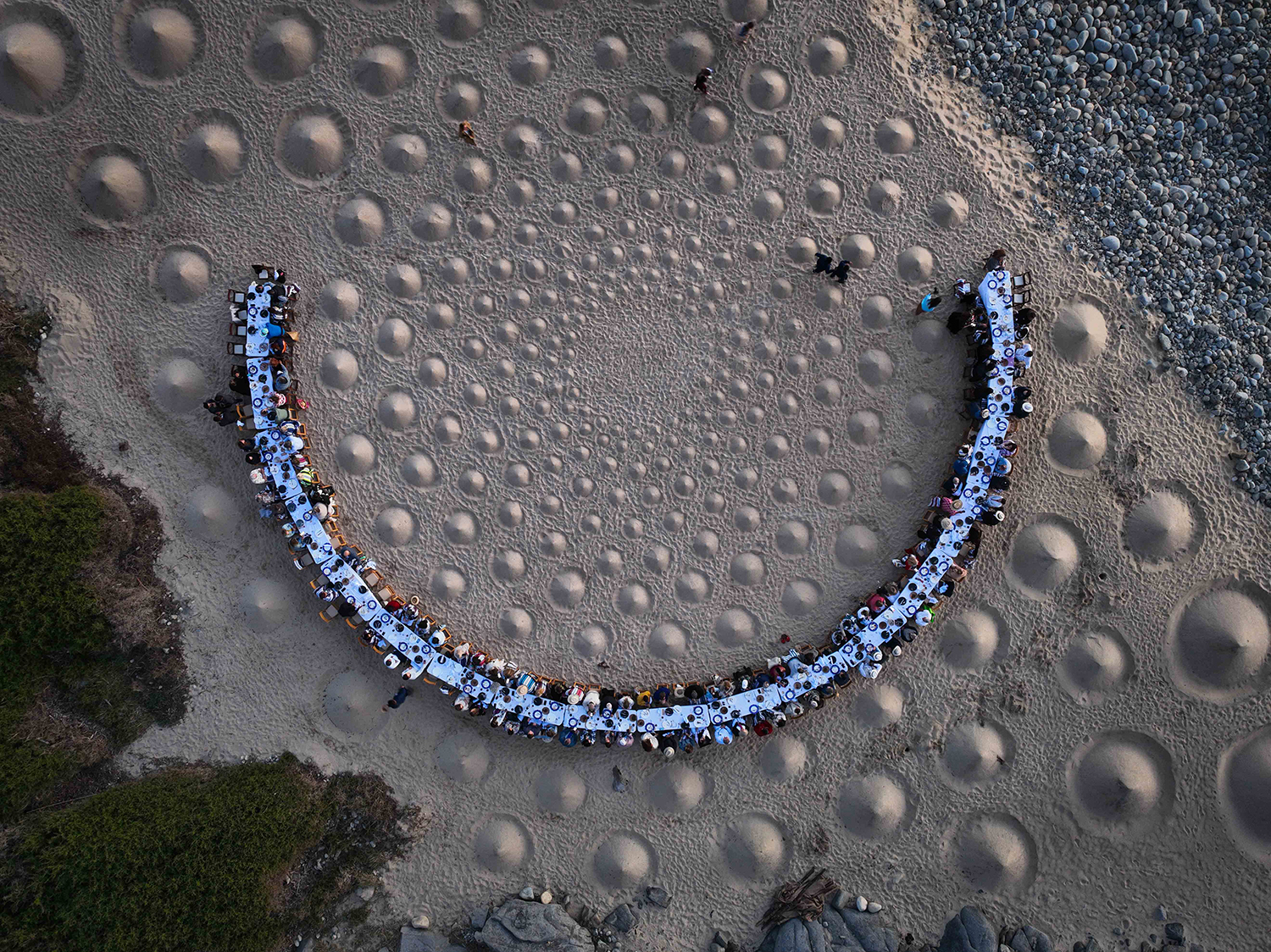 Similar to a band's concert schedule, OITF hosts one or two events per week, with five alone in Mexico closing out the 2023 winter tour. What makes the Baja Sur Farm and Beach dinner, an eight-minute drive down dirt roads from the brutalist-style Paradero Todos Santos, stand out, however, is his art. He only creates artwork on rare occasions for OITF, and, similar in style to the pop-up dinner party, each of the naturally vanishing works is site-specific.
Denevan has worked with sand, earth, and ice to create land art of all scales and sizes, from an 18-square-mile spiral of circles on a frozen lake in Russia to the Guinness World Record–making largest freehand drawing in Nevada's Black Rock Desert, which spanned more than three miles and contained a thousand individual circles.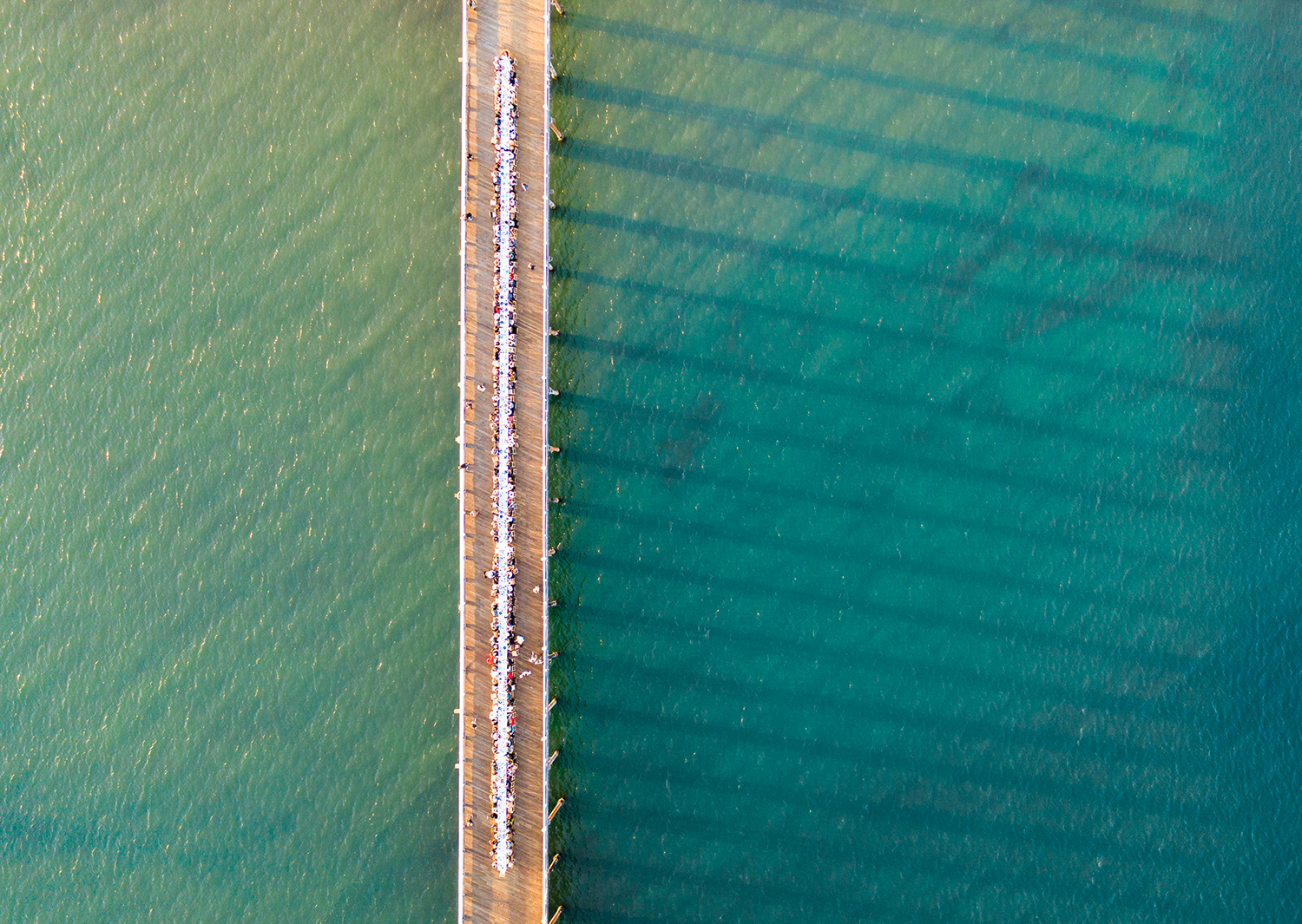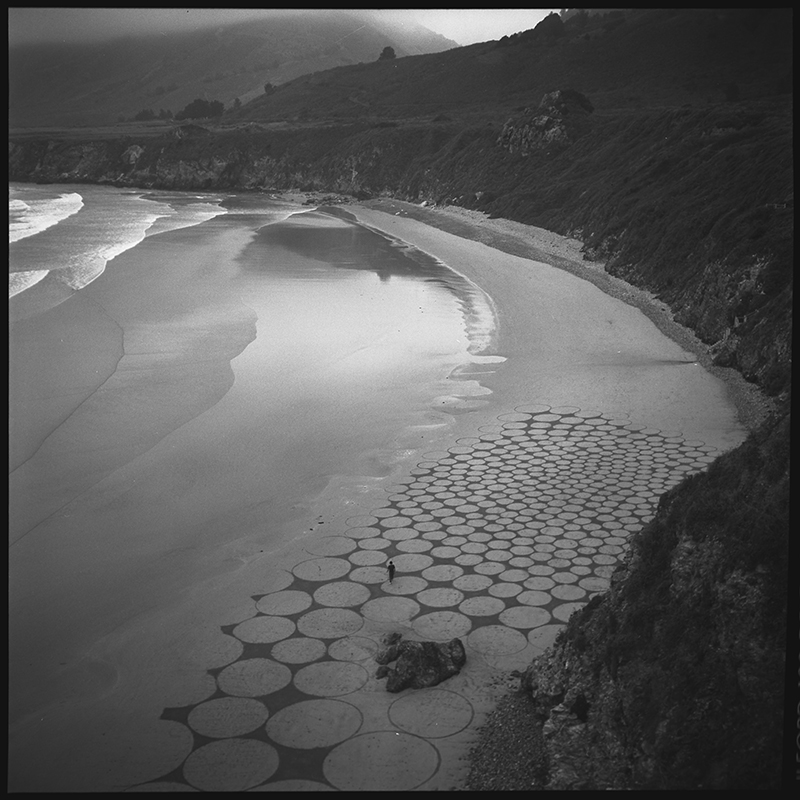 "It's all freehand, so I'm not measuring anything," Denevan says, explaining how the Baja Sur Farm and Beach composition took around five hours of walking in straight lines and circles to decide on the placement of the honey-hued sand forms. The wind smooths the artwork, changing its shape and size each day, until the work disappears entirely. "Each of the mounds is different in size and unique, like a mountain," he says. "It all depends on gravity and the wind."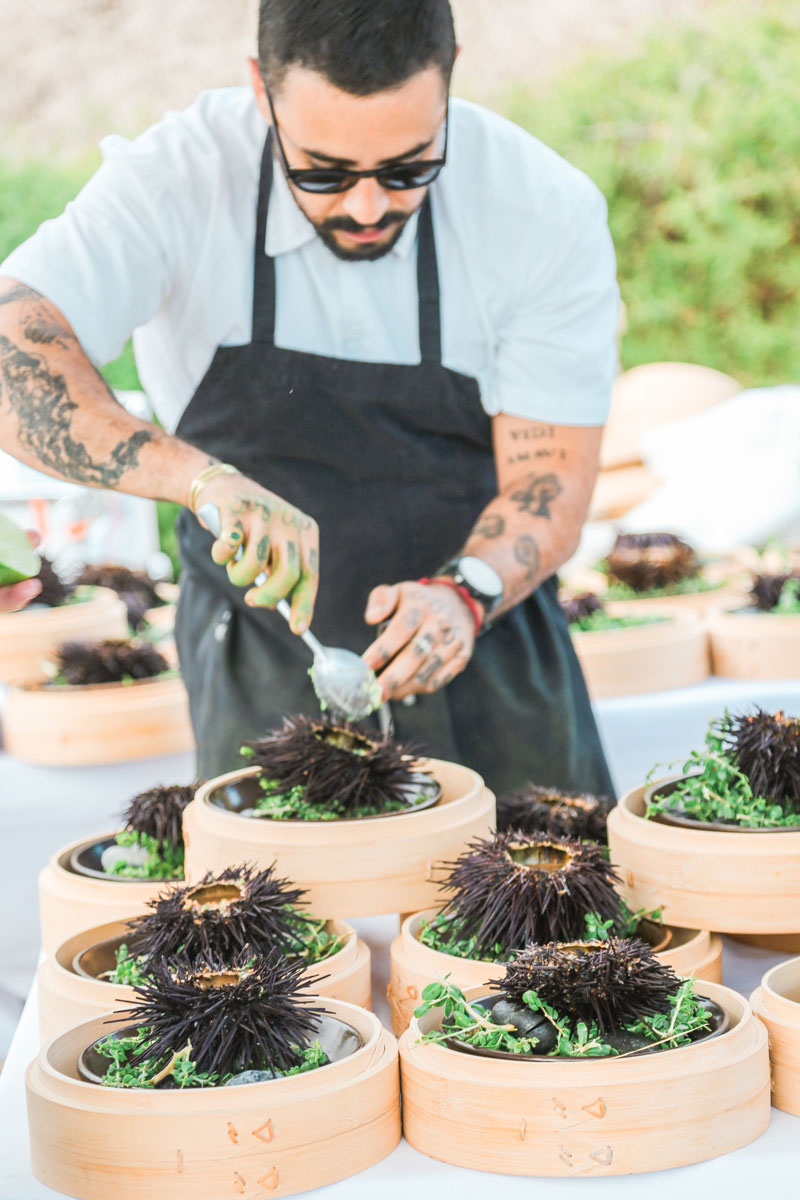 The crescent-shaped table set for 120 guests ran parallel to the cliffs, with the mounds on either side. As San Miguel de Allende–based winemaker Marcelo Castro Vera poured his Octagono wines, Paradero's executive chef, Eduardo Ríos, grilled alongside local fisherman Ezequiel Hernández. For the seated, four-course dinner, Ríos integrated the hotel restaurant's philosophy of open-fire cooking with freshly caught octopuses hanging from chains over coal and skewers of sardines propped next to a fire pit in the sand. "We work with the seasons of the sea," says Mexico City–raised Ríos, adding that he noticed more chefs in the capital starting to work with seafood from Baja about a decade ago. "I think Baja seafood is the best product from Mexico—it's really top of the top in terms of quality."
For guests wanting to experience one of these immersive events in person, Outstanding in the Field is about to kick off its 2023 season, with tickets going on sale March 20. Opening April 29 in California, events are planned for the Midwest, South, and Mid-Atlantic, as well as Canada, Europe, and Africa, running through November 15.
Next Post