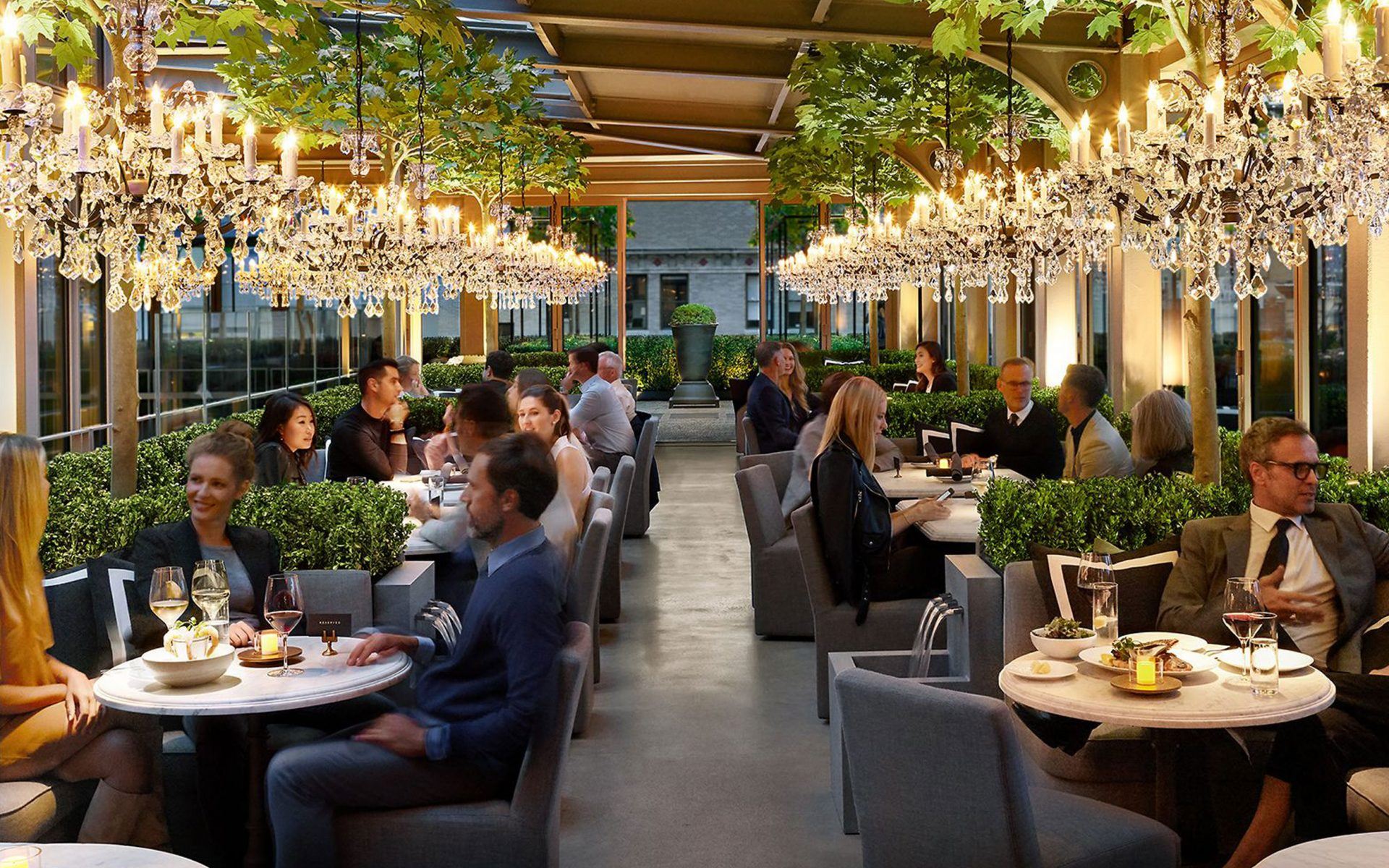 7 of the Best Rooftop Bars in New York City to Celebrate the Summer
From the Upper East Side to the Brooklyn Bridge, these are the best open-air cocktail spaces to enjoy this summer
Marking the first day of summer, the June solstice is always a cause for celebration, signaling hotter days, a host of outdoor festivities, and (of course) rosé season. On June 21, the sun will stay out longer than any day of the year—and what better way to enjoy it than sipping on refreshing cocktails on a rooftop bar, high above the chaotic city streets? Here, we round up seven of the most scenic and beautiful open-air bar spaces in New York City.
1. Gallow Green 
542 W. 27th Street, Manhattan 
Perched atop Chelsea's McKittrick Hotel, Gallow Green's verdant setting nods to the nearby High Line with its abandoned railroad tracks, slate flooring, and rustic furnishings. It's an ideal place to catch the summer sunset over the West Side's bevy of architectural marvels or while away several hours during their fantastic weekend brunch.
2. Westlight at the William Vale
111 N. 12th Street, Brooklyn
The 22nd-floor rooftop bar at Brooklyn's William Vale hotel includes magnificent views of the Manhattan skyline. Since it opened in 2016, Westlight has become a hot spot thanks to chef Andrew Carmellini's street food–inspired bites and sophisticated drinks, all of which have visitors lingering late into the night.
3. The Cantor Roof Garden at the Metropolitan Museum of Art
1000 5th Avenue, Manhattan
Take a break from the Met's incredible galleries to head to the Cantor Rooftop Garden. The museum's fifth floor outdoor bar area features unparalleled views of Central Park plus commissioned contemporary art installations each year. (This year's commission is ParaPivot by artist Alicja Kwade.) On Fridays and Saturdays, the area stays open until 10pm.
Recommended: 7 Design Tastemakers Reveal Their Favorite Summer Destinations
4. RH Rooftop Park & Wine Terrace
9 9th Avenue, Manhattan
RH's Meatpacking District flagship features a sleek rooftop restaurant overseen by Brendan Sodikoff, the restaurateur and founding president of RH Hospitality. The Park & Wine Terrace opens off the restaurant, creating an indoor-outdoor experience, which is a first for RH. Elegant hanging chandeliers pair beautifully with landscaped hedges and trees inspired by European gardens.
5. Harriet's Rooftop at 1 Hotel Brooklyn Bridge
60 Furman Street, Brooklyn
With incredible vistas of Lower Manhattan and Brooklyn Bridge, Harriet's Rooftop at 1 Hotel is a great spot to enjoy craft cocktails and take a dip in the plunge pool. 
6. The Peninsula Salon de Ning Rooftop
700 5th Avenue, Manhattan 
The Salon de Ning is an iconic spot at the Peninsula Hotel, boasting spectacular views over Fifth Avenue and a pair of superchic outdoor terraces. The signature cocktail, dubbed the Ning Sling, is a must for first-time visitors of the space.
7. The Surrey
20 E. 76th Street, Manhattan 
The Surrey's private roof garden on the 17th floor is a gem of Manhattan's Upper East Side. Available for guests of the Surrey and members of their Patrons Club, it offers sweeping views of Central Park and the surrounding area in an intimate setting. 
Next Post