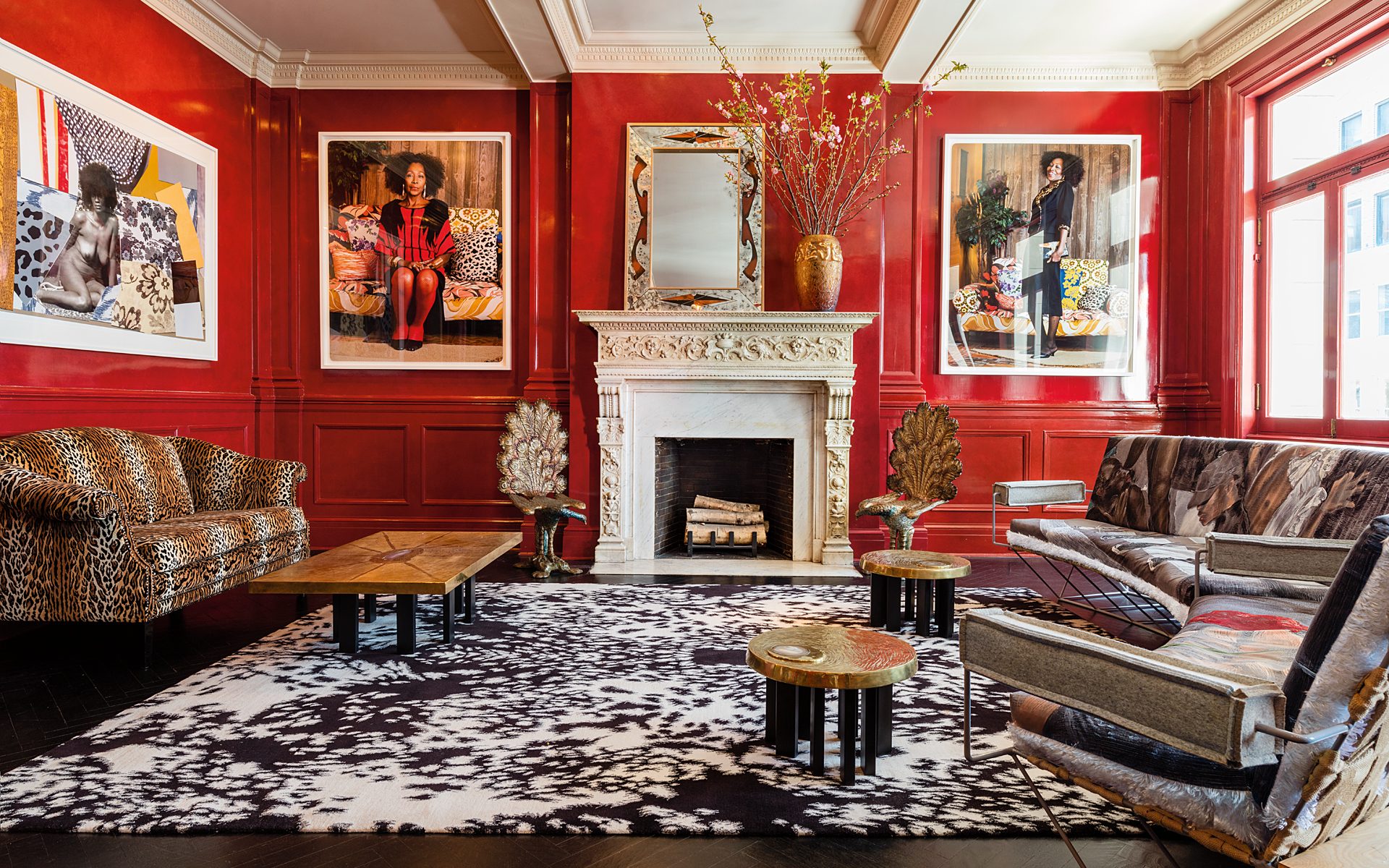 A New York Townhouse Turned Art Installation
7 leading contemporary artists transform the rooms of this Upper East Side abode. The result? An adventurous melding of art and design
In a rich red, Upper East Side townhouse living room, for a few weeks last spring, a certain cross-section of New York—art dealers, designers, artists, writers, publishers—met to sip Moscow Mules and talk culture and design.
Think great conversation, comfy chairs, titans of industry, and all that. It was much like an Edith Wharton novel, if she had lived near the Frick Museum and had the good sense to have a sofa by artist Ena Swansea. "Be My Guest: The Art of Interiors," was an elaborate invitation-only exhibition that made its home in a townhouse by Central Park. "Guests' full-throttle installations paired work by influential contemporary artists, Mickalene Thomas, Barbara Bloom, and Swansea among them, with prominent designers. The resulting juxtapositions didn't look quite like either "art" or "design."
"The white cube look of the art world, its exclusivity, is often suffocating," said exhibition co-curator Manon Slome, a former Guggenheim Museum curator and co-founder of the arts organization No Longer Empty. Here, the spaces instead offered ambition, color, and, in several cases, a magnetism that drew people in. "What is home?" was the topic assigned to the artists. Thus, "each room was the world of the artist," explained Lisa Fayne Cohen, who conceived the project and curated the decorative elements in each space. In Thomas's case, Cohen continued, that world meant the townhouse's red living room presented in the "fashion and color of a bordello," along with portraiture of the artist's mother and evocative personal touches. 
Next Post
The music room, meanwhile, was surrendered to Bloom, a "Pictures Generation" artist showcased not long ago by the Metropolitan Museum of Art in New York. Bloom, known for elegance with a sharp edge, created an aqua-and-ivory installation that both embraced, and questioned, its own plush luxury. Artist Jean Shin, meanwhile, filled a closet with a glittering geometric sculpture of hundreds of necklaces in one of her two pieces, the site-specific Rapture. Recalling the project later, Cohen, who serves as editorial director of Galerie, noted, "I didn't dream it would work out as great as it did." In part, the exhibition, co-curated by New York art dealer and consultant Michael Steinberg, was meant to herald the magazine launch, "to show, in a three-dimensional way, what Galerie was going to be about—the intersection of art and design and how they inspire one another," said Cohen.
Consider the dining room of Lauren Was and Adam Eckstrom, the team who make up the artist group Ghost of a Dream. One of the most memorable installations, it featured a dining room papered, gorgeously, in $70,000 of discarded lottery tickets, a Rococo gamble gone wild. But it wasn't about pretty patterns. The artists, in tandem, explained: "The Dream Home is made from thousands of hopes that were unfulfilled. Each scratch-off ticket represents a lost dream for the perfect house and a better life." Just as affecting were the home-themed works by students of the Hetrick-Martin Institute's youth arts and culture program that decorated a room by Bunny Williams Home. For a brief time, the exhibition turned expectations and categories of the art and design worlds on their head (just as Galerie hopes to do).