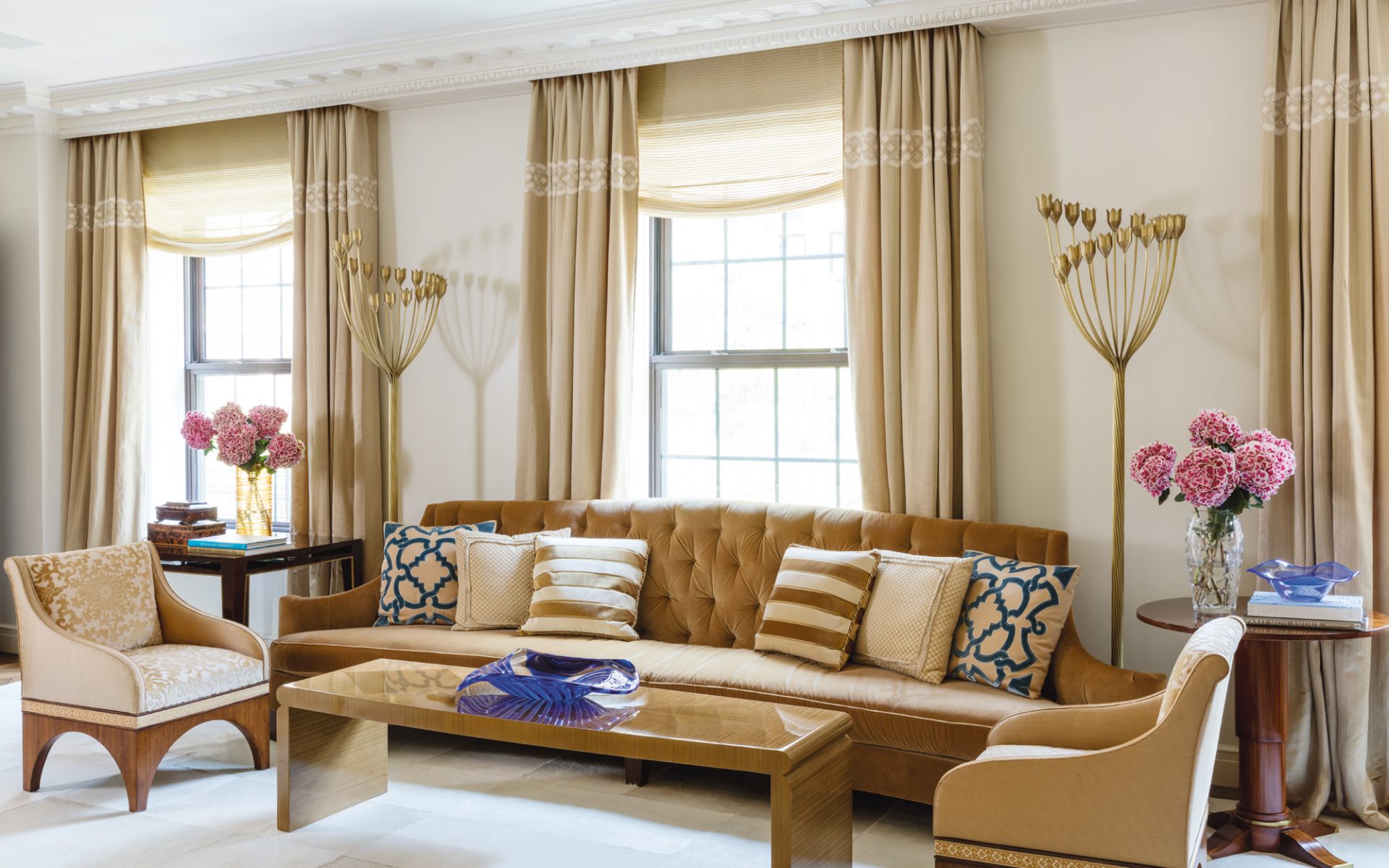 This New York Apartment Is a Shrine to Art Deco
Penny Drue Baird reveals how she transformed the space
Penny Drue Baird, founder of the interior design company Dessins in New York and Paris, is known for her huntswoman's knowledge of French antiques and the Gallic flavor of her projects. For a six-bedroom apartment in a 1931 Manhattan building by the trophy Sicilian-American architect Rosario Candela, she contributed a heavy dose of Art Deco. The style was in keeping with the era in which the brick-and-limestone tower was built, but not with the original interiors. Those, Baird says, were "ripped back to the steel."
Almost every detail, from the reclaimed wood floors to the elaborate moldings, was a 21st-century concoction, much of it springing from her expert brain. "Certainly that would not have been in any Candela building," she says about the gold leaf on the living room ceiling. Working with the New York architectural firm of Ferguson & Shamamian, she cooked up not just that gleaming decorative touch, but also the patterned marble floor for the entrance gallery that she described as "a modernist take on a classic design"—wall niches lined with tufted fabric and linear miles of trim.
Many of the furnishings are Deco or Deco-inspired. And throughout the 6,000-square-foot space, Deco-style crystal lighting sparkles like ice. And the art? That's all contemporary. The clients, a couple with young children, wanted an apartment that was—in a nutshell—comfortable, young, and fun. Baird obliged them with an up-to-date interpretation of the Art Deco style—less flowery and more playful than many period models (she was especially exuberant in her ceiling moldings). But vibrancy also comes from the art the clients collected for their new home, much of which is by living artists.
The entrance gallery, for example, contains a Deco-inspired mahogany-and-shagreen table flanked by Moderne chairs. Above it is a text-based artwork by the American artist Richard Prince that is a joke about a fireman and a drunk. In the gilded living room, which features velvety chaise lounges and tulip-shaped brass torchères, the centerpiece is an Yves Klein coffee table with 3,000 sheets of gold leaf embedded in glass. Over the original carved marble fireplace mantel is one of Pop Art master Roy Lichtenstein's stippled mirror paintings, while in a photograph off to the side, Cindy Sherman lies on a bed clutching a hankie.
Next Post
The combination of lush traditional furniture and contemporary artworks is so harmonious that it seems only natural to find a painting from American artist David Salle's recent Silver series in the dining room only feet away from a 1950s rosewood sideboard by the French Moderne master Jules Leleu. But then Baird will remind you that modernism—whether Art Deco or mid-century—is based on laws of simplicity that make it easy to pair modernism with other styles.
People turn to these eras "because the look is clean and fresh." Decorative objects like émaux de Longwy vases, a species of French enameled ceramics glowing in the dining room, further lightened the décor, like folding whipped cream into mousse. It takes a deft touch to pull off this kind of mix. Baird said she was careful not to give Candela any reason to spin in his grave by committing the decorator's equivalent of "taking a Mozart song and turning it into a rap."
"People often bandy around the word 'eclectic,'" she added, "but … really, eclectic can turn out a mess."