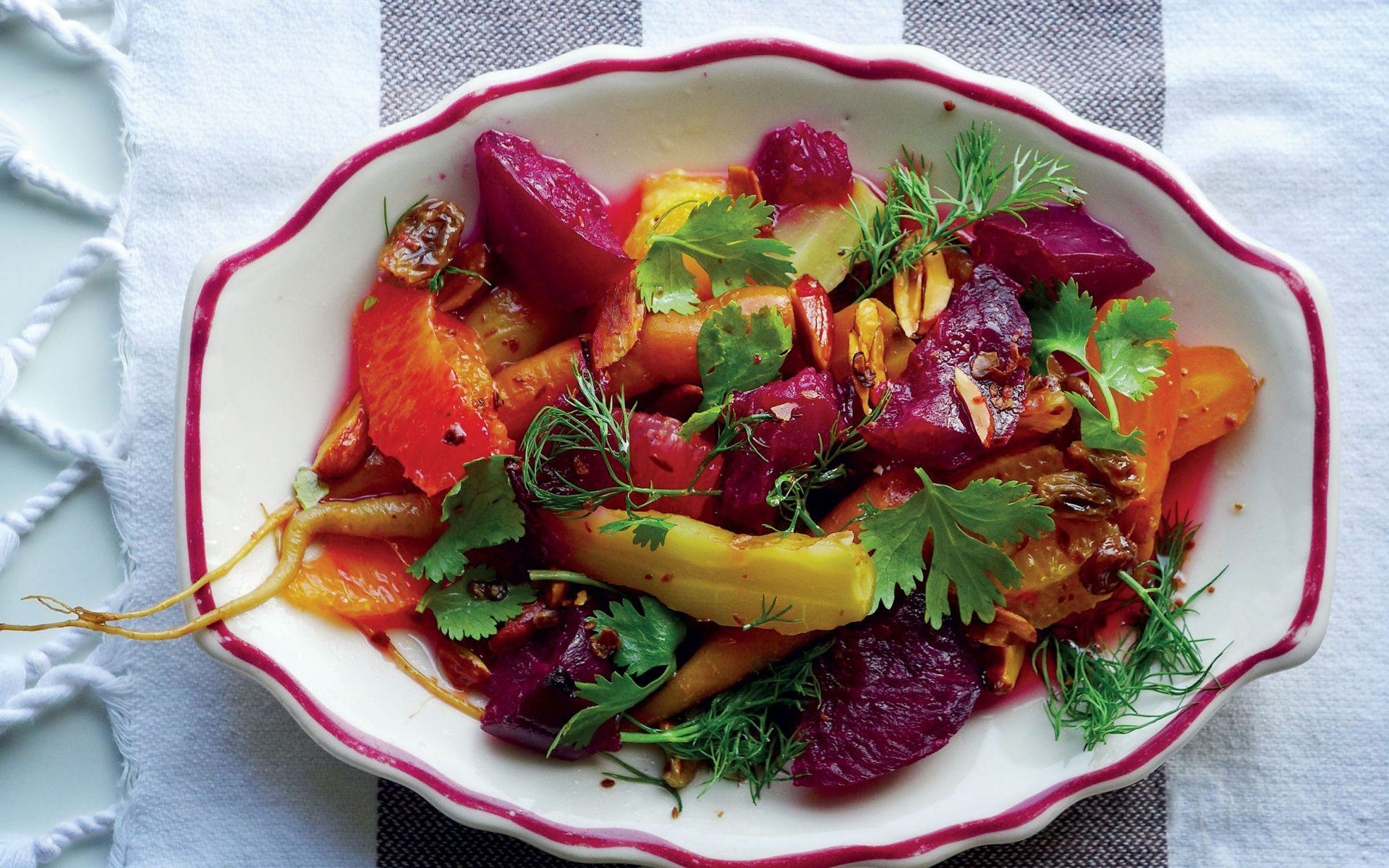 Chef Ned Baldwin of New York's Houseman Shares the Best Dishes from His New Cookbook
How to Dress an Egg approaches recipes in a flavor-forward, flexible way that's perfect for Father's Day feasts
Ned Baldwin is not your typical restaurant chef. He began his career as a visual artist with an MA in sculpture from Yale but loved to experiment in the kitchen at home, so at age 36, he turned his attention to professional cooking. This confluence of experience makes him the perfect person to write the must-have cookbook of the year, a visual feast for people who want to cook at home and miss the flavor of restaurant meals.
After spending years in the kitchen at celebrated New York hot spots like Prune, Craft, and more, he launched his own Manhattan restaurant, Houseman. Located in an area just north of Tribeca and far west of SoHo, the destination quickly became a favorite for his delicious yet simple food and cozy but chic vibe. Named in homage of the virtues of home cooking, the restaurant started delivery through Caviar in mid-June; however, the best way to bring the spot's genuine approach to food into your own dining room is How to Dress an Egg (Houghton Mifflin Harcourt), Baldwin's first cookbook, which launched in mid-April.
"One of the themes is what people do in restaurants that is not applicable to home cooking and the things that are," he explains of his tome, which provides an elegant array of dishes for times like these, when people are cooking at home more than ever while missing the flavor and beauty of restaurant presentations.
The whole premise of the book, written with food journalist Peter Kaminsky and accompanied with photographs by Hirscheimer & Hamilton, is also one that home chefs will appreciate. Instead of presenting a trove of recipes you may cook once and never remake, Baldwin teaches an expert technique for preparing one ingredient like chicken or fish and then offers ways to expand its preparation or even get creative on your own. "I like to think it's a subversively showing people how to be creative in the kitchen," Baldwin tells Galerie. "I show you one thing and teach how to do different things, then you get to take it from there." For example, the roast chicken morphs into Springtime Chicken with Herb Sauce, Chicken with Aromatic Herb and Almond Salad, as well as a few others.
He also stresses the importance of practice, so each recipe is approachable and alluring enough that readers will want to try it more than once. "Every recipe is solid enough that it will be good the first time," says Baldwin, "but by the third or fourth time, it's going to be amazing. There's a learning curve with a particular process, and it's important to recognize that when you cook at home."
How to Dress an Egg is the kind of book that makes the ideal gift for Father's Day and serves as excellent menu-planning inspiration for the perfect Father's Day feast. Who wouldn't want to dig into a summer steak with some spicy heat served with a tomato salad on a sunny June weekend?
Here, Baldwin shares the recipe from the book with Galerie.
Steak with Tomato Salad and Aromatic Spices
MAKE THE BROWN-BUTTER HANGER STEAK
One 1 1⁄2- to 2-pound hanger steak
About 1 teaspoon kosher salt
Canola or grapeseed oil to film the pan
2 to 3 tablespoons unsalted butter
2 garlic cloves, smashed, left unpeeled
A few sprigs of fresh rosemary and/or thyme (optional)
Preheat the oven to 400°F, with a rack in the lower third. Place a rack on a baking sheet for cooking the steak. Portion the steaks: For a typical adult, 6 ounces is a small steak and 8 is a large one. Salt the steak a little more than you feel comfortable doing.
Film a large skillet with oil and heat over medium high heat until the oil just starts to shimmer. Gently lay in the steaks. Cook for 1 to 2 minutes on each side, until grayish with faint blushes of mahogany. Forget everything anyone ever told you about getting a good sear: This is just a little heat massage that lets the meat know it's going to be cooked. If there's a little uncooked pink here and there, don't sweat it.
Transfer the steak to the rack on the baking sheet and put it in the lower third of the oven. Pour the fat out of the skillet and add the butter and the garlic and herbs if using; set aside. If the steak is 11⁄2 inches thick, it'll probably take about 12 minutes to reach rare at the thickest part. Flip the steaks once or twice during the time they are in the oven. To check the temperature, insert an instant-read thermometer at a 30-degree angle (the steak is so thin that it's hard to get an accurate reading if you push the thermometer straight down); pull the steaks from the oven at an internal temperature of 120°F. Let rest, uncovered, on the rack for 10 minutes; the steaks will continue cooking to medium-rare in the residual heat.
Finish the steaks in the brown butter: Heat the skillet over medium-high heat. As it warms, the butter will foam and, as you swirl it around, it will turn caramel brown. Add the steaks and bathe them in the fragrant butter. You can use a spoon to baste, or do as I do and use a pair tongs to turn the steaks over again and again, anointing the meat with the butter as it rewarms. After about 90 seconds, the steaks will be beautifully brown and ready to serve.
Slice the steaks on the bias, across the grain, and arrange the slices on a platter so that you can see the red/pink.
MEANWHILE, MAKE THE SPICE MIX
1⁄4 teaspoon ground coriander
1⁄4 teaspoon ground black pepper
1⁄4 teaspoon ground allspice
1 teaspoon ground sumac (available at specialty markets and online)
1 teaspoon Aleppo pepper
1⁄2 teaspoon crushed red pepper flakes, or a dash of cayenne pepper
Kosher salt to taste
Combine all the ingredients in a bowl and mix well.
MAKE THE TOMATO SALAD
4 fresh oregano or mint leaves (if the mint leaves are huge, tear them up)
2 tablespoons olive oil
1 garlic clove, grated or minced and mashed to a puree with a little salt
1 to 2 tablespoons fresh lemon juice
1 tablespoon kosher salt
3⁄4 pound cherry tomatoes, preferably mixed colors, halved or quartered
Combine the spice mix, oregano or mint, olive oil, garlic, lemon juice, and salt. Put the tomatoes in a bowl, pour over the dressing, and toss. Set aside.
MAKE THE YOGURT DRESSING
1 cup Greek-style yogurt or labneh
1 garlic clove, grated or minced
Kosher salt
Put the yogurt or labneh and garlic in a small bowl and whisk until the mixture is smooth. Season with salt.
PUT IT ALL TOGETHER
Brown-Butter Hanger Steak
Yogurt Dressing
Tomato Salad
Make a bold smear of the dressing on a platter. Pile on the steak and the tomato salad. Dribble any remaining liquid from the tomato salad all over the plate.
Next Post