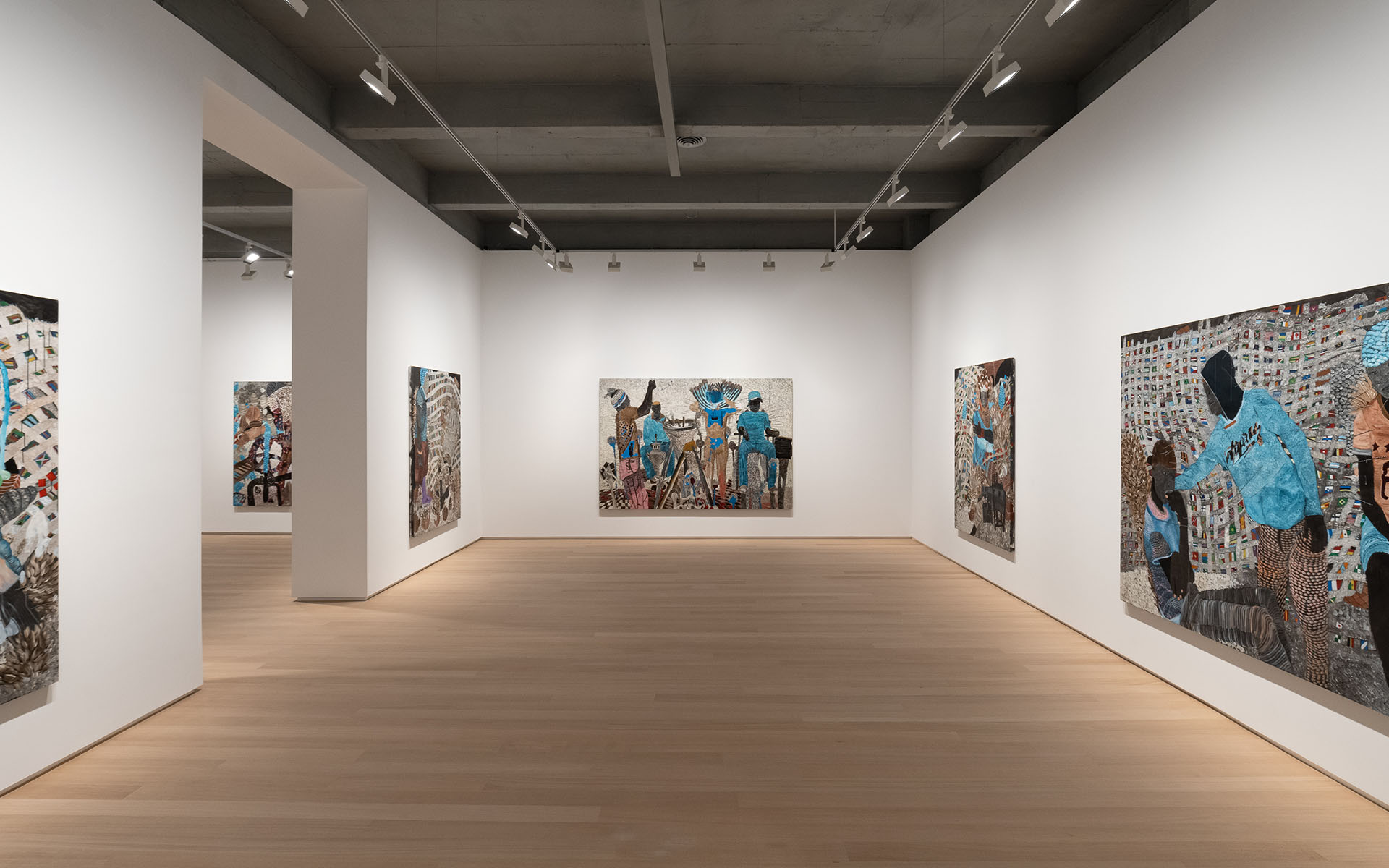 8 Must-See Solo Gallery Exhibitions Around the Country This October
From Beatriz Milhazes at Pace in New York to Aaron Curry at David Kordansky Gallery in Los Angeles, here's what not to miss this month
In a quest to seek out the best gallery exhibitions across the United States each month, Galerie journeyed west from New York City to Chicago and Los Angeles to find the top solo shows for October. From Beatriz Milhazes paintings and sculptures that mix high and low culture at Pace and Masaomi Yasunaga's experimental ceramics at Lisson Gallery, both in Manhattan, to Aaron Curry's colorful sculptures riffing on modernist masters at David Kordansky Gallery in L.A., these are the not-to-be-missed shows this month.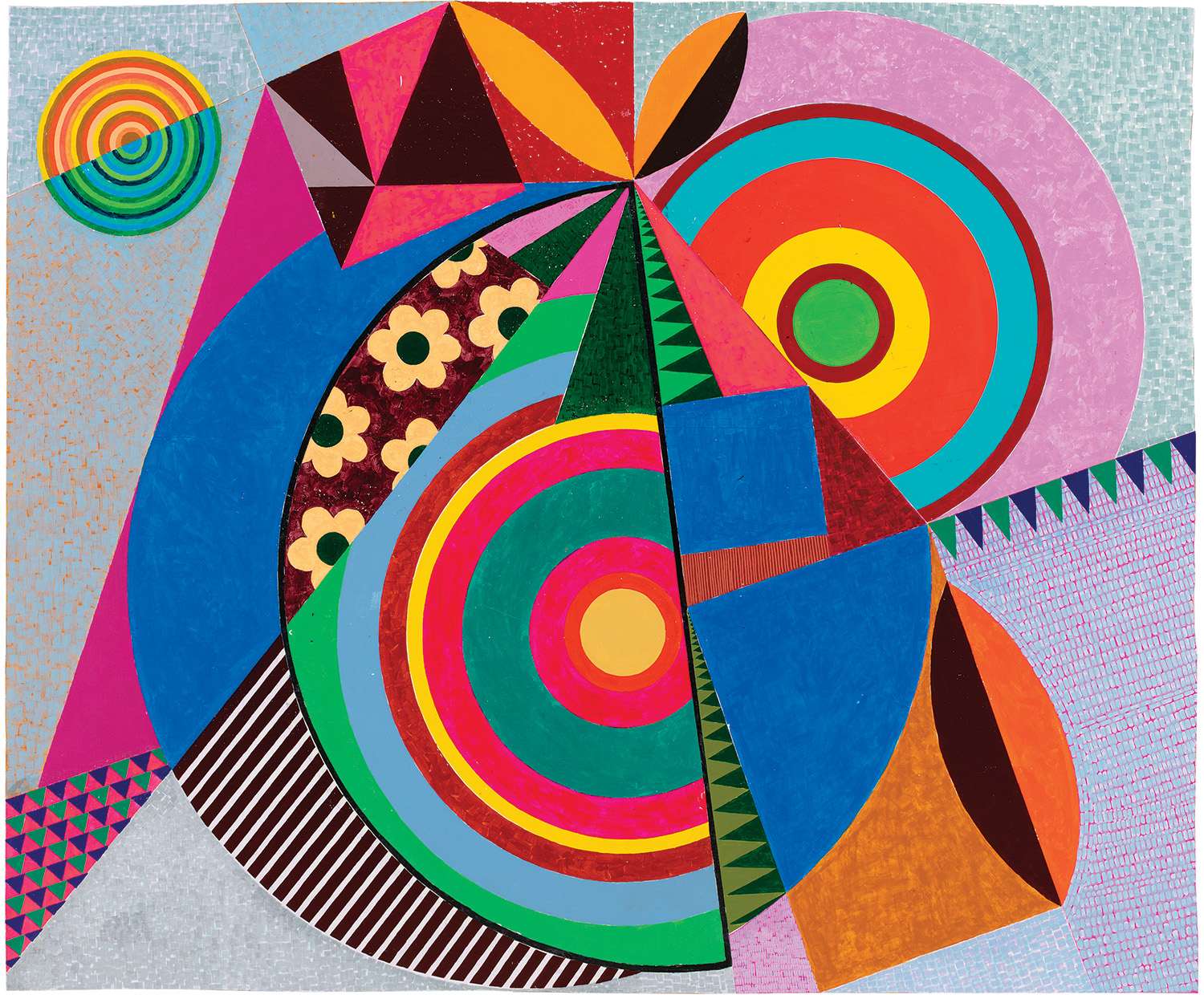 1. Beatriz Milhazes at Pace, New York
Working across a variety of aesthetic styles, Brazilian artist Beatriz Milhazes mixes high and low culture—fine art and folk craft traditions—in her colorful collage-like paintings, works on paper, and installations. Best known for her potent large-scale abstractions, which she has been exhibiting since the 1980s, the Rio de Janeiro–based artist returned to employing figurative elements to her work in 2017. As a result, such references to nature as flowers, trees, water, stars, and suns are as evident as patterns, stripes, and geometric forms in the recent paintings on view at her first show at Pace since joining the gallery in 2020. The show also marks Milhazes's first New York one-person exhibition in almost a decade.
Drawing inspiration from the creative Brazilian movements identified as Antropofagia (the cannibalizing of other cultures) and Tropicália (an amalgamation of Brazilian traditions and foreign styles), the artist captures the colors and forms of Rio's blue skies, sunny beaches, lush gardens, and baroque architecture through ten lively canvases in Pace's second-floor gallery, while channeling the spirit of her hometown's legendary Carnival celebration with a sensational floral sculpture suspended from the high ceiling of gallery's seventh-floor space.
Through October 29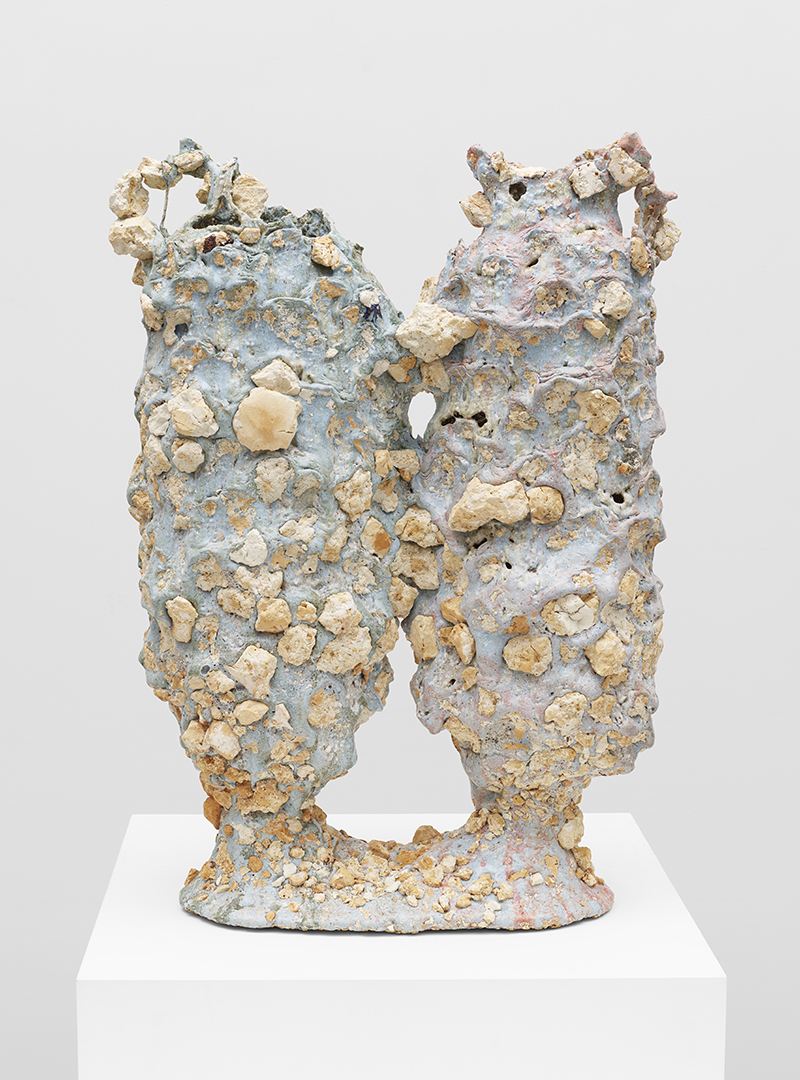 2. Masaomi Yasunaga at Lisson Gallery, New York
Making his New York exhibition debut, avant-garde Japanese ceramic artist Masaomi Yasunaga presents a form of ceramic sculpture rarely seen in the city, or many places outside of Japan. Rebelling against traditional pottery techniques from Japan, he uses glaze rather than clay as his primary building material. Coil built on a handwheel, the glaze is combined with raw materials such as rocks, rock-forming minerals, metal, and glass powders and then buried in layers of sand or kaolin (a soft white clay) for firing in the kiln. Once removed from the kiln, his primordial sculptural forms are excavated from their beds like archeological finds.
Exhibiting more than 50 experimental vessels displayed on a long foundation of gravel running through the length of the gallery, Yasunaga—who once mixed his grandmother's ashes with glaze to make an arrangement of white porcelain urns to crystalize his thoughts and memories of her—creates beauty in its purest, most primitive form.
Through October 15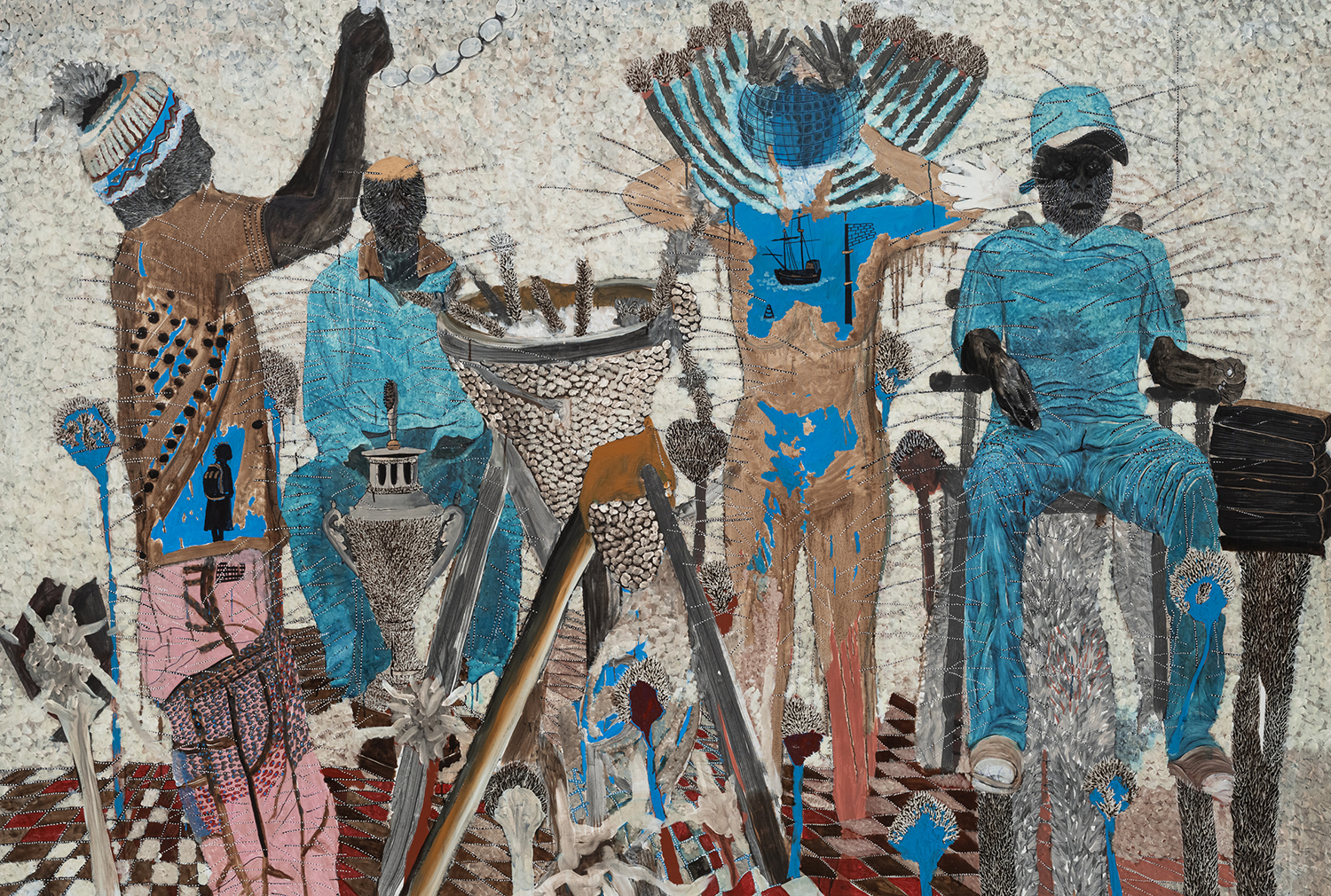 3. Omar Ba at Templon, New York
A rising star in the burgeoning contemporary African art scene, Omar Ba has split his time over the past several years between Dakar, Geneva, Paris, New York, and Brussels, where he currently has a studio. In his emerging practice, Ba develops a cosmopolitan point of view on Africa and the Black community that gets filtered through his highly sophisticated perspective. Fresh off a survey show at the Royal Museums of Fine Arts of Belgium and bound for a solo exhibition at the Baltimore Museum of Art in November, the artist has launched the venerable Templon gallery's New York outpost with a suite of powerful paintings that aim to rewrite African history and repair injustices.
Beginning his paintings—which are rendered on canvas and cardboard—by blackening the ground, the artist develops his figures on the surface from the darkness, with assertive brushwork and haunting imagery. Mixing the personal with the political, he works from photographs of family and friends while commenting on colonial oppression, issues of immigration, and themes of chaos, destruction, and dictatorship. Inspired by Pan-African philosophy and the Black Lives Matter movement, Ba fuses traditional African folklore with global symbolism to conjure an enticing space of optimism for those who are willing to dream.
Through October 29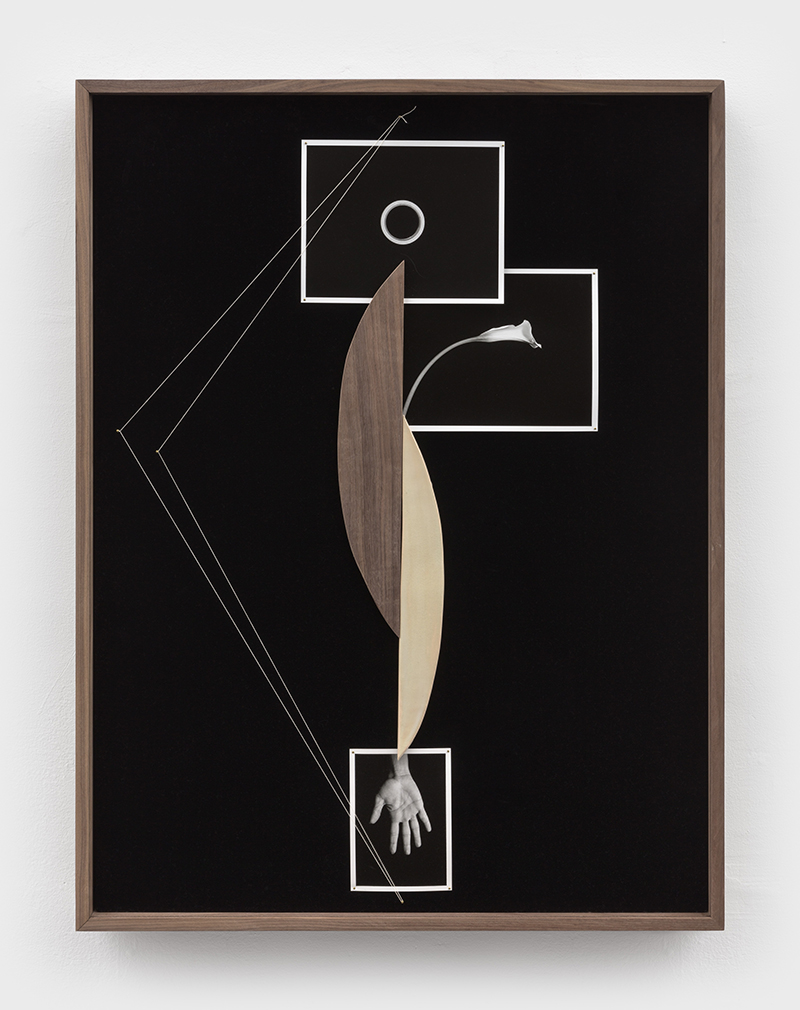 4. Sheree Hovsepian at Rachel Uffner Gallery, New York
Blurring the boundary between abstraction and figuration, Sheree Hovsepian mixes figurative photography with found and constructed elements in a variety of materials to devise contemporary imagery with a modernist twist. Photographing details of her nude body, cultivated flowers, and practical objects in her studio (such as a ball of string or a roll of masking tape), the Iranian-born, American-educated artist assembles the parts into boxed photo-montages with pieces of cut wood, nailed strings, and shaped ceramics on black velvet grounds to construct poetic pictures that are ripe with sensuality yet equally thought provoking.
One of the stand-out artists in Cecilia Alemani's engaging "The Milk of Dreams" exhibition in the 59th Venice Biennale, Hovsepian has expanded her practice into new ways of working in her first solo show with Rachel Uffner Gallery. Making black-and-white drawings with the ink used to digitally develop photographic prints and constructing hand-built ceramic sculptures that are glazed in a palette similar to her black, white, and brown framed photo-montages, she provides harmonious resting points between her more visually complex pieces while opening the door to new possibilities for her unique style of performative art.
Through November 5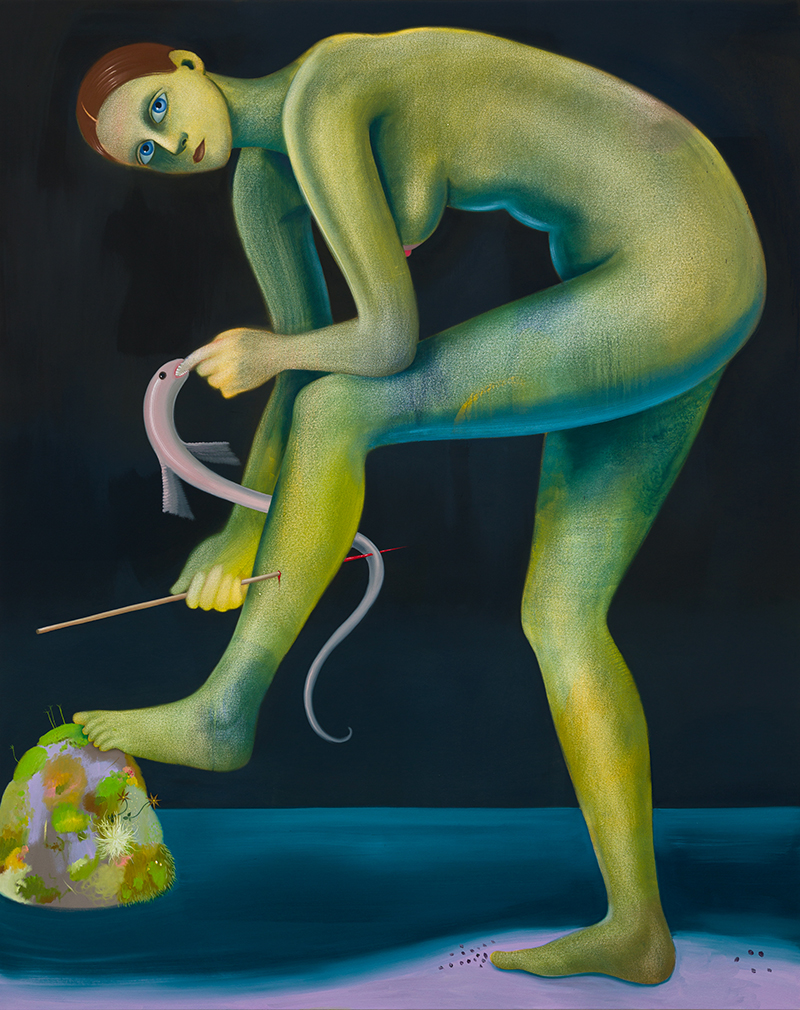 5. Sara Anstis at Kasmin, New York
Mining mythology for a more feminine interpretation, Sara Anstis makes dreamlike figurative oil paintings and haunting soft pastels on paper of naked young women enchantingly communing with nature. Born in Stockholm and raised on a small island in Canada, the London-based artist constructs surreal scenarios with barren landscapes and playful creatures for her femme fatales to traverse. Exhibiting internationally since 2019, after nearly a decade of studies, Anstis is making her New York solo show debut with such strong, psychological paintings and works on paper that we anticipate seeing more of her compelling artworks for years to come.
Through October 29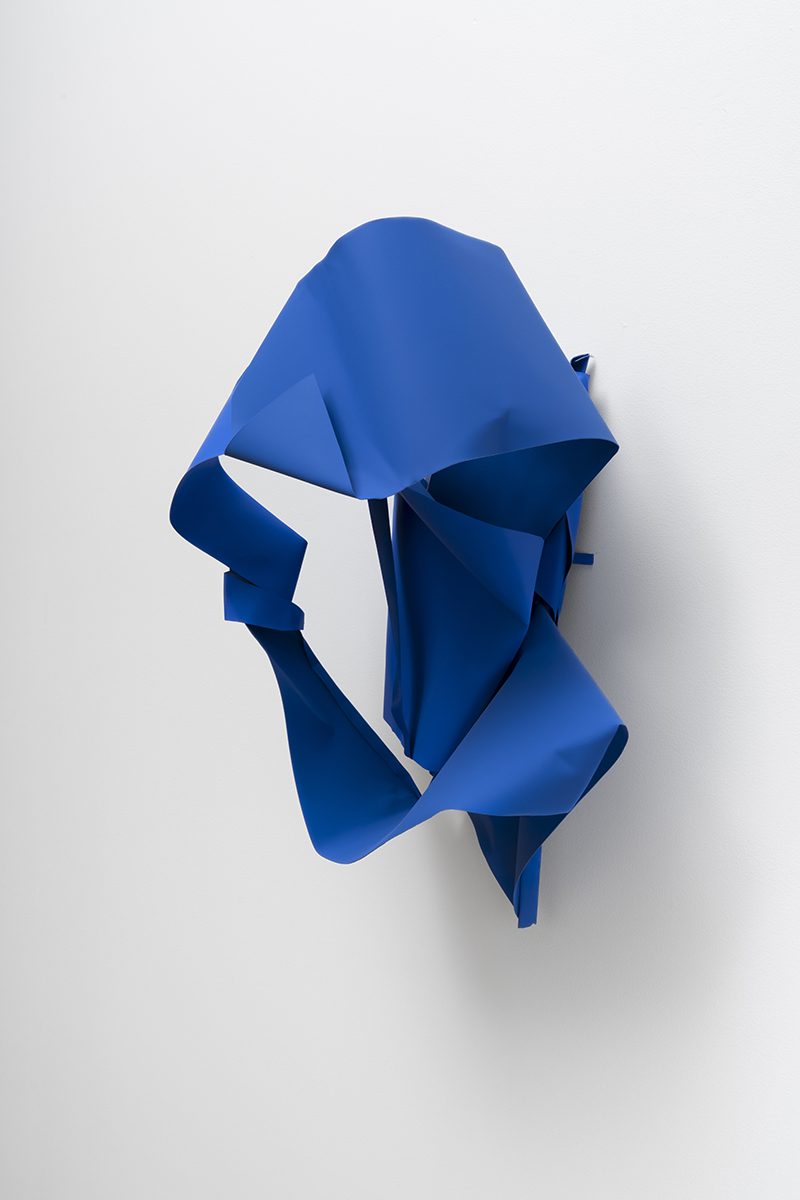 6. Robert Burnier at Andrew Rafacz, Chicago
Simultaneously presenting a solo show in South Africa and new works with two galleries at next week's Frieze London, Chicago sculptor Robert Burnier is clearly on a roll. Constructing whimsical, wall-mounted abstractions from raw sheets of metal, spray-painted with the palette of African, Mediterranean, and Mesopotamian artifacts, Burnier has long been fascinated with the sublime nature of color and form. Using pliers, planks of wood, and pure muscle power to shape the minimalist artworks in his one-person exhibition at Andrew Rafacz, the forceful artist folded, wrapped, and turned the durable metal inside out to create compressed forms, that in his precise summation, "retain the history of their own becoming," which is a very human-like method of development.
Through October 29
7. Patrick Martinez at Charlie James Gallery, Los Angeles
Considering his life and hometown as a new father, Los Angeles–based artist Patrick Martinez has conceived an engaging body of work that looks to the future in contemplation of how his family might fit into the changing urban landscape while glimpsing back to his own upbringing in Pasadena and the San Gabriel Valley. Making paintings and sculptures that reflect the murals, signage, and textured walls of the Hispanic neighborhood of East Los Angeles, Martinez recreates the vibrant visuals of advertisements from mom-and-pop shops and Latino restaurants and the fading walls of schools and community centers.
Applying everything from stucco, decorative ceramic tiles, and vinyl banners to strips of neon and LED signs to the surface of his paintings, the imaginative artist uses the exact elements and animated colors to capture the flavor of the fading sites and aging aspects of a realm that's threatened with gentrification on a daily basis. It's well-known that once artists start paying attention to a neighborhood, real-estate developers are soon to follow. By making art out of what he can see now, there will certainly be something for his children, and even later generations, to recall.
Through October 22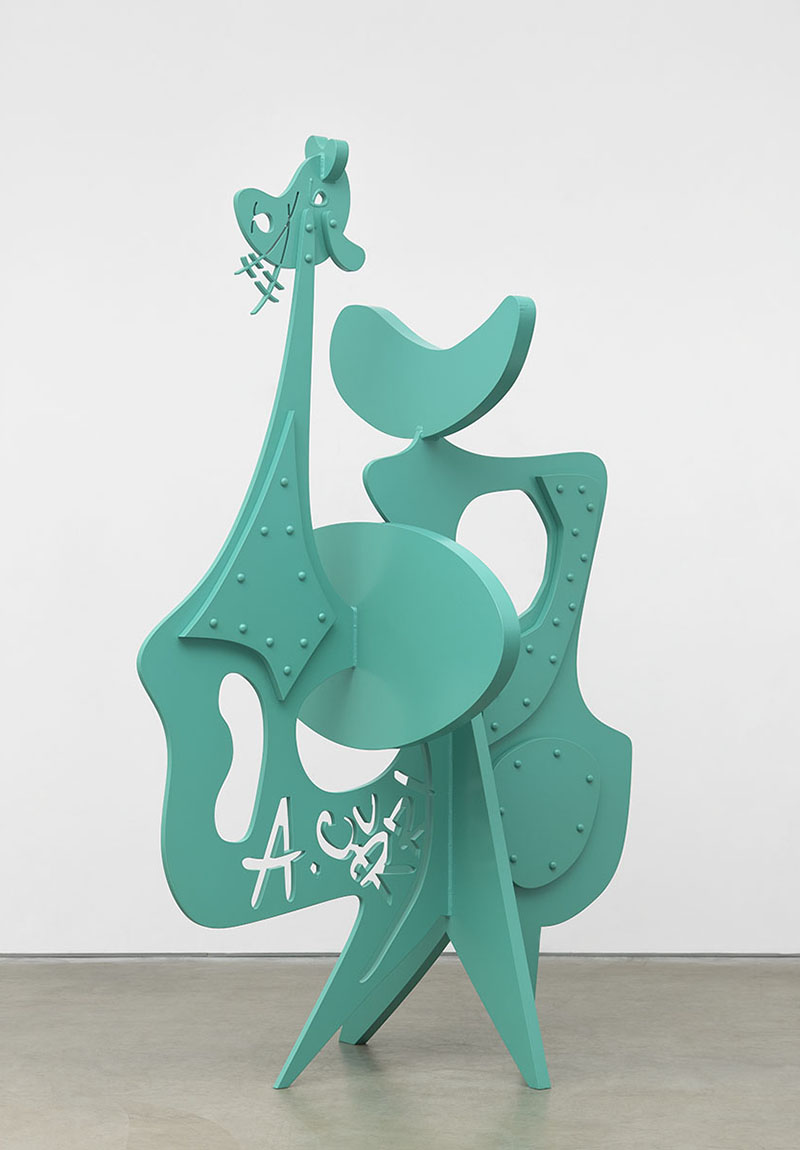 8. Aaron Curry at David Kordansky Gallery, Los Angeles
Widely exhibited and collected, artist Aaron Curry has been showing with David Kordansky since just after earning his MFA from Art Center College of Design in nearby Pasadena in 2005. Returning for his fourth solo show at the gallery, the Los Angeles–based sculptor and painter is presenting a new group of painted aluminum sculptures that are large enough to stand on the floor or upright outdoors and small enough to rest atop medium-sized pedestals. Cartoonish characterizations that riff on such titans of the medium as Alexander Calder, Joan Miró, and David Smith, the playful pieces employ industrial construction while also mimicking it with well-placed rivets and cut-out signatures.
Starting with sketchbook drawings that the artist then renders digitally, the sculptures evolve into paper maquettes before getting blown up to scale as fabricated works of art. Painted in vivid colors with highlighted elements that make the pieces pop, Curry's comically sophisticated works pay homage even as they poke fun at the modernist masters he so clearly admires.
Through October 22
Next Post