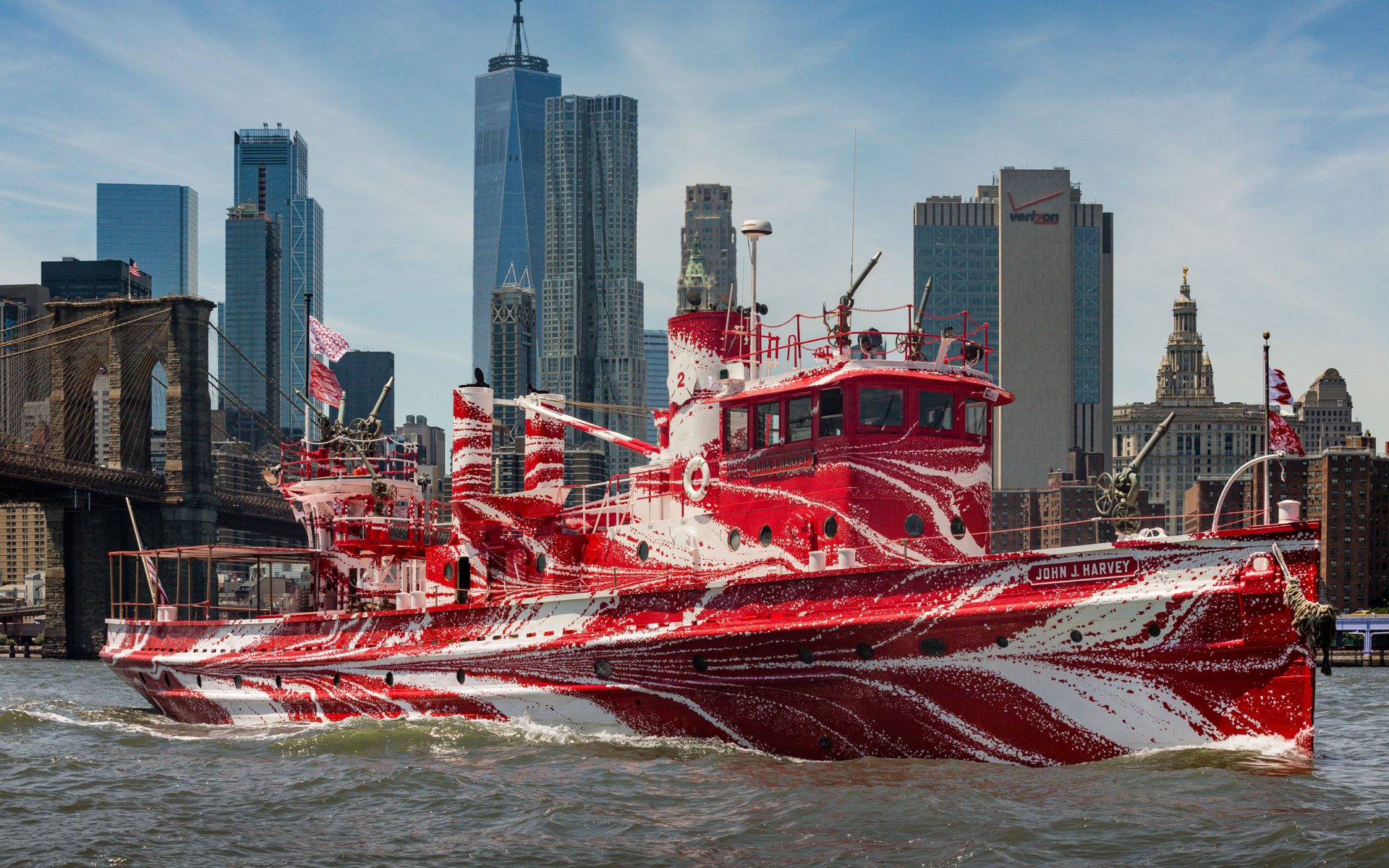 The 10 Most Spectacular Public Artworks of 2018
Galerie looks back at 10 of the most fascinating contributions to public art in 2018
The beauty of public art is its ability to capture the world's imagination in even the unlikeliest of settings. In a year filled with incredible contributions to public art, Galerie looks back on 10 of the most spectacular public artworks of 2018.
1. Olafur Eliasson, Vejle Fjord, Denmark
The acclaimed artist Olafur Eliasson unveiled his first permanent building in Denmark, turning his years of research on perception, light, and nature into a total work of art. Dubbed Fjordenhus, the building was commissioned by Kirk Kapital and serves as the company's new headquarters. Four brick cylinder shapes make up the main structure, while soaring arches mark the entranceways and balconies. Inside, the artist's own installations have been incorporated, as well as specially designed lighting and furniture by his studio.
2. Yinka Shonibare, Wind Sculpture (SG) I, New York
The British-Nigerian artist installed one of his signature batik-inspired Wind Sculptures at the Doris C. Freedman Plaza, at the southeast corner of Central Park. Commissioned by the Public Art Fund, the 23-foot-tall swirl of exuberantly patterned fiberglass artwork was hand-painted with Dutch-wax-style patterns of Shonibare's invention. "The history of these fabrics involves global travel and trade, and wind is symbolic of the movement of ships and a metaphor for migration, which is highly relevant in the U.S., a country of migrants," the artist told Galerie when we featured his studio in our Spring issue. "A lot of public sculpture can be rather dull," Shonibare says. "I want color, dynamism, and fun in the public realm."
3. Zak Ové, Autonomous Morris, London
British-Trinidadian artist Zak Ové presented his largest-ever mask sculpture at the newly reopened Smithson Plaza in St. James, London. The monumental form is made from discarded car parts, including several vintage Morris bonnets, which were used to challenge the assumed British origins of Morris Dancing, which in reality was brought to the U.K. by the Moors.
Autonomous Morris is on view until early 2019; 25 St. James's Street, London. 
Recommended: 10 of the Most Glamorous Places to Ring in 2019
4. Will Ryman, Parc de La Villette project, Paris
New York artist Will Ryman crafted a whimsical labyrinth of primary-colored resin slabs that nod to the 1990s game of Pac Man. The site-specific installation located at the Parc de La Villette was part of the third edition of the 100 Percent Festival, Paris's beloved interdisciplinary arts festival. Also on display was a group of clumpy clay faces seemingly looking toward the sky and a massive bronze boulder. The commission marked Ryman's first major presentation in Europe.
5. Do Ho Suh, Bridging Home, London
Korean artist Do Ho Suh is most known for his floating transparent houses crafted in silk, but for this project, he built a replica of his childhood home and installed it above one of the busiest roads in the City of London. Placed on its side, the house looked as though it was dropped from the sky and may fall down at any moment. The work attempts to make a statement about the migrant history of London, as well touching on his own experience.
Bridging Home will be on view through March 2019 at Wormwood Street, London. 
6. Studio Roosegaarde, Smog Free Tower, Kraków, Poland
Studio Roosegaarde generated buzz for devising the world's first smog vacuum cleaner. Dubbed Smog Free Tower, the 22-foot air cleanser, which purifies 30,000 m3 of air per hour, occupied the Park Jordana in Kraków, Poland, in spring this year. The work is part of a series of urban innovations led by Roosegaarde to reduce pollution and provide an inspirational experience of a clean future.
7. Carsten Höller, Aventura Slide Tower, Miami
Belgian artist Carsten Höller is known for large-scale artworks that draw upon the social science behind amusement parks, playgrounds, and zoos. This year, he created one of his iconic slide towers at Aventura Mall, Miami's premier shopping destination and home to a world-class contemporary art collection, in which visitors can race each other down its pair of tunnels. It marked his first project in the U.S.
8. Rirkrit Tiravanija, Untitled 2018, Singapore
A site-specific bamboo maze installation commissioned for the Ng Teng Fong Roof Garden at the National Gallery of Singapore was inspired by the private rituals of a Japanese teahouse and drew on the surrounding local architecture and traditions.
9. Christo and Jeanne-Claude, The London Mastaba, London
One of the most-talked-about projects this year, The London Mastaba was a 65-foot-high sculpture floating on London's Serpentine Lake. The jaw-dropping public artwork was made of some 7,000 painted oil barrels secured to scaffolding and was based on the trapezoid shapes of mastabas, which originated in the architecture of Mesopotamia.
10. Tauba Auerbach, Flow Separation, New York
In a project commissioned by the Public Art Fund, Tauba Auerbach invited visitors to board the historic John J. Harvey boat she had transformed using a "dazzle camouflage" technique. The tactic, used during World War II, involved repainting a vessel with intricate patterns of geometric shapes and bold colors to disorient and disguise. Throughout the summer, the Harvey provided free cruises around New York Harbor.
Next Post