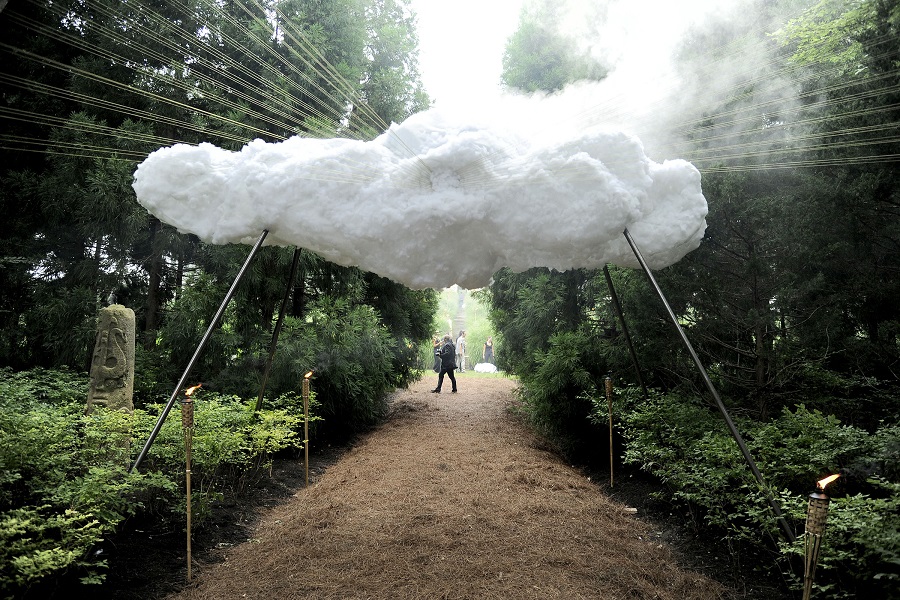 The Most Memorable Summer Benefits at The Watermill Center
Guests from past benefits recall their favorite performances
For one night every July, the grounds of The Watermill Center in the Hamptons are transformed into an enchanted forest of installations and performance art. Hundreds of well-heeled guests weave their way through a pathway of memorable, unexpected sensory adventures. In years past, artists have soared from the trees, wielded axes, and even used their ponytails as paintbrushes. One can never know what to expect—and guessing would be futile as each year brings unbridled levels of imagination and creativity.
This Saturday, July 29, the benefit's theme is "Fly into the Sun" and honors Laurie Anderson and Isabelle Huppert in tribute to the late Lou Reed. Spread across eight acres, there will be over 30 site specific works curated by the director, Robert Wilson. Many of these performances are installations by the center's summer artists in residence.
A much-anticipated highlight will be Anderson performing The Wildebeests, a poem with musical accompaniment, which she first performed at the gala with Reed in 1997—just one of the talked-about moments from galas over the decades.
In celebration of the event, we asked regular gala attendees to recall their favorite galas from over the years.
Robert Wilson, founder and artistic director of The Watermill Center
"There are many installations that I often think about or reflect on. One that immediately comes to mind was the year we built the Africa House, an homage to the African-American painter Clementine Hunter. Modeled after a similar house she lived in on Melrose Plantation, an artist colony in Nachitoches, Louisiana, the walls inside the original house were covered in Hunter's murals depicting life on the plantation, including cotton picking, wash days, weddings, baptisms, and funerals. We hung 45 of Hunter's paintings on the interior of the house, which was situated in the middle of our West Courtyard. That year, Marina Abramović and Lady Gaga attended our gala. They sat together on the interior straw floor. Gaga said it was her favorite space at Watermill."
Amy Lau, interior designer
"The installation, As We Lay Dying, from the 2016 gala was particularly interesting as there were collaborations between the residents of The Watermill Center and those in the summer program. I also loved how the gala took inspiration from Le Corbusier's building Maison du Fada, which is often regarded as the catalyst for the Brutalist architectural style—one of my favorite movements."
Leila Heller, gallerist
"This gala is always the highlight of my summer, and I have been involved with this fabulous center for many years. I donated artwork from our artists to their live and silent auctions in honor of Sheikha Paula Al Sabah and Bob Wilson. My favorite installation to date was last summer Bruce High Quality Foundation had their car installations in the forest. It was so riveting and unexpected."
Hunt Slonem, artist
"It's quite an experience—so impressive in terms of its scale and the very international crowd. Everyone really dresses up and goes for it with bright colors and wonderful accessories. I wore one of my very bright jackets one year, and Robert Wilson said, 'You should go out there and stand in the garden with all the performers.'"
Noah Khoshbin, curator at the Watermill Center
"For me, it was the rare occasion that one of the benefit installations was indoors with Jonathan Meese's Marlene Dietrich in Dr. No's Ludovico-Clinic (Dr. Baby's Erzland) in 2008. Meese was given free rein to incorporate the center's eclectic collection. He transformed the normally pure and pristine space into a fantastic assemblage of cult, kitsch and historical relics."
Jörn Weisbrodt, honorary chair and collaborator
"Yochai Matos's piece Pegasus Walking up the Knee Building in 2010 encapsulated what Watermill is capable of doing. Firstly, the ability to physically attach and suspend a 15-foot neon Pegasus sculpture off the central wall is pretty astounding. But also the mythological creature of Pegasus itself, which speaks to the boundless imagination and creativity of the human mind that is unleashed and nurtured at Watermill."
Anne Huntington, art collector  
"The benefit is always the biggest bang of the season! And in 2012, the theme was just that, 'The Big Bang,' and it did not disappoint. Paul McCarthy's massive installation erected high above the center prominently and symbolically confronted all of us. Another big bang was Kembra Pfahler and the Voluptuous Horror of Karen Black performing alongside McCarthy's sculpture; and wow, was it fantastically bold."
Christophe de Menil, art collector and jewelry designer
"At 'One Thousand and One Nights' in 2012, Mette Sterre's Structuralist caught my eye. The piece is coherent and borderline vanishing."
Blair Voltz-Clarke, gallerist
"Robert Wilson's mind-blowing human installations always blur the lines between magic and reality. The visual impression of a gorgeous woman buried in the ground singing La Boheme entitled How to Penetrate the Darkness from 2014 will never leave my thoughts."
Campion Platt, architect and interior designer 
"The most memorable gala in recent years—although they are all quite magical— was 2013, where  performance artists blended into trees, benches, rocks, earth, ironing boards and other every day items. It was fun, outrageous, sexual  and extremely clever, but especially human."

watermillcenter.org
Next Post