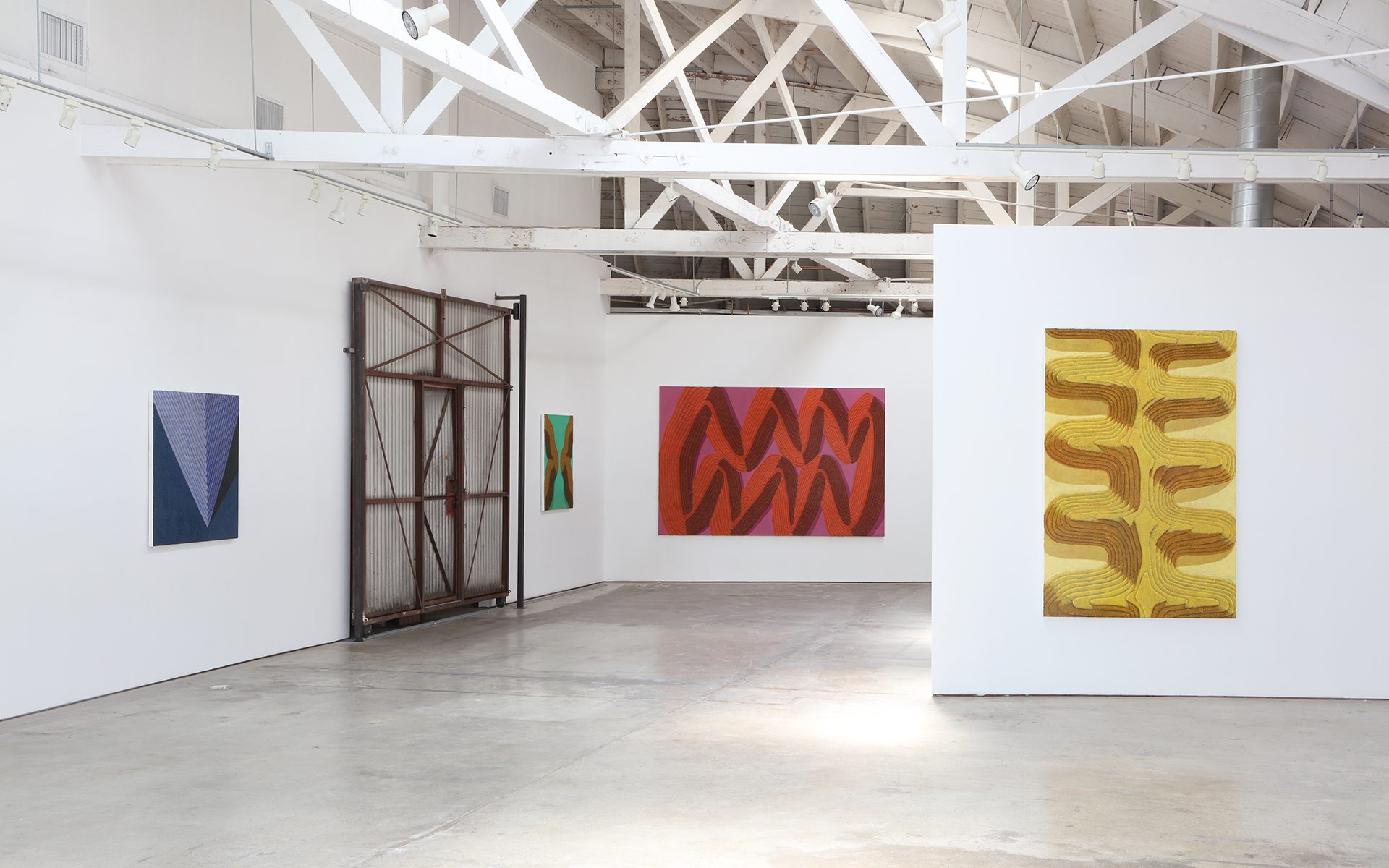 Meet the Maker Creating Vibrant Abstract Artworks Using Technicolor Sand
Los Angeles painter Jonathan Ryan found inspiration in industrial landscapes and video games of the '80s for his textural canvases, now on view at the Landing Gallery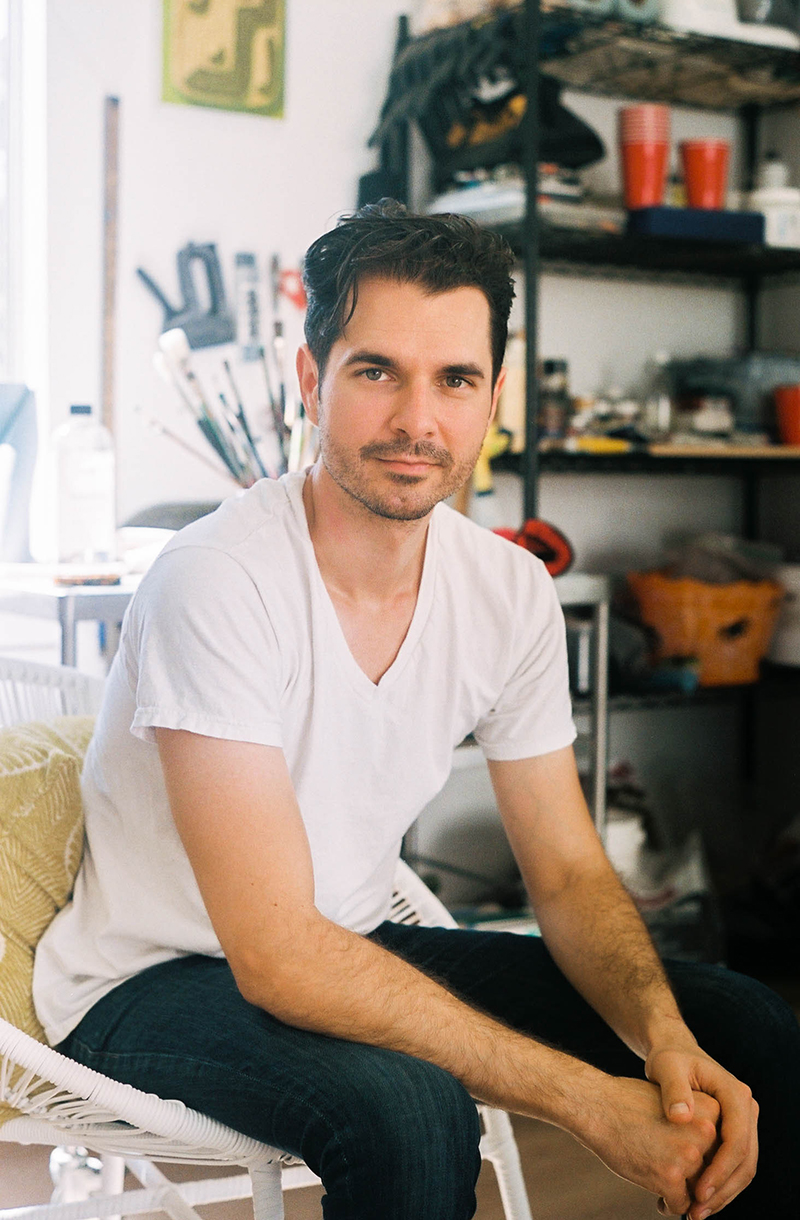 Born in Buffalo, New York, to a father who worked at a cardboard factory and a mother who clerked at the local bowling alley, Los Angeles–based painter Jonathan Ryan was more likely to emulate Lebowski than Kandinsky. "I was into anime and video games," says Ryan from his light-filled studio in the city's Eagle Rock neighborhood. His family moved to Louisiana when Ryan was nine, and it was at Louisiana State University where he began painting—first figurative works, then plein-air landscapes—before finding the inspiration that set him on his current mode of abstraction.
"I had a motorcycle and would take rides along the Mississippi River," he tells Galerie. "I was looking for more bucolic settings, but I saw all these oil refineries, power plants, and chemical plants that were tucked away, so I got into abstracting those industrial forms."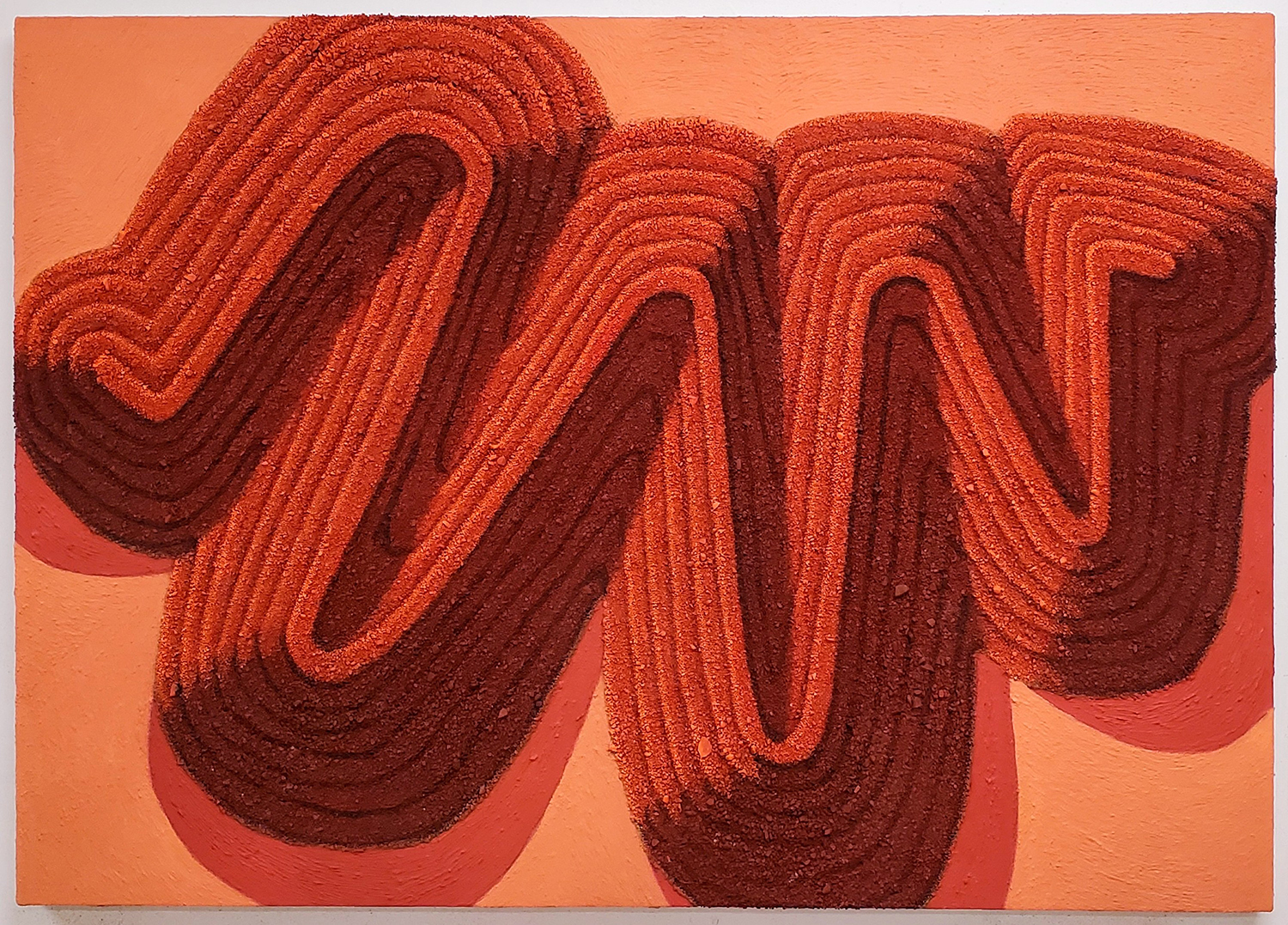 Those early geometric abstractions got him into the MFA program at the Tyler School of Art and Architecture at Temple University, where he burrowed deeper into his obsessions with landscape and architecture. When he moved to L.A. in 2014 he wasn't satisfied with the flatness of his paintings and began experimenting with materials—first thick oil sticks and pastels, then more substantial materials and sand—while revisiting the 8-bit and 16-bit graphics of early video games he adored, like Ivan "Ironman" Stewart's Super Off-Road.
"The dirt tracks mimicked the forms and landscapes I was interested in, formally, materially, and conceptually," he says. "I also liked this translucent quality to the paving sand with a layer of oil on top and I kept using it, creating these modulated forms that have since taken on this shallow trompe l'oeil pictorial allusion."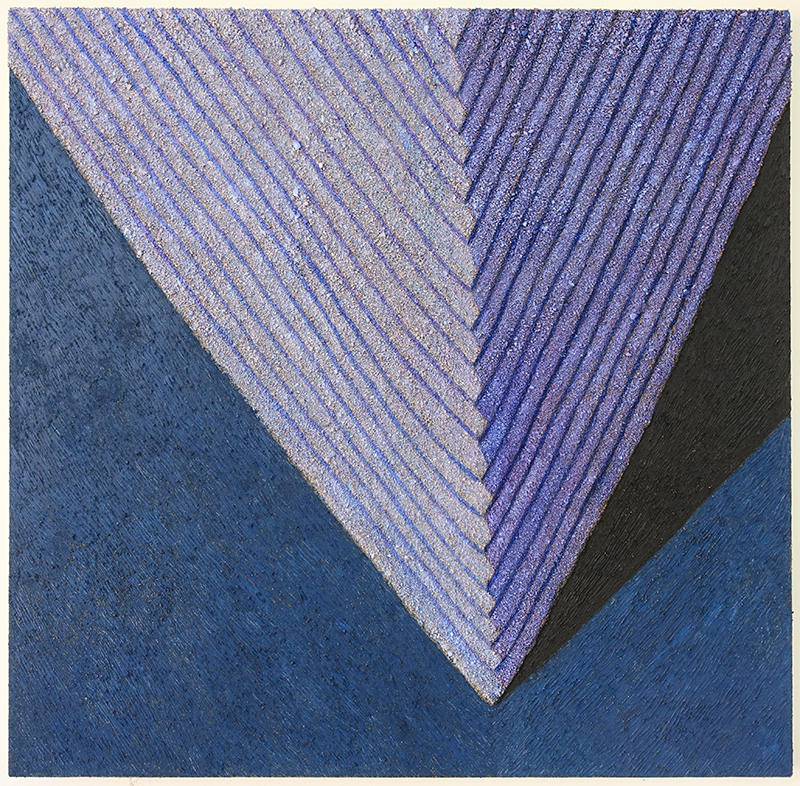 These allusions led to broader topographical investigations in the vein of Richard Diebenkorn and Josef Albers, which made the rounds at various artist-run spaces before catching the eye of L.A. dealer Gerard O'Brien, owner of The Landing Gallery, who brought Ryan's work to the NADA fairs in New York and Miami to great acclaim in 2018 and gave him his first solo show later that same year.
"I started slowly getting rid of horizon lines and it helped me build my own vocabulary to generate these paintings," says Ryan as he unveils a new body high chroma paintings that will comprise Earthbound, his sophomore solo show at The Landing, opening September 18. "All of them stemmed from years of thinking about landscapes, the pictorial concerns of light and space, the tradition of observational painting."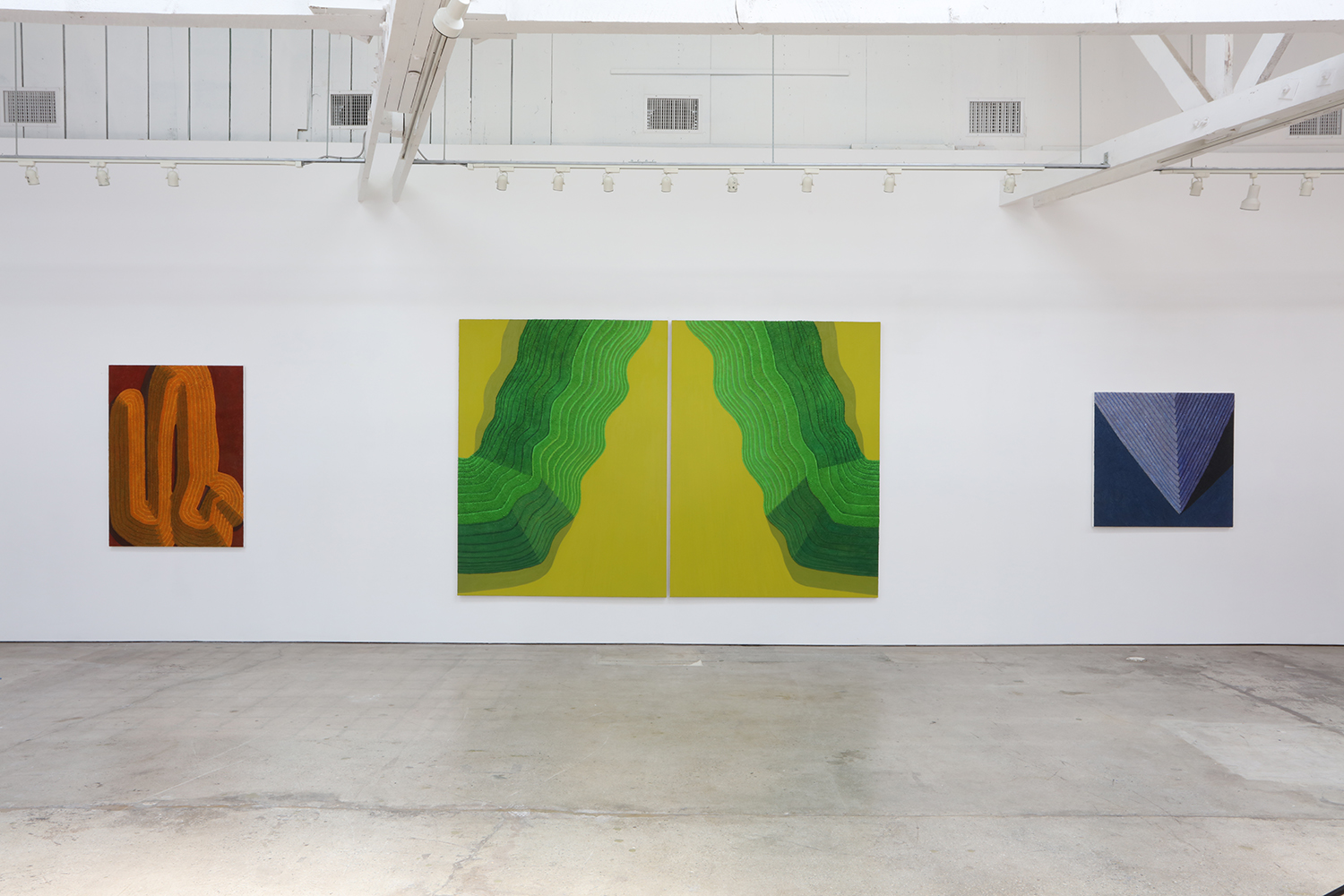 With Earthbound, all the works appear to invoke rivers, organs, spinal columns, and pit mines. "I wanted to key up the palette and the structures are more organic," says Ryan, whose painting typically begin with tiny sketches on notepads which he then translates to canvases via architectonic charcoal sketches. Multiple layers of underpainting are made with thin washes or thick smears of oil paint, which he thickens with fine-grit sand. He then applies grittier, rockier sands into the geometries of the abstraction, pressing them into the oil, then builds layers of depth through finely painted contours that give the works their particular pictorial vibration.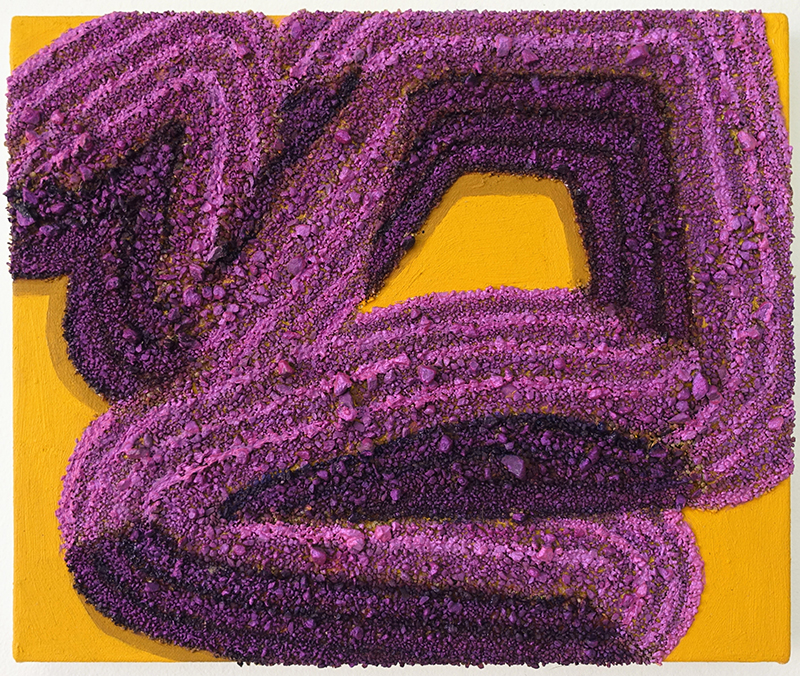 "I treat the sand as a pigment with different transparencies and colors," says the artist. "There's a natural but also an unnatural quality and my work has always been interested in human interventions to nature. Even if they seem like they're from another planet, or some dream space because of the palette, they still feel rooted to the land. Very little of what you see in nature is really natural."
The new series also nod back to his early video game obsessions, specifically with the mid-'90s role-playing game EarthBound, in which players collect melodies from eight "sanctuaries" in order to defeat a cosmic destroyer named Giygas. "It's funny, it seems like this work is what I was trying to make back when I was in grad school," says Ryan with a laugh. "It was necessary for me to get those ideas so deep into my subconscious that I'm not thinking about them front and center all the time. But when I step back I realize this is totally what that work was all about."
Next Post