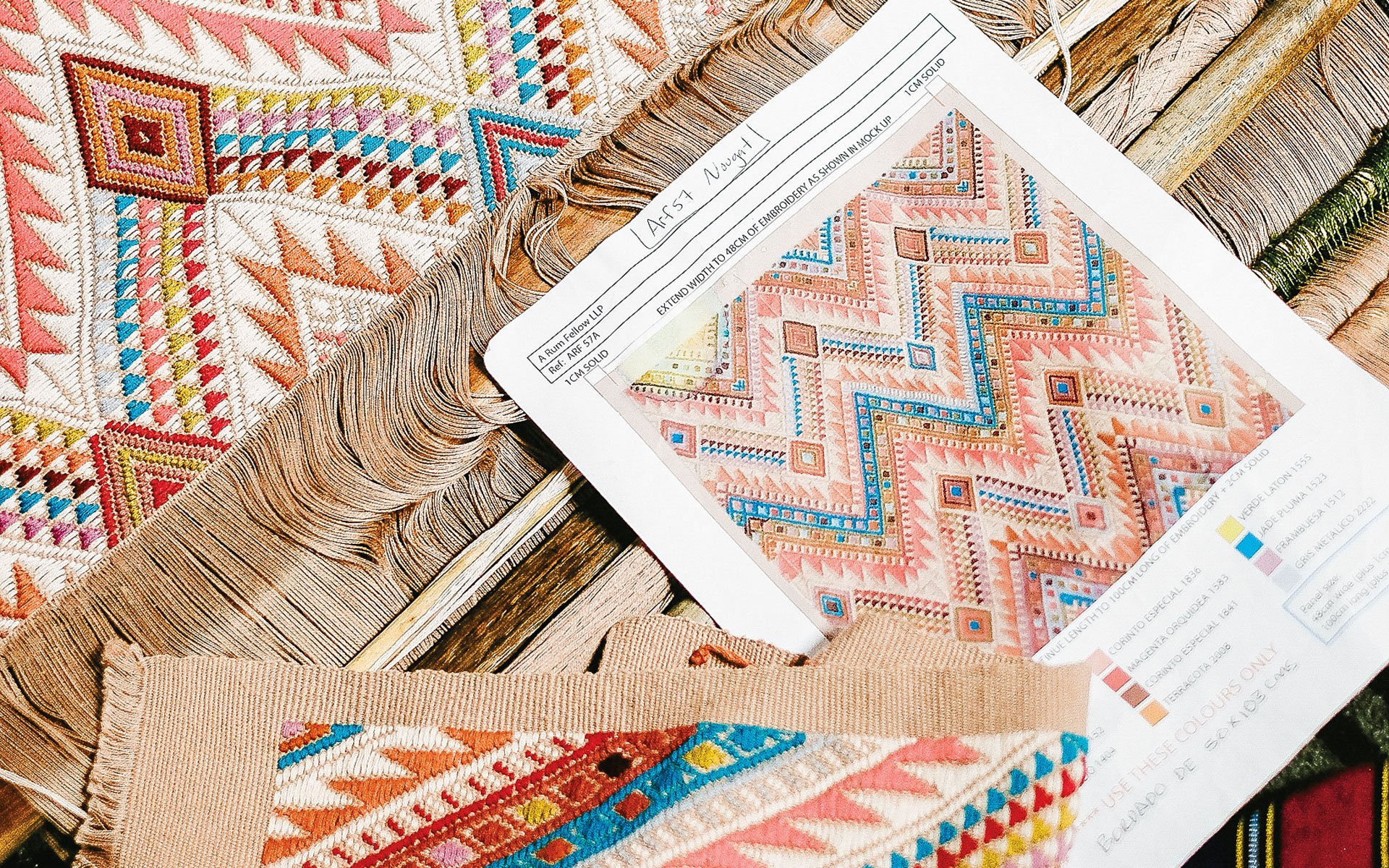 Meet the Artisans Reimagining Traditional Guatemalan Weaving with a Contemporary Aesthetic
A Rum Fellow's jaunty, handcrafted textiles, now available with Schumacher, also have an important social mission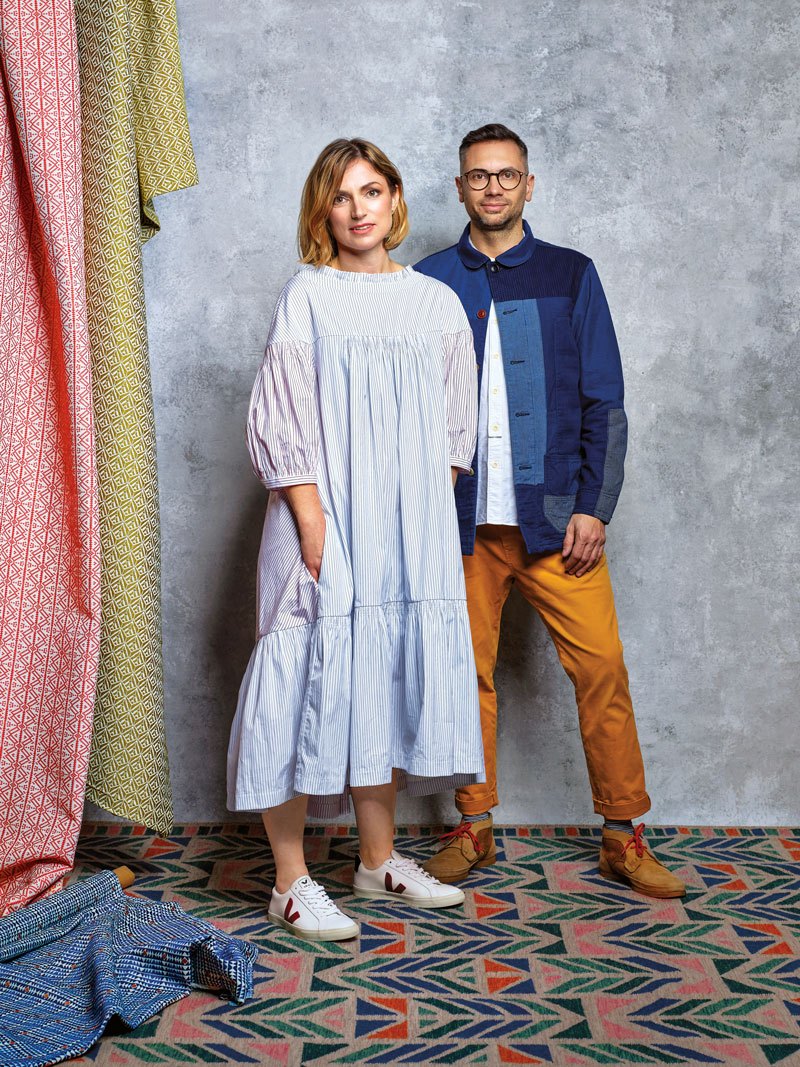 To create their intricately beautiful array of fabrics, A Rum Fellow's cofounders, husband-and-wife Dylan O'Shea and Caroline Lindsell, draw on centuries-old techniques found in Guatemala. "It's a nation that lives and breathes textiles," says O'Shea.
There, family-run weavers produce the London-based studio's brightly colored brocades and fabrics, which made their debut in the U.S. this summer with Schumacher. "We are passionate about handwoven, handmade products. We really wanted to work with communities and cultures that make in very traditional ways."
Initially, the couple launched A Rum Fellow with fabrics made in Bolivia, followed by Peru, before transitioning to Guatemala, which they first visited with their then-seven-month-old daughter in toe. Each of the destinations had a rich textile culture, but Guatemala drew the couple in with their kaleidoscopic colors and geometric patterns. During one trip, they stumbled across a talented weaver on the side of the road; she in turn introduced O'Shea and Lindsell to others in her community and now the small group helps produce pieces for A Rum Fellow.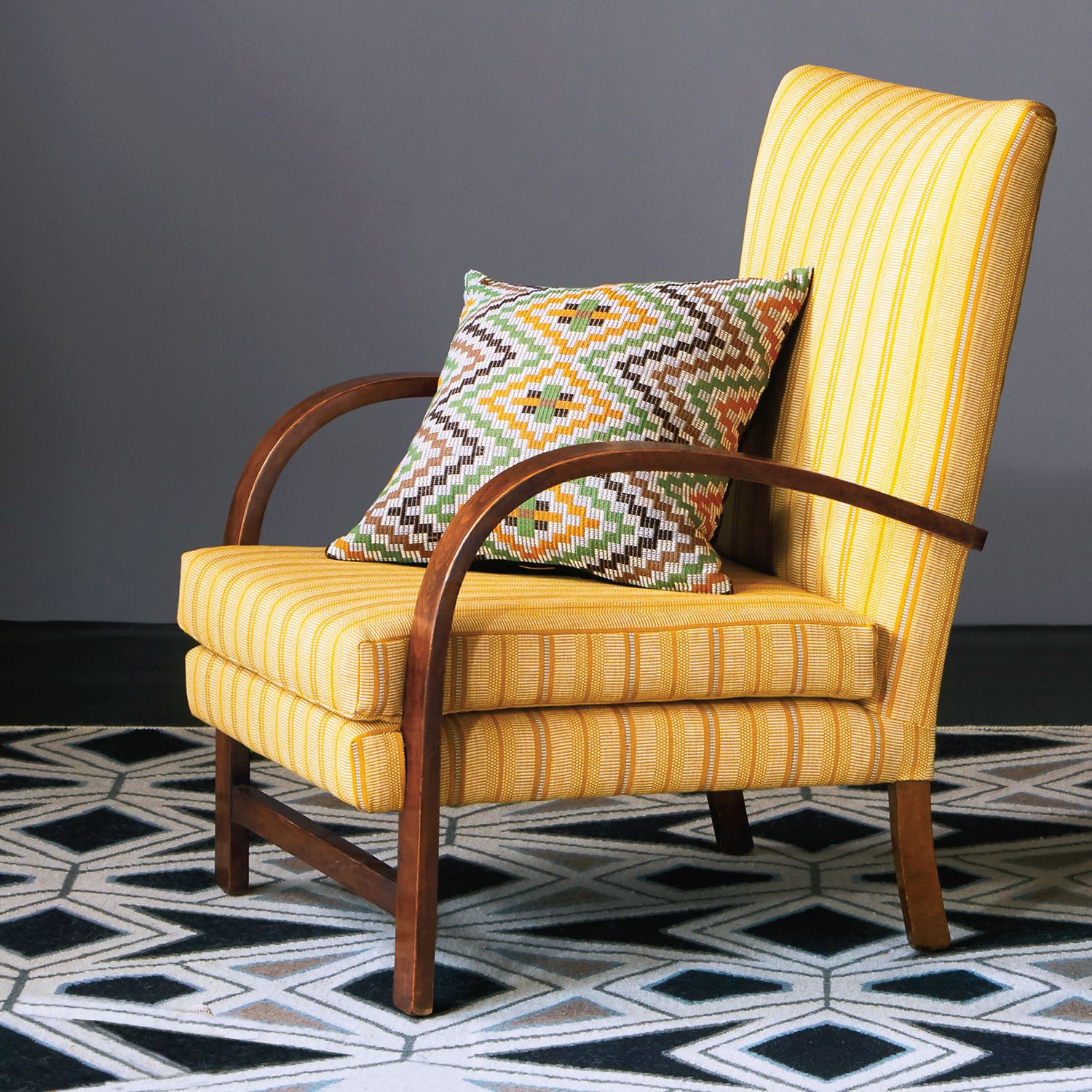 Lindsell, who has a background in fashion and textile design, and O'Shea translate the brightly colored traditional Guatemalan patterns for a more contemporary audience. "Our color palette is bright but theirs is way, way brighter," he says of the brocade, stripe, and falseria patterns that make up the bulk of the A Rum Fellow collection. (The company also offers an ikat design, but it has not yet launched in the U.S.) "When you're in Guatemala and its beautiful sunshine and people are walking around in bright colors, it make sense. But when you bring that to London, where we are, it really jars. Some are more colorful than others, like the Nica, and then there's the Coyolates that are more tonal."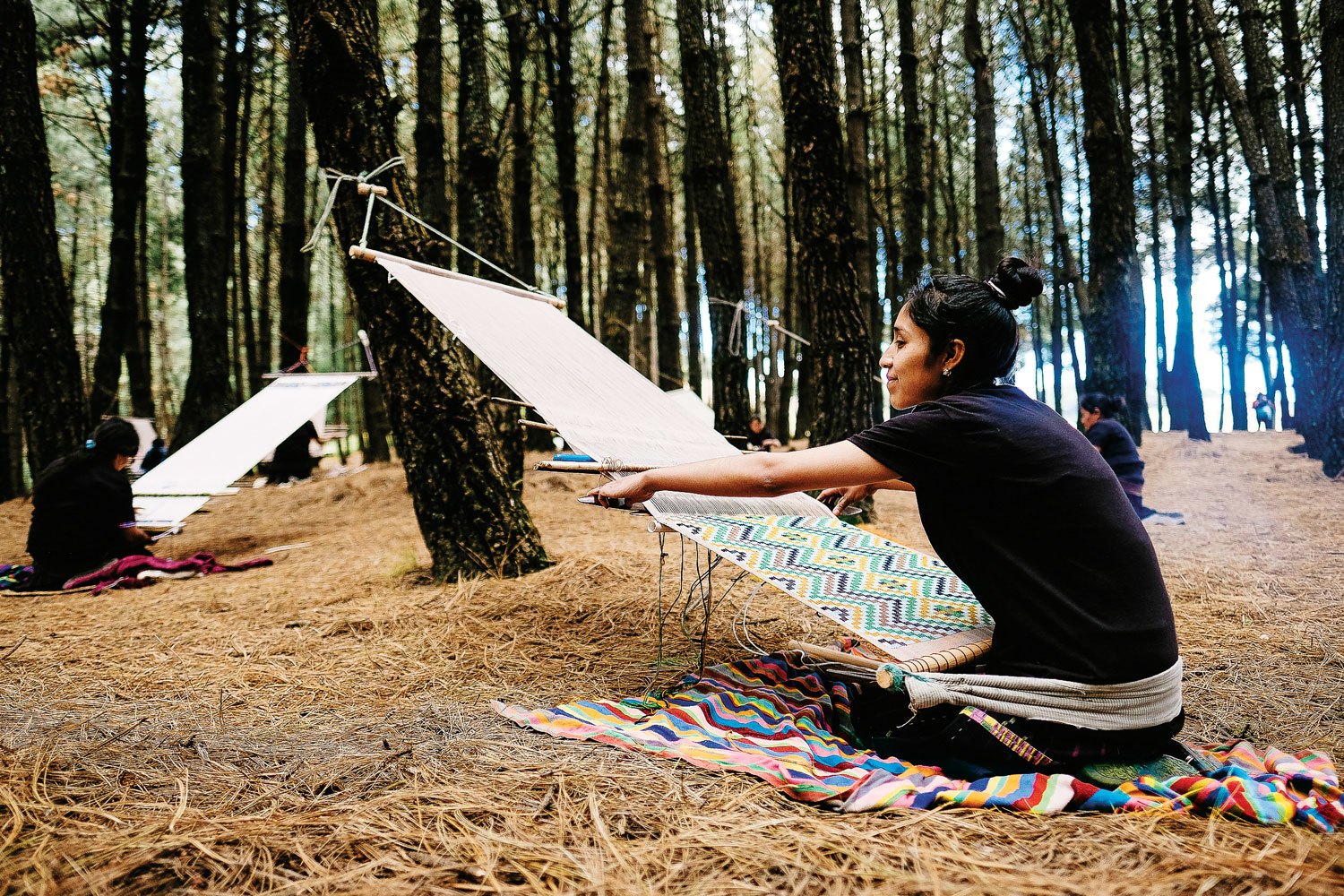 Within the collection, stripe and falseria are sold by the yard, but due to the traditional looms still used to produce the fabrics, they come in a width that is narrower than the standard size of textiles. Brocades are sold in panels because of the unique back-strap looms used to handcraft each piece. And each of the designs are so intricate that individual artisans can recognize their own handiwork in their applications, such as the jaunty panels on headboards at Kit Kemp's Firmdale Hotels.
The designs can be found across the globe, from pillows for the popular Peruvian restaurant Casita Andina in London's SoHo neighborhood or to trim curtains or enliven the back of bar chairs. "The artisans can recognize their own textile because they can just see their incrementally tiny differences," says O'Shea, of showing the local weavers the creative ways designers have implemented their fabrics around the globe. "Their faces light up and they love to see it. It's always a little magical moment that gets us in the feels because they're so excited by it."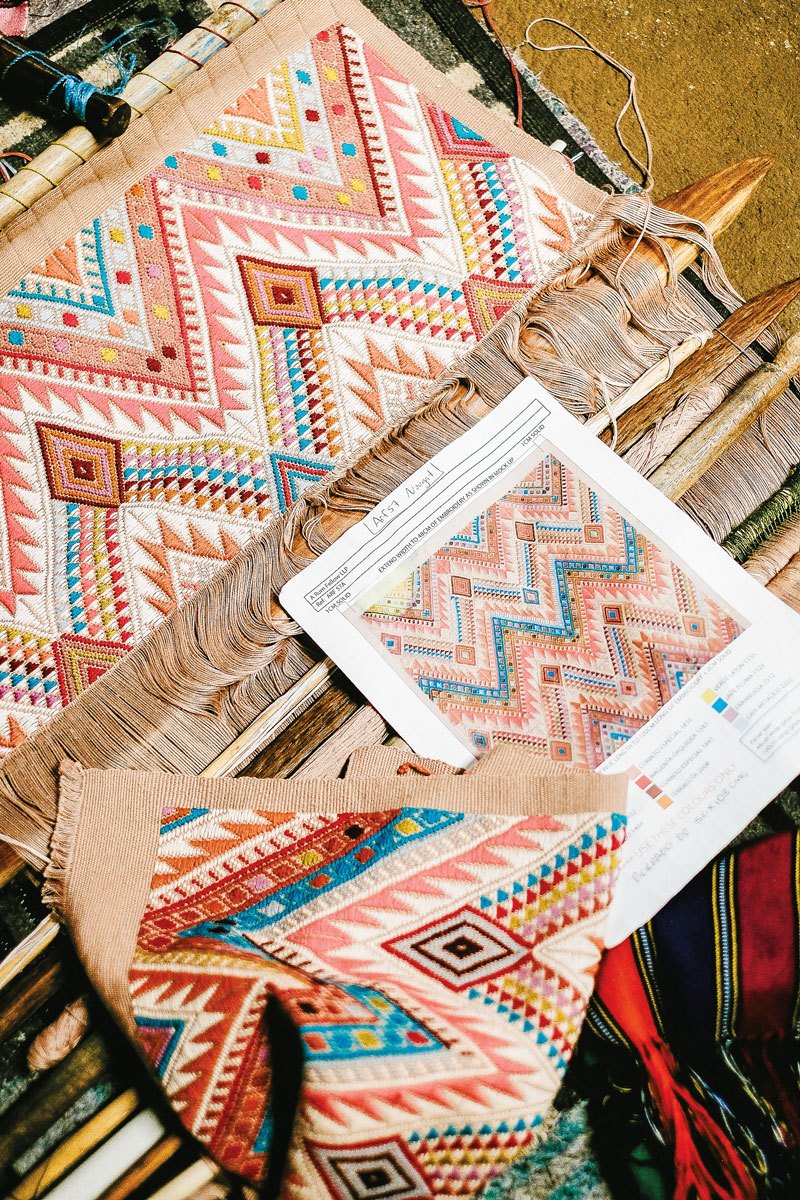 Additionally, O'Shea and Lindsell work closely with a number of social organizations in the country, while also creating their own collectives of family-run weavers to ensure fair wages and provide social programs for its Maya collaborators. "That social mission is very much at the core of what we're doing, but we also wanted to make sure that what we are offering is extremely beautiful and stands up in its own right," says O'Shea. "Then behind that product is a great story and a great mission." 
A version of this article first appeared in print in our 2020 Summer issue in the section The Artful Life. Subscribe to the magazine.
Next Post