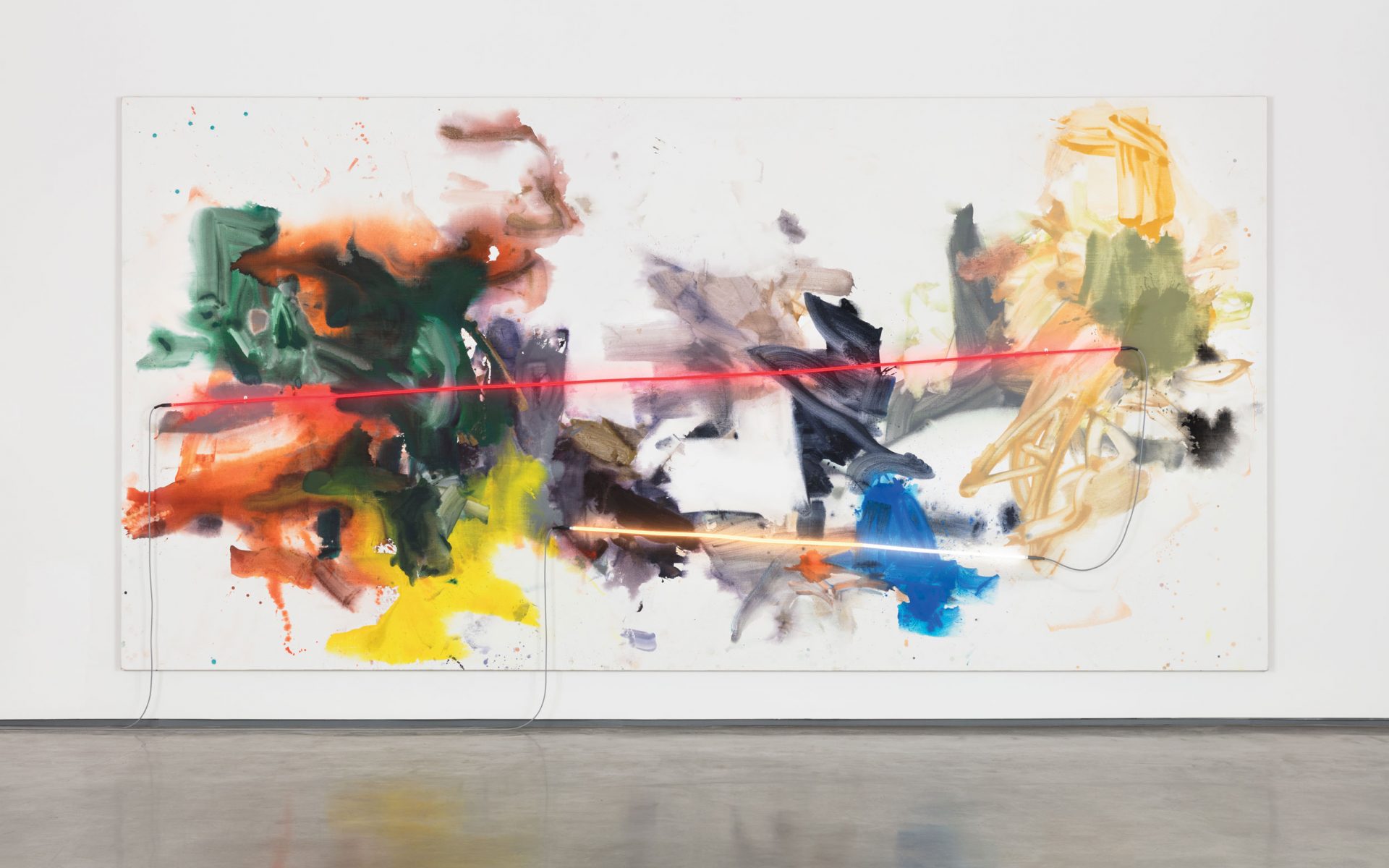 How Mary Weatherford Creates Her Poetic Canvases
The Los Angeles painter seems well on her way to long-overdue acclaim
In the land-inspired legacy of Southern California artists, the work of Ojai-born Los Angeles painter Mary Weatherford is a poetic ode to West Coast ecologies, including endless coastlines, rugged hillsides, and neon-illuminated streets. But rather than depict landscapes, her paintings abstract the factual details of a given moment—location, temperature, time of day—and distill them into their atmospheric qualities, producing swarms of overlapping colors of various opacity that retain the visibility of the artist's brushstrokes.
In the mid-1990s and through the aughts, Weatherford was embedding her canvases with natural flourishes, including actual seashells, sponges, and starfish. In her 2012 "Bakersfield" series, she began incorporating tubes of neon into her works, a decision that proved transformative.
Recommended: How Artist Hugo McCloud Is Taking Metal to New Heights
As evidenced in her first show with L.A. gallerist David Kordansky in 2014, these stripes of light stretched across diluted expanses of vinyl-based Flashe paint turned her linen canvases into electrified night skies. Striking another note, her 2014 Canyon featured the hazy, rosy undertones of sunset, with red and white neon evoking the endless streams of headlights and taillights that dominate aerial views of Southern California.
Now decades into her career, Weatherford is expanding her practice. At her last Kordansky show, in 2017, her canvases had grown as large as 10 by 20 feet; her next solo exhibition will be at art powerhouse Gagosian. With her first career survey planned at the Contemporary Arts Museum Houston in August 2019, Weatherford seems well on the way to long-overdue acclaim.
A version of this article first appeared in print in our 2018 Summer Issue under the headline Seeking Beauty. Subscribe to the magazine.
Next Post