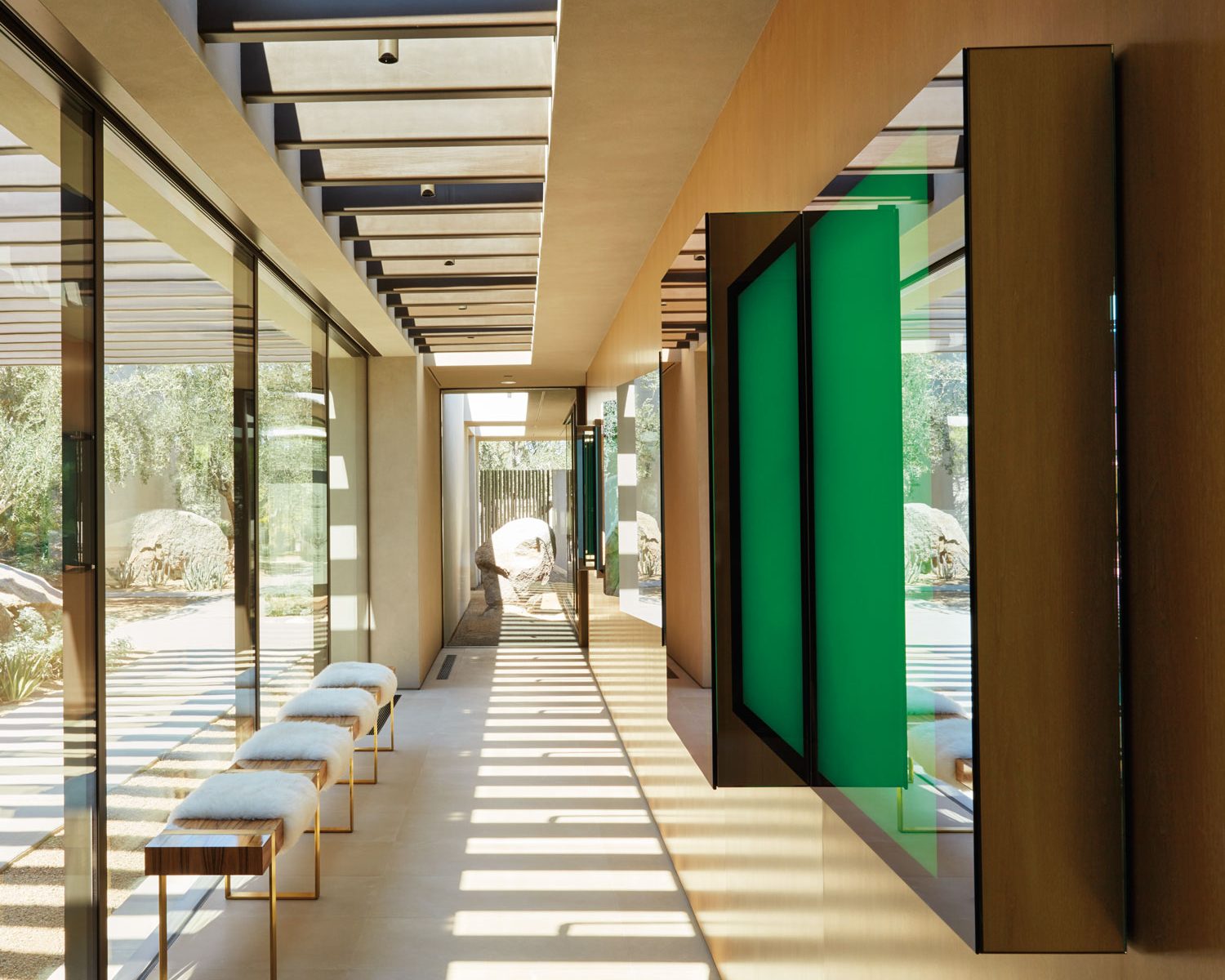 Marmol Radziner Crafts a Modernist Masterpiece in Palm Springs
The luxe Southern California retreat perfectly reflects the subtle palette of the surrounding desert landscape
The Los Angeles architecture firm Marmol Radziner is no stranger to working in the desert, whether restoring midcentury icons like the Kaufmann House in Palm Springs or building original, modernist-inspired takes on indoor-outdoor living in Scottsdale, Las Vegas, and various points across California's Coachella Valley. One of the firm's strengths is the artfulness with which it inserts architecture into natural surroundings. For a recent project in La Quinta, south of Palm Springs, the challenge was less about integrating a home into the desert landscape than it was integrating a desert landscape into the home.
When an Aspen-based couple—semi-retired businesspeople involved in a variety of philanthropic pursuits—approached Marmol Radziner about creating a residence in a new private development in La Quinta six years ago, they certainly weren't looking for a conventional mega-mansion. "If you had ever told me that I'd own a house on a golf course in Palm Springs," the wife remarks, "I would have said, 'Clearly you haven't met me.'"
The brief from the clients was straightforward but hardly simple to execute. "They wanted a home with main spaces large enough for entertaining, but also to have their zone of living still feel compact," says Ron Radziner, who heads the firm with Leo Marmol. The homeowners, who are enthusiastic collectors, also requested some walls for large-scale artworks (a nearly 18-foot-wide Michael Chow painting required a living room wall to be extended by six inches) as well as a strong connection between the interior and exterior.
They got all that and more with Marmol Radziner's design, which is anchored by a 6,500-square-foot structure containing double-height entertaining spaces, a large master suite, and a guest room. There is continuous flow from the kitchen into the dining and living areas, with sliding glass doors opening directly onto the terrace and offering glorious views of the San Jacinto Mountains. Across a courtyard, a guesthouse features two additional bedrooms.
The architecture has many of the firm's signatures: striking rectilinear forms, abundant glass exposures, generous overhangs for shading, asymmetrical ceiling heights, and overlapping planes that create visual dynamism. But for all its cool, modernist bravado, this is also a house with a softer, subtler side.
Sophie Harvey, an architect and designer in Aspen and New York City, collaborated on the interior finishes and oversaw the furnishings, instinctively gravitating "toward neutrals and earth tones while keeping everything warm," she says. "This is a very modern house, but there's nothing cold about it when you're inside." Responding to the owners' taste for "a little luxe," Harvey prioritized comfort in the mix of contemporary and vintage pieces, while deploying "really yummy silk rugs" and lining entire walls with creamy leather behind the platform beds. "We wanted it to have a luxurious feel but in a simple, understated way."
The choice of materials—limestone floors, teak ceilings, bleached-walnut millwork, concrete countertops in the kitchen, travertine in the baths—was about channeling the faded, dusty hues of the desert. "Even the plaster color of the building itself," says Radziner, "is a gray, slightly greenish tone that blends with the landscape."
That connection to the desert is reinforced by the striking landscaped courtyard spaces, which are ingeniously woven into and around the house. The masterminds behind the meticulously crafted gardens were Jody Rhone and Tom Pritchard, principals of Madderlake Designs, who drew inspiration from, among other things, a temple garden in Kyoto. "The home is built on a flat piece of sand, without a shred of contour, elevation, or green—it was a blank slate," Pritchard recalls. "We sought to use native desert elements to tell a story and create a context that the house could belong to."
To realize their vision, the designers doggedly tracked down perfectly craggy olive trees and handpicked granite boulders from a farmer's fields some 60 miles away. "We spent days going around on ATVs and tagging different clusters," says Pritchard. "No one in Palm Springs had ever seen anyone do something like this." Ultimately, they trucked some 430 tons of rocks to the house, painstakingly reassembling them in the precise configurations in which they'd been discovered. "It was a struggle, but finding the right boulders was key to realizing the concept that we had," Rhone says. "They are like characters in a story."
The story of this house was the work of multiple authors whose collaborative efforts produced extraordinary results. "Leo Marmol summed it up best," the wife recounts. "He told me, 'You hired the A team, and they all gave you their A game.' And it's true."
Click here to view more photos of the home.
Next Post