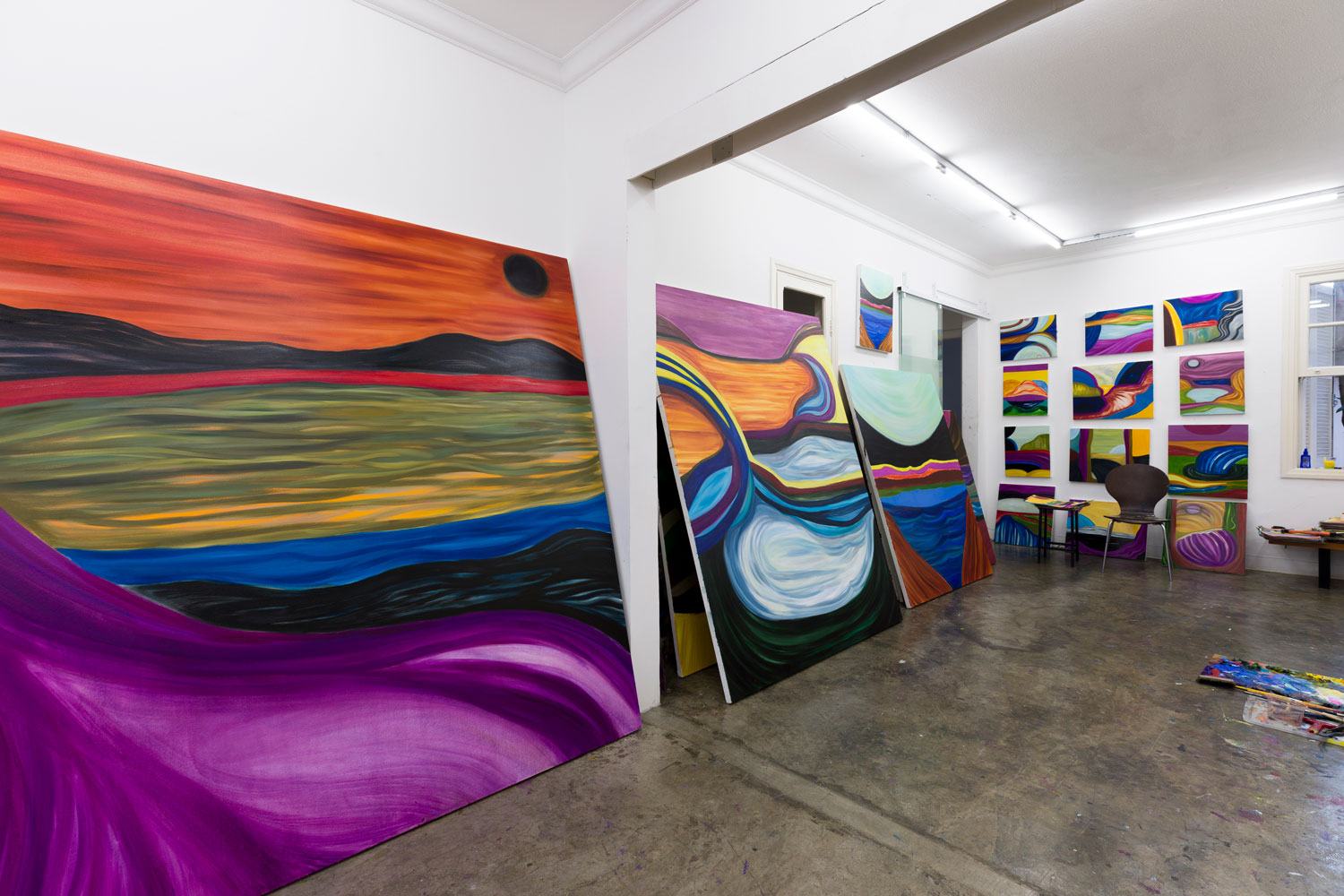 Marina Perez Simão's Fantastical Landscapes Cause a Stir at Pace
Created entirely during quarantine, the rising star's luminous oil paintings and watercolors are the perfect pandemic respite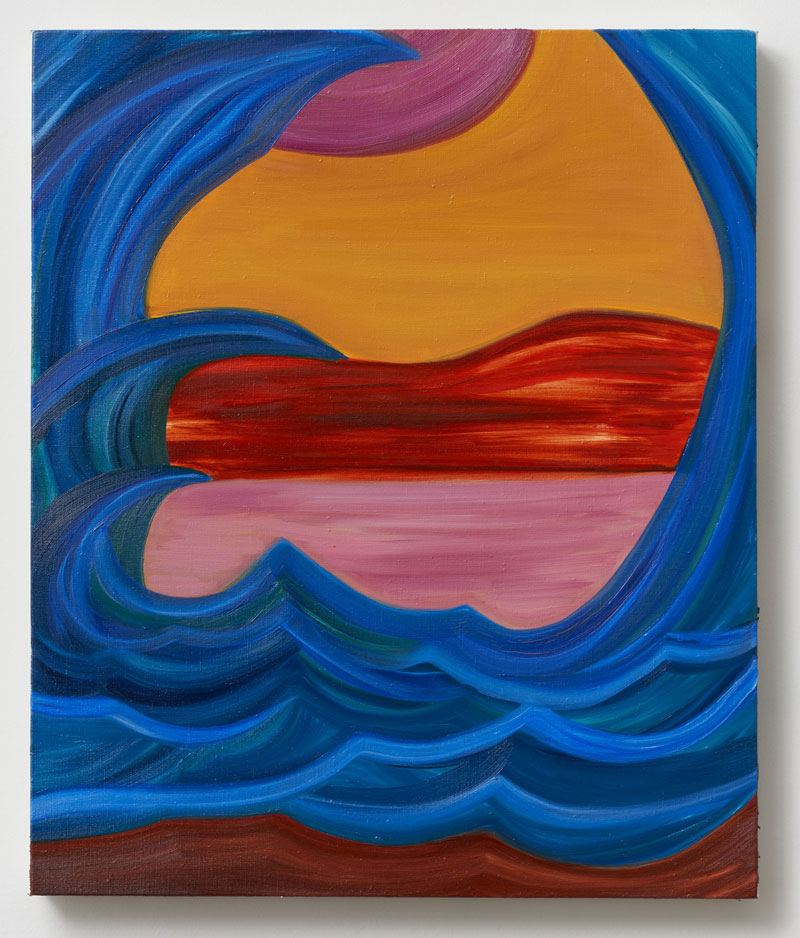 Over the past year, as the world shut down and stay-at-home orders measures were in full effect, people across the globe have been yearning for an escape. Marina Perez Simão, one of the most exciting painters working in Brazil, took matters into her own hands, creating sumptuous paintings of fantastical abstract landscapes in impossible, faraway places.
Twenty-two paintings and ten watercolors from this new body of work are now on view in her first solo exhibition in New York at Pace Gallery, transforming the third floor with a riot of color, pattern, and movement. Titled "Tudo é e não é," in reference to a phrase coined by Brazilian novelist João Guimarães Rosa that translates to "everything is and is not," the exhibition beautifully explores notions of ambiguity, multiple realities, and the powerful forces of nature.
A departure from the softer color palette she was known for in recent years, the impact upon entering the room is immediate as deep blues and purples clash with vibrant yellows and greens and oranges in a sensory overload. Gestural brushstrokes swim around the canvas, as though they can barely be contained.
"I made all these works during lockdown, a time where I was completely isolated for almost a year," the artist explained during a walkthrough before the exhibition opened to the public. "I have quite a dark apartment, and I was desperate for color and for life and waves and spaces and open energy and fluidity. Like everybody, I was trapped and locked in. I allowed myself to go to there, and I am really happy that I did."
In many of the paintings, juxtapositions of dark and light, day and night, land and sea are masterfully achieved in the one work, presenting an impossible reality that enraptures the viewer. In an untitled painting at the entrance, for example, a mountainous black valley in the background begins to blur with the colored ocean in front while a bold wave of purple color cuts across the canvas, signifying a world within a world.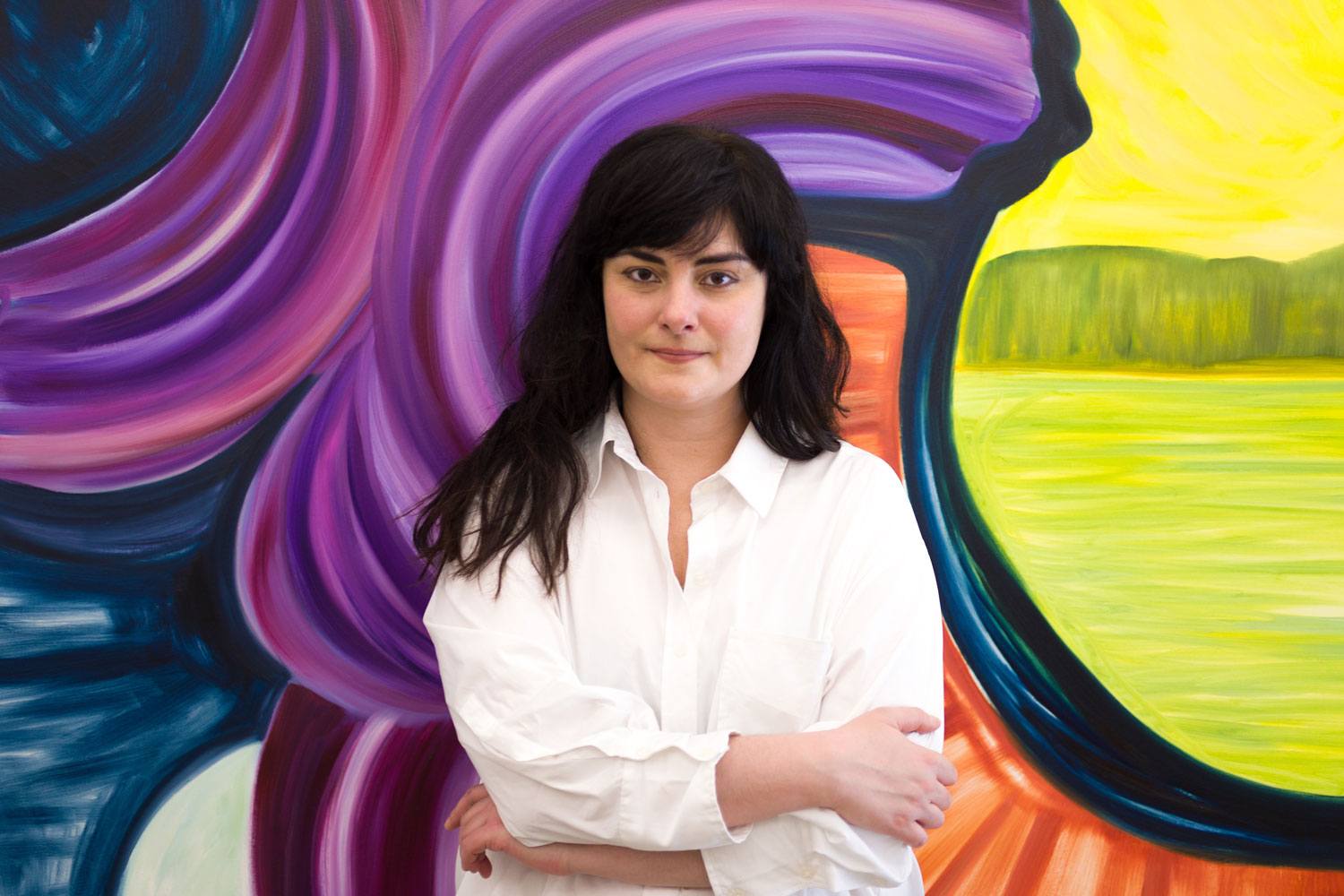 These framing devices, which are seen throughout the show, are inspired by the draping found in European and Brazilian Baroque masterpieces. "When I was a student at the Beaux-Arts de Paris, we had to study these huge Baroque paintings, and I was drawn to the really ornate curtains that frame the whole scene," says Simão, who was recently featured as one of Galerie's Emerging Artists to Watch, nominated by the architect Rafael De Cardenas. Functioning a bit like a theatre curtain, these compositional devices invite us to enter another realm. "It is the invitation to play, to let your imagination roam."
Art history, literature, and poetry are central to Simão's practice, and her work is mnemonic, made up of little details she has seen, read, or heard. Bunkered down at home for months, the artist found herself re-reading books by her favorite authors, including Emily Dickinson, sharing that she was inspired by how the American poet was able to reduce so much into one concentrated passage. "My paintings all come from somewhere; they are never completely invented. It is about how I interpret these things. It's like when you see something new or strange but you have a sense of familiarity about it, like perhaps you have seen it somewhere before."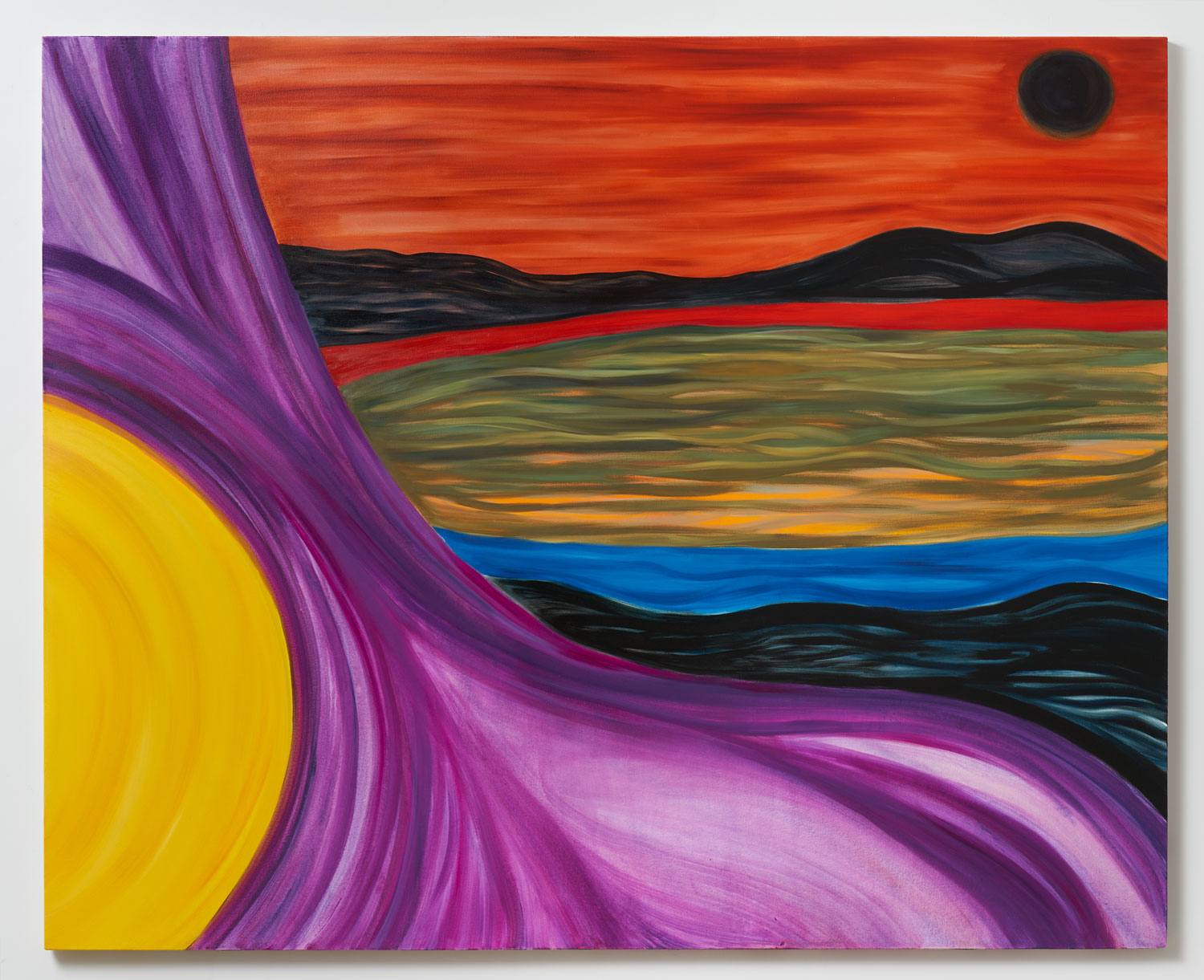 While bordering on abstract, the works are deeply rooted in her home country's landscape, too. "Brazil has a very dramatic nature that is so different to Paris. It doesn't only rain, but it pours and it feels like the world is going to end. Everything is too much. The light is also a very physical experience. It can completely change how you read the landscape. Where I grew up, for example, there is a chain of mountains in the distance, and at 6am in the morning, they seemed to be made of vapor thanks to the fog. At noon, you can barely stand it because the light is so harsh. It is also beautiful. It changes course very quickly, and a sunny morning can shift into a sky of grey and green before it thunders—all in an instant. It doesn't make me feel small but necessary. I feel the power of nature which I think is so beautiful."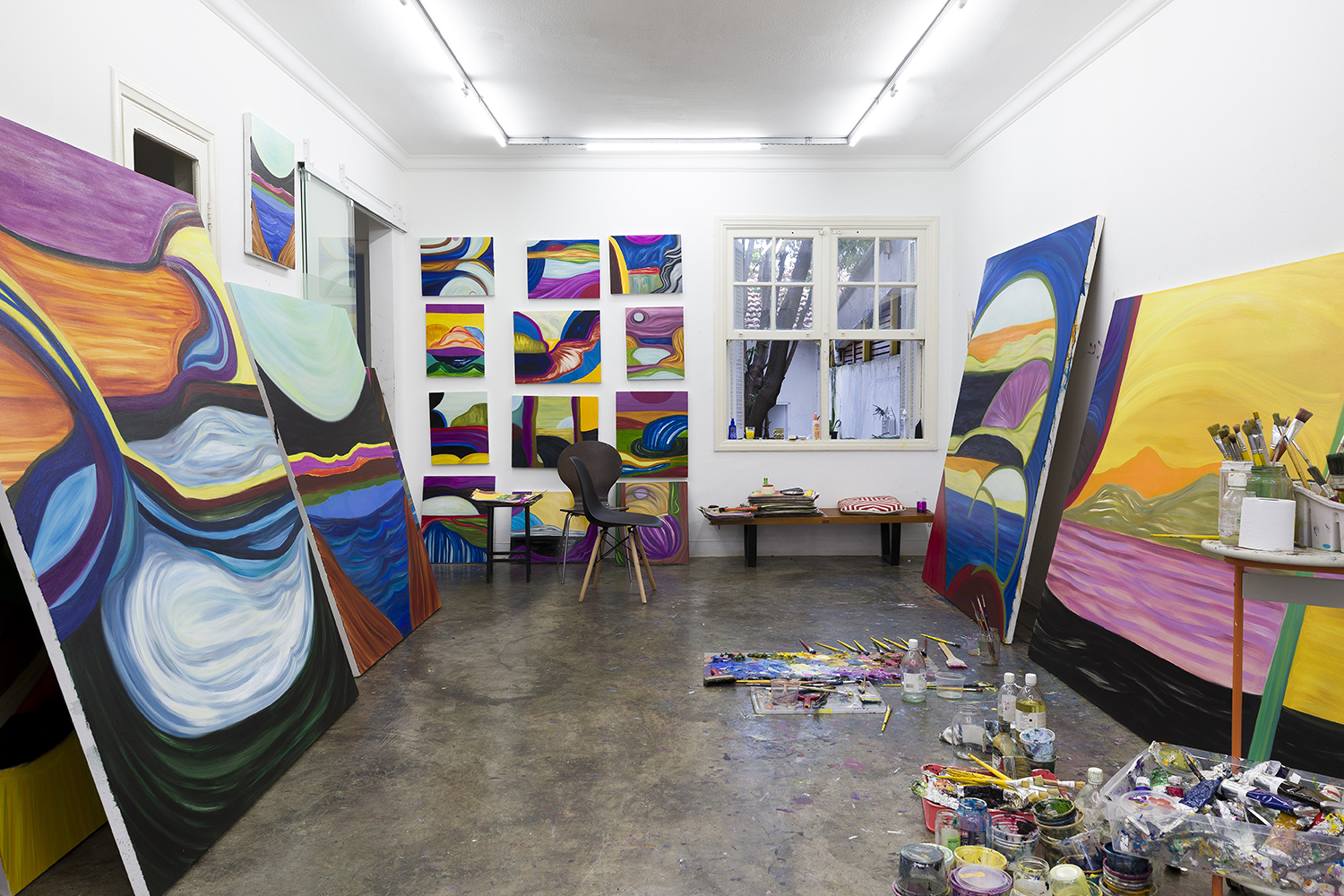 In her studio, Simão usually begins with small watercolors, which are just as vibrant as the large-scale paintings. At Pace, a collection of these works on paper are installed in a viewing room off the main gallery space. "I do so many watercolors and so by the time I come to the canvas, there is a structure ready. I can go in and attack the canvas. I don't like too much hesitation and the paintings change along the way. I preserve a certain musicality that is there from the start but it often changes and becomes something else."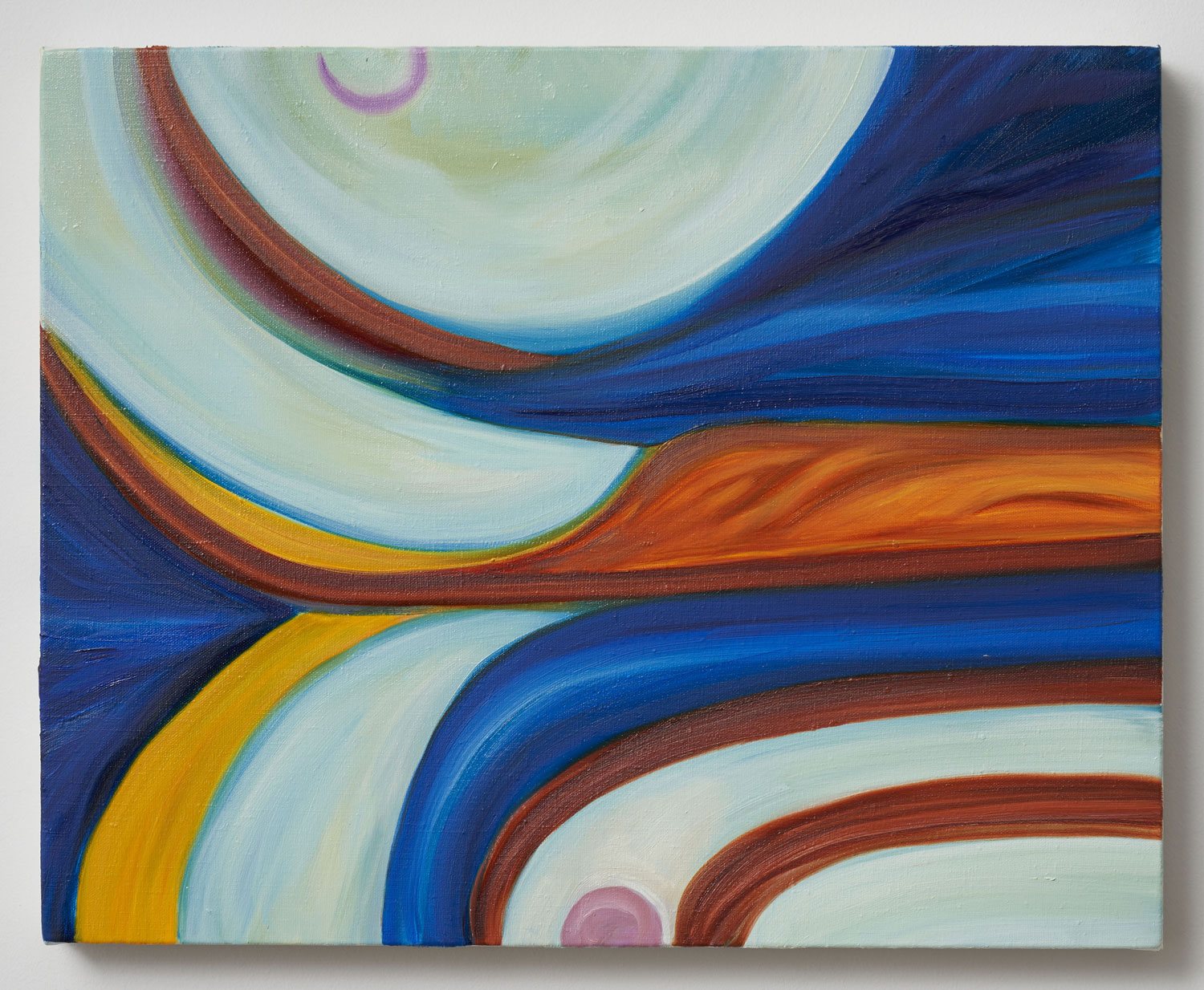 As New Yorkers are slowly getting vaccinated and venturing out to see art in person again, the exhibition is a joyful reminder of how art can provide comfort during difficult time, with works that speak to the dualities of life. "Art doesn't only have the ability to heal but it gives us freedom. It reminds me all the time that other realities are possible. Nothing is fixed. We are forever moving. This will all change. Let's remind ourselves of that. Like how this arid landscape with a pink moon and a yellow sky and red mountains can be swept up by a rush of blue water," she says standing by a small painting. "Things are always changing."
"Tudo é e não é" is on view through April 24 at Pace Gallery, 540 West 25th Street, New York City. 
Next Post