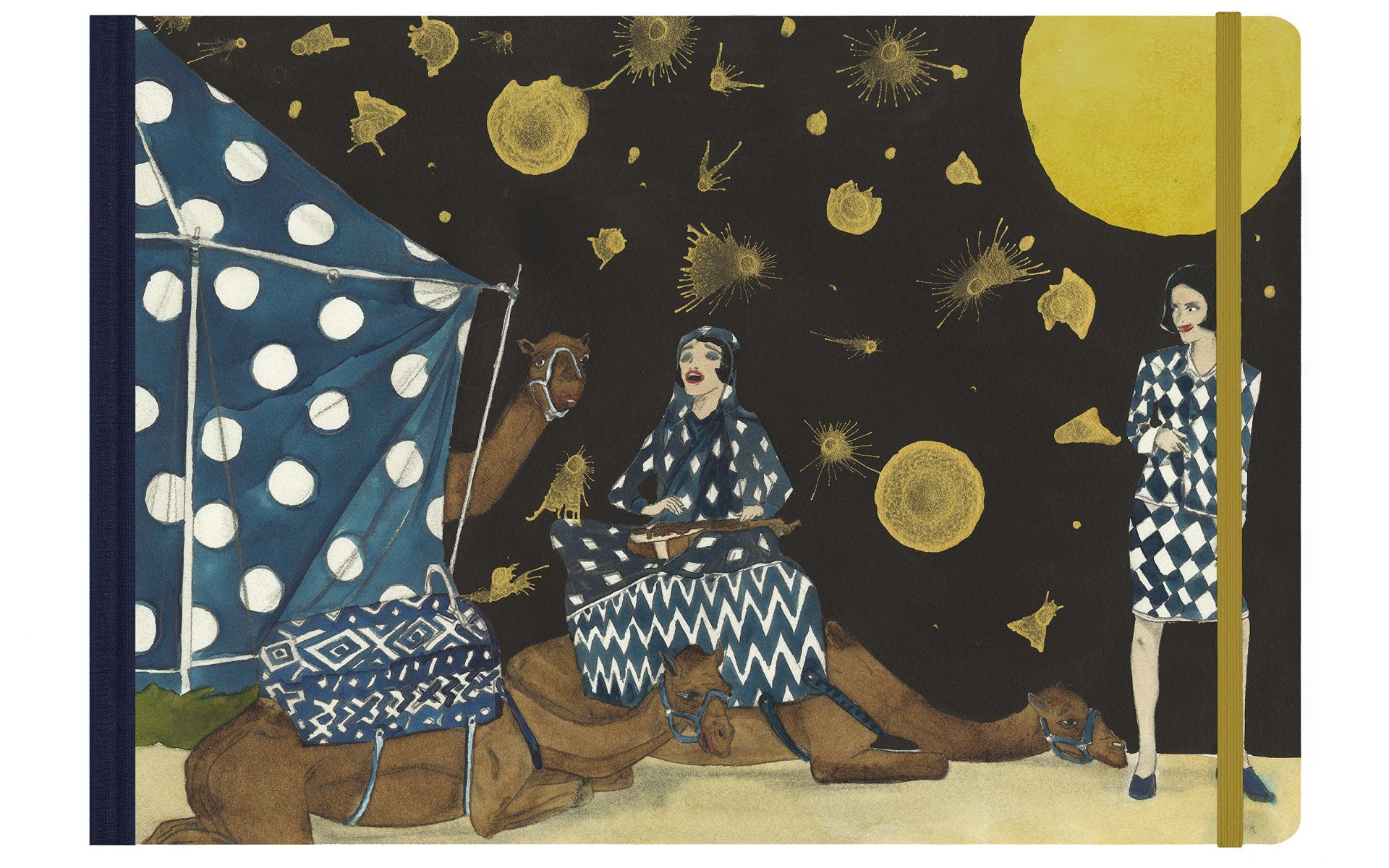 Explore Morocco Through the Eyes of Artist Marcel Dzama
His stylized drawings are featured in an online show with David Zwirner and a new Louis Vuitton travel book series
The romance of travel has long captivated artists; the thrill of discovery opening up new artistic worlds and leading to exciting creative pathways. One only needs to think of Vincent van Gogh, who created his most famous works after being captivated by the light in the South of France, or John Singer Sargent, who was unable to resist the allure of the shimmering canals in Venice.
For celebrated Canadian artist Marcel Dzama, a trip to Morocco with his family in 2018 inspired a whimsical new series that now forms part of an online exhibition titled "Pink Moon" at David Zwirner and Louis Vuitton's forthcoming travel book series, slated to be published later this spring. During a time when most of the world is bunkered down at home and social distancing is in full force, these magical vignettes satisfy our collective wanderlust and allow us to be transported to bustling markets filled with ornate textiles, musical street performances, and a calm desert night under the twinkling stars.
"I find travel takes you out of your element and makes you see things in a new way," Dzama tells Galerie from his Brooklyn home, where he lives with his wife and son. Known for his pen-and-ink drawings, Dzama masterfully mixes mythology, folklore, and art historical references to make subtle nods at the political realities we currently face. Feeling burned out from working on a ballet, two films, and three shows in a year, he welcomed the trip as a chance to reset. "My work had become very political, and it was exhausting to be so outraged by the current administration. I wanted to forget about everything and be overwhelmed by something new."
A keen discoverer, Dzama charted his journey to the historic cities of Marrakech, Tangier, Fez, Essaouira, the Rif and High Atlas Mountains, Beni Mellal, and to the far-flung Agafay Desert in order to observe the day-to-day lives of the local people and their rich traditions. "My first impression of Morocco was how bright and colorful it was, and it stayed with me after leaving," he says, reflecting on how his palette became heavier on blue and yellows. "The textiles, clothing, and carpets really influenced my practice."
Armed with a small digital camera, sketchbook, and watercolor paper, Dzama drew numerous sketches in situ, and then used them in his works upon returning to the U.S. "Sometimes I would just write down ideas or loosely draw something in my sketchbook and other times I would just draw something on my watercolor paper," he says. "I also took photos to influence the work and to remember all the places we have been."
Working on and off on the project for two years, Dzama noticed the earlier works were more representational, documenting what he saw, but as time passed they moved into something more abstract, dreamlike, and surreal— "the feeling that stayed long after," he says. 
David Zwirner's "Pink Moon" exhibition also features a series of works from a trip to Mexico Dzama embarked on earlier this year, before the borders closed to travel. The drawings depict a playful mix of lush, tropical imagery and idealized scenes of leisure and play. "It was a great renewal," he says. "My work is so often sinister, but with these I hope to convey some hopefulness."
"Pink Moon" is on view at David Zwirner gallery's online viewing room here.
Next Post