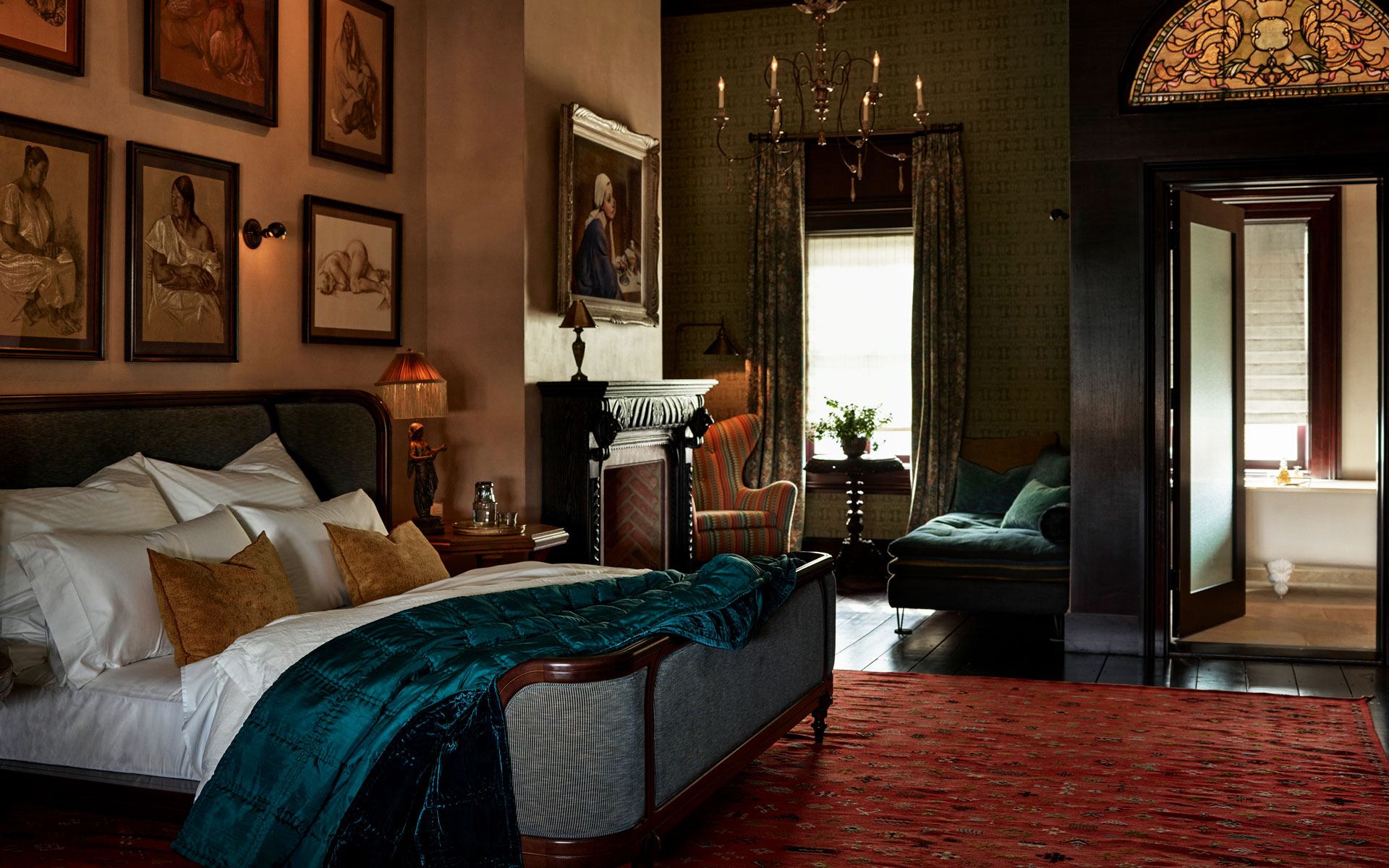 The Founders of Fresh Beauty Debut an Eclectically Designed Hotel in Upstate New York
A boutique bohemian oasis in Hudson, New York, the Maker celebrates local and international artisans of all periods
Since its launch in 1991, Fresh has radically transformed the natural skincare market. Now backed by luxury behemoth LVMH, the high-end beauty line is internationally known for being clean in every sense of the word. So when Fresh founders Lev Glazman and Alina Roytberg set about conceiving the Maker, a sultry, jewel-toned hotel in Hudson, New York, where any design-loving maximalist would feel right at home, it was quite the aesthetic departure. However, in terms of mind-set, there is more in common between the two entities than meets the eye.
"Fresh is a clean line, and there's a certain brand expression within our stores. The packaging is fairly simple yet sophisticated, without many bells and whistles, but there's so much depth behind every product," Glazman tells Galerie. "Each product is actually quite complex, so when you start diving into the history of the ingredients—black tea or rose cultivated in Turkey and Morocco—the cultural references, and their beauty rituals, there's a lot of storytelling. Fresh takes you on a journey, and it's very colorful."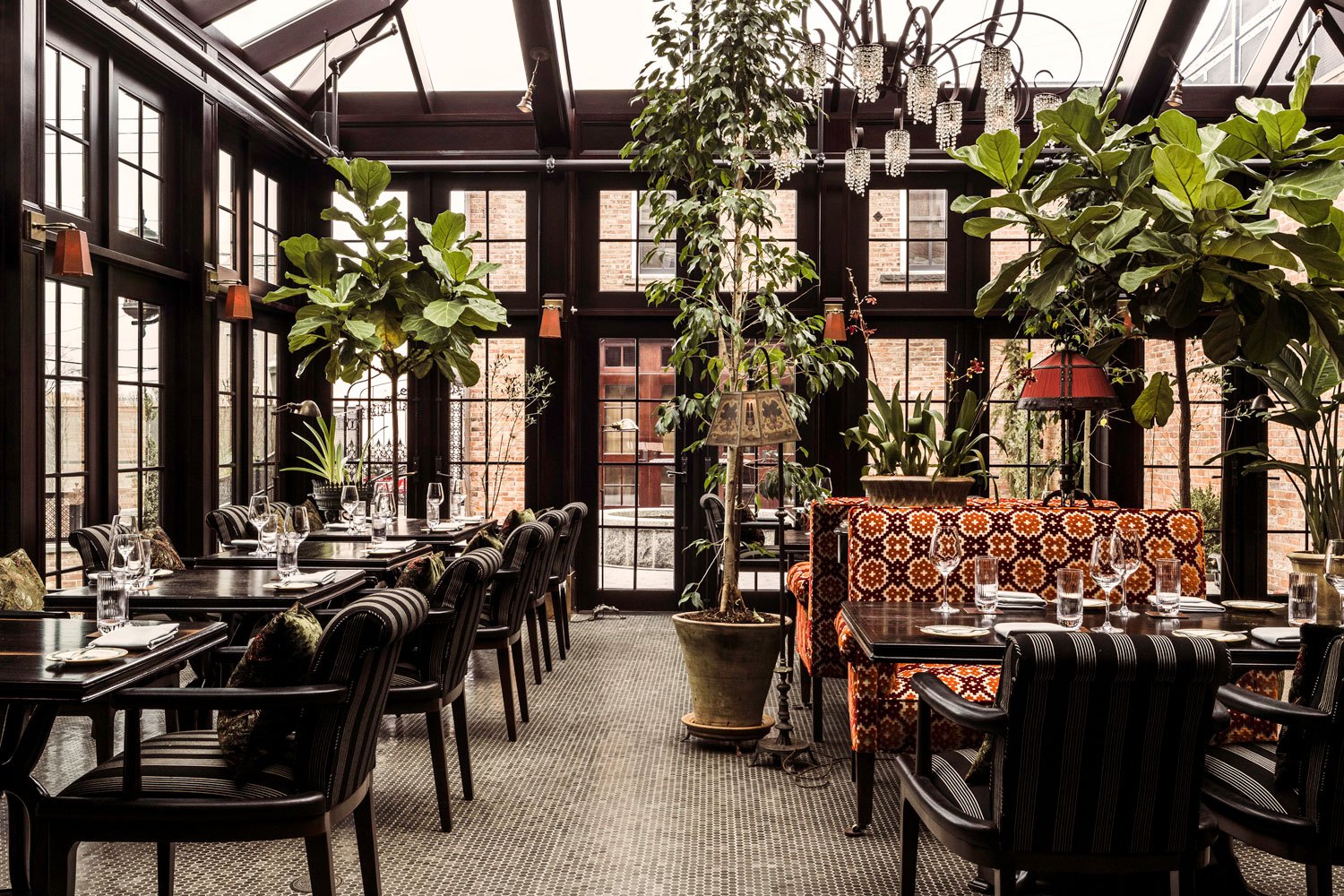 Starting August 6, the Maker is welcoming guests to stay overnight for the first time in its 11 bespoke guest rooms. Like each Fresh product, every piece of decor was thoughtfully conceived and tells a story of the artisan who made it and the distinct era in which it was crafted. Having traveled extensively and long been infatuated by interior design and hospitality, Glazman and Roytberg decided to make a highly curated hotel of their own. While Glazman led the interior design and creative direction, Roytberg masterminded the hotel's branding, color palettes, and custom patterns seen on wallpaper and furnishings.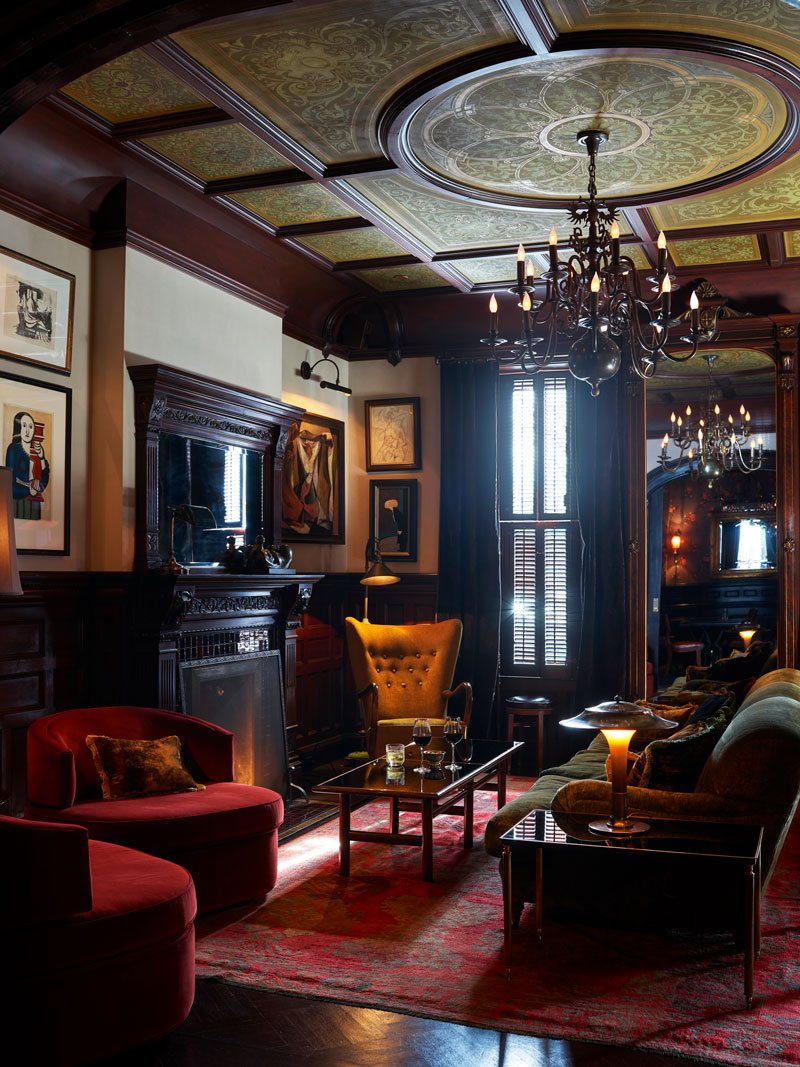 Attracted to the Hudson Valley for its proximity to both New York City and nature, the partners purchased the 14,000-square-foot property that the hotel now occupies in 2014. Comprised of three structures, the historic compound includes an 1800s carriage house, a Georgian mansion, and a Greek Revival building. Two years later, in the midst of renovating the compound, Glazman and Roytberg opened Bartlett House—a beloved all-day café and bakery in nearby Ghent. Through that project they met hospitality guru Damien Janowicz, who is now overseeing guest experience at the Maker, which began opening in stages during 2018, first with a European-style lounge, followed by the glass conservatory restaurant, as well as a café that serves Bartlett House pastries.
"Midcentury, Belle Epoque, and Art Deco pieces all harmoniously coexist, creating the illusion that one is entering a creative lair touched by great cultural talents of centuries past"
Among many global shopping destinations, Glazman frequented the Paris flea markets, but he had no trouble fulfilling the hotel's core mission of supporting its local makers. "There is something about Hudson that attracts those individuals that specialize in a very particular craft," says Glazman, who over the past six years of sourcing items for the hotel formed deep relationships with the area's artisans in stained glass, plasterwork, lighting, and more. "They do things by hand in an old-fashioned way, keeping those tradition alive."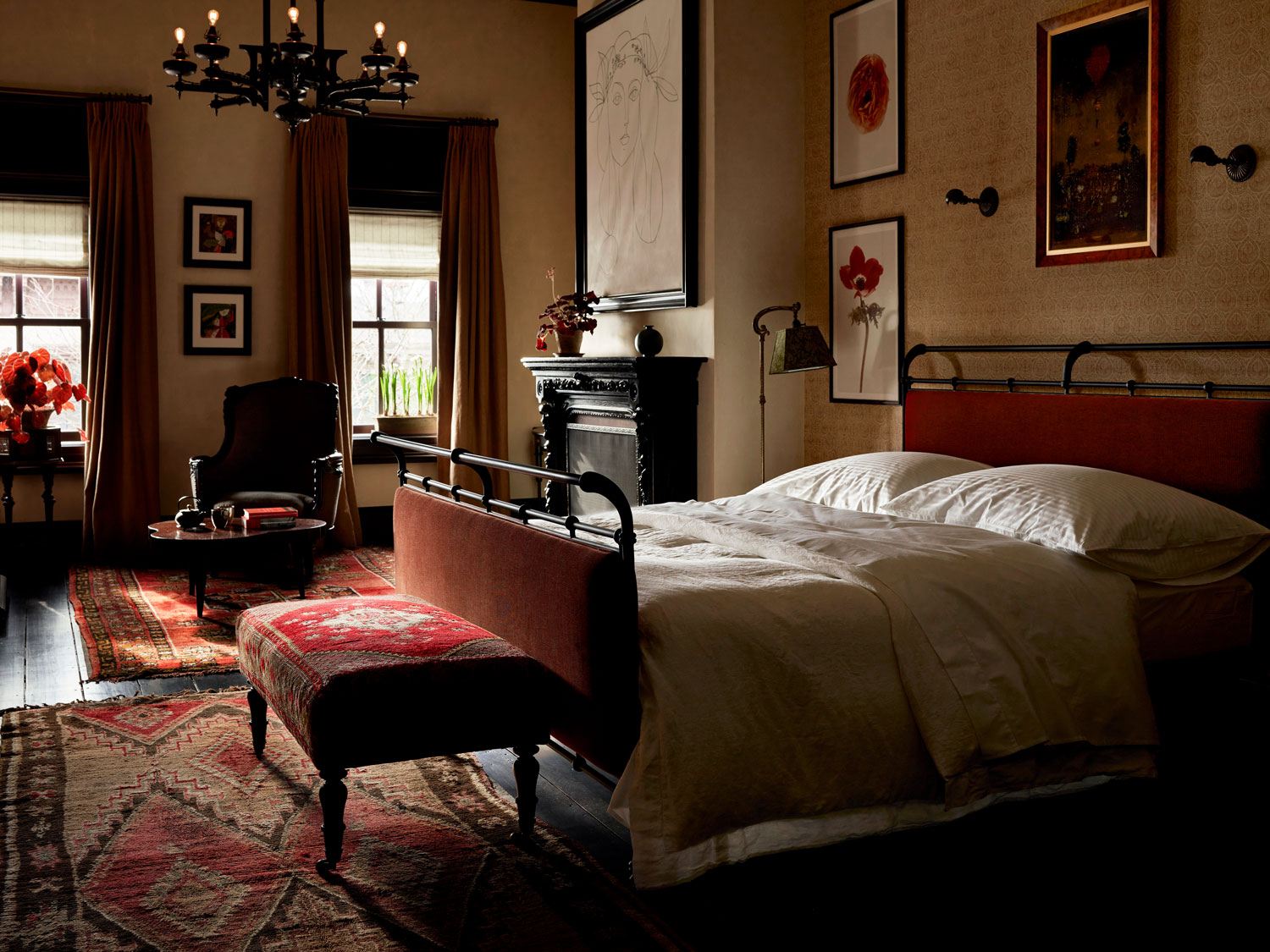 Paramount to Glazman and Roytberg's design vision was that nothing at the hotel would be standardized. "You can visit many times over and have a different experience every time," says Glazman. "It's like this great theater. It changes and refreshes itself with art and furniture that comes and goes."
In keeping with Glazman's bohemian aesthetic, midcentury, Belle Epoque, and Art Deco pieces all harmoniously coexist, creating the illusion that one is entering a creative lair touched by great cultural talents of centuries past. Midcentury design by Finn Juhl and Hans Wegner meets Willy Rizzo's candid yet glamorous black-and-white photographs of Marlene Dietrich and Joan Crawford. German designer Anke Drechsel's hand-dyed silk velvet pillows complement French metal master Olivier Le Clerc's industrial-inspired desks and side tables. Regarding lighting, which Glazman calls "functional art," exceptional and wide-ranging fixtures can be found throughout the hotel.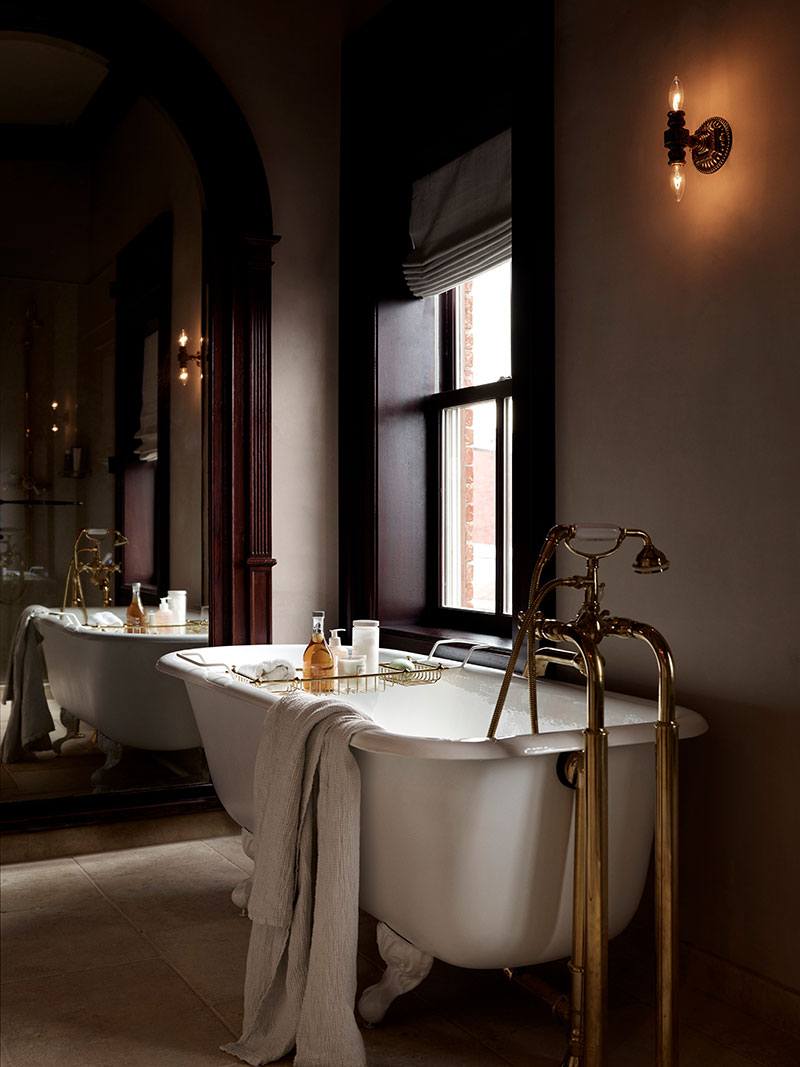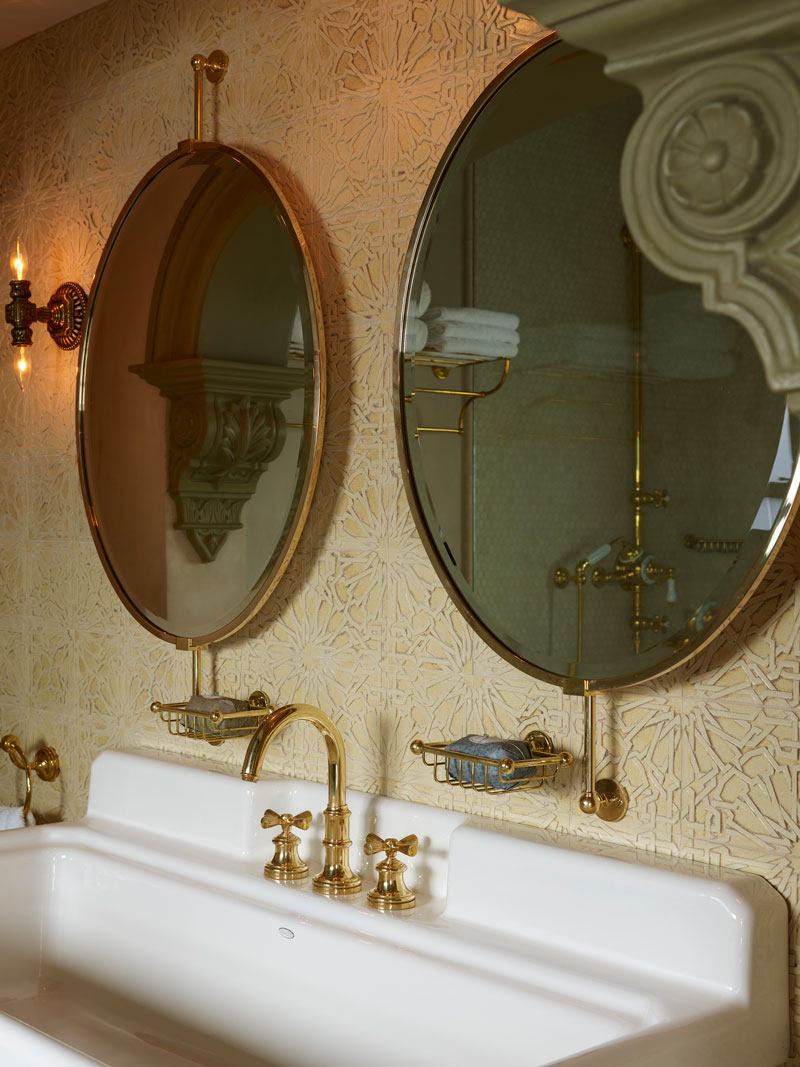 In terms of guest rooms, the star attractions are the Apartment—the hotel's largest accommodation, a three-room suite with living room and kitchenette—and the four Maker Studios, each of which is themed around four types of makers. The Architect takes its point of view from a visionary 1940s architect, and details include a striking granite fireplace and soaking tub. The Artist is the most bohemian space and showcases work from Glazman's private collection, such as paintings by Costa Rican–born, Mexican artist Francisco Zúñiga.
The Gardener combines plants and botanical motifs with wrought-iron furniture, such as the custom Maker bed, which is one of several items in the hotel that can be replicated for purchase. The Writer features the building's original oak fireplace and restored bookshelves stacked with novels in partnership with the Strand Book Store. All feature distinctive bathrooms (equipped with complimentary full-size Fresh beauty products) with architectural details like stained glass, and cast-iron and bronze grilles (restored from New York City's 1908 Singer building), which dramatically capture the light.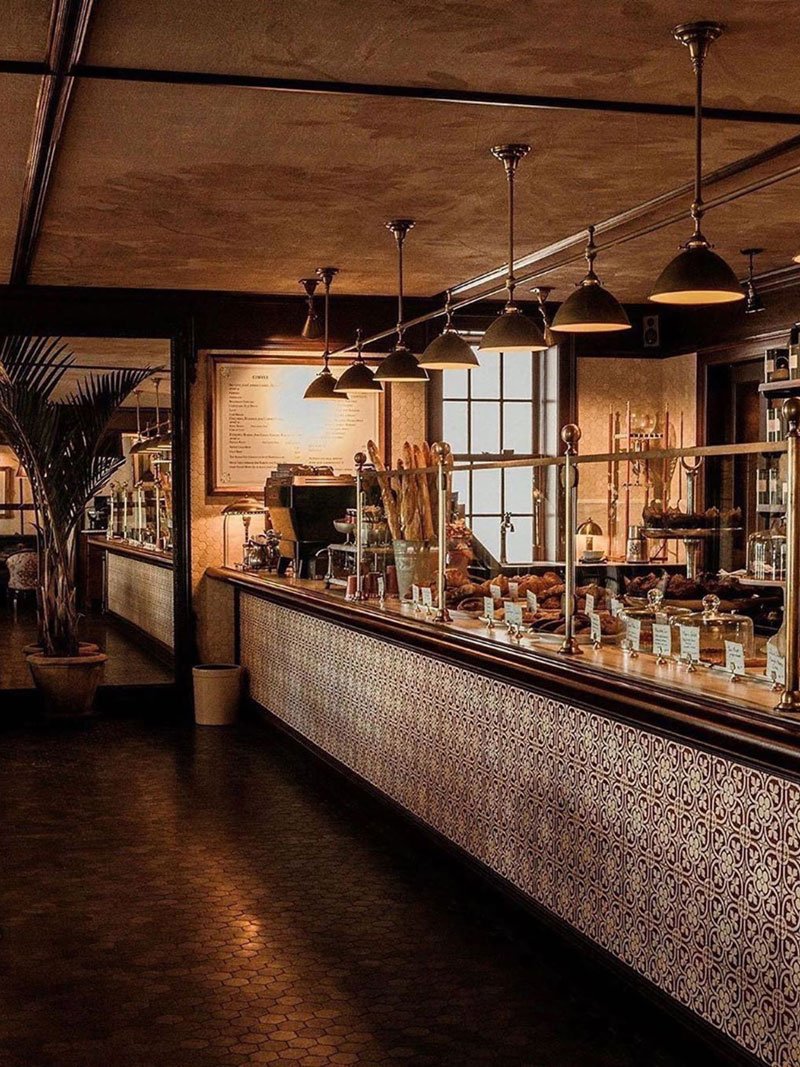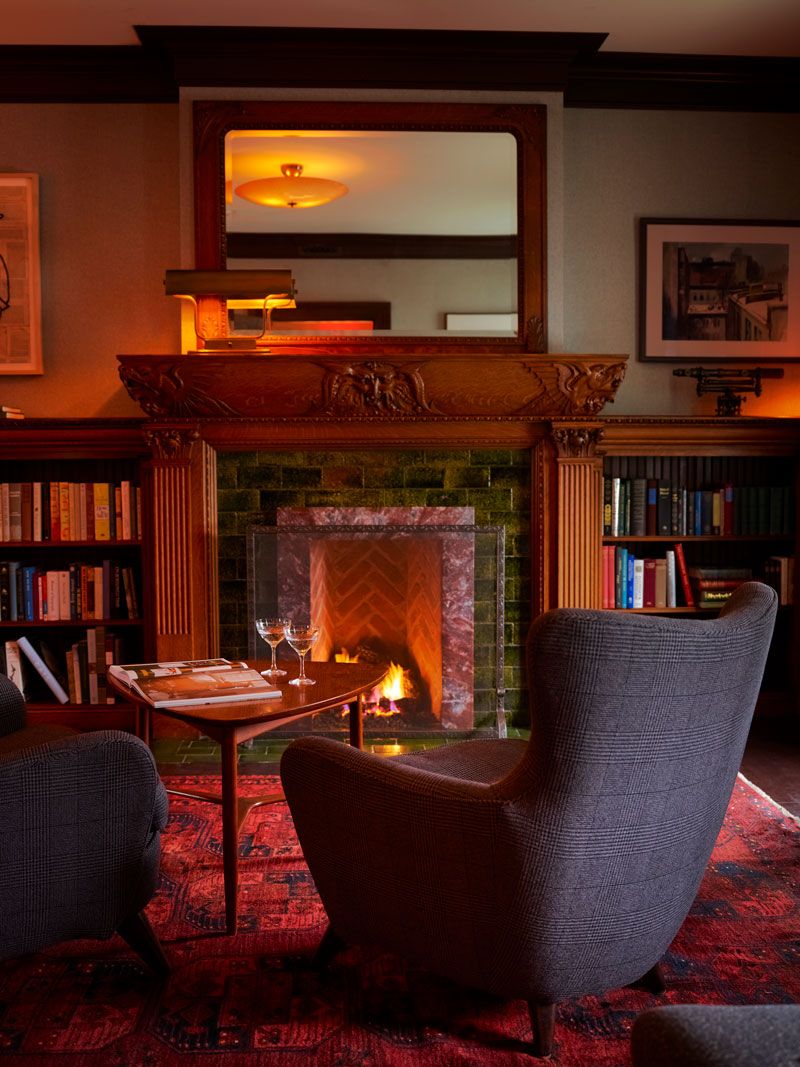 Additional amenities include Hudson's first hotel pool, and later this year, a fitness center will open. Of course, this won't be your average, white-walled, treadmill-laden gym. Rethinking the exercise experience entirely, Glazman combined modern equipment with design inspiration from 1920s gymnasiums, the circus, and theater. He adds, "I always say if the Moulin Rouge was opening their own gym, what would it look like?"
The Maker hotel is initially open with a limited booking schedule (three-night bookings only, Thursdays through Mondays) for in-house guests to ensure maximum safety. The property is also available for extended stays and private property bookings. The Maker Hotel will expand offerings in the coming months based on guidelines and regulations regarding COVID-19.
Next Post