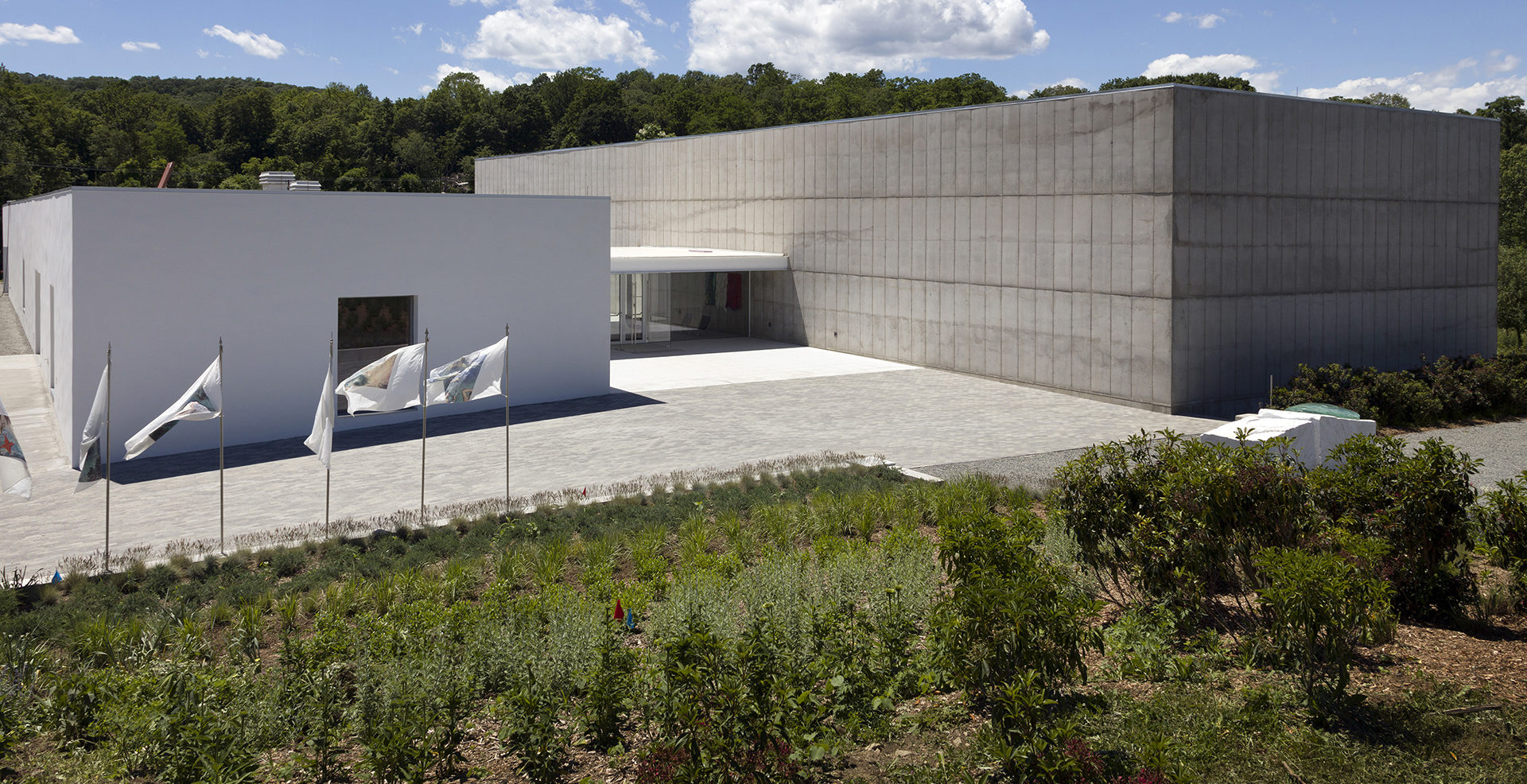 Magazzino Italian Art Opens in the Hudson Valley
A 20,000-square-foot art warehouse in Cold Spring showcases avant-garde Italian works
Daytrippers to New York's scenic Hudson Valley can now add a warehouse brimming with Italian art to their itineraries, thanks to Nancy Olnick and Giorgio Spanu, the art-collecting local couple behind the beguiling new venture. Known as Magazzino, the appointment-only art space debuts in Cold Spring on June 28 with a selection from the Olnick Spanu Collection's trove of works from the Arte Povera movement, which emerged in 1960s Italy and utilized nontraditional, everyday mediums like tin, burlap, wax, and even shoes, books, and blankets.
To reimagine the site's existing factory building, the couple tapped Spanish architect Miguel Quismondo, who expanded the footprint to 20,000 square feet. The result is airy, clean-lined spaces that work in perfect harmony with the artworks. "It's hard to find a museum where the architecture doesn't compete with the art," notes Quismondo, who harnessed natural lighting with strategically placed windows and frosted skylights. (Revealing their dedication to the project, Quismondo and Olnick spent time touring museums in Europe in search of the perfectly-lit exhibition space.)
Inaugurating the venue is an exhibition celebrating late Italian gallerist Margherita Stein, an early champion of Arte Povera and the artists who embraced it. Here, Nancy Olnick shares more details about the exciting new space.
What is the driving force behind the collection?
Our passion for post war and contemporary Italian art. In addition, we feel a great responsibility to provide a platform for lesser known Italian artists in the United States.
How did the collection come about?
Beginning in 1992, Giorgio and I would visit Italy several times a year for extensive periods of time. As art lovers, we were curious to learn more about Post War Italian art and were fortunate to meet Sauro Bocchi, a knowledgeable art gallerist with a keen and discerning eye. He suggested we visit Castello di Rivoli in Turin before we embarked on what would become a long and fantastic adventure. We followed Sauro's advice and visited this wonderful museum, which at the time was exhibiting an extensive collection of work from the Arte Povera period, which had begun in 1967. We were overwhelmed and returned to Rome full of enthusiasm and a fervent desire to educate ourselves further. We began to study the work in depth, became more fascinated by the conceptual nature of the work and decided to acquire the work of these artists.
What is the common thread that runs between the artists?
I would say it's the artists' desire to explore the essence of how our daily lives are affected by the physical principles and natural phenomena that have existed throughout history. The concepts of memory, myth and archetypes, natural events, such as the growth of a plant, chemical reaction of a mineral, gravity and weight, as well as the role of the artist and the viewer and essentially equating life with art and its relationship to the meaning of life.
Why did you choose Cold Spring of all places?
As members of the Cold Spring/Garrison community for over 25 years, there was no question in our minds that we wanted to give back to our community by establishing an art and educational center for their benefit. The area draws many artists, writers, and creative people who seek refuge in the picturesque surroundings and natural environment. We have watched over the years as the Hudson Valley has grown into a hub of cultural and historic sites that invite visitors worldwide.
How is Magazzino different from a private museum or foundation?
By maintaining Magazzino as a private initiative we can operate more independently rather than be forced to comply with the rigid laws required of non-profit organizations or foundations in New York State. 
Next Post