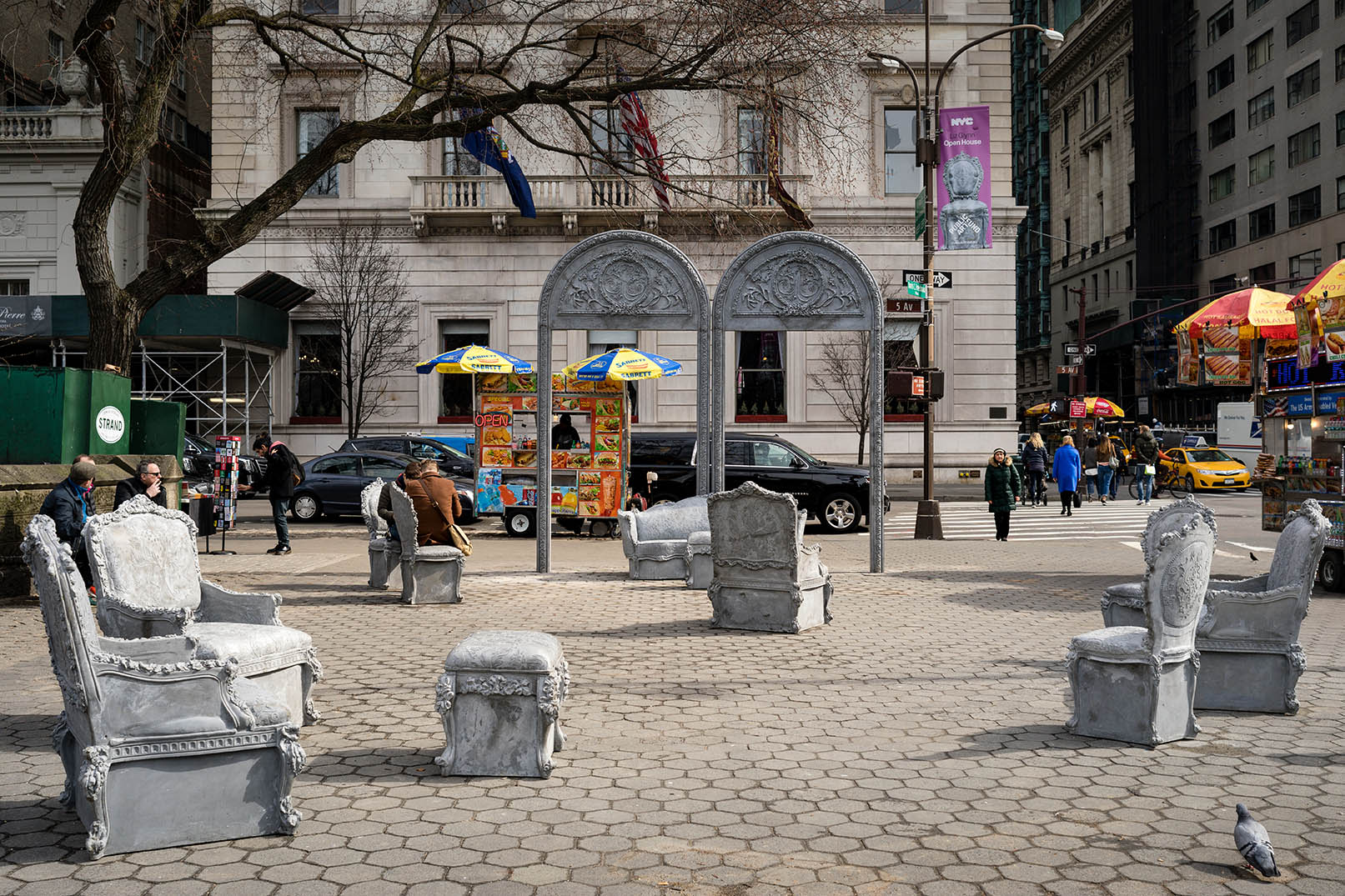 Liz Glynn Turns Central Park into a Concrete Ballroom
The Public Art Fund celebrates its 40th year with a Central Park installation by sculptor Liz Glynn
Visitors passing through Doris C. Freedman Plaza at the southeast corner of New York's Central Park these days are greeted by a curious arrangement of chairs, settees, and stools—all in opulent Louis XIV style but cast in ordinary concrete. The installation, titled Open House, was conceived by artist Liz Glynn, who has compared the array of 26 pieces to a kind of ruin.
Inspiration for the work came from the Gilded Age ballroom of William Whitney's now-demolished Fifth Avenue mansion. Built in 1901, the home boasted grand interiors designed by the architect Stanford White, and the ballroom was said to be among the largest and most lavish in the city. It was typically used just once a year for parties of as many as 1,000 people, where the guest list included names like Astor, Vanderbilt, and Morgan.
Glynn's idea was to welcome the public into a free and open—and decidedly more humble—version of that private sanctuary for the privileged few. She has framed the space with two sets of decorative archways rendered in the same industrial-looking concrete as the seating. The dimensions and details are intentionally imperfect. Instead of surroundings of crystal chandeliers and rare Flemish tapestries, there are food-vendor carts, noisy traffic, selfie-snapping tourists, and, of course, the park, which was founded on egalitarian ideals. The irony of so much wealth being concentrated in exclusive luxury buildings nearby—most conspicuously Trump Tower, several blocks away—certainly isn't lost though.
Open House was commissioned by the Public Art Fund, which is marking its 40th anniversary this year. The work remains on display in the Doris C. Freedman Plaza (named after the Fund's founder) through September 24.
Next Post