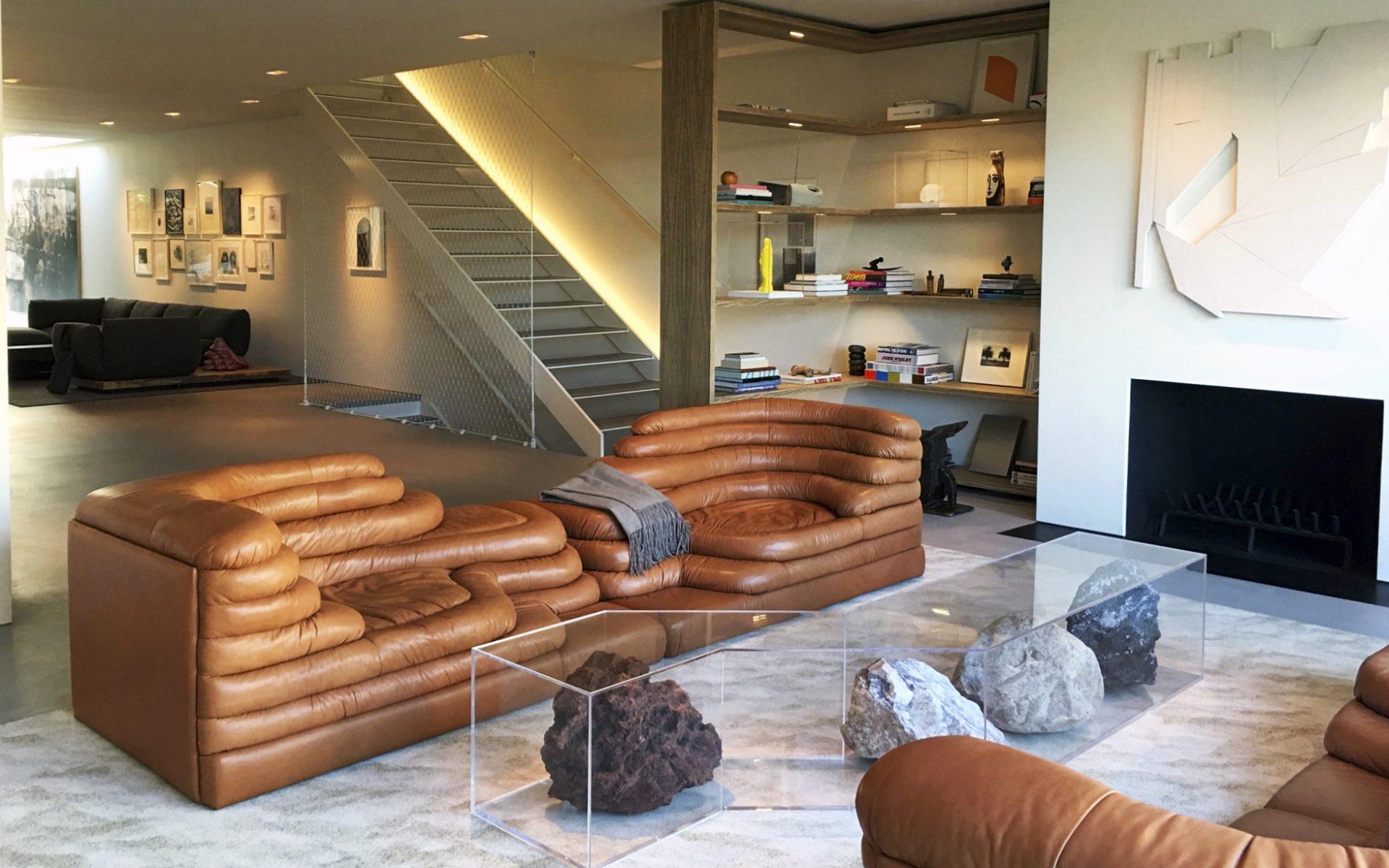 Why Living Design Legend Yves Béhar Loves His San Francisco Home More Than Ever
Revered for his ability to bring how we live into the future, the designer explores the benefits and challenges of working from home
Working from home takes on even deeper meaning for living design legend Yves Béhar. During the COVID-19 crisis, his team at Fuseproject has continued their work on ongoing projects while ramping up new ideas to fight the pandemic. From his Cow Hollow house in San Francisco, which he shares with his art consultant wife, Sabrina Buell, and their four children, ranging in ages from 4 to 13, he continues to invent and imagine ways in which we might live in the future.
His home captures so many of the concepts that others are just realizing now after spending months at home. From garden spaces to an indoor-outdoor connection, the house exudes an informal yet sophisticated vibe while acting as an invitation for the family to interact, come together, and spend time as a group.
Here, he shares how he kept remarkably busy during the shutdown as well as why he loves his home more than ever.
Working from home was a bit shocking, but I still felt that I needed to put my energy toward something. When you're suddenly idle or see such an emergency happening, it's hard to feel that you're not able to contribute the efforts going on around. When we started on COVID-relief projects, suddenly the energy and optimism was palpable between me and my teams. We're working on informational poster campaigns, testing for communities in Bolinas, California, and a ventilator with Massachusetts General Hospital. So we suddenly found ourselves busy with what we were already working on but also with ways to support, help, and find solutions during the crisis. That's a quality of designers and creatives in general—we can react and react quickly. I've seen the design and creative community to come together and make that happen during this time.
I have a small home office that I used to use intermittently. What I've seen change is that your home and office blend into one. You have children at home going to school. Your work and home life really come together. You spend more time with family and the children. You also have to juggle those two elements. There's something unique about spending this much time with your family. What I found positive is that when I would be on Zoom with my colleagues, I could see how they live, their partners, children, pets. Even though we weren't together, I felt closer to them, knowing what their lives were like. Also, there's less formality and more humanity. Working from home has made a lot of people realize the importance of ergonomics. I'm lucky to have some Herman Miller Sayl chairs we designed. It's nice to see people recognize the importance of a good desk chair at home.
The house was designed as you wouldn't be able to hide from each other. Rather than a lot of small spaces, it's very open. The main room is loftlike and has access to the garden. So there's the ability to come in and out to the garden and take breaks. Informality is a key to my home life since I moved to California from Switzerland. Whatever goes on, it's an invitation for everyone to come and participate. It's an invitation on the main, loftlike floor. Music is being played. Food being cooked. We come together and play games while lounging on the sofas and floor with the board on the coffee-table-slash-art-piece.
Throughout we are constantly rotating our personal art collection. I've started collecting artworks from designers. That has been fun for me to assemble sketches, mock-ups, and images from people I admire and learn more about their process. It's so special to see the hand of the drawing and the way of they think.

The whole house has an approach to materiality that reveals the natural. I conceived the steel-reinforced ash shelving to hold different artworks, sculptures, and small frames. It also integrates LED on the underside and has a special finish I developed with a woodworker in Marin. I wanted the texture of the wood to be revealed and uniform throughout. 
I like the moments of transformation and discovery. The CNC textured cabinet came out of the work I did on the mini jam box. We developed techniques to shape aluminum into textures so it's very quick. So large drill bits are flowing and creating those textures. It's a cabinet as a guardrail to the stair, but you can't see the breaks. It also hides a Samsung The Frame TV, which is a customizable art television I designed. People want to keep home less about screens, and the television has become a black void when it's off. Samsung The Frame TV allows for the television to disappear in plain sight as it turns into a work of art with a screen that changes with the light to look real.
There have been moments of keeping the studio busy and engaged and also moments of new ideas and opportunities. I've been very impressed with how we have been able to adapt so quickly. In a way there's an opportunity for more trust and closeness and collaboration now that we're all working under the same tough conditions. It's empowering and exciting to watch the team build and deliver things even though we were working remotely. Even though we couldn't be together, we could still come together. We still had a schedule of launches. We launched Forme Life, the exercising station that provides an in-home gym subscription with a variety of body and mind activities, everything from resistance to yoga, meditation, strength, barre, during this period after working on it for almost four years.
With the home security brand August we launched a new smart lock. We've launched 11 or 12 products since the company had its first in the market, and this slimmer lock was a very important step in the history. We were able to make the lock almost half the size and integrate Wi-Fi in it. This is so innovative and so ahead of anything made before.
But for all of the tech products we've created and continue to conceive, one of the challenges of working from home is that the Wi-Fi is not evenly distributed. I'm working on that and hoping that we'll have something better soon.
Next Post