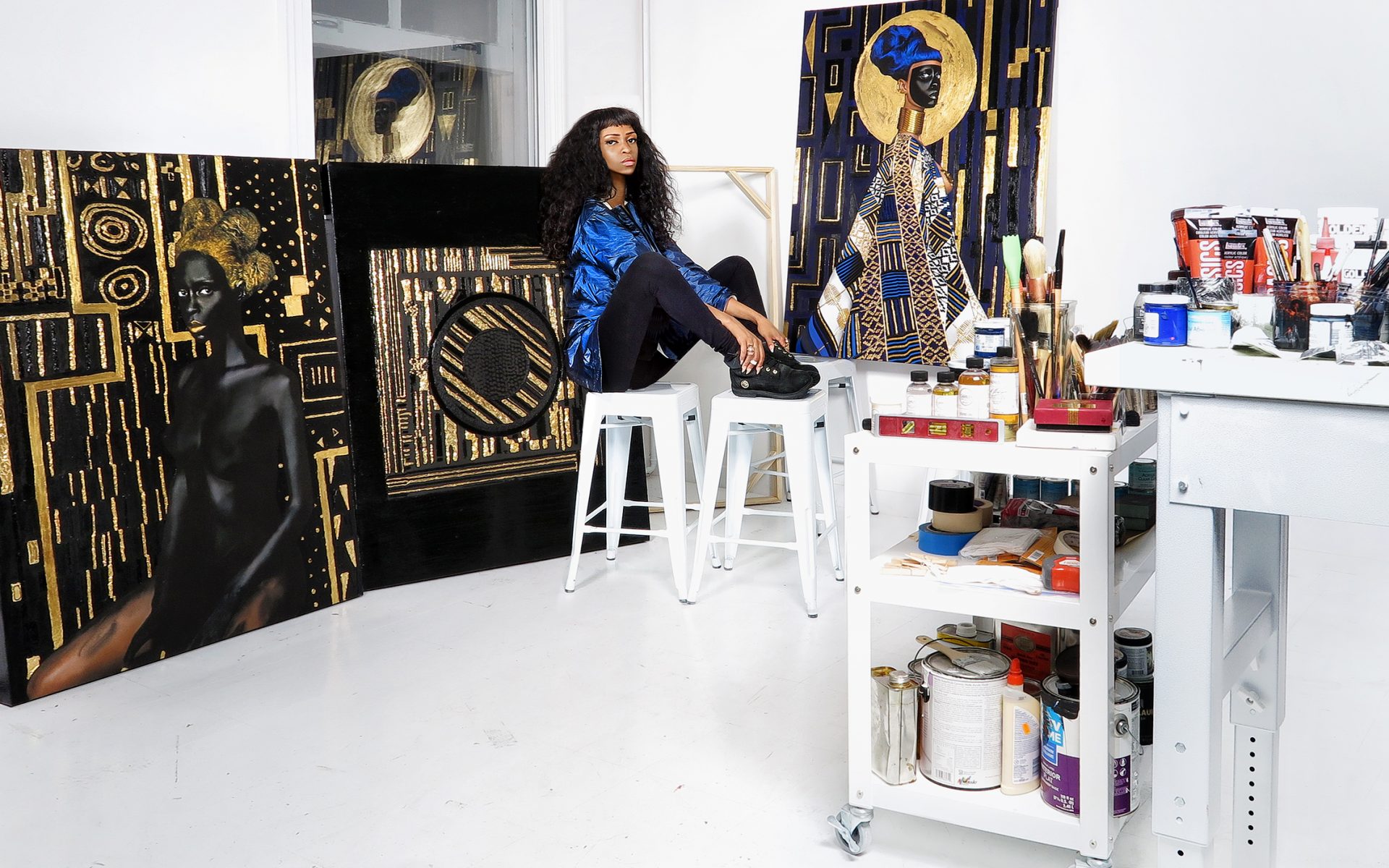 Lina Iris Viktor's Mesmerizing 24K Gold Hand-Gilded Artworks
Splitting her time between New York and London, the artist is shaping up to have a breakthrough year
Since making her debut in 2013, Lina Iris Viktor has been turning out fantastical portraits and intricate abstractions that plunge viewers into the depths of art history. The artist's distinctive paintings—sometimes layered with digital prints—are often coated in ultra-saturated shades of Yves Klein blue and embellished with glinting gold in patterns that evoke Gustav Klimt, Afrofuturism, Byzantine decoration, and Dogon sculpture, among other references.
It's shaping up to be a busy year for Viktor, who splits her time between New York City and London. First up, Seattle's Mariane Ibrahim Gallery is presenting her latest paintings at New York's Armory Show in March. Then in the summer, the artist will head to Palermo, where her work has been selected for the latest edition of the itinerant biennial Manifesta, and in the fall, the New Orleans Museum of Art will unveil her first solo museum exhibition.
Significantly, Viktor often appears in her work, gilded and shrouded in blue and oil-black paints like some ahistorical queen or goddess, finding a cosmic resonance in the contrast between the blackness and luminous gold. These portraits can be seen as a kind of nose-thumbing gesture directed at the art-historical canon—where the black female body is largely absent—especially with all that glorious gold.
In part because she was born in London to Liberian parents, Viktor grasps the history and politics of gold. "The African continent was and continues to be pillaged for this precious metal," the artist says. "We have lauded it, worshiped it, buried our deceased with it. Modernity has devalued gold to a commodity, but previously it was heralded for its spiritual value. That is what I am interested in excavating, exploring, and exposing." linaviktor.com
Next Post