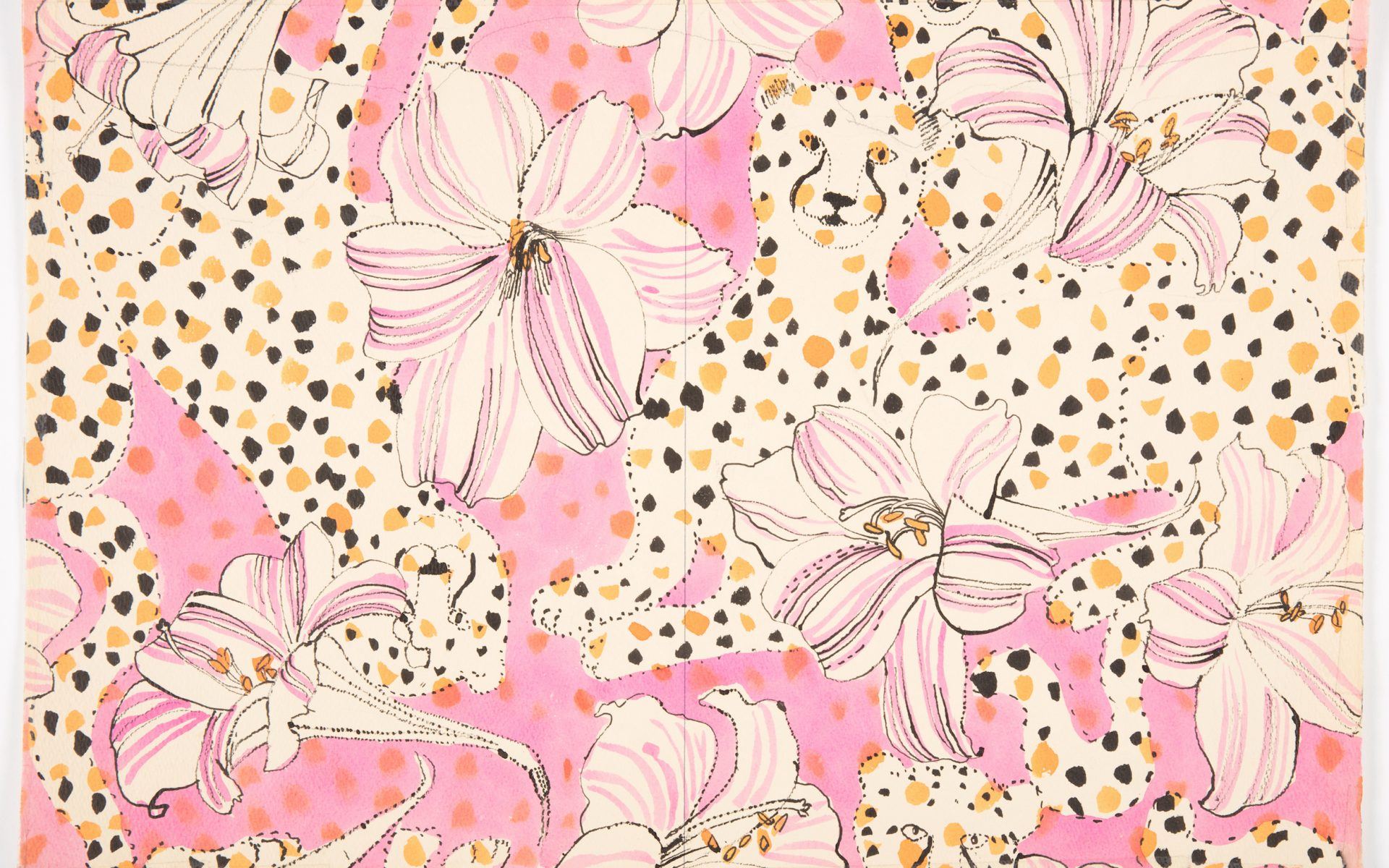 Discover the Little-Known Artist Behind Lilly Pulitzer's Tropical Prints
A new book and exhibition spotlight Key West artist Suzie Zuzek, whose vividly colored animal and floral designs are synonymous with the "Lilly Look"
Summer's most stylish thoroughfares—from East Hampton's Newtown Lane to Palm Beach's Worth Avenue—are awash in sartorial splendor as socialites don seasonal shift dresses, caftans, and palazzo pants in fashion's most iconic prints. Eye-catching patterns, such as Missoni stripes, Pucci swirls, or Lilly Pulitzer florals, have reigned supreme for decades as hallmarks of rarefied taste.
But new this season is recognition for the little-known artist who created Lilly Pulitzer's sherbet-colored blossoms and jungle prints, worn by such notables as Jacqueline Kennedy and Dina Merrill, and captured by photographer Slim Aarons. Now on shelves, Suzie Zuzek for Lilly Pulitzer: The Artist Behind an Iconic American Fashion Brand 1962–1985 (Rizzoli) chronicles how the Key West Hand Print Fabrics textile designer caught the  clothing line's eponymous founder's fancy and catapulted the fledgling company into fashion fame.
Pulitzer's namesake brand was launched in the early 1960s, when the socialite started marketing the colorful frocks she herself wore while selling fruit and juice at a homemade stand. It was in 1962 that she discovered Key West Hand Print Fabrics and its only professionally trained artist, Suzie Zuzek de Poo, who had studied illustration and textile design at New York's Pratt Institute before relocating to Florida with her husband, a Key West native.
"In South Florida and the Keys, Suzie Zuzek was a well-known painter and sculptor, but she was never recognized for her important contribution to the 'Lilly Look' and the success of the Lilly Pulitzer brand," coauthor Susan Brown tells Galerie. "In the fashion world then, as today, it was common for textile designers to go unacknowledged. While Pulitzer sometimes gave a nod to the Key West company that supplied her fabrics, she never named Zuzek as the designer of the prints that came to define her fashions."
The book, cowritten with fashion historian Caroline Rennolds Milbank, is looking to change that by shedding light on Zuzek's many vibrant drawings, which were reinterpreted in Pulitzer's fashions for women, men, and children. Later this fall, 35 of those original artworks will be displayed alongside the corresponding apparel in an exhibition at New York's Cooper Hewitt Smithsonian Design Museum.
Recommended: Jackie Kennedy's Hamptons Retreat Hits the Market for $7.5 Million
"Although the Day-Glo colors are definitely part of the brand's 'it's always summer somewhere' ethos, they sometimes obscure the beauty and complexity of Zuzek's line work and the richly detailed worlds embedded in each pattern," says Brown, who is also the Cooper Hewitt's associate curator of textiles. "Seeing her original design drawings will enable visitors to appreciate her artistry on a whole new level."
Hidden in plain sight for decades, Zuzek's original artwork had been tucked away in the Lilly Pulitzer archives. The company rode the wave of trends from its heyday in the 1960s and '70s to filing for bankruptcy in 1985, which resulted in the trademark being separated from its archives. Thankfully, the extensive collection remained intact and was recently uncovered by a team of private investors. Its rediscovery served as the launching point for the book and upcoming exhibition.
"I think of the show as a tribute to the armies of creative people who work anonymously in the fashion industry," says Brown. "This story happens to be a particularly vivid and compelling example, because the 'Lilly Look' was so closely identified with whacky, colorful prints, and those prints were so overwhelmingly the product of one woman's imagination—Suzie Zuzek's. It is a look that has been part of American culture for over 50 years, so I think Suzie deserves to have her name go down alongside Pulitzer's in the annals of fashion history."
Next Post