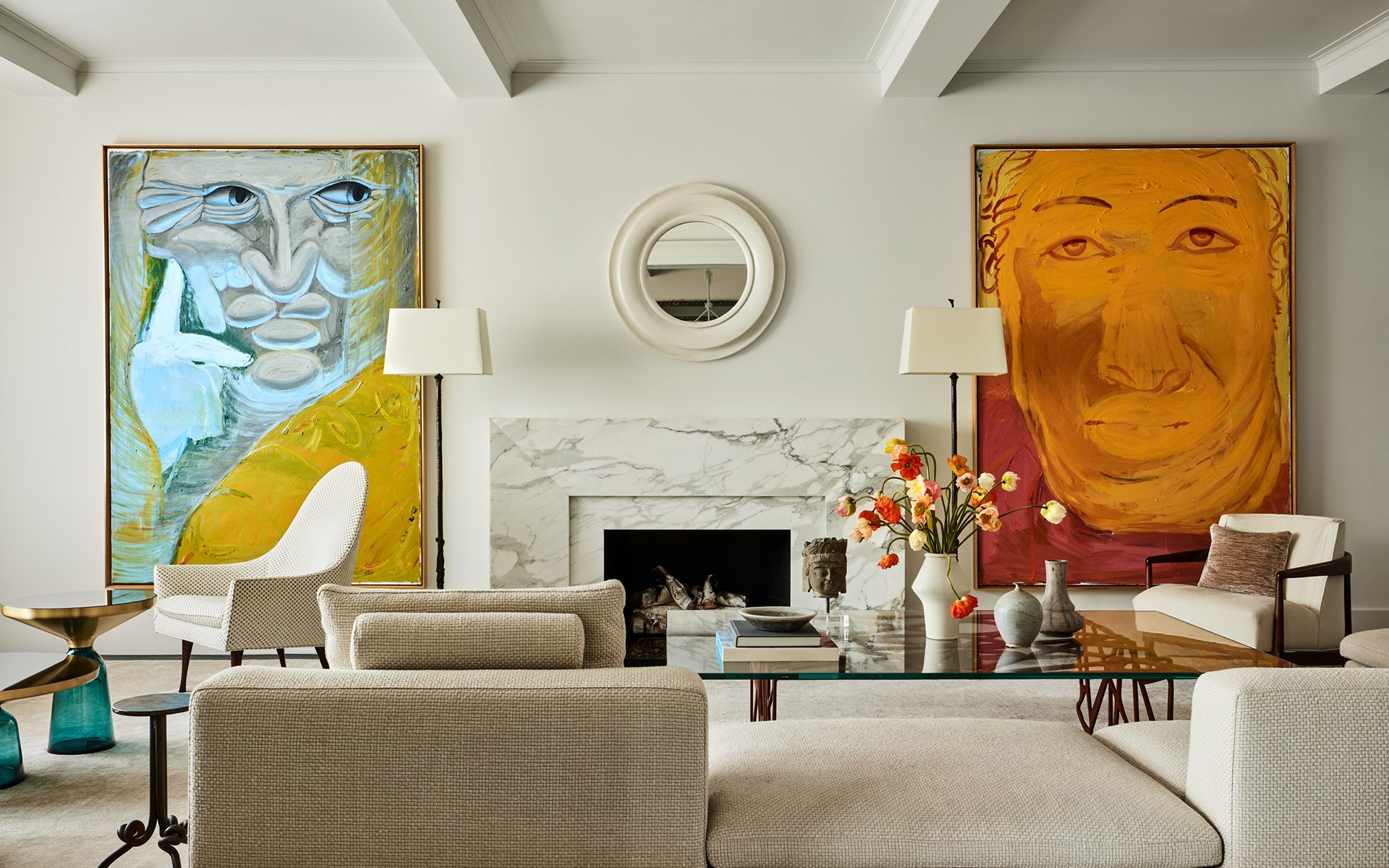 Go Inside a Park Avenue Apartment Brimming with Artworks by a New Generation of Talents
Crafted by New York architect Lilian H. Weinreich, the breathtaking aerie melds modern touches while preserving the space's traditional charm
It was a surprising case of mistaken identity that brought New York architect Lilian H. Weinreich one of her most captivating new clients. The homeowner and her husband were relocating to Manhattan after raising their family in the suburbs. Now that the children were grown, the couple wanted a more modern residence in the city, and an architect friend in Chicago had given Weinreich a glowing recommendation. "My husband was going to Chicago, and I said, I have to thank this woman," Weinreich says of her benefactor. "We had dinner, and as soon as she walked in I thought, 'I've never seen her in my entire life.' At the end of this job, she actually admitted that she'd never met me and had made a mistake."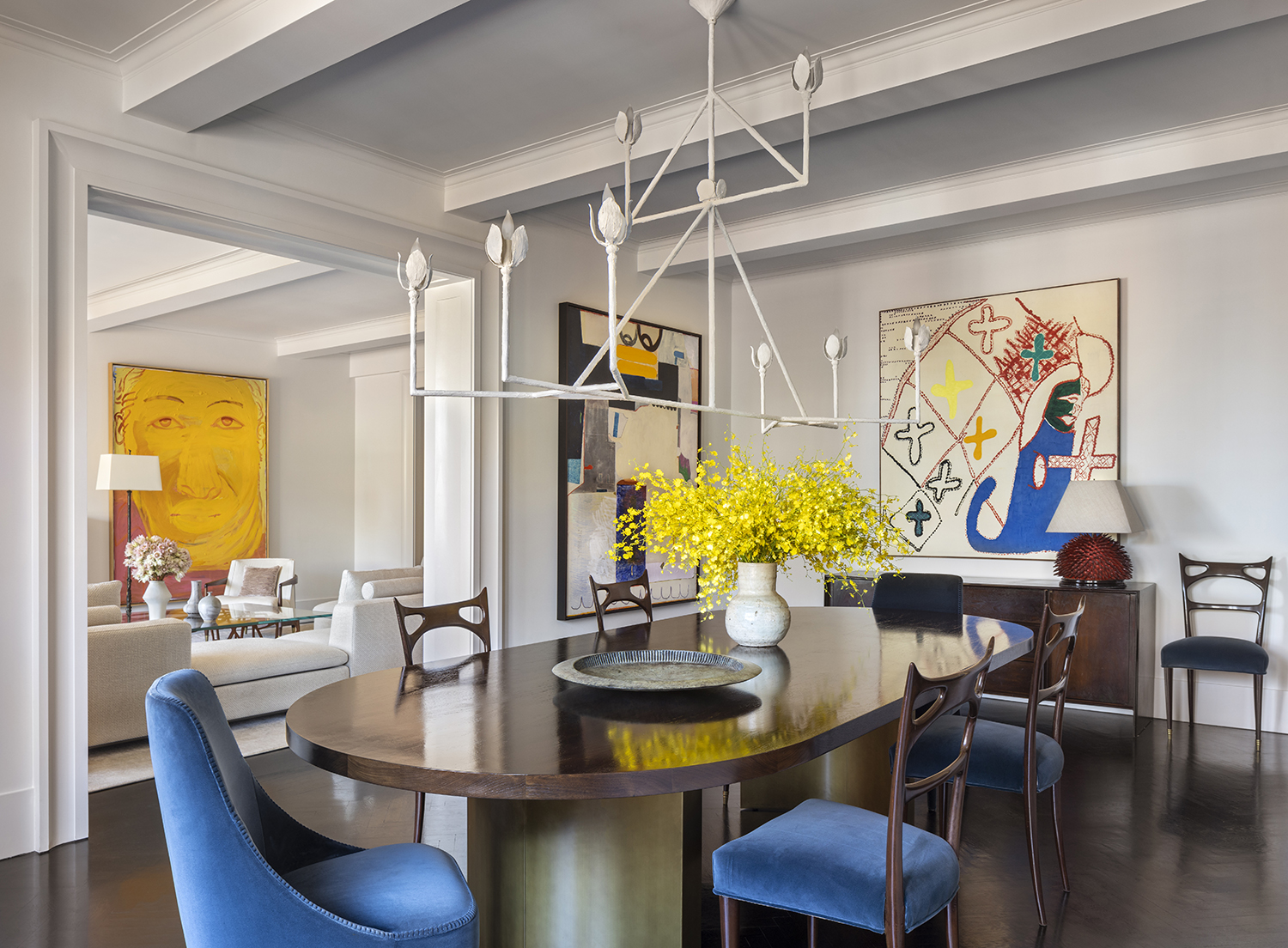 Thankfully, Weinreich's interview with the clients went infinitely smoother—so much so that she landed the commission on the spot. From the beginning, the couple—who were still shopping for the perfect address—wanted a modern renovation, which was an ideal fit for Weinreich's repertoire. "I don't do any of the other stuff because we have a wonderful language within modern architecture," she says. "We don't need to copy styles of the past."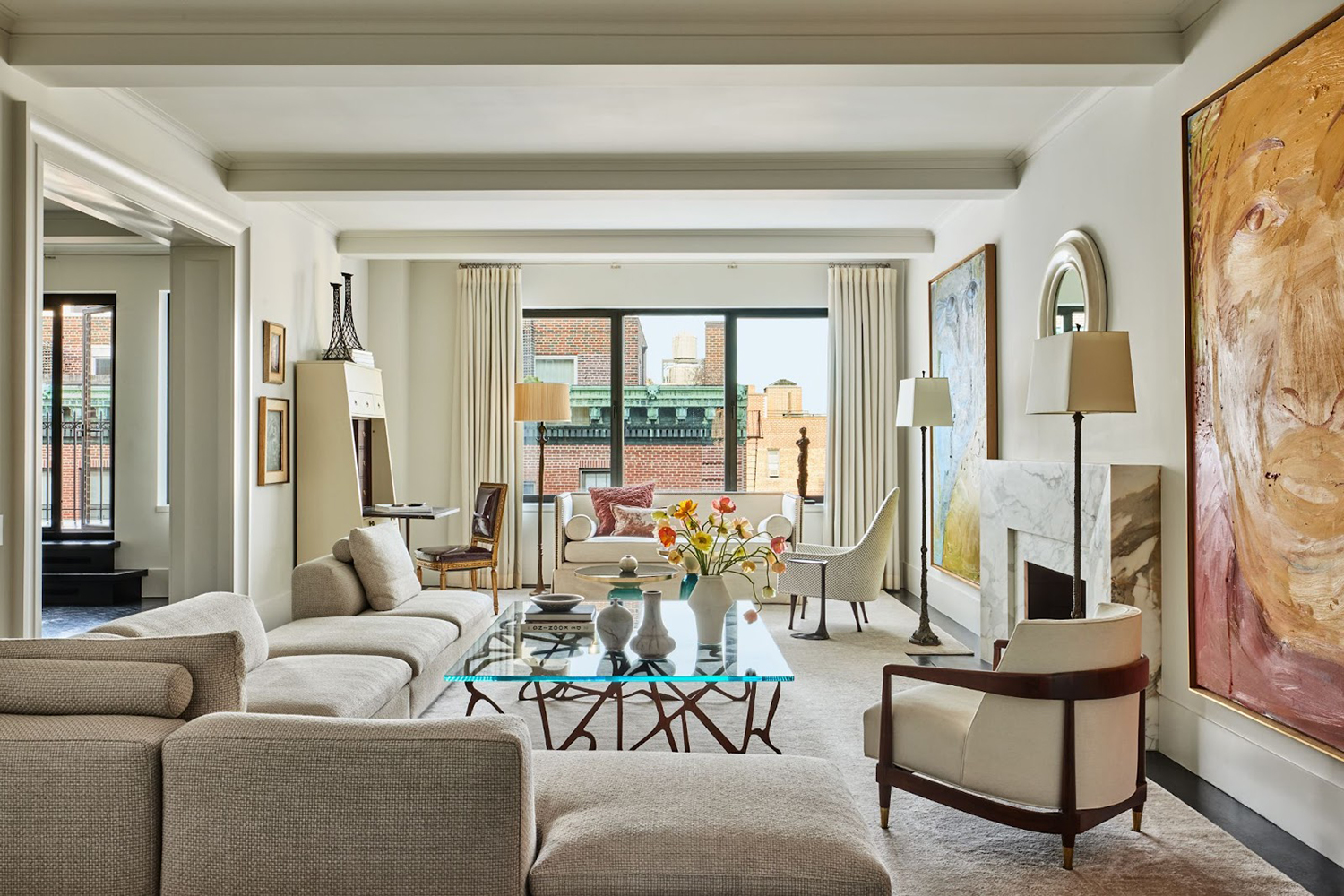 Yet, in another twist, they selected a Park Avenue residence and requested to keep many of its classic pre-war details. Enchanted by the apartment's lovely backbone, Weinreich dove in, preserving the unit's grand foyer and living spaces while orchestrating a rethink of the warren of tiny rooms tucked behind an awkward galley kitchen. As a result, the architect opened those areas to create an airy corridor that not only disguises added HVAC but also connects to a newly formed family room and guest bath, providing space for a sun-lit breakfast bar. Removing the narrow walls allowed the towering windows to flood the reconfigured kitchen with natural light. "Whenever I do renovations, I like to leave space to make it look like this was always the layout and not forced," says the architect of pillars that bookend the expansive counter furnished with Gubi bar stools.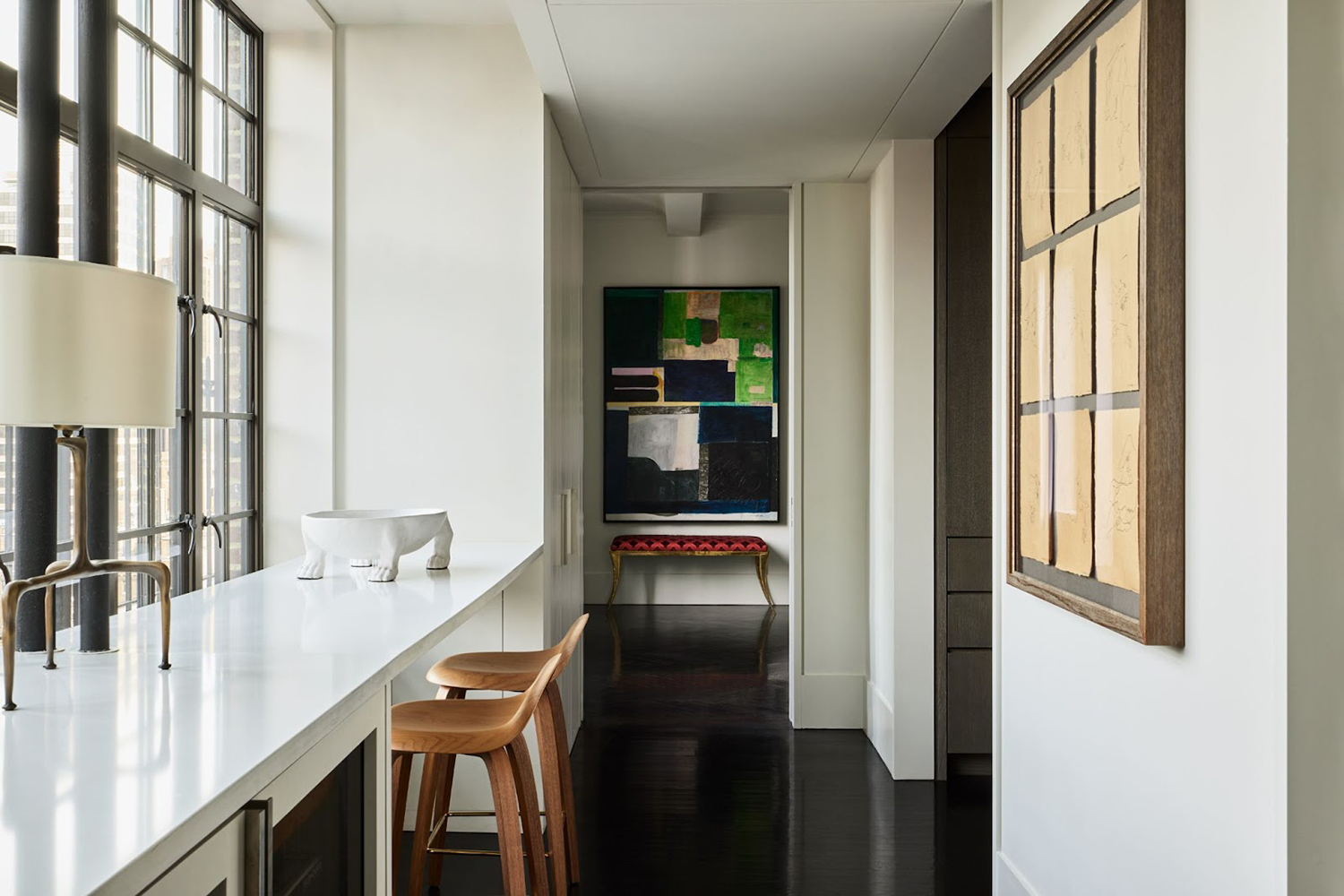 Instead of completely gutting the rooms, Weinreich removed all the doors, creating a seamless enfilade. "It was a very deliberate way of formally moving throughout the apartment visually," says Weinreich, who also increased the size of these "portals" then added a custom architectural detail to the remaining casings that offer a sensuous shadowing effect in the light. "From the hallway, you could actually see the most important spaces."
The thoughtful sightlines offer prime viewing opportunities for the clients' considered collection of art, curated by the couple's son, who was studying at the Rhode Island School of Design. In fact, most of the works on display are classmates he thought were smart to acquire now. "This could be big and bold and edgy—everything you would not think of in a Park Avenue apartment," says Weinreich, herself a one-time artist who studied fine arts at the University of Sydney before changing course to architecture. "We designed the spaces for this artwork, for this collection, which could be easily the next generation of American art."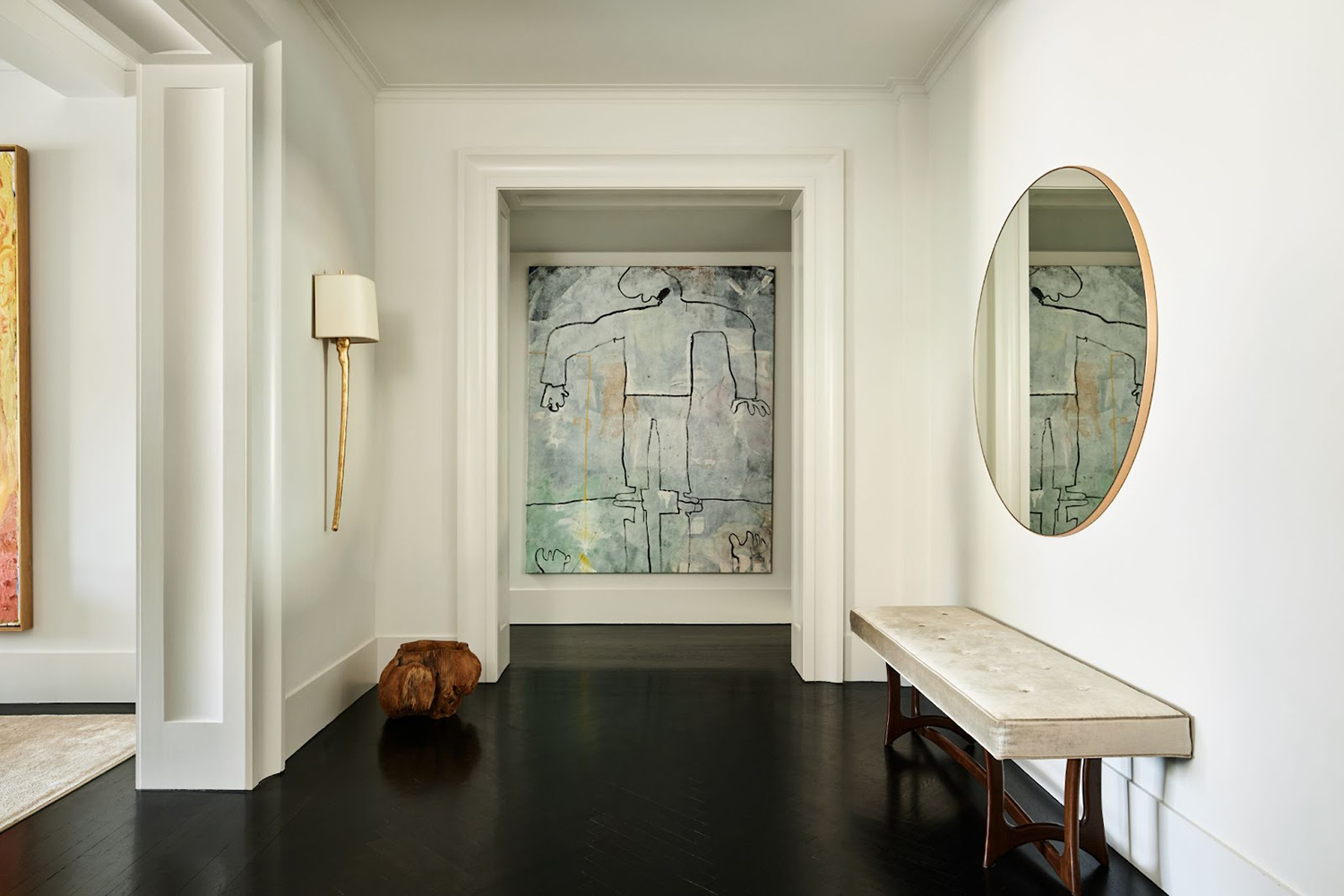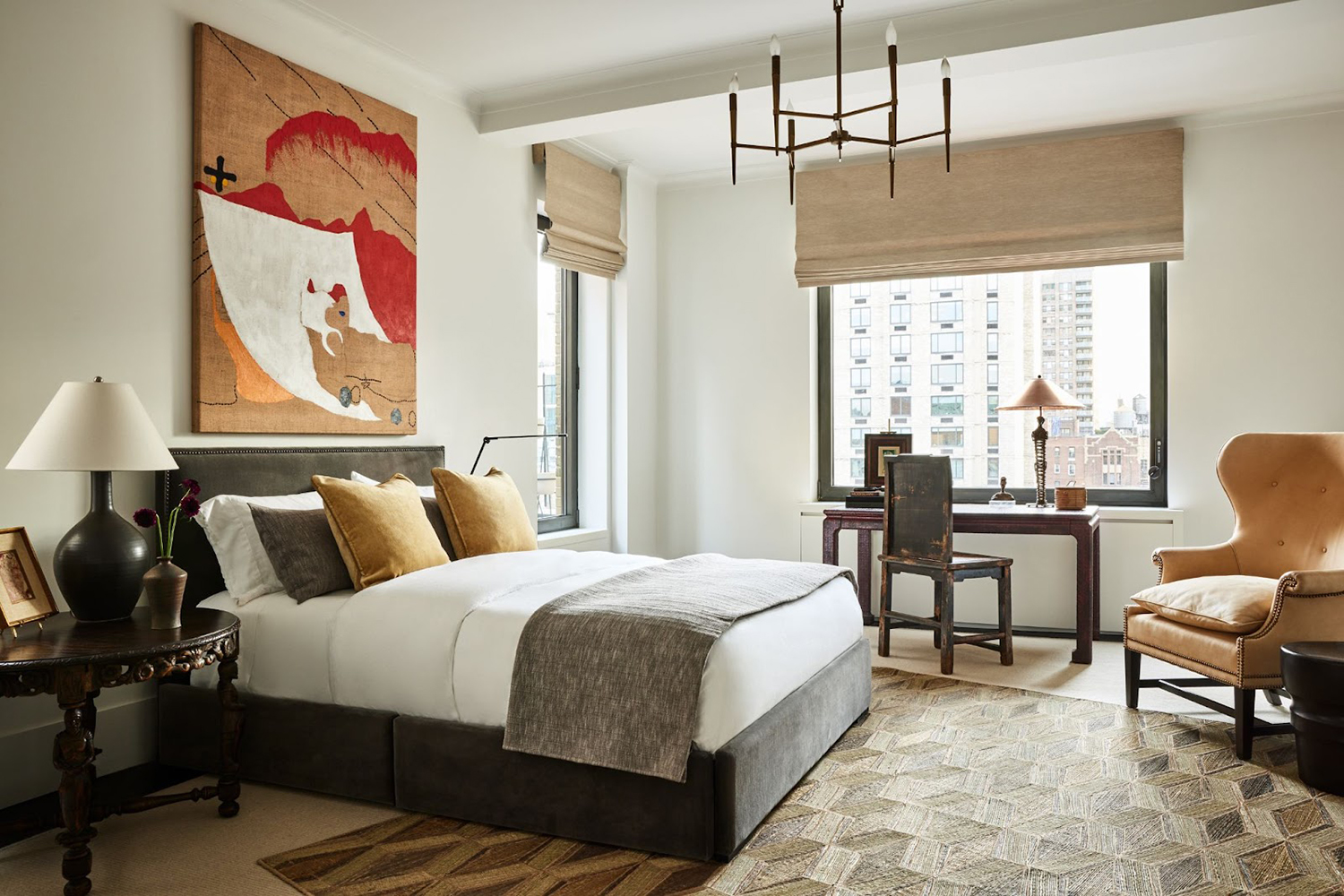 In the entry is an abstract work by Rhode Island artist Anna Bonesteel, while vibrant Brittni Ann Harvey canvases animate the guest quarters and dining area. The living room was designed around two monumental Kalina Winters paintings stored in the basement during construction that were mistakenly taken out with the building's trash and cut from their frames by an eagle-eyed pedestrian. A social media chase was unfortunately unable to recover the works, so the family commissioned replacements. Winters's Blue and Green Heads and Yellow Head now bookend the fireplace, staring watchfully over a web-like steel cocktail table by the homeowners' son.
"We designed the spaces also for this artwork, for this collection, which could be easily the next generation of American art"

Lilian H. Weinreich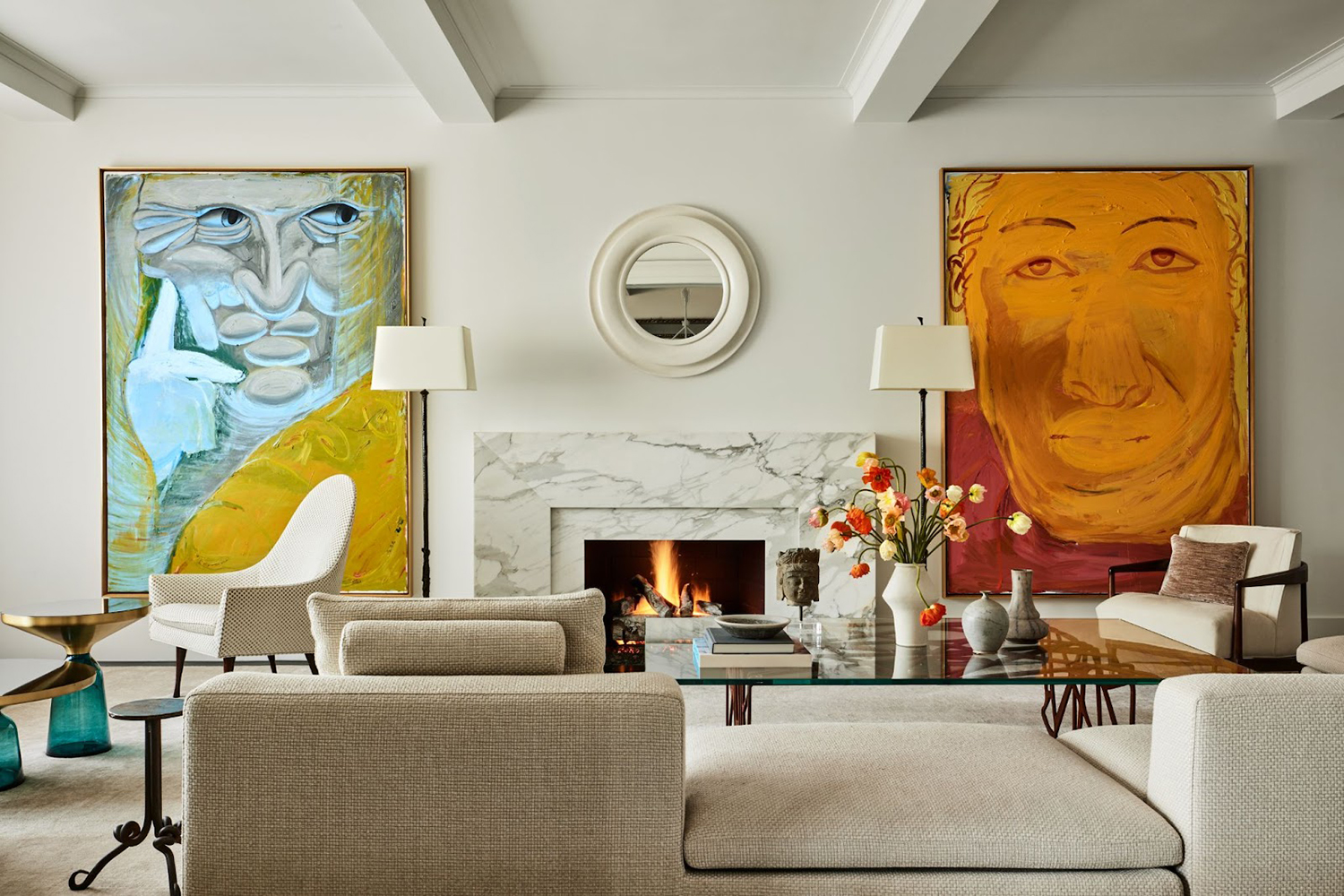 That piece is perfectly at home surrounded by stunning works of contemporary and collectible design, hand-selected by the wife. In the dining room, a T. H. Robsjohn-Gibbings sideboard is topped with a R&Y Augousti tray. A FontanaArte pendent overlooks the foyer, while pieces by Jack Van Der Molen, Paul Frankl, and Robert Kuo punctuate the bedrooms. "She loves to scour around and find beautiful objects and she's just very knowledgeable," says Weinreich. "I want her on all my jobs."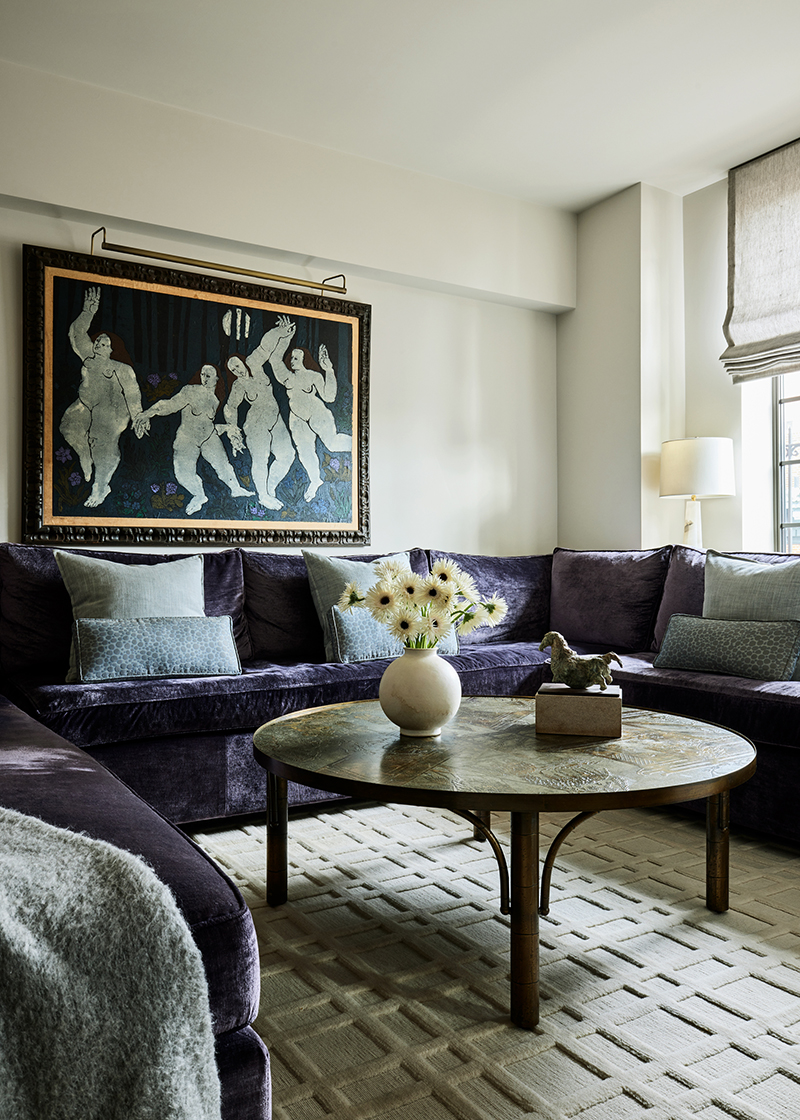 But despite its many hiccups, the final result is utter perfection. "I don't want to even call it traditional; it's more conservative," says Weinreich. "She calls the space restrained—that's probably the best way to describe it, restrained and very calming."
Next Post