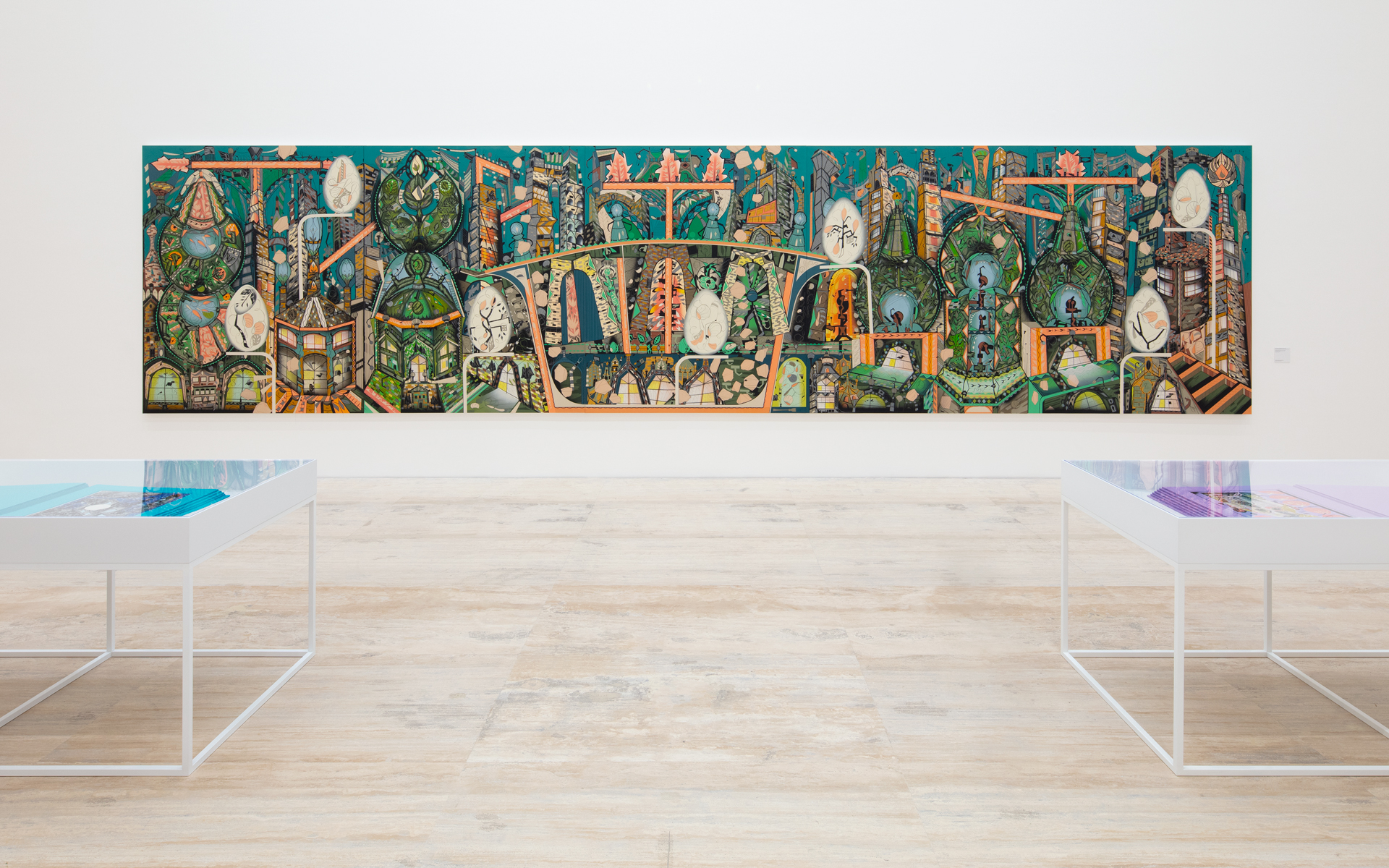 Artist Lari Pittman Opens Stirring Solo Show at Mexico City's Museo Jumex
The Los Angeles painter's first retrospective in Latin America looks back at the past 40 years of paintings, drawings, sculptures, and books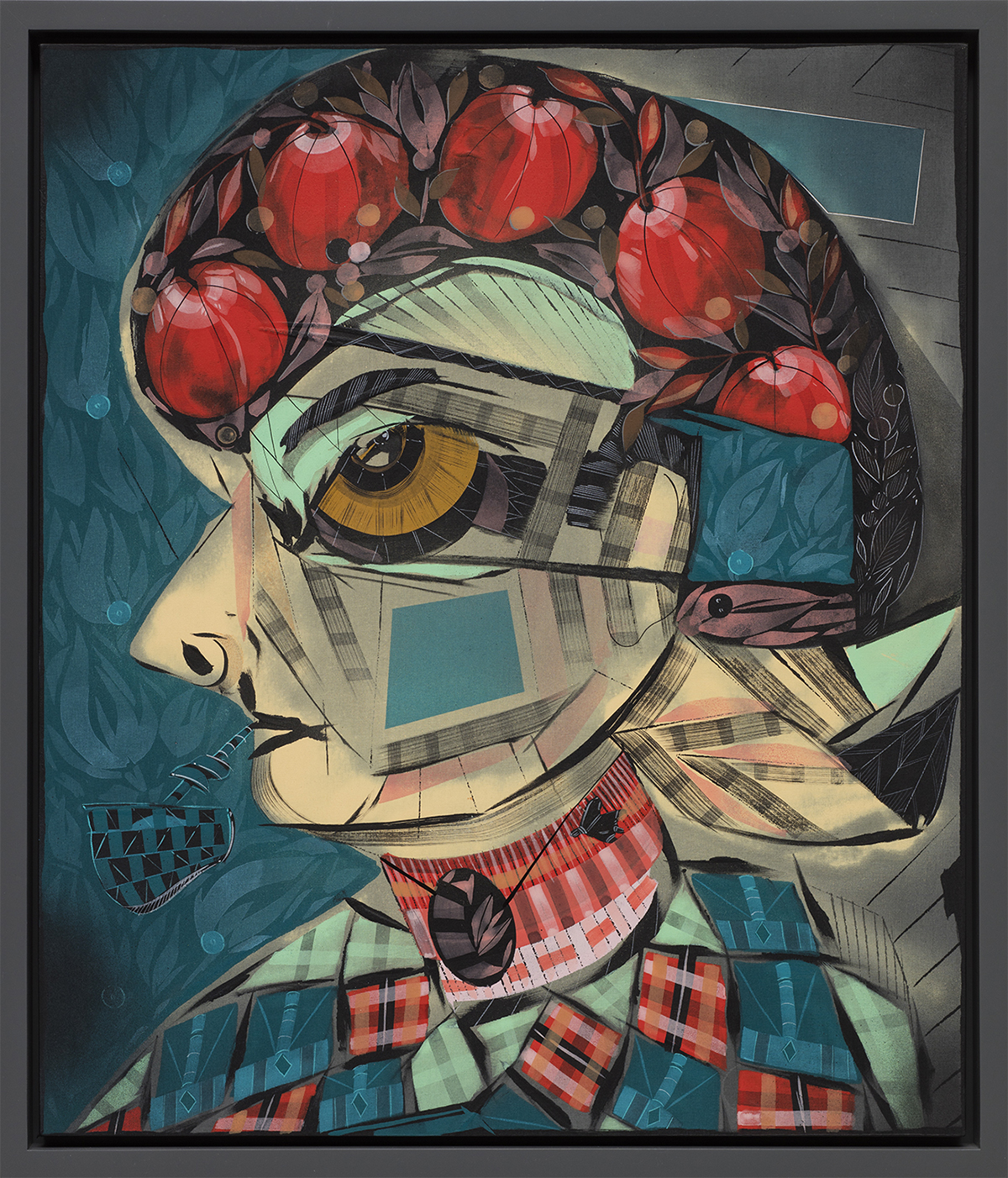 "By nature, I'm a happy person," says Los Angeles–based artist Lari Pittman. "But that doesn't mean I'm not a grouchy person," he laughed, then refined his statement to the crowd gathering in front of his one of his newest paintings at Museo Jumex in Mexico City. "I'm not grouchy, but I get really upset about the smallest cultural details. One of the things that annoyed me was hearing about 'Covid art.' It's such a retail idea," he continued. "When people called to ask, 'What are you cooking during Covid? I found that insulting. This is a global trauma. Don't make it useful within the world of culture."
Standing before Sparkling City With Egg Monument, a large-scale triptych he finished recently (just six weeks before it arrived at the museum), the Colombian painter has already spent the past several decades confronting political waves and crises in culture—as well as the artist's role within it—in his work. Reducing a global pandemic to merely a time to settle in at home and catch up on popular culture is to dismiss the suffering the virus has spread, and his reaction to Covid art, like Covid sourdough starters and Covid cooking, is as averse as his reaction to the U.S. culture wars of the 1980s and '90s, which overlapped with many of the worst years of the AIDS crisis, homophobia, and anti-immigration policies.

"I wanted to create a painting that projects an outside of that cultural insistence that artists are always like a thermometer and are supposed to do the heavy lifting of cultural responses. I wanted to divest myself of that mandate. Here," he says, gesturing to Sparkling City, a dense urban fantasy of intricately adorned towers and skyscrapers, behind him, "is my insistence that the city sparkle." He turns to the swelling crowd. "How do you say twilight in Spanish?"
On view now through February 23, "Lo que se ve, se pregunta" (What You See, You Wonder), Pittman's first retrospective in Latin America, looks back at the past 40 years of the artist's work with some of his most well-known paintings, drawings, sculptures, and artist books, curated by Connie Butler of the Hammer Museum in Los Angeles, who also organized Pittman's 2019 Hammer exhibition "Declaration of Independence." Layering visual references to Mexican and Latin American craft traditions, Latin American magical realism, the AIDS crisis and punk and feminist movements of the '80s and '90s, the contentious and shifting parameters of citizenship, and, curiously, owls—a signature surrogate that often appears in Pittman's work—the works obliquely address many of the strongest political currents of the past generations.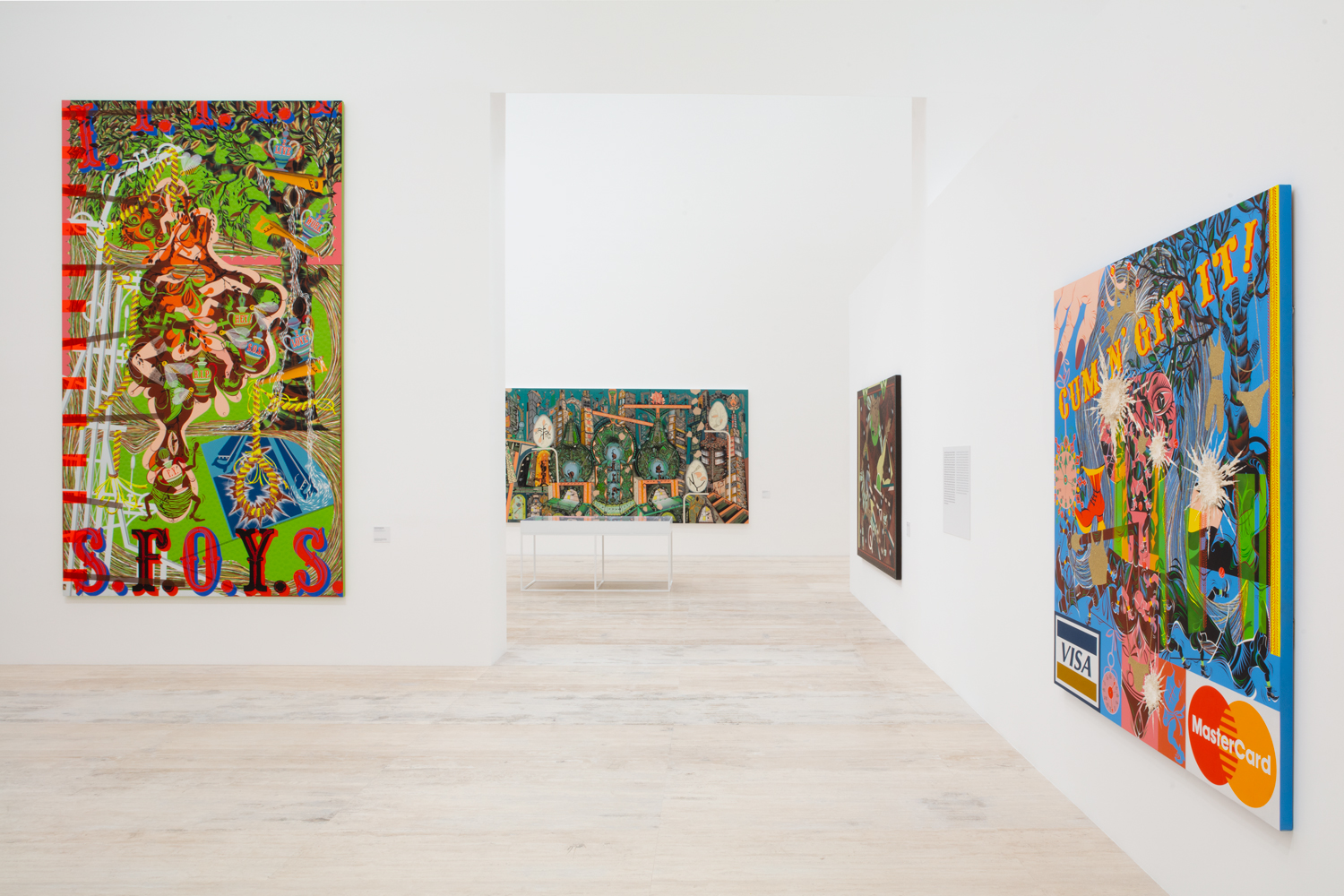 While a student at the California Institute of the Arts (CalArts), he was a close ally of the school's Feminist Art Program, though he wasn't allowed to formally join. His proximity to the program offered a path out of the school's conceptualist traditions and he began integrating domestic and decorative arts into his own work. His more recent "Portraits of Textiles" and "Portraits of Humans" series (beginning in 2018) display a material knowledge of ornament by weaving quilting, textiles, wallpaper, and Mexican retablo, or altar, paintings into his tableaux, as well as intimacies from his own home.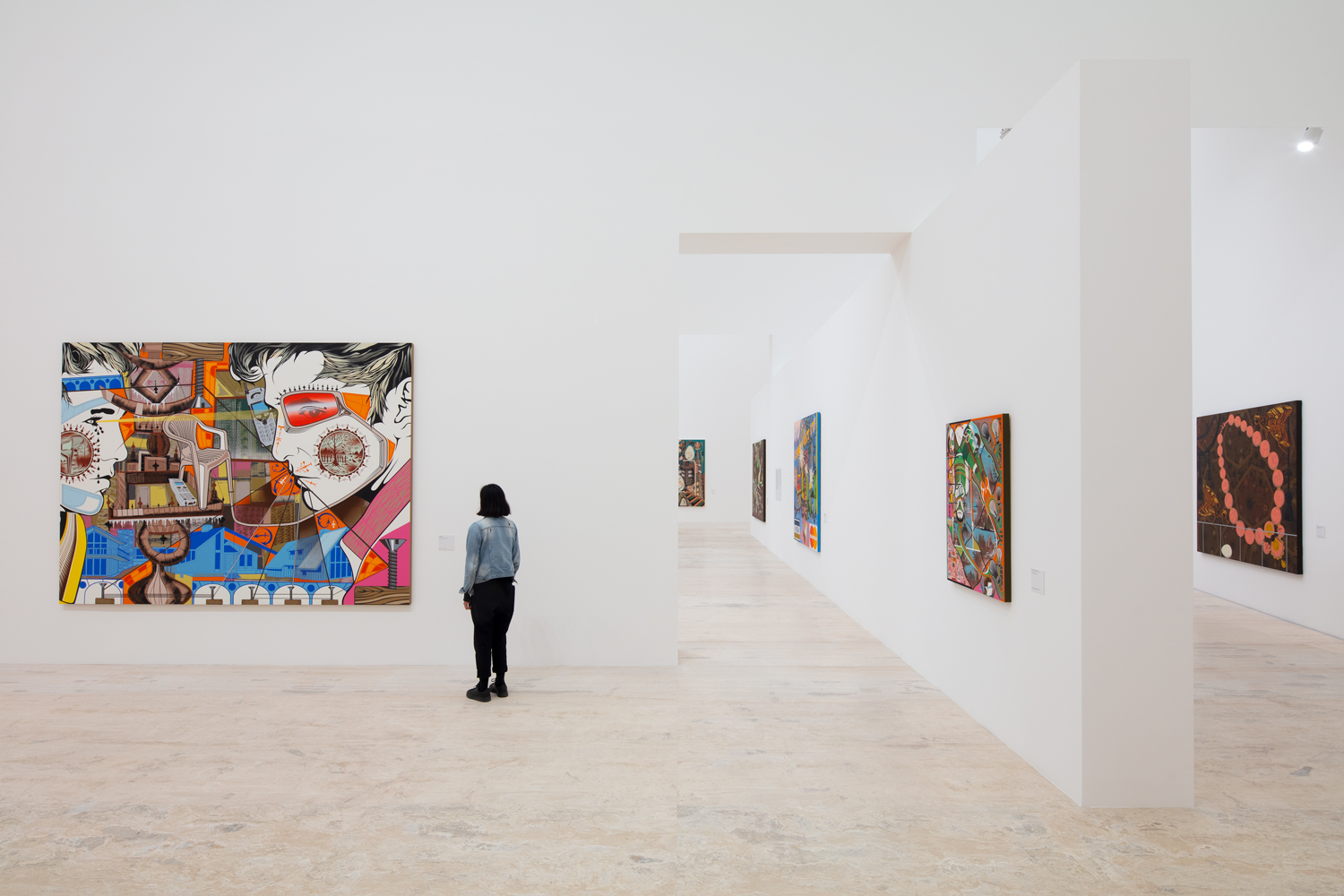 His images also draw on art-historical painting traditions, visually referencing the work of other artists such as the Mexican painter Hermenegildo Bustos (1832–1907). Pittman's 1989–90 series "Beloved and Despised" first presents his queer identity and interpretations of gender. The collaged paintings feature Victorian-era silhouettes, forms that carry a deeply classist and problematic subtext; bold graphics, such as neon-colored arrows, and more traditional florals and landscapes. The "Once a Noun, Now a Verb" series (1997–98) has non-gendered egg figures navigating masculinity and machismo, recalling Diego Rivera's murals in Mexico City's Palacio Nacional with their characters' labyrinth struggles and journeys. Even though decades old, they, just like the endless Sparkling City, offer a map to another, more incredible realm.
Next Post