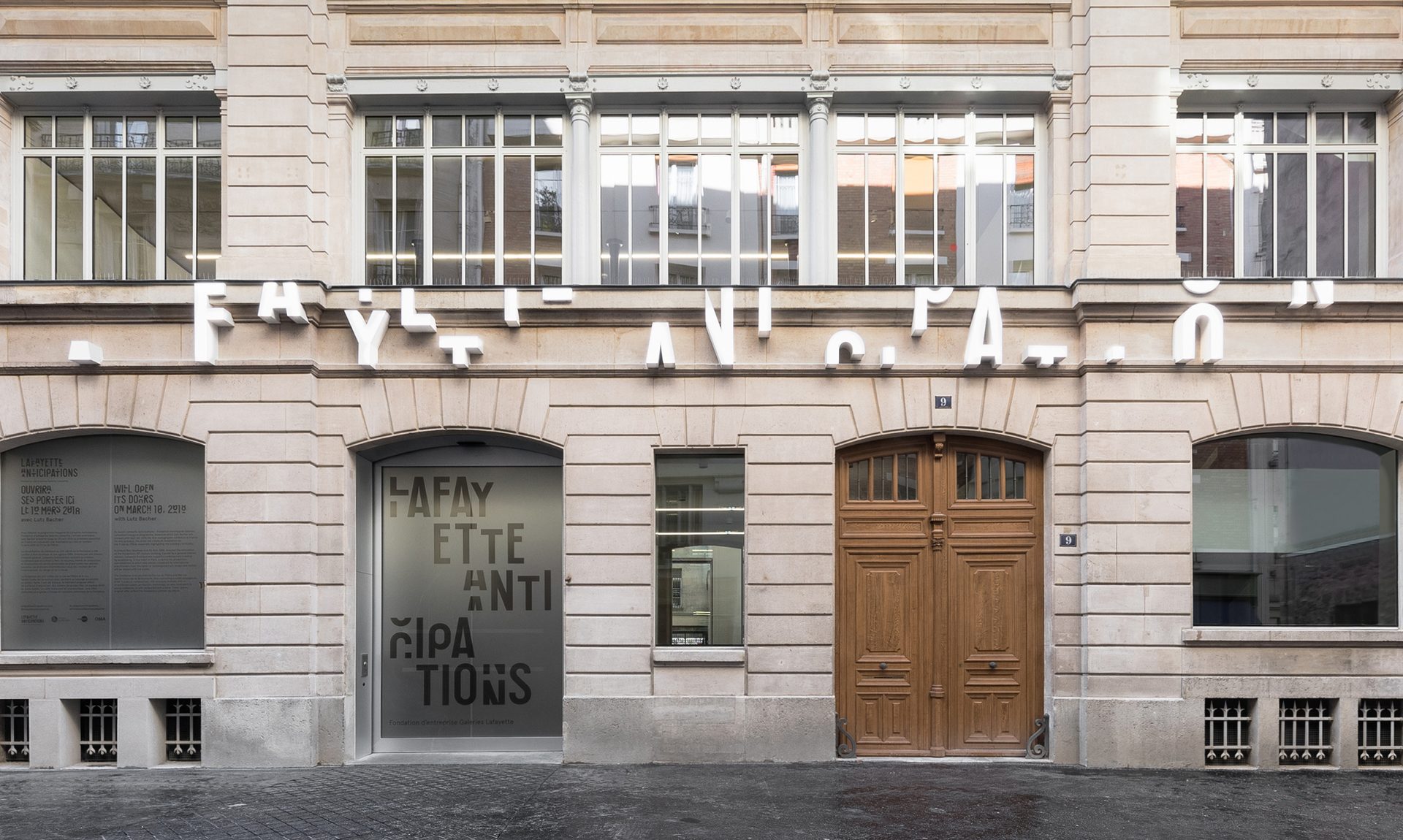 The Rem Koolhaas–Designed Lafayette Anticipations Opens in Paris
The famed department store transforms a historic Marais landmark into a multifunctional art and design hub
François Pinault has his Venetian installations and a soon-to-open museum in Les Halles. Bernard Arnault has his Fondation Louis Vuitton in the Bois de Boulogne. And on March 10, Guillaume Houzé, executive chairman of the Board of Galeries Lafayette Group, will unveil his Lafayette Anticipations in the Marais. Home to the Galeries Lafayette Corporate Foundation, the versatile space aims to provide resources to international creators from the fields of contemporary art, design, and fashion, allowing them to produce, experiment, and present new work.
The inaugural exhibit by conceptual artist Lutz Bacher (her first in France) was conceived specifically for the new venture, which occupies a 19th-century industrial building revamped by Pritzker Prize–winning architect Rem Koolhaas, head of the firm OMA. Ms. Bacher has taken over the entire seven-story landmark for her installation, which highlights the building's verticality, exploring the structure's symbolic elevation, and focusing in particular on the central void constructed by Koolhaas. As such, the artist references numerous Parisian structures, which the great French department stores—such as Galeries Lafayette—are noted for. (Pritzker himself is one of the few to have reflected on the question of "retail" and its relationship to culture, as evidenced by his books S, M, LXL and The Harvard Guide to Shopping.)
Art and culture have been at the heart of the 106-year-old Galeries Lafayette Group since the days of its founder, Houzé's great-grandfather, Theophile Bader, who invited a new generation of artists to work within the Galeries Lafayette department store in Boulevard Haussmann.
"He collaborated with the Brothers Adnet, Charlotte Perriand, and so many other creators," Houzé recalls. "A production workshop named 'The Mastery' was put at their disposal beginning in 1922. It was the foundation of the commitment of Galleries Lafayette to Applied Arts, Design, and Fashion. This powerful support of contemporary designers is characteristic of the identity of this family business."
Lafayette Anticipations will operate in conjunction with the Moulin Family Endowment Fund (created by Houzé and his grandmother, Mrs. Ginette Moulin, in 2013) to support art projects of general interest while pursuing a policy of acquisition and enhancement of the collection. "We want to showcase artists and thinkers whose work shows a commitment to creation as a vector of change, whether social or cultural, tangible or symbolic," says Houzé.
The choice of architect fits this dynamic objective. "Rem Koolhaas's design for the Foundation was ideal for what we have in mind: to create in a human-sized building, a curatorial, modular machine," says Houzé. "The architect used materials respectful of the original structure dating from the late nineteenth century and the historic district of the Marais."
The central courtyard features a glass-and-steel exhibition tower with adjustable floors that move through a rack, creating 49 different exposure configurations. On the ground level there's a free passageway from the entrance at 9 rue du Plâtre through to that of 44 rue Sainte-Croix-de-la-Bretonnerie. At the heart of this space is a public area for exhibitions, conferences, performances, and concerts. In addition to the 9,500 square feet of exhibition space, there is a café and a bookstore.
Meanwhile, an experimental production workshop in the basement provides a space for guest artists to work on upcoming projects, with the Foundation supplying tools to support their creation and dissemination. "The production of new works, as well as original ideas in a context that encourages risk taking and gives great freedom, will make the Foundation an institution in constant motion," says Houzé.
Overseeing it all is François Quintin, present from the beginning of the project, who acts as artistic director and curator. Active in both the public and private sectors, Quintin previously served as curator at the Guggenheim Museum and at the Cartier Foundation. In order to maintain a permanent link with other artistic scenes, he employs independent curators living abroad. This "curatorial college," grouped in rotations of three years, is currently made up of Charles Aubin (based in New York), Anna Colin (London), and Hicham Khalidi (Brussels and Marrakech).
Lafayette Anticipations plans three or four exhibitions a year, along with conferences and performances. "The public will discover new works by international creators from the fields of contemporary art, design, and fashion," Houzé opines. "By creating a place where fashion designers, designers, visual artists, performers, graphic designers meet, a place where the ideas, thoughts and practices of some confront each other, we take not only a sharp look on the present, but also at the future."
Next Post