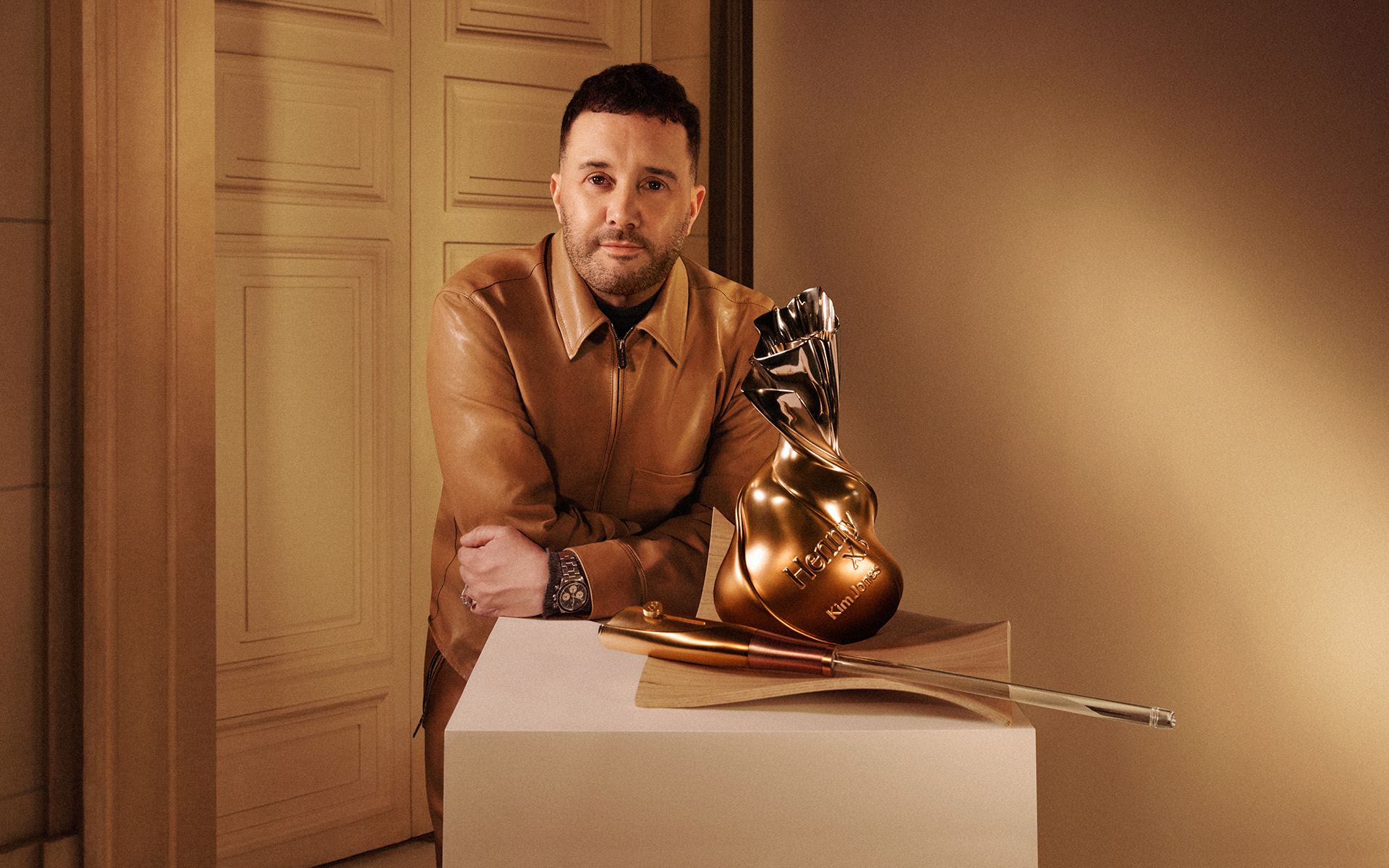 Kim Jones Designs a Striking Couture-Inspired Decanter for Hennessy X.O
The collaboration between the British designer and the historic French cognac house includes a pair of sneakers, a limited-edition bottle, and an artful decanter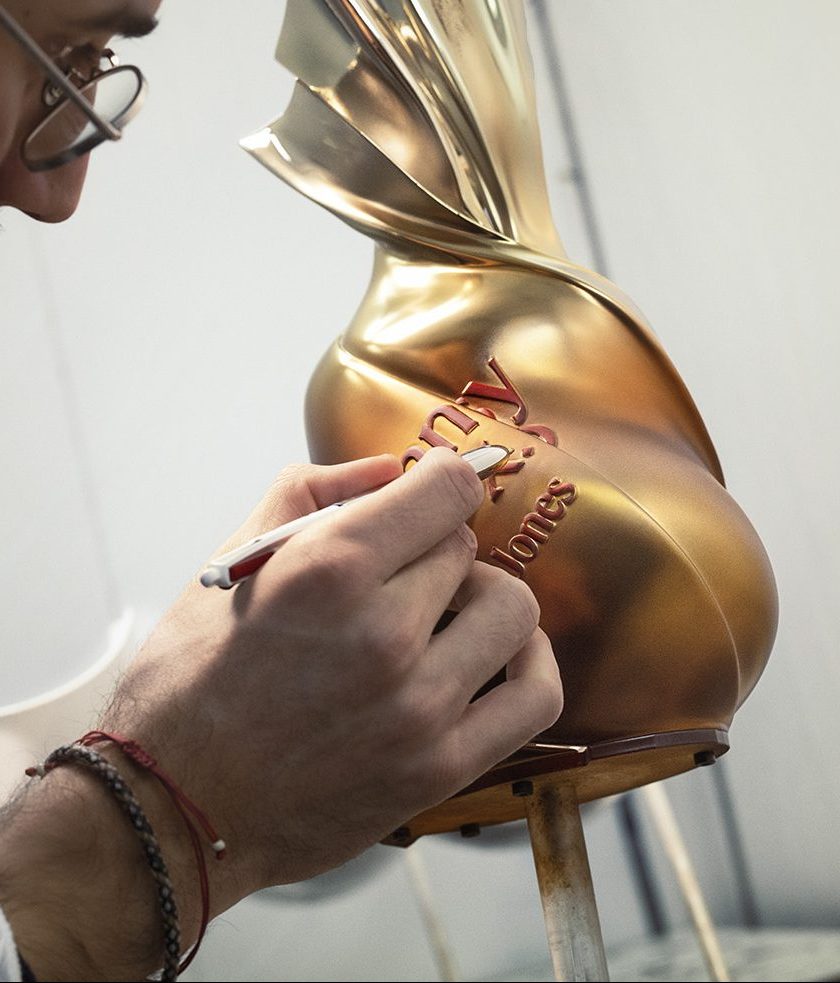 It is hard to keep up with Kim Jones. The visionary British designer is at the top of two global luxury heritage brands—the artistic director of Dior Men and womenswear and haute couture at Fendi—and is responsible for at least 12 collections a year.
The most recent project in Jones's seemingly never-ending portfolio sees a special foray into the luxurious world of cognac, with him designing a limited-edition bottle for Hennessy's X.O 'extra-old' blend. Unveiled last week at a buzzy event in London, the launch includes a limited-edition bottle, a gold Masterpiece decanter, as well as Hennessy's first-ever sneaker.
Marking the first time Jones has ventured outside the world of fashion and into product design, the decanter features an organic, twisted metal case, which was inspired by the delicate tissue paper used to wrap bottles of Hennessy cognac in the late 19th century. Approaching the collaboration in much the same way as he would a fashion collection, Jones began his journey at the heart of the Hennessy maison in the archives researching its fascinating history, which dates back to 1765, when Richard Hennessy founded the company.
"I like the story of Hennessy and the way the actual cognac hasn't changed since it started, but the world around it has evolved," says Jones. "The meticulousness and knowledge of the brand—knowing when a cognac is totally perfect to be bottled, it's like a scientist."
On one of his research trips to Cognac, a region in France that stretches out over two Charentes departments and several villages in the Dordogne and Deux-Sèvres, Jones spent time visiting Hennessy's library and museum. There, he was particularly drawn to some of the very oldest bottles in the collection, which had been carefully wrapped in twists of white paper, reminding him of fabric on a body. ""Immediately I saw fabric, and I thought that is my link," Kim Jones tells Galerie. ""The language is the same between cognac and couture—you treat the bottle like a body, and you wrap it like a piece of couture." He continues: "But how do you turn that from a maquette into something three dimensional? I went through a lot of fittings, so to speak, because that's how I saw it—as a body."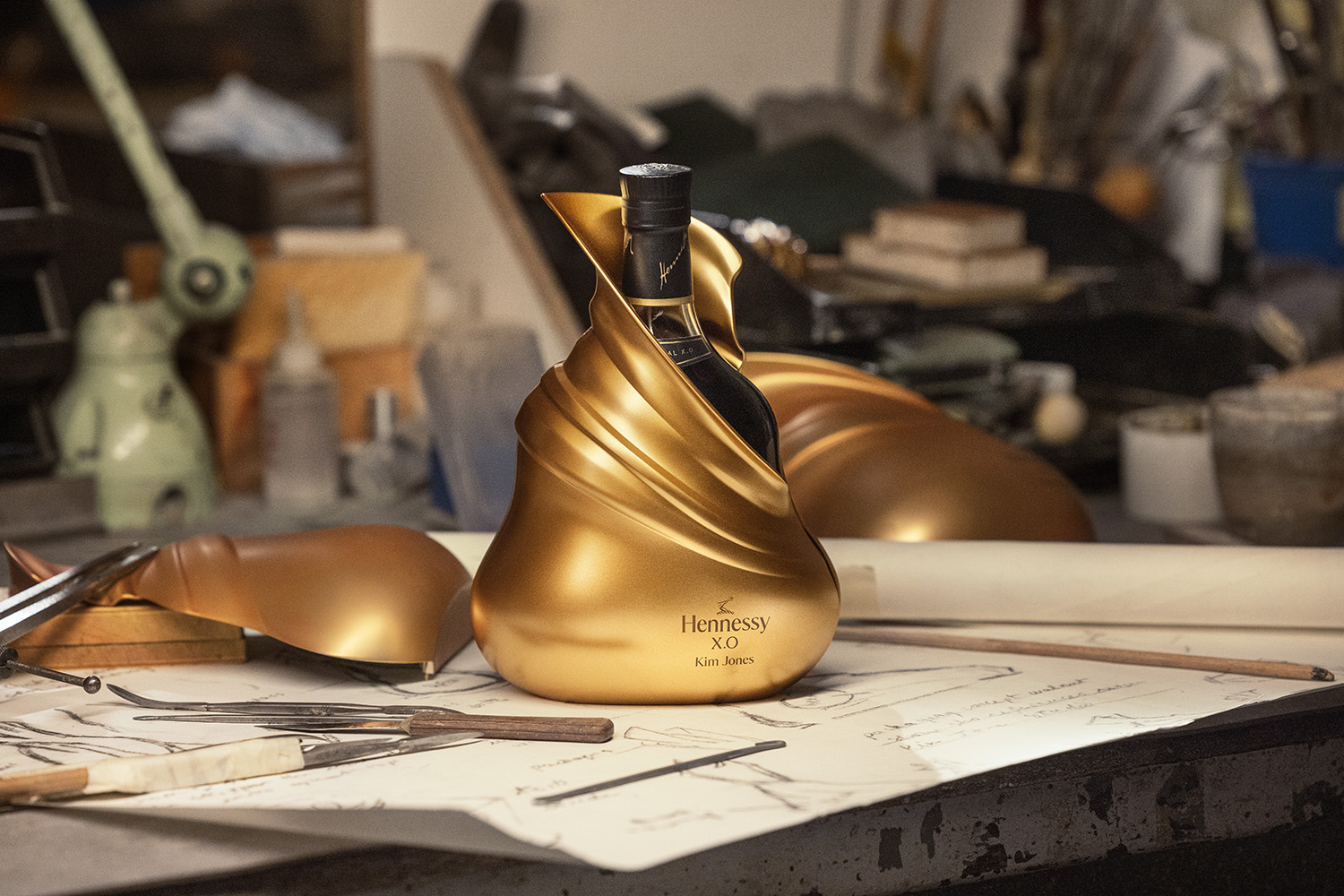 "The language is the same between cognac and couture—you treat the bottle like a body, and you wrap it like a piece of couture"

Kim Jones
Realized using 3D-printing and meticulously finished by hand, the Hennessy X.O Masterpiece is limited to just 200 pieces. The titanium casing twists beautifully around the bottle, much like the draping of an elegant gown enhancing the curves of a body. The vessel was then dipped in gradient colors that reflect shades of the different eaux-de-vie selected by the master blender to create the perfect Hennessy X.O.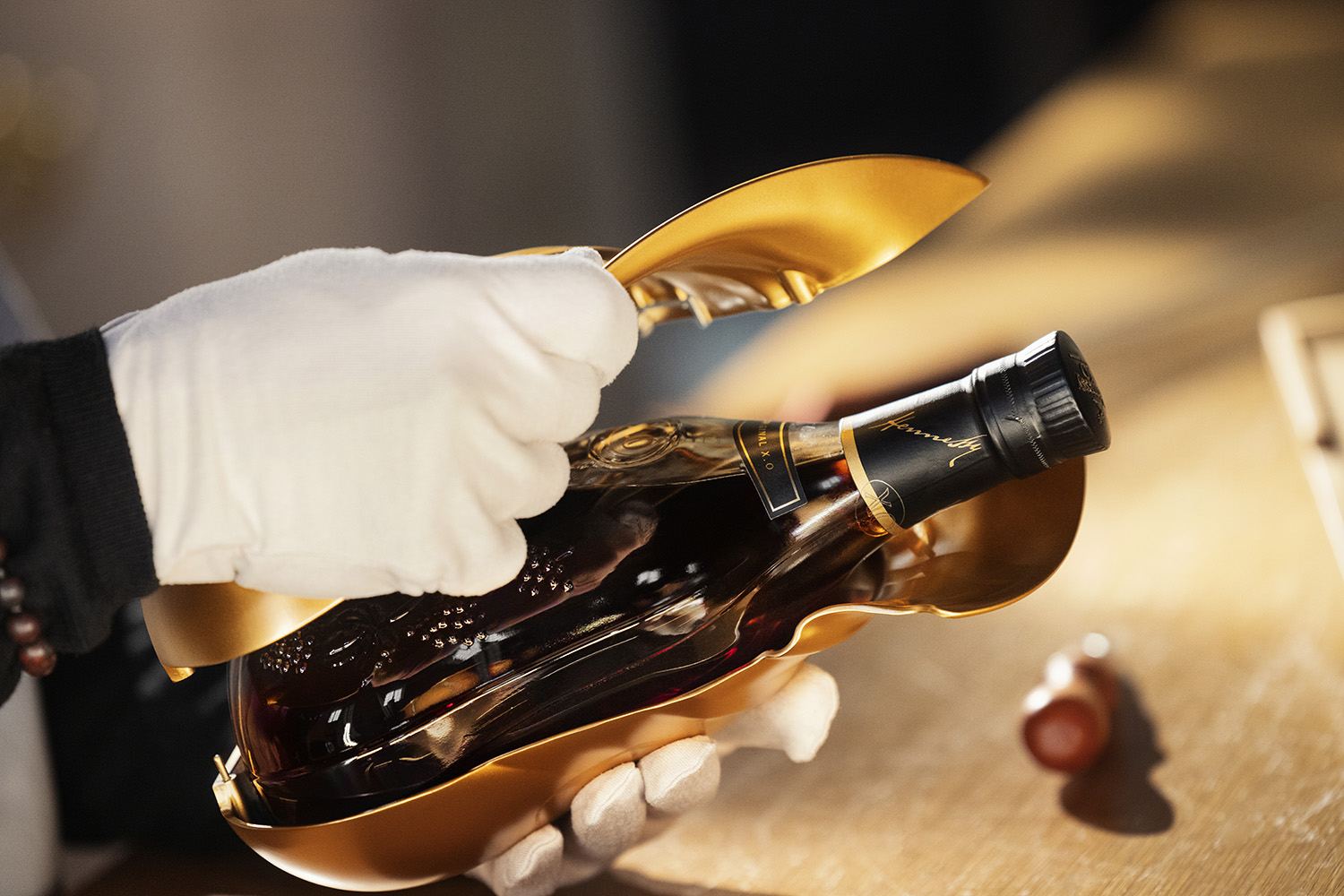 Of course, Jones is no stranger to the art of collaboration. When he was menswear artistic director of Louis Vuitton, he teamed up with Supreme on one of the most most successful fashion collaborations in history. In his current position at Dior Mens, he has collaborated with such major artists as KAWS, Daniel Arsham, and Raymond Pettibon, among others. Last year, he worked alongside Donatella Versace to produce the special 'Fendace' collection, which saw a tie-up between Fendi and Versace at Milan Fashion Week.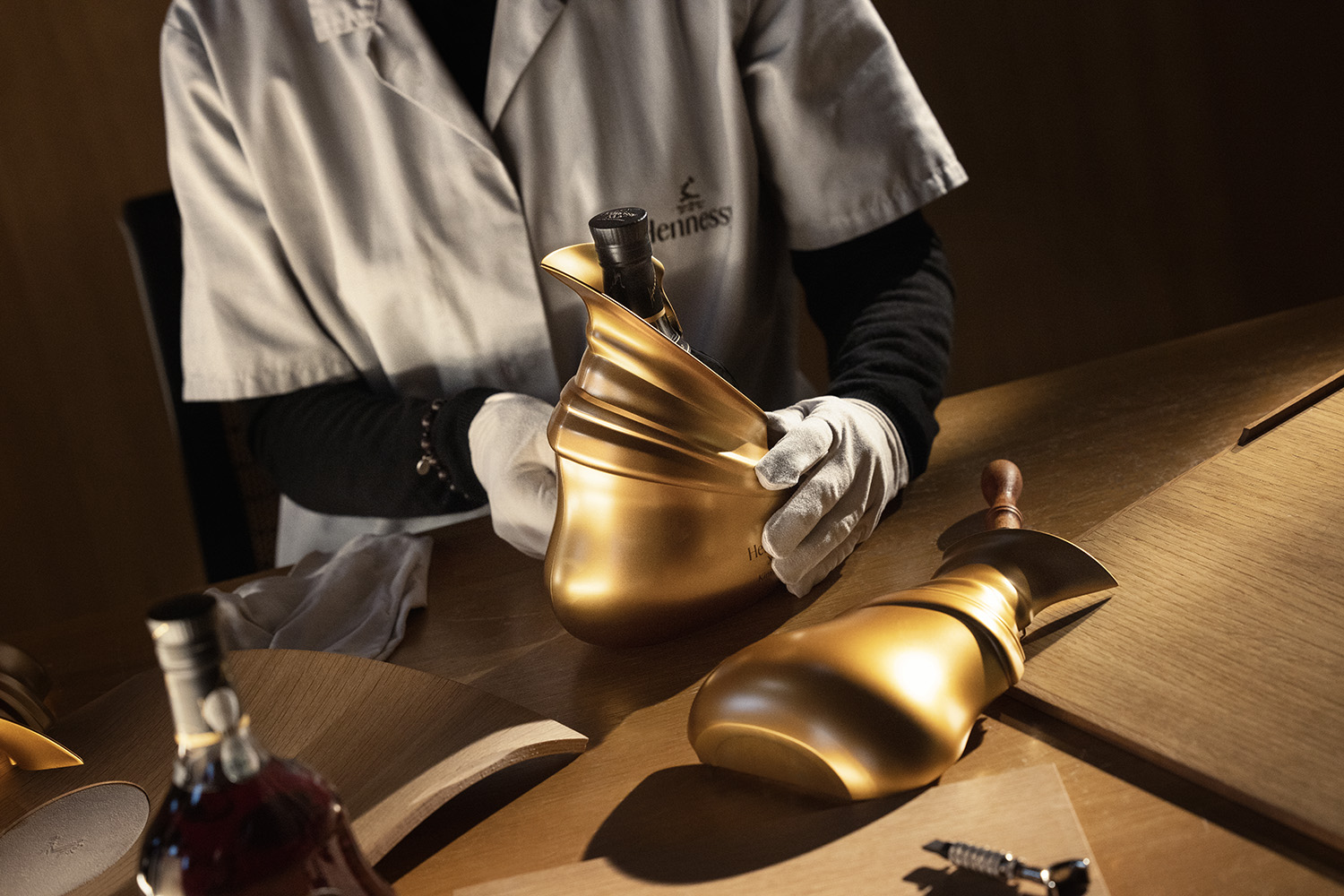 Never one to simply stamp a logo on something, Jones has turned his collaboration with Hennessy into a true work of art, thoughtfully integrating the 250 years of history, culture, and unique elements of the brand while adding his own creative vision. The result is a piece of history with a striking contemporary twist, plus a dose of his signature streetwear-infused aesthetic.
The collaboration marks a first for Hennessy, too, with its debut into the fashion world. The Hennessy sneakers, dubbed HNY Low by Kim Jones, are a pair of basketball-inspired kicks rendered in a deep Cognac brown suede. The handsome shoe was produced at an LVMH-owned shoe factory in Italy. The initials "KJ" and Hennessy's emblem are featured on the sole, and they come presented in an elegant oak box.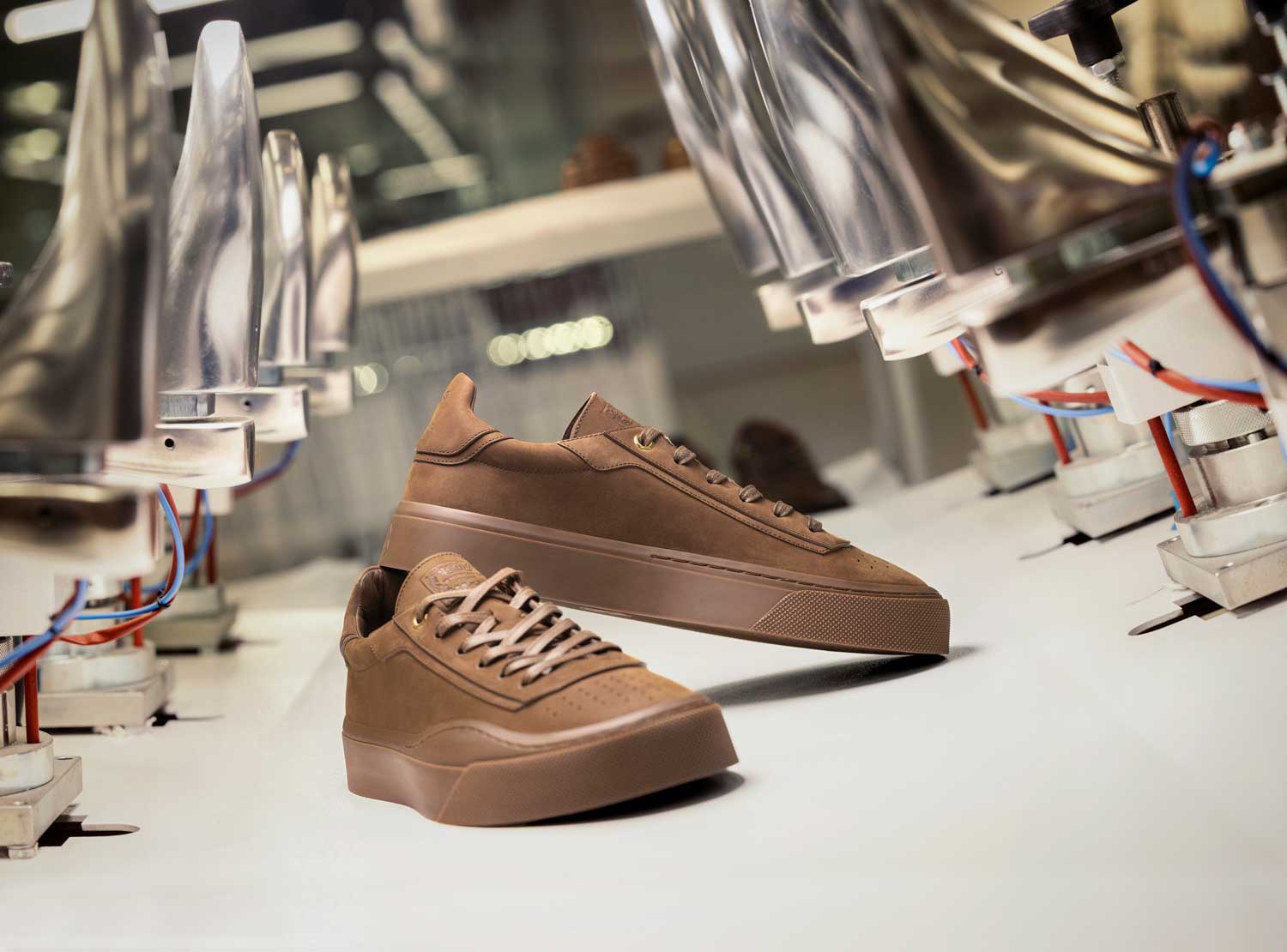 To celebrate the major collaboration, some 300 guests were hosted at an exclusive party on March 16 at the Battersea Arts Club in London, a sprawling building that was once the Battersea Town Hall, built in 1893 by Edward Mountford. The cavernous main space had been totally transformed by Hennessy, with a large stage featuring screens playing "The Fabric of Time," a campaign video created by French creative trio Bleu Désert depicting Jones as he steps into the Hennessy X.O universe.
Throughout the night, guests were served Hennessy X.O neat or on ice by an innovative white robot at each end of the bar. There was also an assortment of Hennessy X.O cocktails, including the Chocolate Lull, Sweet Notes, Spicy Edge, and Wood Crunch. In mirrored-gold hexagonal cases, the sneakers and decanter got their moment in the spotlight, with guests crowding around to snap selfies with the products. Halfway through the evening, British rapper Little Simz took to the stage, performing an intimate 20-minute set to the star-studded crowd, which was made up of style tastemakers, artists, trendsetters, and celebrities including Daniel Kaluuya, Will Sharpe, Aron Piper, Paul Forman, Daryl McCormack, Olivia Parlermo and her husband Johannes Huebl, Jourdan Dunn, and Knucks.
Next Post