Fashion Icon Kenzo Takada's Extensive Collection Hits the Auction Block
More than 600 pieces from the legendary designer's Paris apartment are being offered in a May 11 Artcurial sale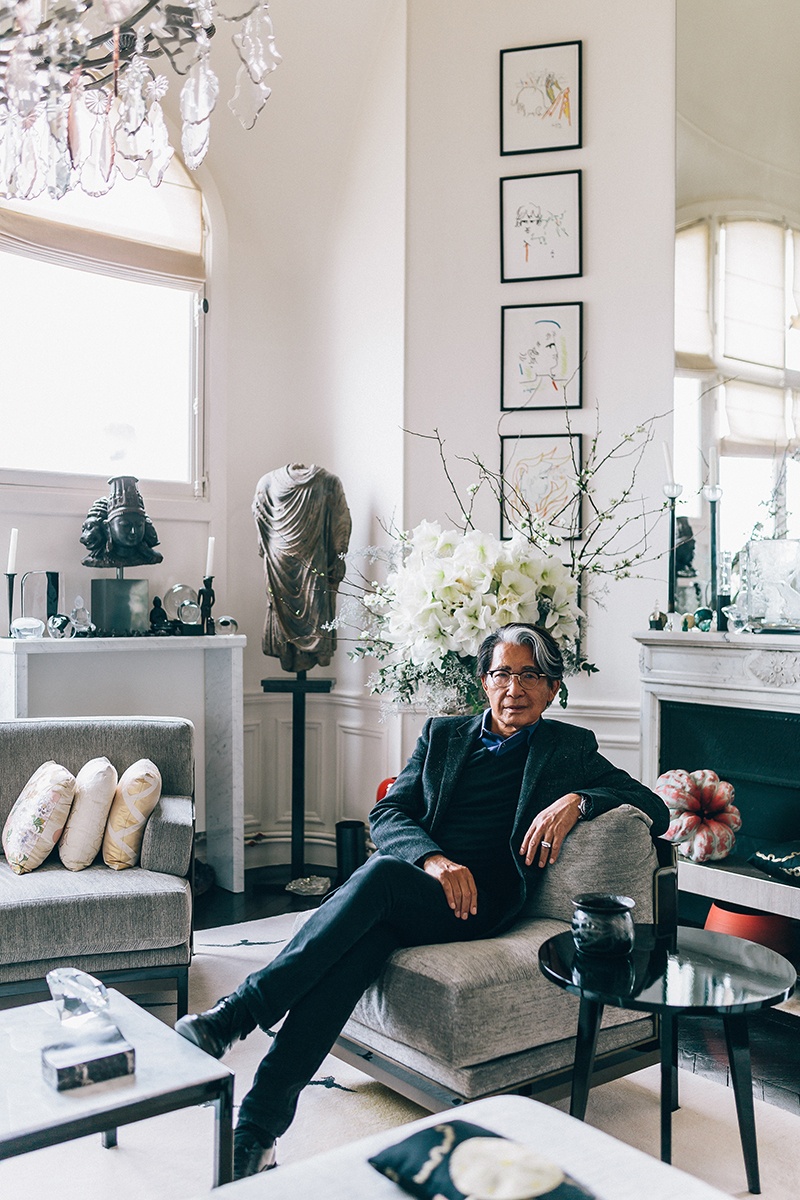 When legendary designer Kenzo Takada succumbed to complications from COVID-19 last fall, he left behind a tremendous legacy of vivacious patterns, inspired by the dynamic prints found in traditional kimonos, and groundbreaking styles that paved the way for other Japanese talents. Born in Himiji, Takada first visited Paris in 1964, but inspired by talents like Yves Saint Laurent, he decided to make the French city his home, launching his brand in small jungle-themed storefront in Galerie Vivienne six years later.
Over time, he expanded offerings to include fragrances and home goods, became a founding member of French fashion's official governing body, and eventually sold his namesake brand to LVMH. In January 2020, Takada's new furniture and home design company, K-3, was unveiled at Maison & Objet.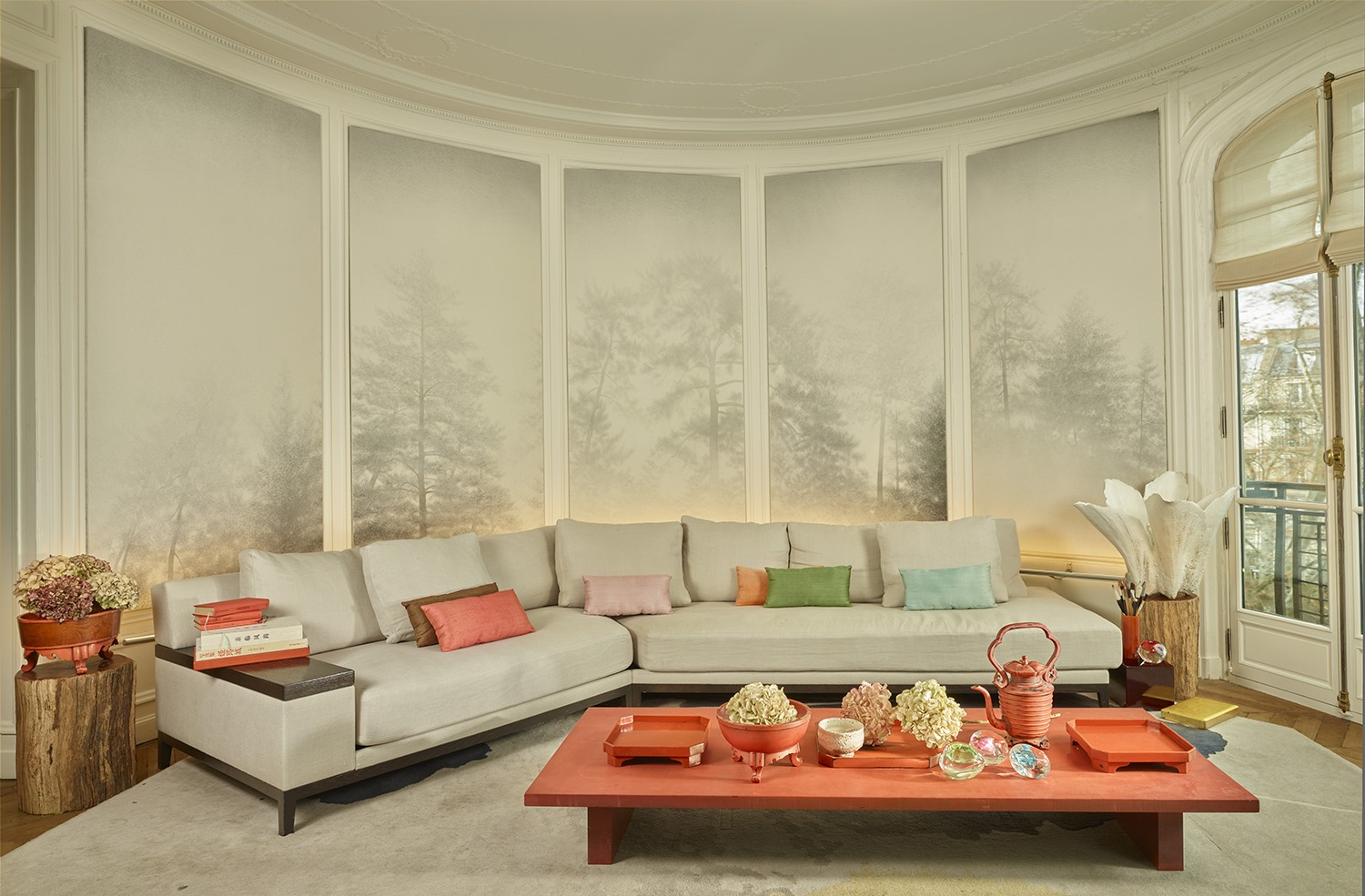 In Paris, Takada resided in a remarkable Haussmann apartment in Saint Germain des Près on the city's celebrated Left Bank. Come May 11, Artcurial will host an auction of more than 600 lots culled from the apartment where the designer lived for more than 15 years. Among the offerings are pieces of Asian, pre-Colombian, and tribal art, as well as photographs, contemporary artworks, crystal chandeliers, Art Deco furniture, and custom pieces created by the designer himself.
"The very first impression when walking inside the apartment for the first time was a feeling of harmony," says Artcurial auctioneer Stéphane Aubert. "Every object was carefully selected and displayed, creating a perfectly balanced interior. It combined elegance and eclecticism, the beauty of the East and the West. Japan, of course, was a very important source of inspiration for him, but his apartment also revealed a broader interest in various cultures and periods. From Japanese screens and African masks to furniture, his home was a genuine example of cultural blend."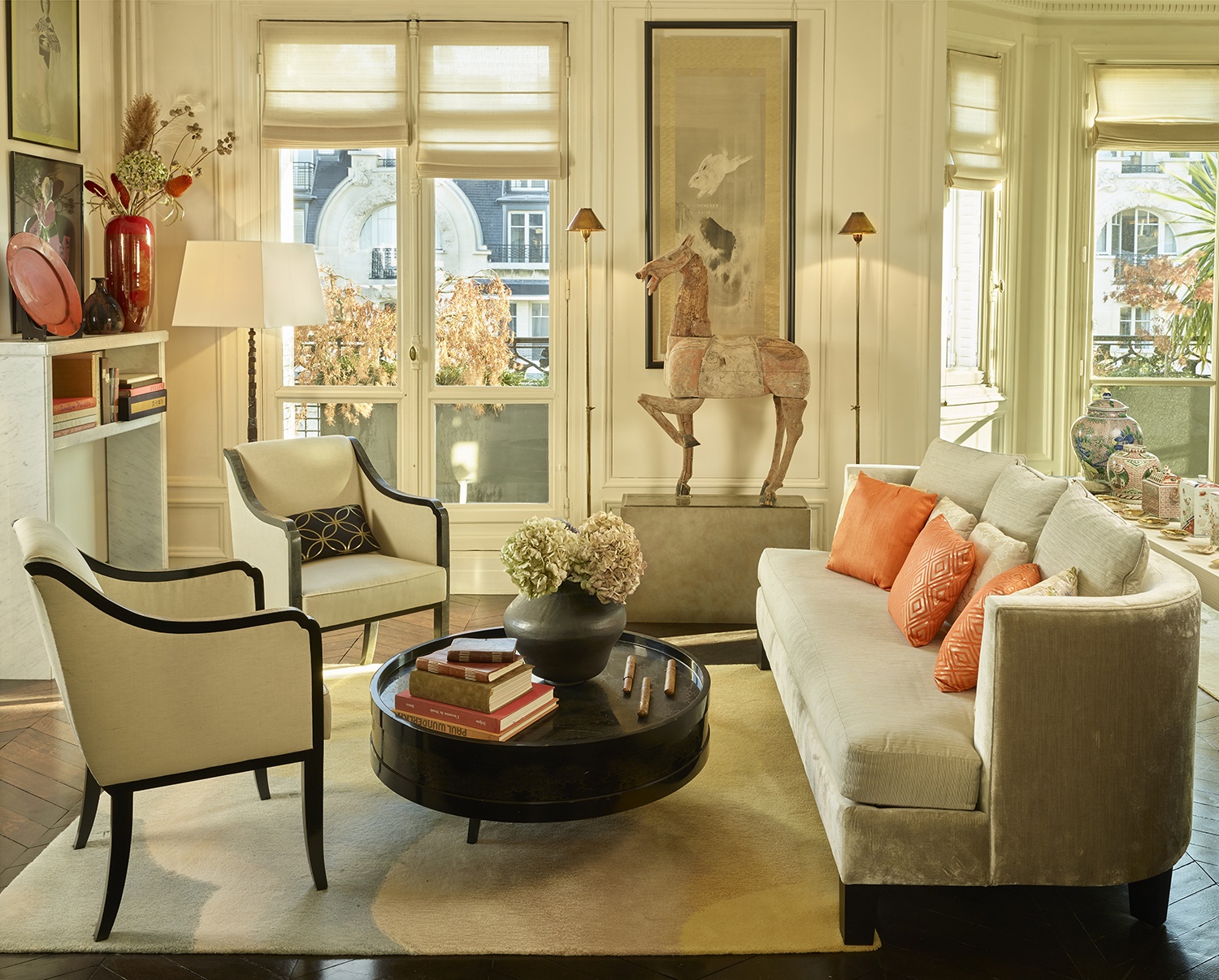 With such an array of fashion influences, Takada's possessions were equally varied, encompassing unique pieces like a wooden Hinoki horse from the Han period, a Buddha torso dating from the 2nd or 3rd century, contemporary photographs by William Eggleston, and a beautiful Pleyel grand piano by Jacques-Emile Ruhlmann. Additionally, his collection contained an extensive amount of tableware including Baccarat crystal, Japanese stoneware, and Murano glassware.
"His collection and his creations are a reflection of Kenzo Takada's personality," says Aubert. "The thoroughness and attention to detail of the fashion designer also transpire in the way he collected. The cross-cultural dimension that was so dear to him is also a common thread."
Additionally, the apartment held a number of fashion items which will be sold in a special online-auction May 3–11. "While doing an inventory of the apartment we discovered around 100 designs by Kenzo Takada: colorful jackets with floral prints, embroideries, satin gowns, Japanese inspired pieces such as kimonos and also some flat patterns and menswear," Aubert tells Galerie. "Most of these fashion pieces are signed 'Takada' or 'Gokan Kobo,' and some still contain pins. These fashion designs are very representative of the Kenzo spirit."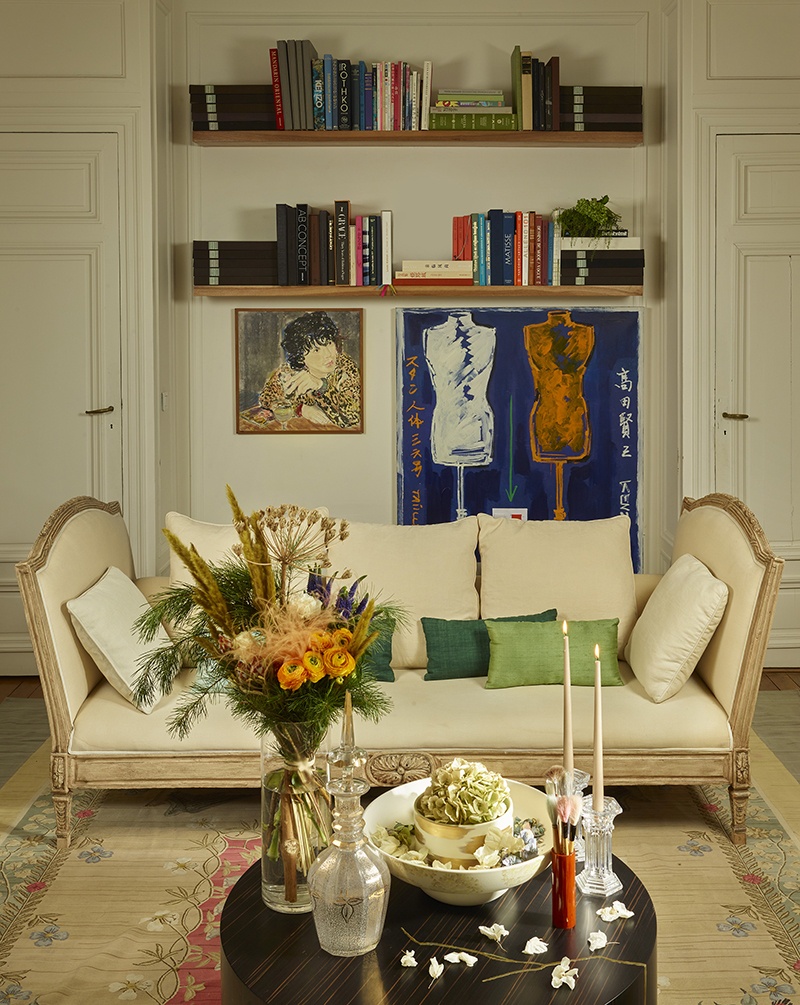 That same spirit permeates the custom furniture pieces Takada created for his own home. "After years of working in the fast-paced world of the fashion industry he wanted to focus on a slower creative process and shifted to design furniture," Aubert says. "It allowed him to create more timeless objects such as the low table and vases born from his last project, K-3, that will be presented during the sale."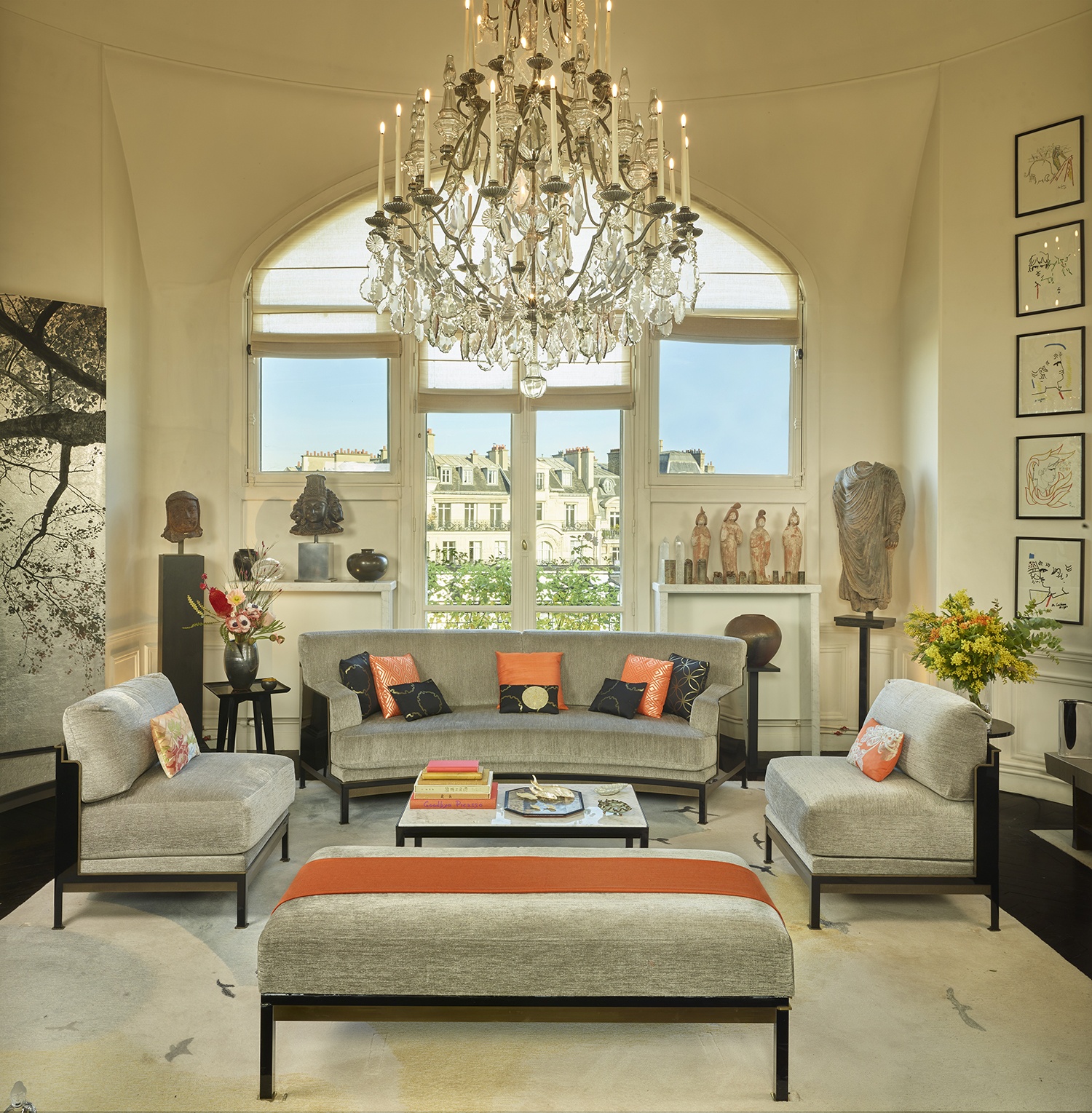 Guests will be able to view a number of pieces from the upcoming auction at Artcurial's Paris headquarters in the Hôtel Marcel Dassault at the corner of the Avenue Montaigne and the Rond-Point des Champs-Elysées, Paris. "The Haussmannian style of the Hôtel Marcel Dassault almost perfectly matches the style of Kenzo Takada's building, making the perfect setting," says Aubert. "We are looking forward to giving an opportunity to amateurs and collectors alike to uncover a more intimate side of the very well-known public figure that was Kenzo Takada."
See more of Kenzo Takada's Paris apartment below. 
Next Post