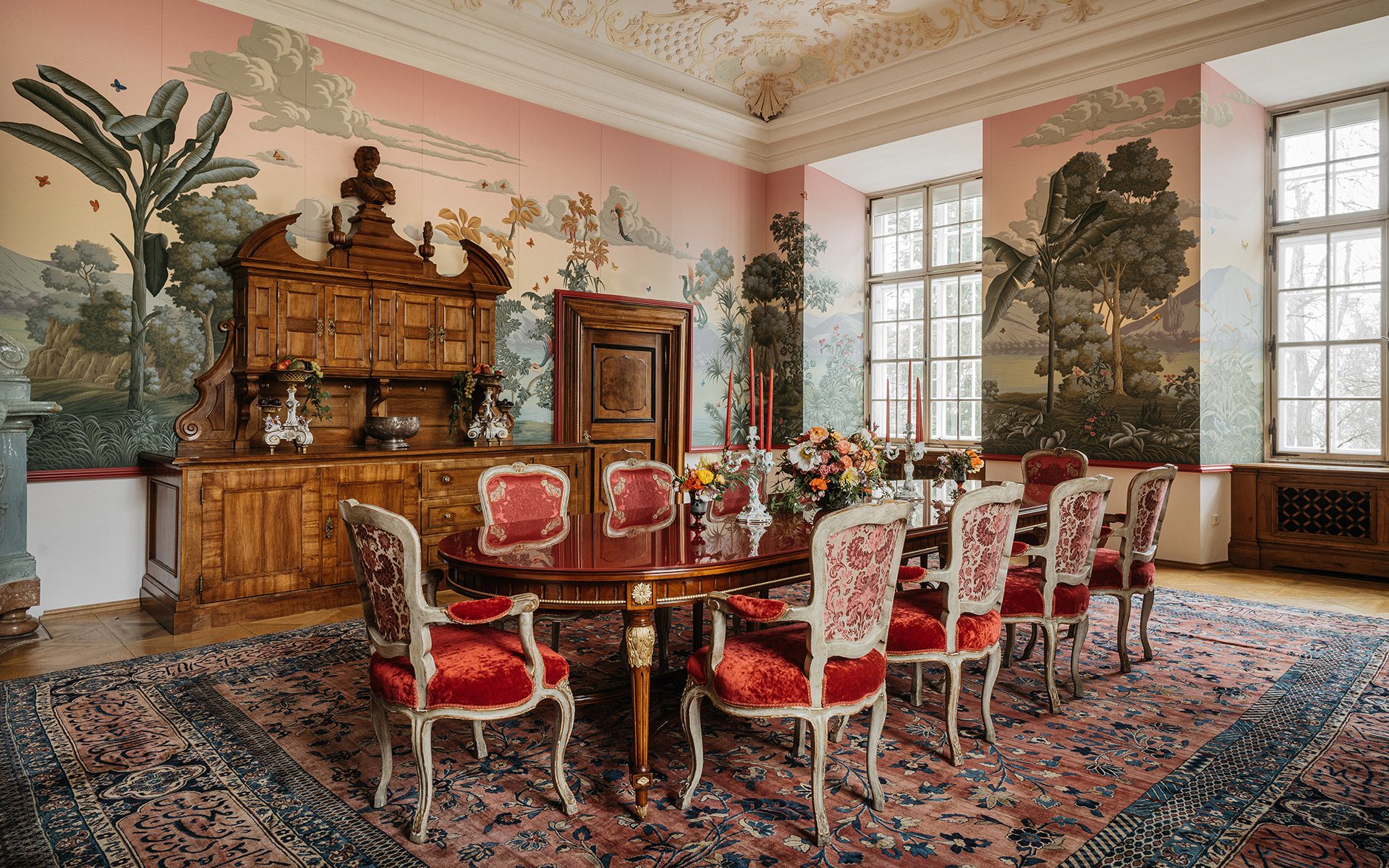 Ken Fulk Restores the Spectacular Red Salon at Austria's Famed Hotel Schloss Leopoldskron
The stunning recreation debuts in time for the 150th birthday of the landmark's earlier resident, celebrated Austrian theater director Max Reinhardt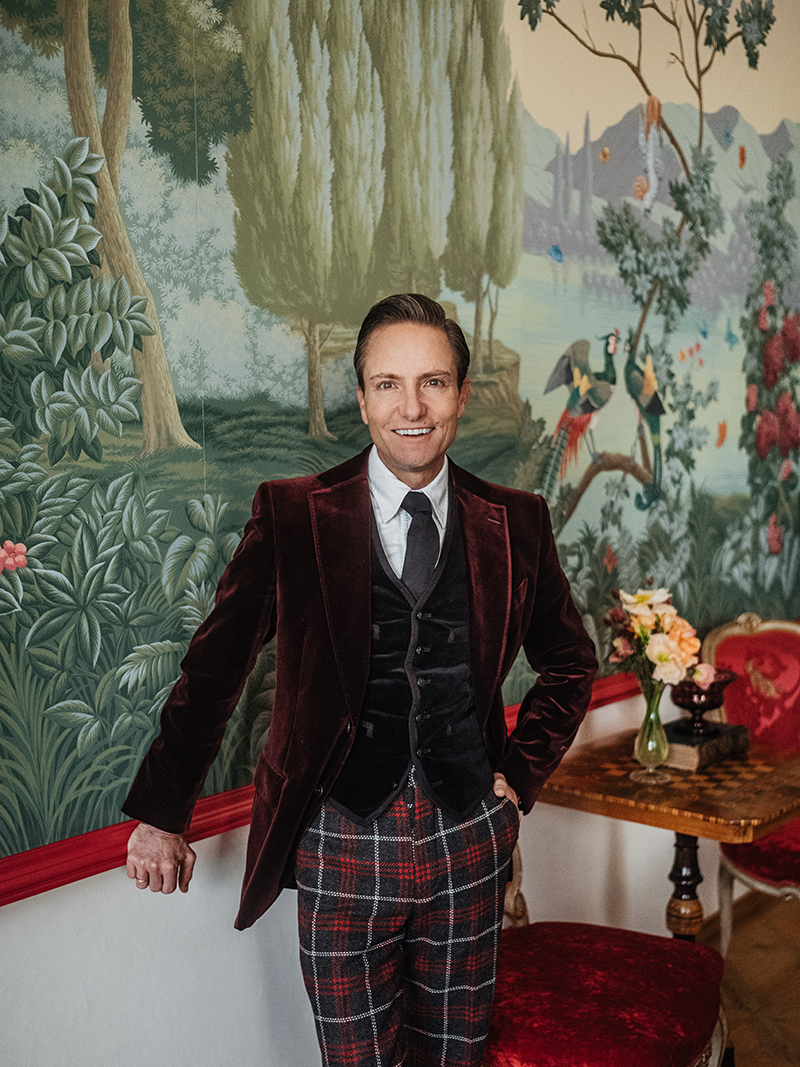 Considered one of Austria's most glorious destinations and a must-visit stop for the cultural cognoscenti, Salzburg's Hotel Schloss Leopoldskron boasts a fascinating history as well as stunning architectural flourishes. Dating to 1736, the historic castle originally housed noble residents and an enviable art collection—but after repeatedly changing hands over the years, the property eventually fell into disrepair until being rescued by celebrated theater director and Salzburg Festival cofounder Max Reinhardt in 1918. As fate would have it, however, the site was seized by the government during World War II, and Reinhardt was never able to return before his death in 1943.
Today, the Schloss Leopoldskron serves as a living museum of sorts, home to both a picturesque hotel and the Salzburg Global Seminar, a nonprofit dedicated to promoting positive change in education, health, culture, and other global fields. Over the last decade, gradual improvements have been made to enhance the landmark's historical significance, including preserving its art collection, reconstructing rooms in homage to The Sound of Music, which was partially filmed onsite, and restoring its magnificent gardens.
One of the latest developments is the recreation of the Red Salon, undertaken by designer Ken Fulk in partnership with Trevor D. Traina, the former United States Ambassador to Austria. "The historic fabric of the Schloss is pretty much intact, with the beautiful park, all of these glorious Baroque rooms, and a chapel from 1738," says Fulk. "In what would be the piano nobile, Max created his own spaces."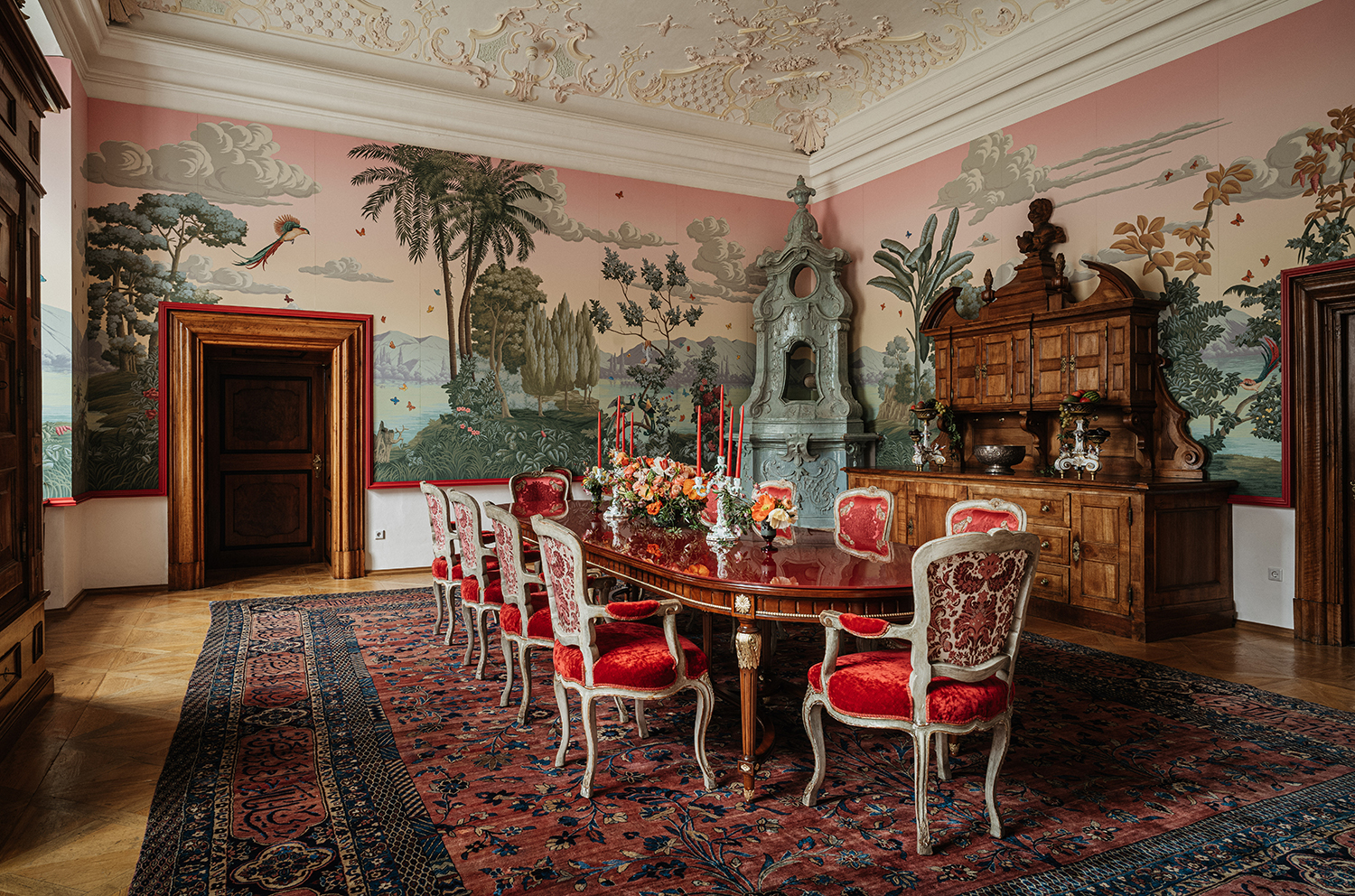 While Reinhardt's other theatrical rooms had previously undergone reconstruction, his Red Salon—where the documents to form the Salzburg Festival were signed—had never been recreated. And with no historical photographs to guide the restoration, Fulk was left to reinterpret Reinhardt's vision on his own. "We were inspired by the work we had done in Vienna at the ambassador's residence and were going to create an expansion of that concept, where we had done these beautiful Klimt-inspired hand-painted walls," says the designer.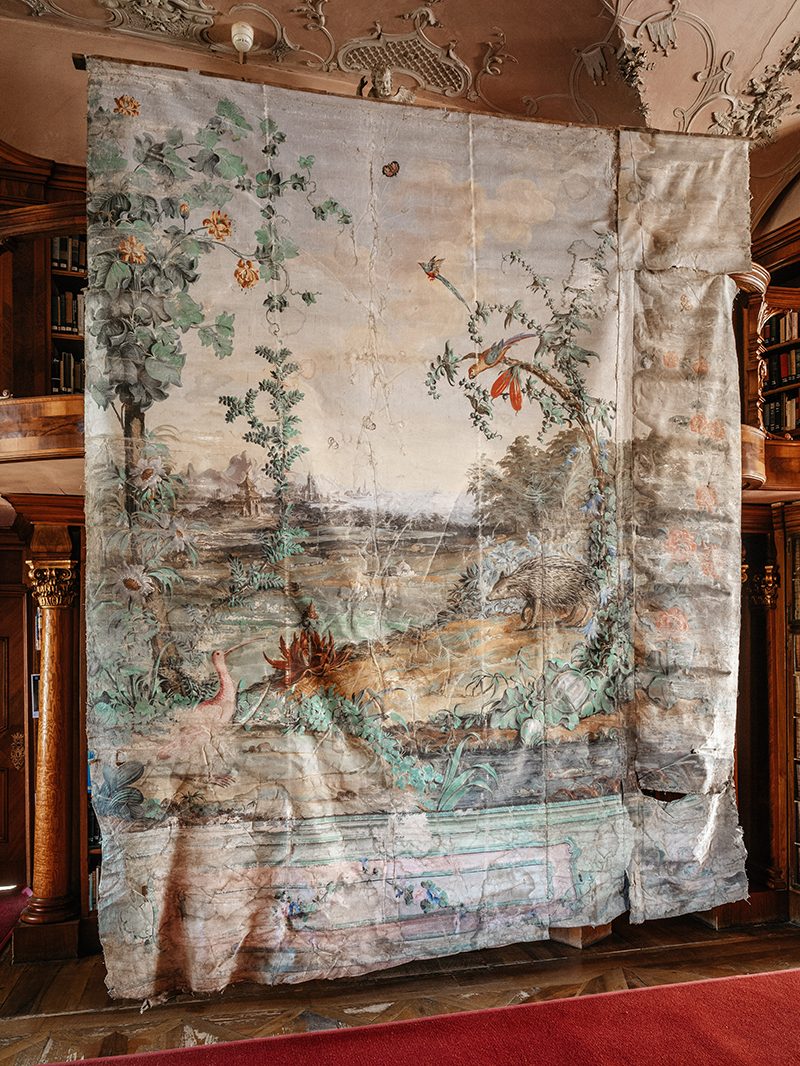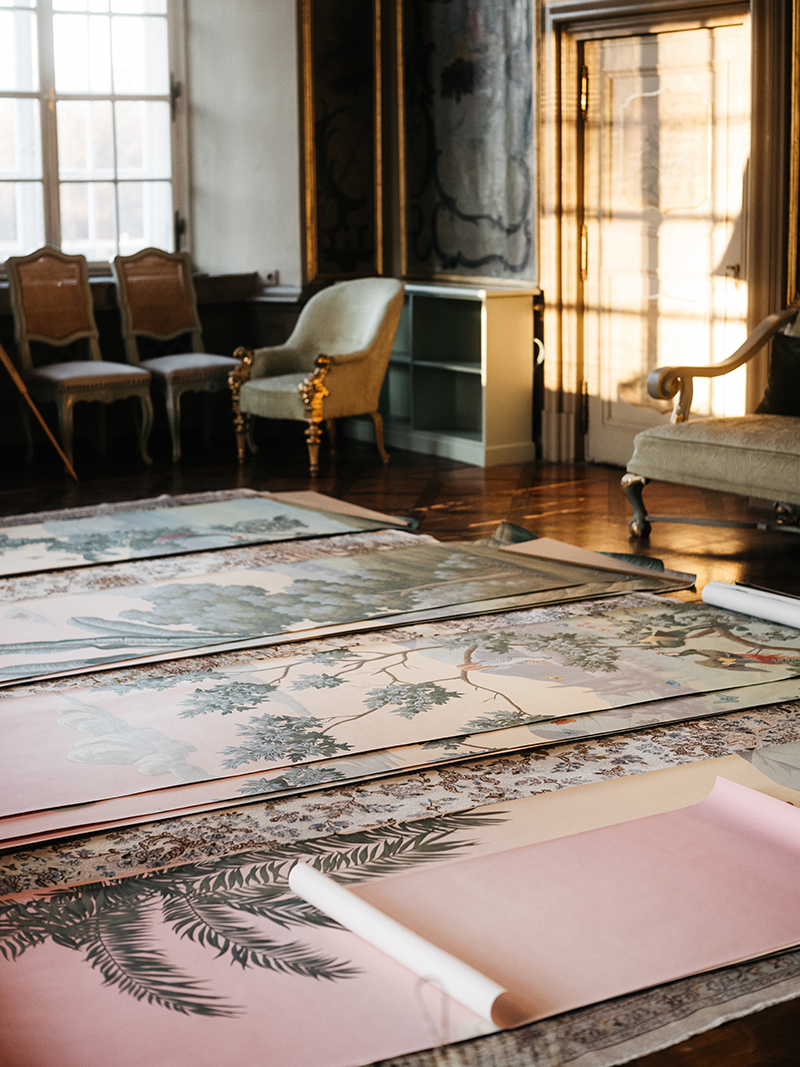 During the period that the project was waylaid due to the pandemic, the Schloss uncovered some of Reinhardt's original backdrops of flora and fauna. Instead of his planned design scheme, Fulk reimagined the antique scrims in collaboration with De Gournay, constructing large-scale panels that float on top of the room's original walls. "We created this custom, wonderful narrative wall covering inspired by this piece of theatrical scrim from Max's time," Fulk tells Galerie. "I feel like I relate to him in some way. When he left the Schloss, he writes back to his wife that his heart and soul was in this place. It's a really beautiful story about architecture and art and music and its ability to inspire and lift us up and overcome despite tragedies and atrocities. That sounds so lofty, but it's really true, and this room is exemplary of that idea that life is going to continue. And it feels lovely to play some small part in the connective tissue of of carrying that on."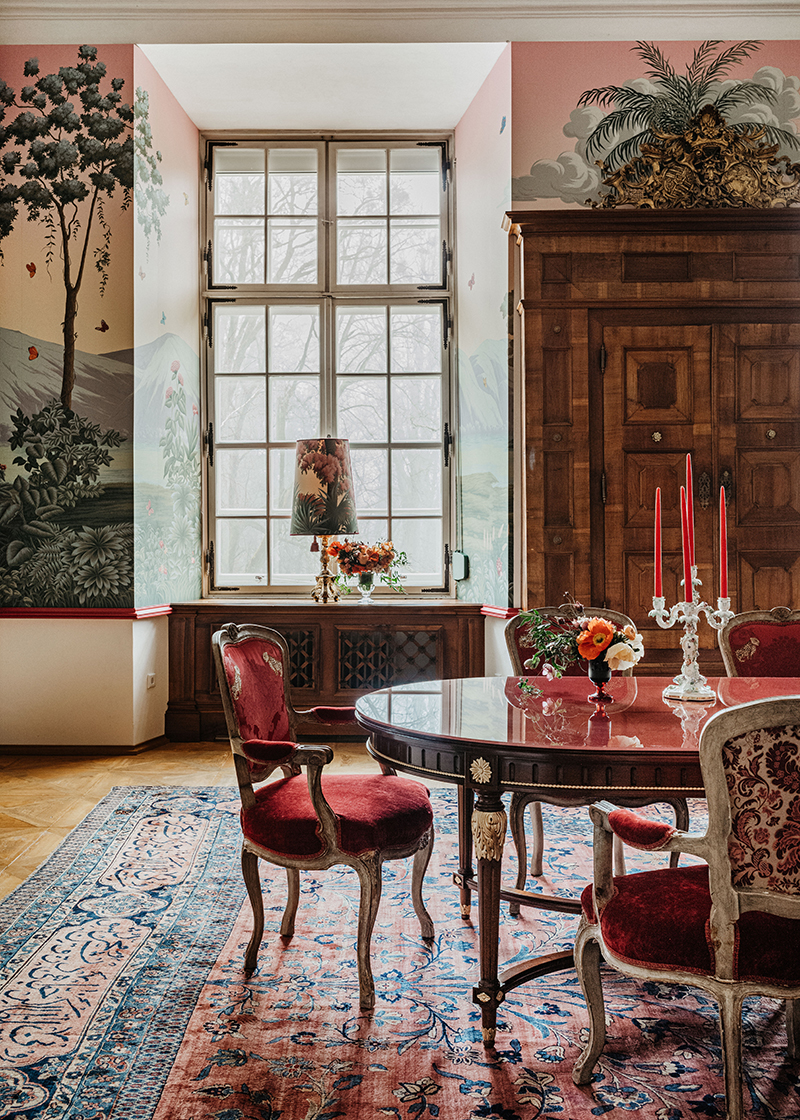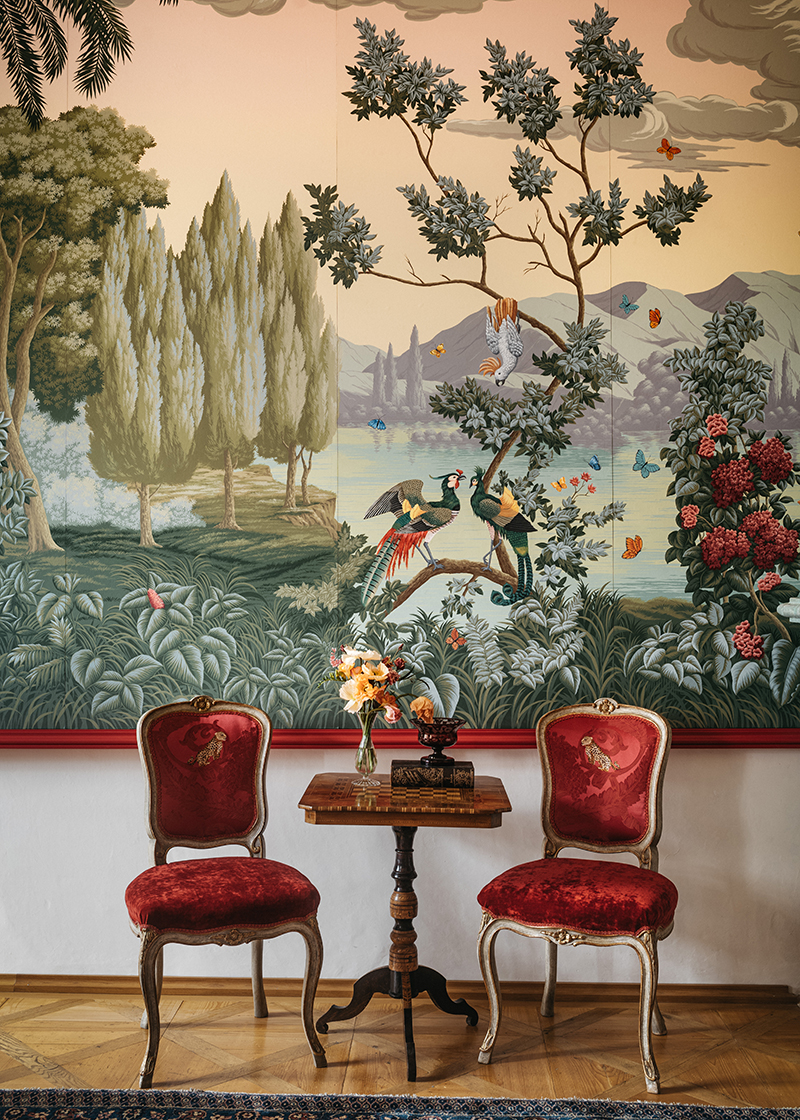 Fulk also restored the parquet floors and Baroque ceiling, uncovering the original pink and green hues from 1738, and brought a "crazy, wonderful" Austrian heater back to life. Tables and a rug were sourced from the Austrian auction house Dorotheum, while other chairs discovered inside the Schloss were reupholstered in a crimson fabric for to match the space. Anchoring the room is a luminous table Fulk topped with a scarlet reverse painted glass, "so the table glows like a pool of red," he adds.
"I'm very moved by the purpose of this place, so it was a heartfelt collaboration," says Fulk, who donated his services to the project with Traina underwriting the restoration. "If you find yourself in Austria, it is so worth going."
Next Post