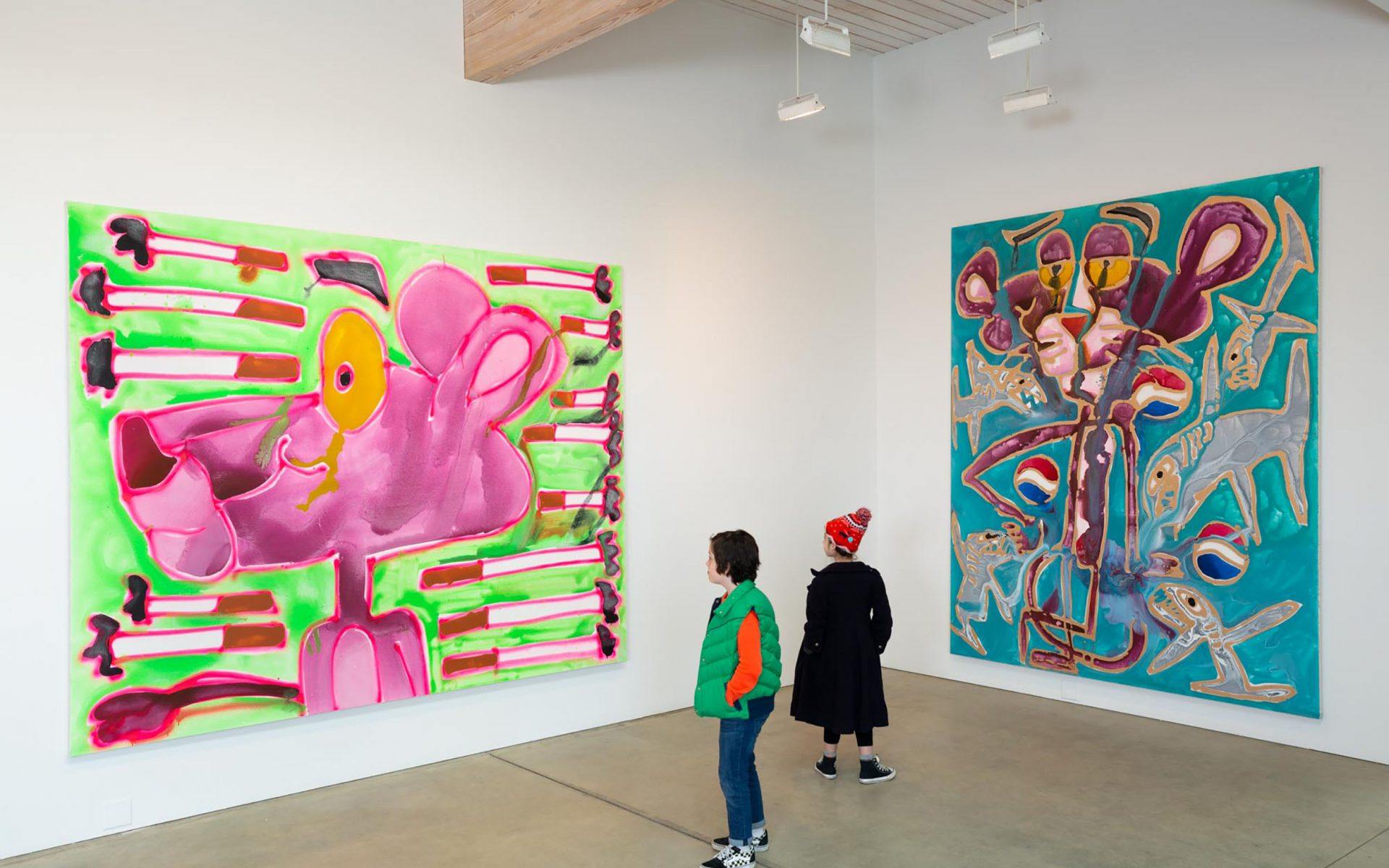 How the Pink Panther Inspired Katherine Bernhardt's New Paintings
The Brooklyn-based artist talks to Galerie about her new show at Art Omi in upstate New York
On a recent trip to Hawaii, at the Pink Palace Hotel in Waikiku, the artist Katherine Bernhardt and her eight-year-old son, Khalifa, were lounging on a pink bed, eating pink pancakes, and watching—what else?—The Pink Panther Show.
"Everything was pink," she tells Galerie with a laugh. "I thought, Oh my God, that's awesome. I should start making all-pink paintings."
Her latest series, a group of seven colorful canvases that center on The Pink Panther Show's titular protagonist, are just that. And they're now on view in a solo exhibition at Art Omi in Ghent, New York.
Recommended: 8 Art-Filled Day Trips to the Country This Spring
Splashily rendered in every shade of pink, from bubblegum to mauve, the beloved cartoon character is depicted beside illustrations of Scotch Tape, Star Wars characters, cigarettes, and toilet paper—all motifs from earlier works in Bernhardt's oeuvre. The figure is outlined with Champagne-colored strokes that give the exhibition its name: "Gold."
"It was a way for me to get back into figure painting," Bernhardt says. "Then I mixed that with the pattern-like work."
Comprising a gallery and a sculpture and architecture park on over 100 acres of land (Zach Feuer was appointed the director of the Fields Sculpture Park last May), Art Omi is one of several key players in the Hudson Valley's growing art scene. While its rolling grounds are home to installations by blue-chip artists and architects, the interior gallery—a modern, light-flooded building that boasts uninterrupted views of the surrounding fields—is devoted entirely to Bernhardt's new exhibition. The paintings are colossal in scale, some taking up entire walls with their intense, gestural renditions of the anthropomorphic cartoon character.
At the opening reception, the only other thing to make such a visual statement was Bernhardt herself, who had donned a multicolored poncho for the occasion. It's a piece she attained on a family trip to Marrakech, a repeat destination for the artist and her son, who stood beside her as she talked about the show.
Their bond features heavily in Bernhardt's work as well as in life. Khalifa had just spent the morning in his mother's art workshop for children. Though he said he doesn't particularly enjoy painting himself, it was his love of The Pink Panther that inspired the paintings in this room.
Bernhardt first got attention for her portraits of famous fashion models, which she showed at Canada Gallery in New York in 2008. But it's her more recent "pattern paintings" for which she is best known. In 2014, her show at Canada, "Stupid, Crazy, Ridiculous, Funny Patterns," featured paintings with unexpected subjects like hamburgers, cassette tapes, tacos, and watermelon slices rendered in patterns inspired by African textiles.
Recommended: How Peter Halley's New Show Will Dazzle a Whole New Generation
Later that year, Feuer (who was then a gallerist—he closed his namesake space in 2016) featured her work in the group show "Don't Look Now." Recalling the pop culture imagery of that exhibition, Feuer, who was wearing a sweatshirt featuring one of Bernhardt's Pink Panthers, was inspired to invite Bernhardt to exhibit her work work upstate.
"A large part of our audience at Art Omi are young people or people experiencing contemporary art for the first time," Feuer, who directs programming at the gallery in addition to the sculpture park, told Galerie. "We often try to program in a way that can provide an easy link for first time viewers to become more engaged with the broader art world. I thought the accessibility of Katherine's pop imagery as well as the easy-to understand-process could be a strong link for some of our newer art viewers."
More recently, Bernhardt had a memorable show in 2017 at the Lever House curated by Roya Sachs, in which she debuted a series of soft sculptures alongside her paintings and a wild and colorful installation with plants.
Bernhardt's show at Art Omi is the first of several programs opening at the space this spring and summer, which will shift its focus to the sculpture and architecture park as the weather improves. The latest world-class additions to its sculpture park are works by Christopher Wool, Nari Ward, and Steven Holl, an acclaimed architect who conceived a permanent limestone structure responding to the surrounding landscape. The grand opening of the park is scheduled for May 25.
"Katherine Bernhardt: Gold" is on view through May 18 in the Newmark Gallery at Art Omi, 1405 County Route 22, Ghent, New York.
Next Post