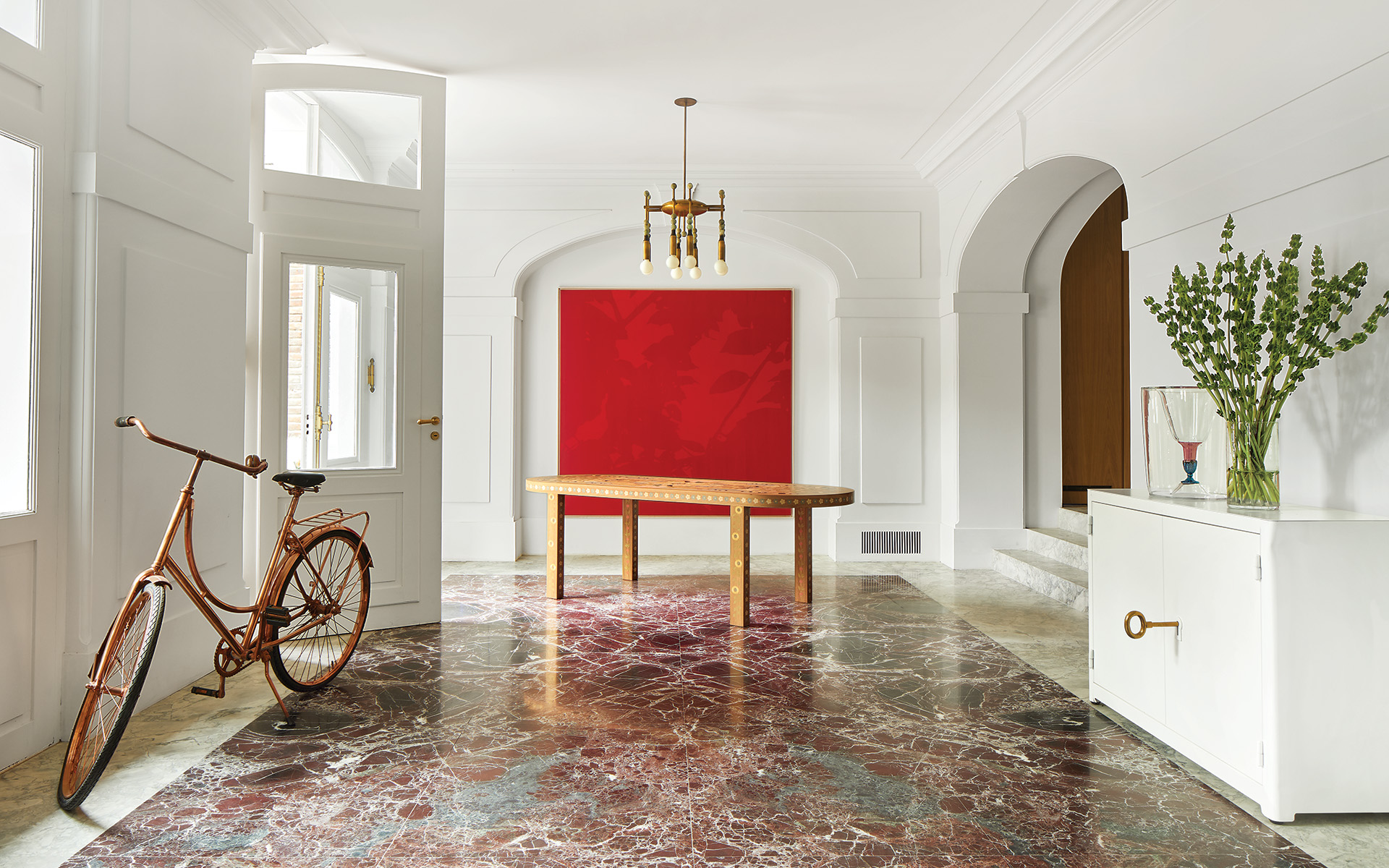 Kallos Turin Transforms a 1940s Neoclassical Townhouse in Buenos Aires into a Creative Retreat
Founding principals Stephania Kallos and Abigail Turin balance welcoming elegance with animating art and design elements that read as anything but traditional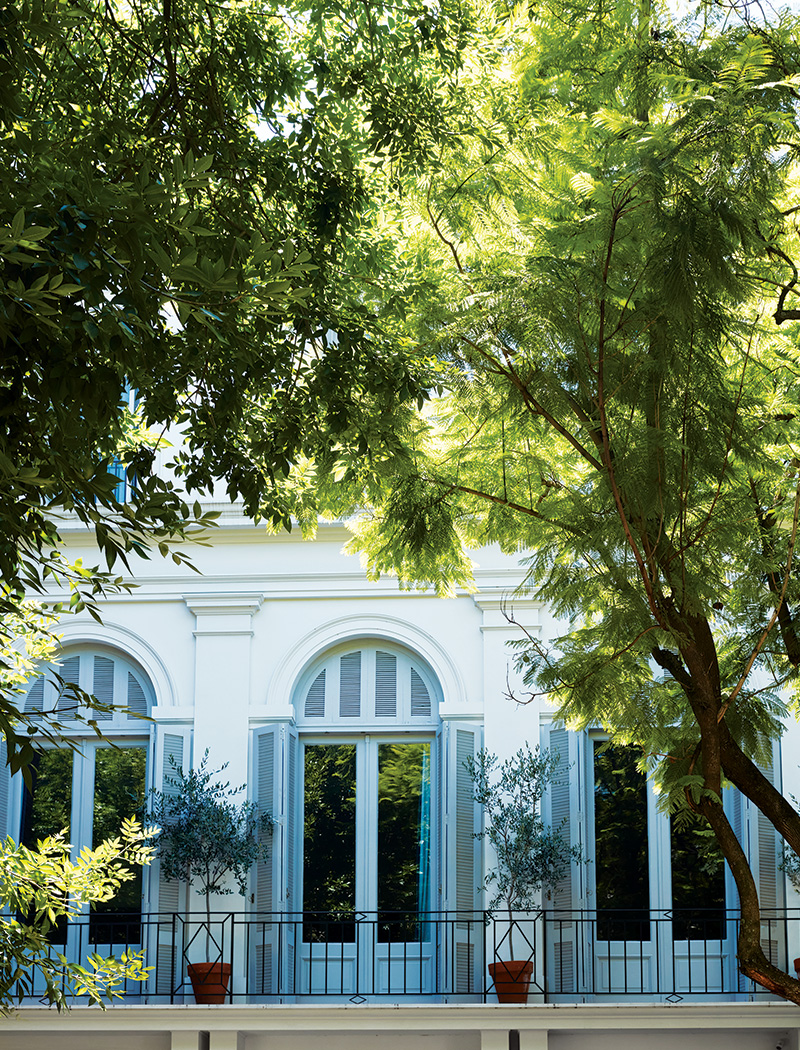 One would be forgiven for thinking that Kallos Turin isn't the most obvious architecture and interior design firm to have a thriving practice in South America. After all, founding principals Stephania Kallos and Abigail Turin are based in London and San Francisco, respectively. And yet the partners have built an impressive portfolio of residential and commercial projects in Uruguay and Argentina.
It all started with a commission from a London developer more than 15 years ago to design a series of strikingly modern residences in the Uruguayan beach town of Punta del Este, a popular retreat for wealthy Argentines. Kallos and Turin received an award from the Royal Institute of British Architects for their work, and other assignments in the region followed. The highest profile of these was their transformation of a stately 1920s mansion in the upscale Buenos Aires neighborhood of Palermo Chico into Casa Cavia, a stylish multifaceted destination with a restaurant, bar, florist, and event space.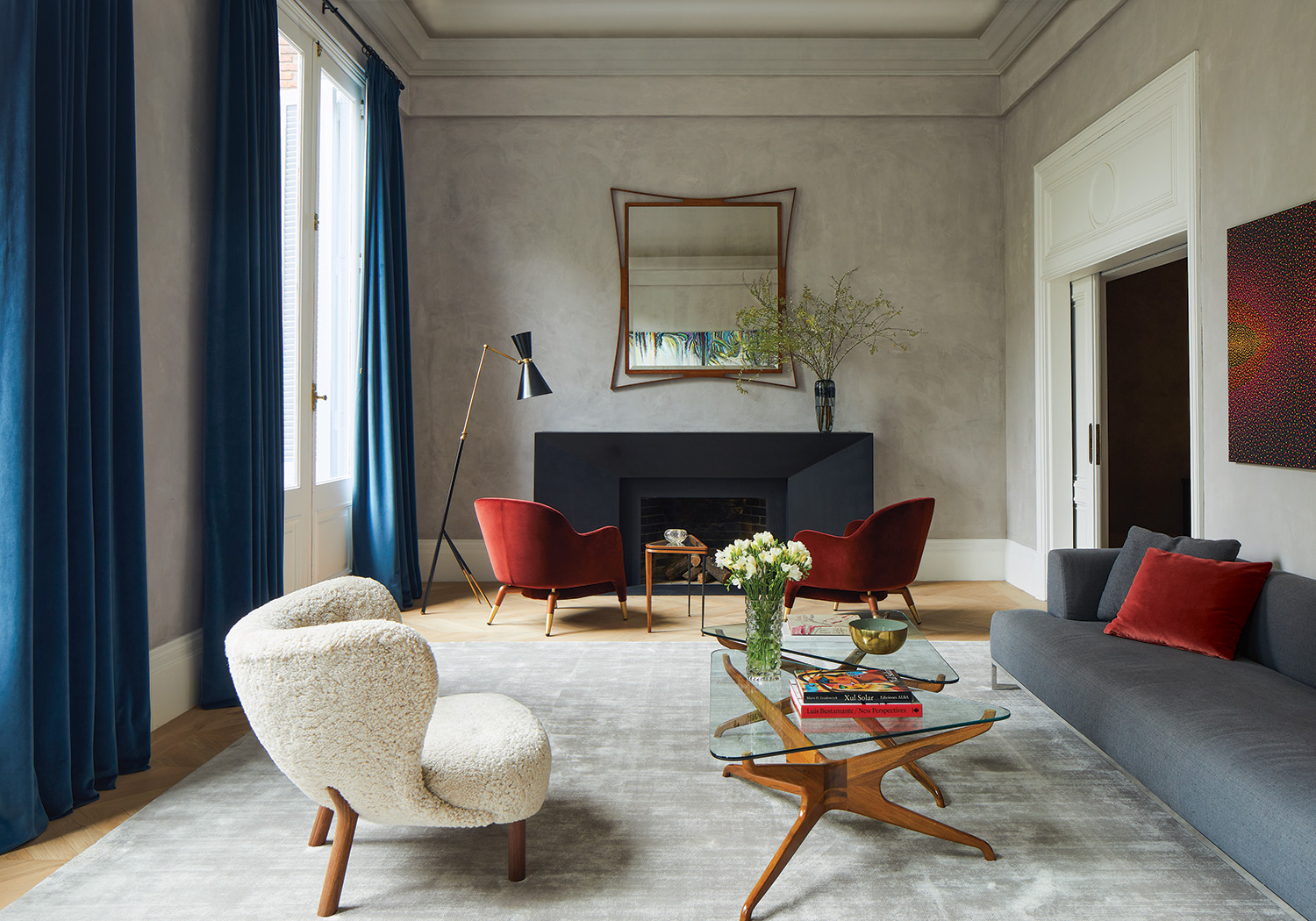 It wasn't long before the couple who own Casa Cavia reached out about another potential project, a new home on a nearby leafy street. The four-story, 1940s townhouse designed by Alejandro Bustillo, a prominent Argentinean architect known for his Beaux Arts buildings, features an elegant neoclassical façade, with pilasters and decorative ironwork, as well as a small front court and a private garden in back.
But the clients were concerned, Kallos says, with the way "the whole ground floor was cut up," a portion of it turned over to a garage and storage area, leaving just a "small, dark entrance that was really weird." The solution she and Turin devised was to create an expansive entry gallery across the front with symmetrical arched openings to the stair hall on one side and to an inviting library on the other. Most strikingly, they laid a new floor of painterly Rosso Levanto marble, its burgundy hues radiating like an Abstract Expressionist canvas. They also hung an eye-catching red painting by Argentinean artist Juan José Cambre at one end and furnished the room with just a few collectible design pieces, including a cabinet and a fancifully inlaid table by Studio Job, whose playful, exquisitely crafted work is sprinkled throughout the home.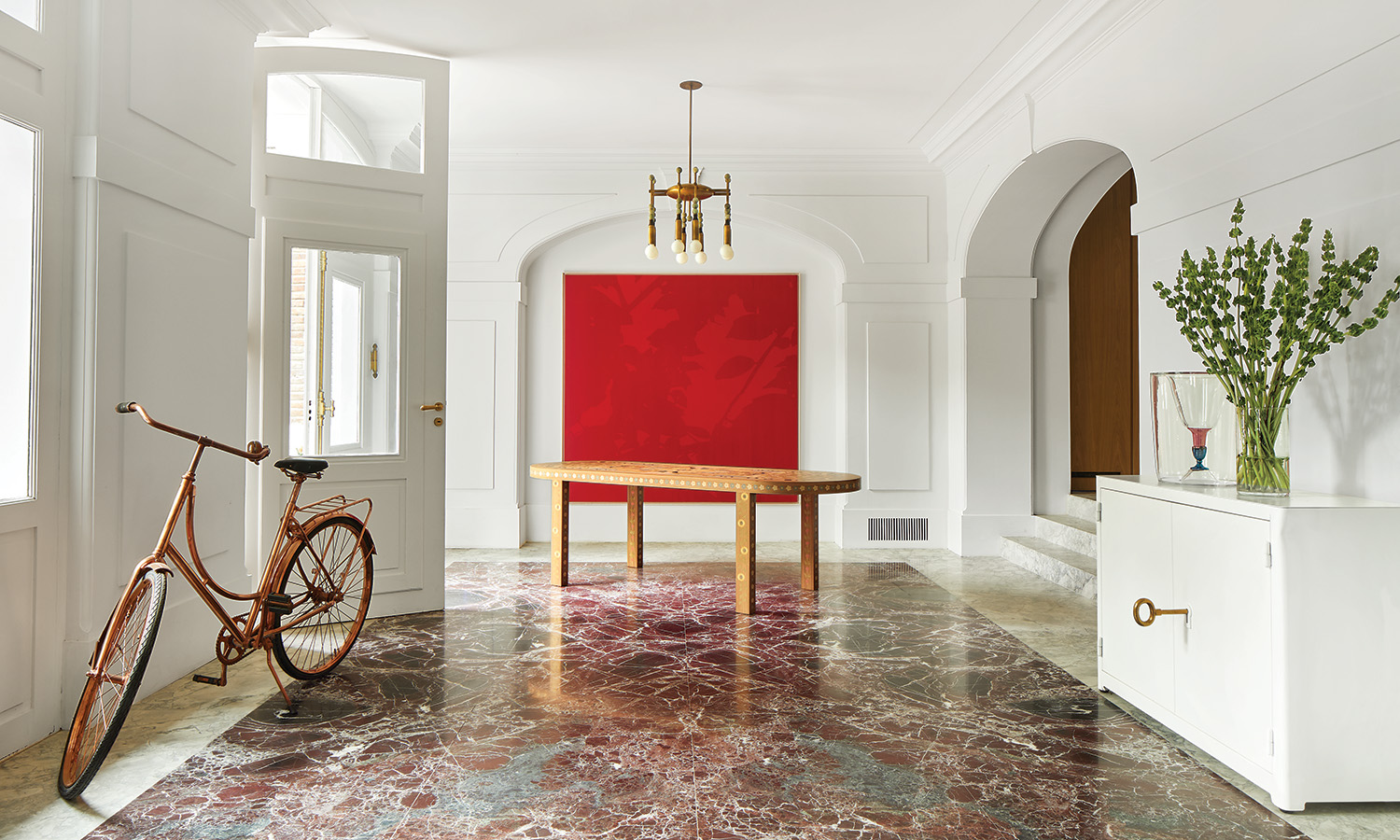 The reconceived ground floor is ideal for hosting salons and other events related to the wife's book company, with guests able to gather in the front hall or library and spill out onto a terrace overlooking the garden in back. "The entry area isn't designed like a conventional residential interior," says Turin. "It's really geared to her business."
There were other significant architectural changes—carried out with Mercer Seward Arquitectos, Kallos Turin's local partner—not least, excavating beneath the house to create a subterranean level for a wine cellar and space for intimate-scale entertaining. They also extended the awkwardly truncated staircase to the top of the house, adding a skylight to bring in natural light and replacing the glossy-marble stair treads with warmer oak.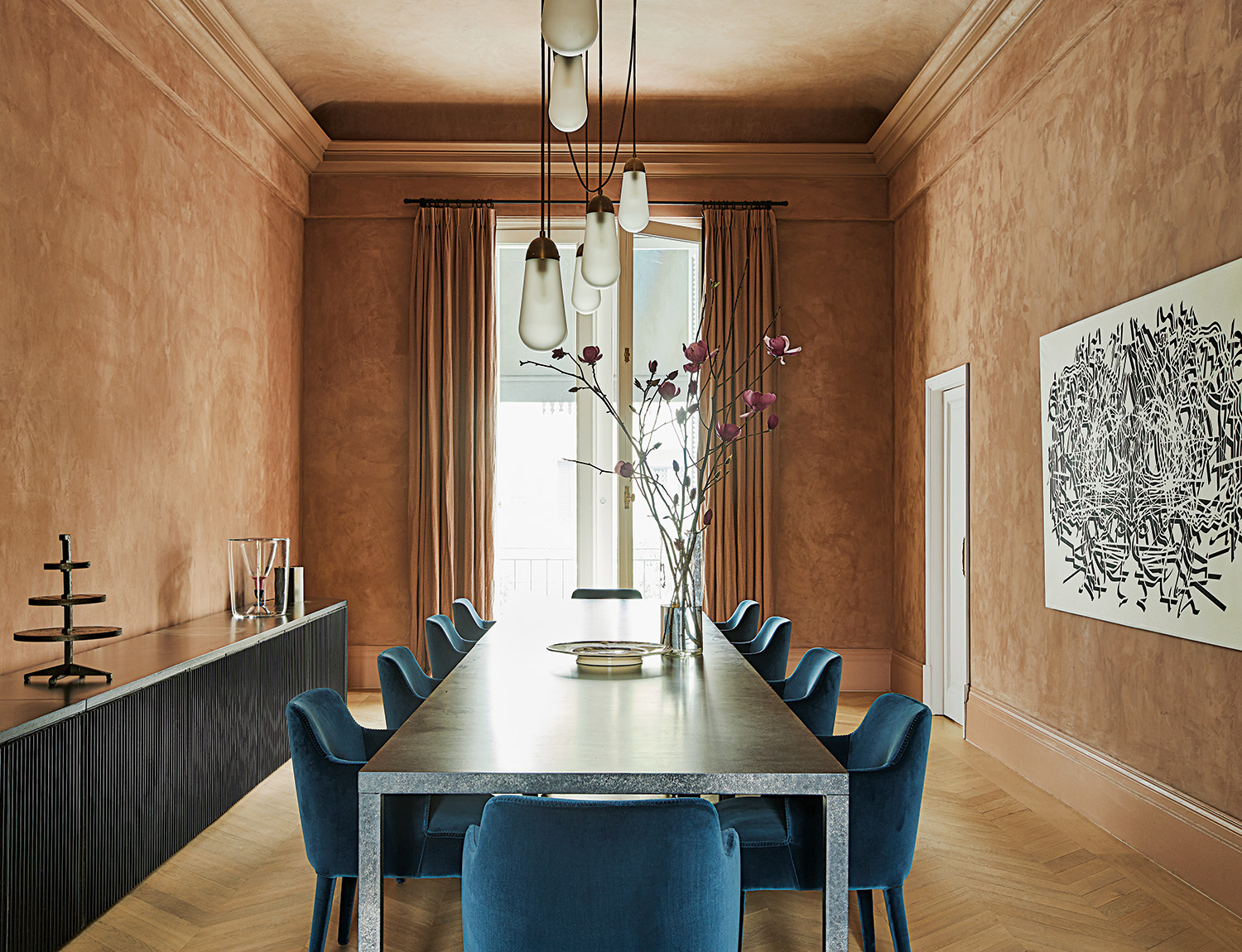 Given the condition of the house—"It was like an old lady had been living there since 1940," jokes Kallos—all of the floors and baths had to be redone. Ditto the modestly scaled kitchen, now a "little jewel box of efficiency," as Turin puts it, featuring minimalist glossy white cabinetry and an illusionistic cubic-pattern floor that weaves together stones used elsewhere in the house.
For Kallos and Turin, working on historical buildings typically involves finding ways to infuse the interior with a contemporary spirit. "The trick is always, what's the foil?" says Turin. "It's careful restoration combined with quirkiness or whimsy or something that cuts through the pretty picturesque."
"The trick is always, what's the foil? It's careful restoration combined with quirkiness or whimsy, something that cuts through the pretty picturesque"

Abigail Turin
Here that meant wrapping a powder room in Studio Job's droll gold-and-black Robber Baron wallpaper, say, or using Apparatus's sexy, sophisticated lighting fixtures, including in the dining room, where Kallos and Turin covered the walls and ceiling in a terra-cotta-hued Venetian plaster that almost resembles suede. They designed a boldly geometric, blackened-iron fireplace in the living room, a long, narrow space they divided into three distinct seating areas furnished with mostly vintage modern designs that can be easily reconfigured for guests. "You have to do that in Argentina," says Turin, "because the gatherings can get quite large."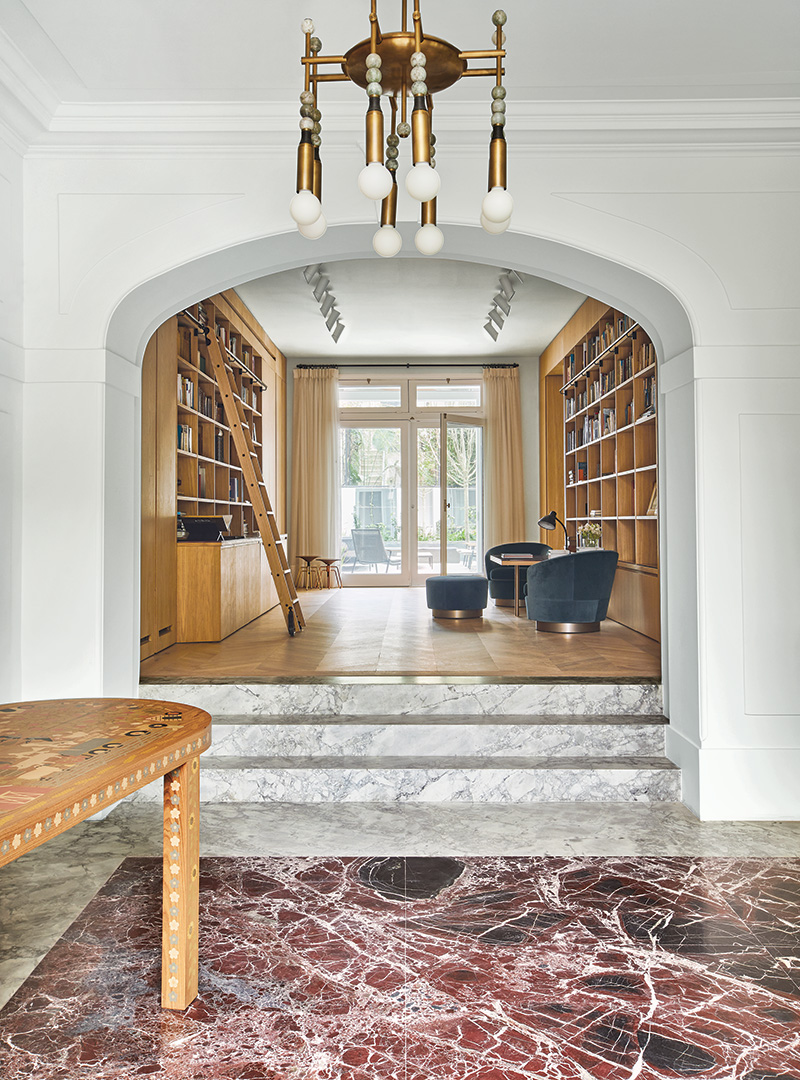 Another must-have in Argentina is a big outdoor grill. The duo installed one, partially enclosed in turquoise tile, in the back garden, where they also designed a lap pool and gravel terraces with multiple seating areas for cocktails and dining. They collaborated with landscape designer María Mulieri of Siempreverde on the plantings, including a lush poolside border of peace lilies.
The basement, which is outfitted with a wine room, a pool table, and lounge seating, is another entertaining area that gets a lot of use, especially by the husband. "He's able to have his friends every Tuesday night to watch football," says Kallos. "They bring food, lay it out on the table, and choose wine."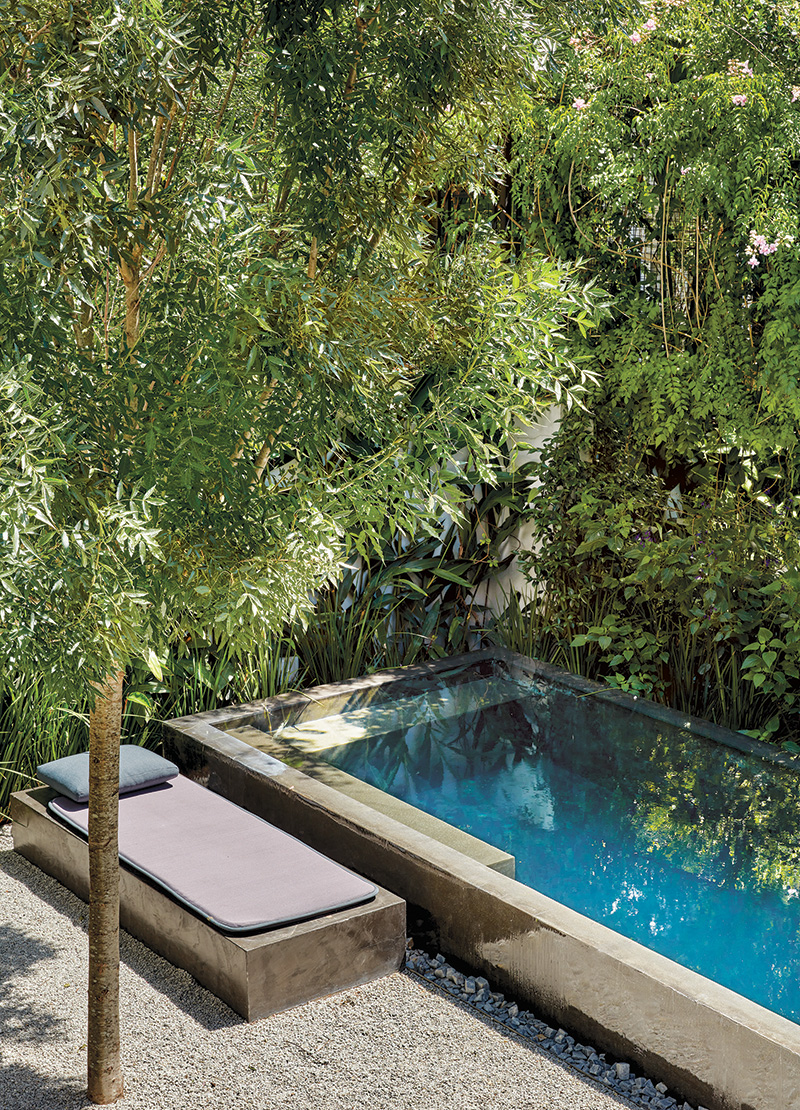 As with the rest of the interior, the basement's design feels appropriate both to the building's historical architecture and to the owners' modern-minded sensibility. "It's beautifully built," says Kallos. "And it just feels really good."
A version of this article first appeared in print in our 2023 Summer Issue under the headline "Ravishing Revision." Subscribe to the magazine.
Next Post