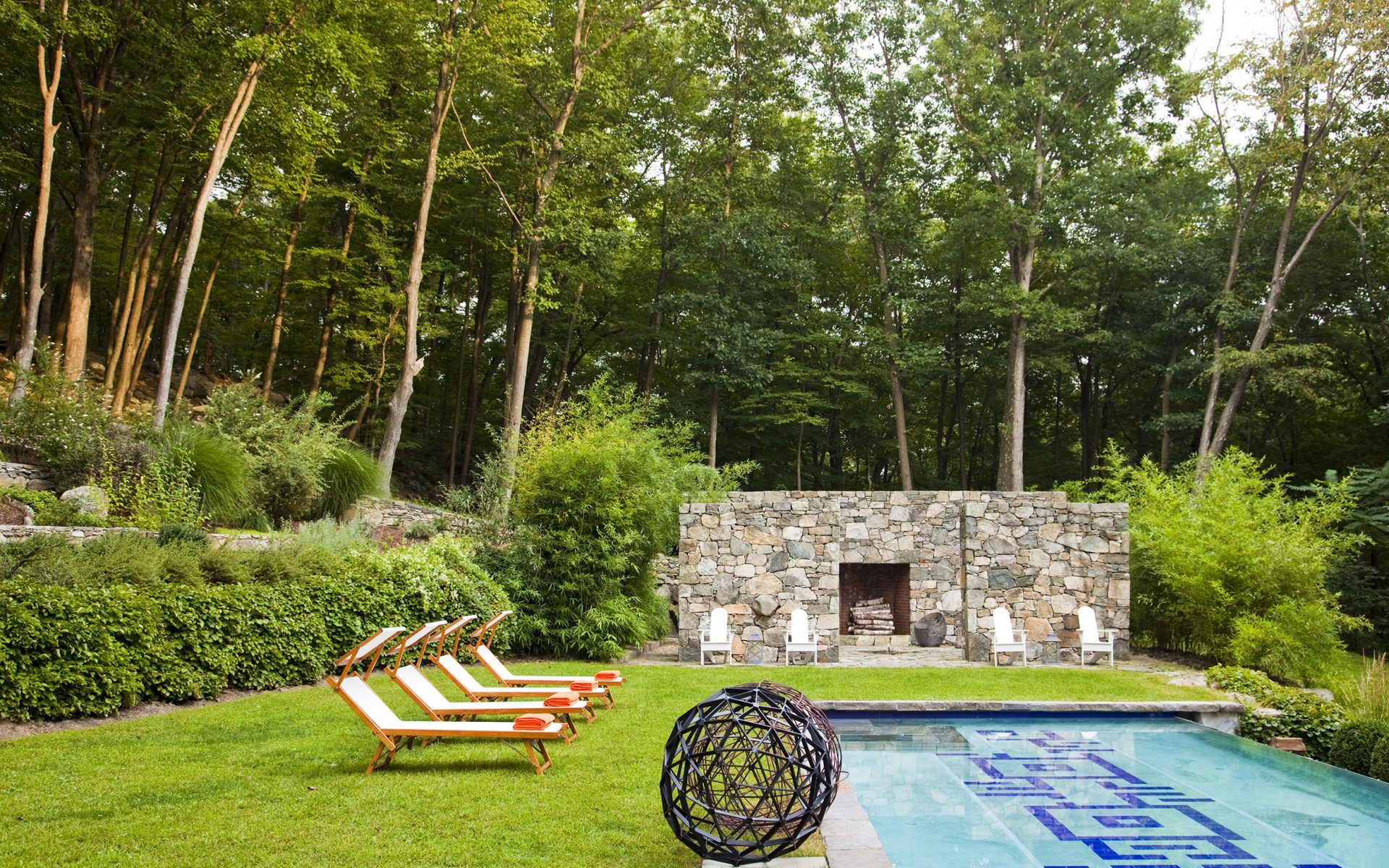 Why Juan Montoya Loves His Sprawling Garden in the Hudson River Valley More Than Ever
The designer shares his passion for his collection of outdoor sculpture, vegetable garden, and private lake
From sumptuous open-air island escapes to unforgettably cozy mountain cabins, the creative style of Juan Montoya knows no bounds. His expertise with layering just the right luxurious touches is a hallmark of his work. It's that same ethos that shines through at his own garden, which he's developed over decades in Garrison, New York. Known as La Formentera, the estate is a woodland paradise that shows the fruits of his labors. He and his partner, Urban Karlsson, can now watch the garden day by day—and marvel at the magic of nature as it unfolds. Here, he shares with Galerie more about this extremely soulful place, which he devoted an entire book to, and why he loves his garden more than ever.
We have been at the house since March 13, and I tell you it's been a love affair with the surroundings. We are so lucky that we can. It's an amazing place to be because nature gives us relaxation and nature is so energizing. We go out walking and jogging. Now that it's getting a little warmer, we can enjoy the pool. Because of the amount of time I've been here, I can really reflect on my thoughts too.
I purchased the property in 1985, but I waited two years before I would even cut a single tree. I felt that cutting a tree means you can't replace it. If you cut the wrong one, you have to wait another hundred years. It was so lush, and I wanted to make sure of that respect. So I concentrated on completely renovating the house, and as time went by, I was able to develop part of the land.
The major change was that the three-acre lake was originally a brook. I made a spillway that allowed for a body of water to be contained 15 feet deep. It's surrounded by oaks and black walnut and willow. I added some bamboo, which sounds beautiful in the wind and reminds me of Japan. I feel a lot of what the house and surroundings are is in keeping with Japanese philosophy of how to create a garden. There's generally a lot of green, and you have an absence of color. I'm in love with ferns and have used them as a major element. As for flowers, there are white hydrangeas, and they're really the only thing that sticks out. There are also small white roses that are very natural to the surroundings that climb over trees and stone walls.
Different plants grow at different times. We have wisteria at the beginning of spring. Then it dies and something else comes up. We're observing this every day, and then you see something else. Ferns grow very slowly and very much into May and early June. And then in August they start dying. There's a progression.
We also have an herb garden, and Urban cooks and he thinks of what he'll bring next. There's tarragon, mint, and scallions. Every day, he thinks of a new idea. He just planted some potatoes, so we're excited for those. It's so nice coming back to nature and doing things our ancestors were once experts in.  
The design of the pool is inspired by a palace in Stockholm. When you swim there's a texture on the floor that directs you and gives you movement. The lounge chairs are also Swedish and from Svenskt Tenn. The canopy is wonderful for giving you more or less light. Another concept is fire and water, so there's the fireplace at the end made of local granite. It also disguises the changing rooms on the other side, creating a hidden poolhouse. The steel balls are geometric interpretations of forms that play with space.
At first, I didn't have sculptures and added them later on to give a focal point. Now there's a sense of direction and purpose to different spaces around the 40 acres of land we've developed. One is the canoe, which I created out of iron, which is treated not to corrode. It really reflects the lake, which we actually do sometimes go out in real canoes on. The columns I found in Indonesia in an antiques shop. I made them in an enfilade, forming a beautiful corridor about ten feet apart. The round circle is something I designed, and it rotates and makes noise in the wind.
One of the things that is important is how it has developed. It took with Urban about ten years of looking at it and living with it to make sure that everything we do is respectful. I think it's very important when doing a garden. Instant gardens can be beautiful, but they don't have a soul. This garden is asking the land, "What do you want here?"
Next Post