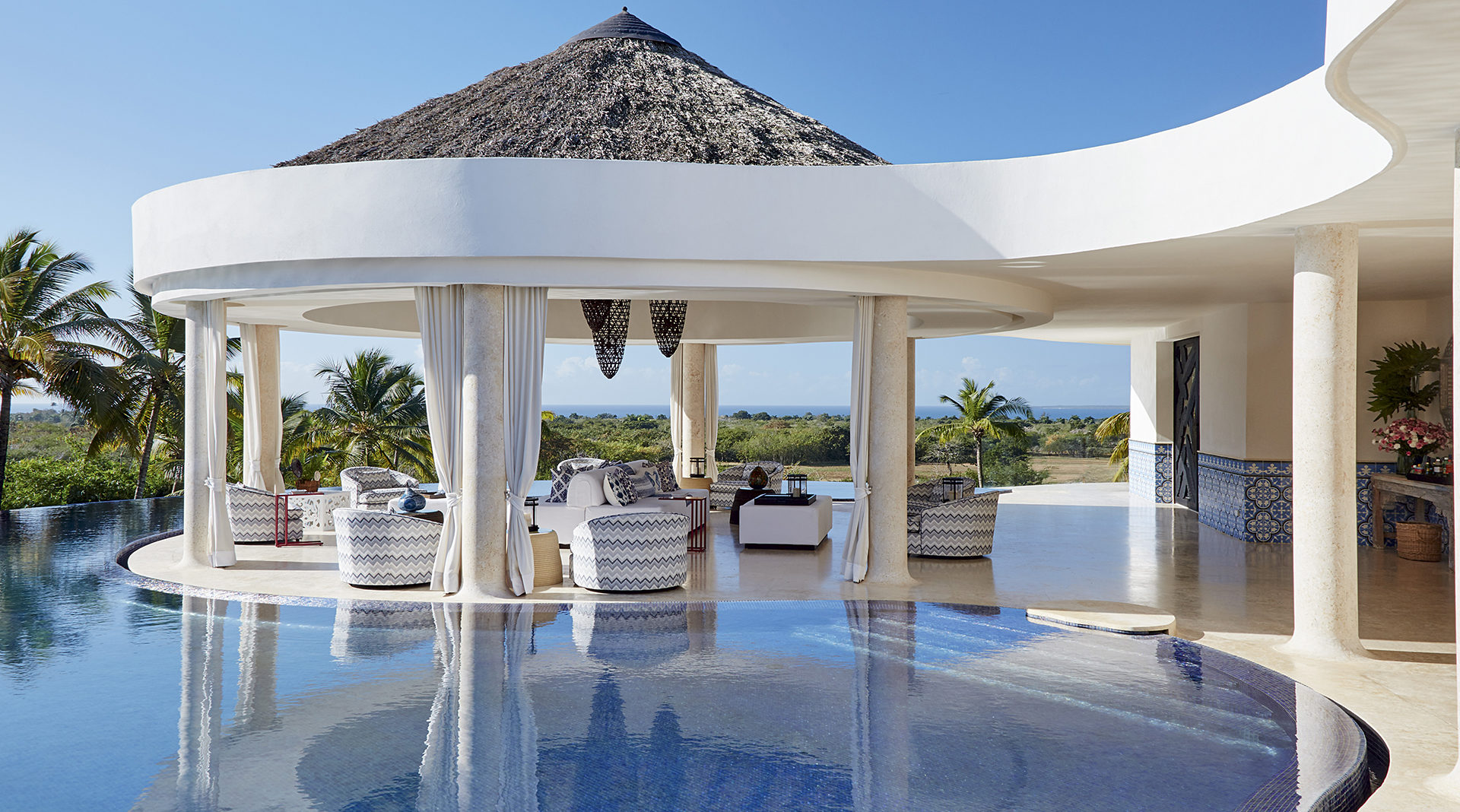 Juan Montoya Designs a Chic Caribbean Retreat
For a family's Dominican Republic residence, the designer conjures the very definition of high-style indoor-outdoor living
Interior designer Juan Montoya doesn't like to repeat himself. "I never want to become so comfortable with a look that I use it for every client," he says. To this internationally renowned talent, what plays well in Qatar doesn't necessarily translate well in Brazil, two countries where he has concurrent projects. When Ricardo Zapata, a businessman, and his wife, Margarita Turull, approached Montoya to decorate the weekend retreat they share with their four sons in the Dominican Republic, he happily accepted, knowing exactly what he wanted to do, having previously completed a pair of projects in the region.
Located within the Casa de Campo resort, a short drive from the capital of Santo Domingo, the curvaceous 10,000-square-foot residence was designed by Dominican architect Antonio Imbert. Thanks to its position on the crest of a hill, the home offers expansive views overlooking the Caribbean. Built primarily of coralina, a native coral stone, the structure is topped by a combination of cedar shingles and traditional palapa-style roofing, fashioned from palm leaves. The graceful, organic shapes throughout—there are few right angles to be found—create a seductive sense of fluidity and movement. "Every curve is inviting," says Montoya.
The intrigue starts at the entrance, where intricately carved double doors, studded with outsize bronze knobs, are flanked by bamboo. But they are nothing compared with what's on the other side. Upon opening the doors, one almost immediately emerges onto sea-facing covered terraces bordered by a stunning wraparound infinity pool. "I very much wanted a seamless transition from the interior to the pool so that the water became part of the design," says Montoya. Indeed, Turull loves that her guests can wade around in the pool and be part of a conversation in the outdoor living room at the same time.
To bring a visual coherence to the expansive interior spaces, Montoya devised an "overall concept that was about materials and texture, where every element in the home has a tactile quality," he says. "I was very careful to select materials that became focal points." Take the handmade tiles that show up in nearly every room. Turull was tentative about them at first, worried they would evoke those in the island's Colonial houses. "We didn't want that old-world feeling," she says. Montoya's idea was to use the tiles not only on floors but also on the walls as wainscoting. "They infuse the rooms with color, warmth, and just the right hint of tradition to stay true to the country's culture," he says. For her part, Turull admires how "Juan used the tiles in such a modern way," adding, "Because they are made here in the Dominican Republic, we could have them produced in almost any color."
The emphasis on local sourcing didn't apply just to tiles. Every single space—indoors and out—owes a strong debt to Montoya's collaborations with local craftsmen and artists. In fact, the couple are enthusiastic supporters of their country's emerging artists. "I did all of these crazy things that most people wouldn't give up the time for," says Montoya. "It was a lot more work, but the result is anything but off-the-rack decor. We ended up with a truly unique home." What the designer, a native Colombian, couldn't source nearby, he sought in South America and in Mexico, where Zapata is from. "There's a feeling in those countries that relates nicely to the climate in Casa de Campo," says Montoya.
The dining room provides a case study: The designer had the carpet woven in Colombia, installed decorative sterling-silver hearts from Mexico (instead of more conventional mirrors) over a pair of 19th-century Colonial consoles bought locally, and tapped one of his favorite Casa de Campo metalworkers to create a school-of-fish light fixture suspended above the table as well as a set of palm-leaf doors that open to the outdoor living room. Those sculptural doors, with their leaf-form handles, exemplify the meticulous consideration Montoya gave to every last detail. "If I had put a typical handle on those palm doors, it would have destroyed the effect of the splayed leaves," he says.
Montoya managed to infuse every room with striking texture and color—without compromising the calming effect Turull was looking for. In the master bedroom, he designed a freestanding Mexican wood screen embellished with gessoed sculptural elements, providing a graphic backdrop for a multicolored wide-wale silk headboard and locally made side tables also of his design. Overhead, a plaster-of-Paris chandelier by sculptor Stephen Antonson hangs from a pitched ceiling of bamboo arranged in a chevron pattern. Locally made linens—stitched with the couple's monogram—add charm. "I love and use all of the rooms, but the bedroom is just so special," says Turull. "I have a view of the ocean and most of the rooms in the house from it."
The prevailing vibe running throughout is one of relaxation and openness, literally. Turull and Zapata can live here for weeks without ever closing the doors. That seamless indoor-outdoor connection holds a powerful allure—for Montoya as well, whose work keeps him trotting to compelling spots around the globe. "For me," the designer says, "it's a perfect vacation getaway."
Click here to view more images
Next Post