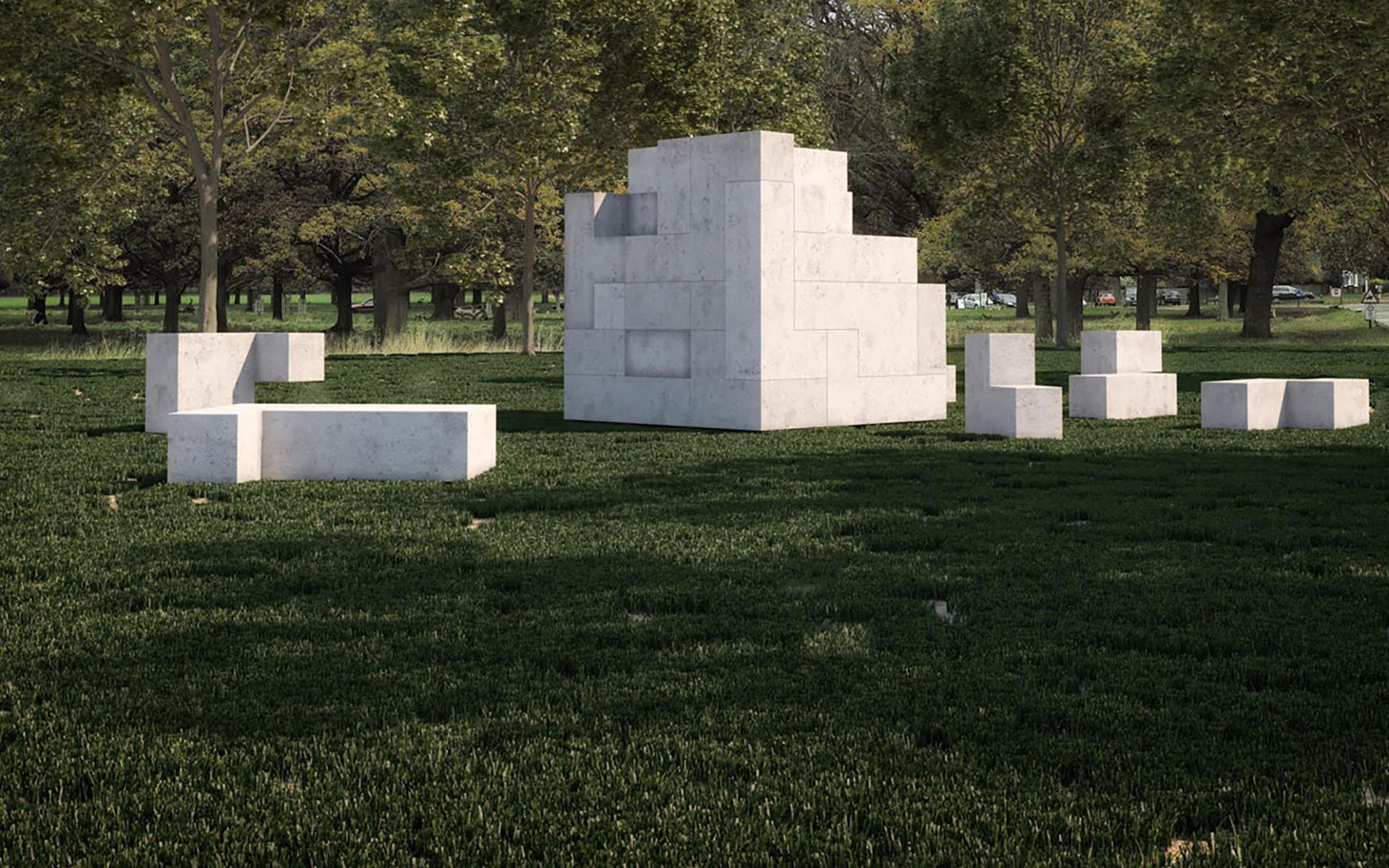 Jose Dávila's Monumental Concrete Sculptures Journey Through L.A.
Sense of Place is the Guadalajara-based artist's poignant public-art project for LAND and Pacific Standard Time: LA/LA
As part of a successful Kickstarter campaign, LAND (Los Angeles Nomadic Division), a public-art initiative dedicated to site-specific art, raised $20,094 to bring a project by celebrated Mexican artist Jose Dávila to fruition.
Opening as part of Pacific Standard Time: LA/LA on September 16, Sense of Place is made of 40 pieces of reinforced concrete that, when put together, form a large cube. Blending contemporary art and architecture, this sculpture will be disassembled and reassembled, with the individual geometric shapes placed at various Los Angeles locations chosen by Dávila. The artwork will be installed first in West Hollywood Park and, over the course of nine months, be taken apart and journey to the farthest corners of the city.
It is the artist's goal that the concrete will show signs of physical interaction with the public— graffiti, cracks, or even smoothed-down edges from human touch. The sculpture functions metaphorically as an hourglass, documenting its own passage of time. But instead of grains of sand, the pieces are concrete blocks that slowly trickle through the city and then reunite, solid with solid, in May 2018.
It also serves as something of a mirror to the human condition; it's taken apart, broken, and used, before becoming whole again. "When it comes back together, it will never be the same," says Dávila. "I think it's a metaphor for the passage of life and how we age, have experiences and get hit and obtain scars along the way. We're not the same, yet we are the same. It is not only a fractal of the city of L.A., but it can also be a fractal of oneself." It's a poetic gesture and one that Dávila is apt to make.
Working often in a sculptural format, he tends to use gestures that revolve around physical tension, gravity, and the concept of fragmentation. Weighing approximately six tons when assembled, Sense of Place is the artist's largest public undertaking and is perfectly suited for LAND and Pacific Standard Time, the latter of which highlights Latin-American and Latino artists throughout Los Angeles. With a studio in Guadalajara, Mexico, Dávila travels about half the year, using that time not only for meetings and global projects but also to read and develop his ideas.
Dávila first met Shamim Momin, director and curator of LAND, at a café while she was on a research trip in Mexico City in 2004. "We had been talking for a while about doing a project for LAND," Dávila says. "Ideas came and went, and we didn't find the appropriate project until she had the idea to do something with the Getty, which organized Pacific Standard Time: LA/LA."
"Many architects and philosophers have addressed the idea of place," Dávila explains. "My project intends to absorb the many different parts of L.A. like a sponge, and bring its many elements back together."
A catalogue is in the works featuring 20 essays by a combination of Los Angeles-based and Mexican writers and will chronicle Sense of Place in detail. Free public programming will also accompany the exhibition through the duration offering new ways to engage with the city.
Sense of Place runs from September 16, 2017, through May 2018.
Next Post